Sound Impressions
General Character
The Technics EAH-AZ70W has a soft and clean tonality with no offensive peaks and tends to sound warm in character which is ideal for long listening sessions. There is a studio monitor-type tuning here but with a low-impact bass character rather than exaggerated bass bloat.
Don't get me wrong, I would not use these for studio use but the long-term usability of the sound character is there with no emphasis anywhere in any particular area of the spectrum character that will appeal to most listeners.
To start mentioning positive aspects, when I ran the tone sweep, the bass went down to 17 Hz without an issue but dropped thereafter and quickly. The midrange was evenly reproduced with perhaps a slight emphasis of a few decibels between 5 kHz and 7 kHz.
What struck me was the high-frequency extension which went to around right below 15 kHz, but not so much that fact but that it was free from noise which I find most TWS models get very noisy at high frequencies, some even with offensive amounts. Not the EAH-AZ70W, almost silent in that aspect.
Frequency Spectrum
The EAH-AZ70W bass has a few decibels of elevation but is not exaggerated or bloated and more prominent around the midbass section. There is good control but it is confined to a space in front and somewhat below the listener. As if it always wants to take center stage and does not present much of an Omnidirectional character as most bass drivers do.
It does dig deep enough to cover all the audible bass bands and there is a decent amount of extension but not much slam. The bass is well-mannered and somewhat timid in impact.
The midrange is pushed back a couple of decibels but spaced further out compared to the bass. It seems smooth with a decent amount of width and element distinction. The high frequencies do have a peak in the lower treble region. However, that should be of no concern because it just adds presence and is not a piercing amount.
The treble extension is rather nice-sounding but in tone sweeps it could only reach right below 15 kHz before completely taking a dive into the sunset. But in listening tests, the extension seems to push beyond that range somehow and put my money on that this area of frequencies has been DSP tuned.
Staging
The Technics EAH-AZ70W paints a fairly wide stage which is wider than others but depth is somewhat restricted and that is expected and you cannot expect stellar 3D positioning with a TWS set yet. This set does fairly well by keeping elements within a recording well separated.
There is a touch of height and bottom but it seems space is reserved foremost for the high frequencies which take up most of the panorama while the midrange occupies a smaller space with the bass always at the center.
Dynamic Range
I found the bottom end of the Technics EAH-AZ70W to be less impactful than what I like but there seems to be an area right above the lower bass region that has some slam.
Snares sound very dynamic and frequencies in that area seem to have lots of energy compared to the rest of the frequency spectrum which to me seems to be polite and almost shy.
Detail
There is a surprising amount of detail present while listening to the Technics EAH-AZ70W and they do well and better than most in this area.
Lots of background nuances come through and micro details are present. Not a reference amount but I am comparing these to other TWS on the market today which to me is still in development and needs further refinement.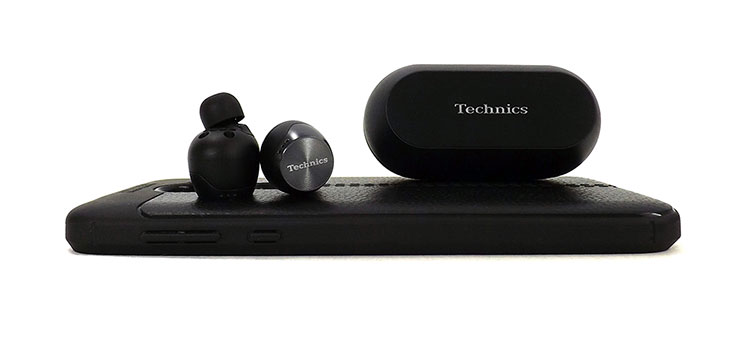 Wireless Performance
The Technics EAH-AZ70W has modern TWS features like left and right independent signaling but I found latency to be at around 0.3 seconds which is acceptable for music but might not be for video with speech. There is a slight delay.
Technics does not list their specs fully and I could not find mention of what type of IC chip solution is used inside the EAH-AZ70W so I can only give a general and brief description of this main internal component.
I am almost certain the chip used is an Airoha chip and I found out by accident because it showed up as an Airoha device somehow when I was pairing it with one of my PCs. This happened only once and I was never able to recreate it again. The chip is probably an ABxxxx variant perhaps customized for Technics. I could not pinpoint the exact chip, however.
Airoha chips' niche points are that they tend to muster up dual-mono internal configurations and are very flexible far as DSP correction and dynamic range control but that is all done at the factory. There are some similar toys to play with through an available app.
Selective Comparisons
Panasonic RZ-S500W
I call these the baby AZ70s because the earbud shells are almost identical in size but not in composition with an all-black color scheme with a visible silver band contrasting the black and silver-topped EAH-AZ70W.
The Panasonic RZ-S500W cradle is smaller and does not have a metal surface. You miss out on some small trinkets for a reduction in cost.
One of those trinkets is a smaller driver which is 8mm instead of 10mm plus on the noise-canceling side you only get a 50 step adjustment instead of 100. The apps look very similar but each TWS model has its own app.
Sound
The difference in driver size is apparent in the sound and the EAH-AZ70W driver sounds larger and wider. The Panasonic set might have a touch extra dept while the EAH-AZ70W has more width and height with slightly better placement.
Tonality-wise, the Panasonic RZ-S500W has a bass response that does not dig deep as the EAH-AZ70W and drops output when it reaches around 20 Hz. The midrange is similar in tone and the amount of space it occupies while the treble seems wider and perhaps just as sharp as the EAH-AZ70W but with a slight drop in output.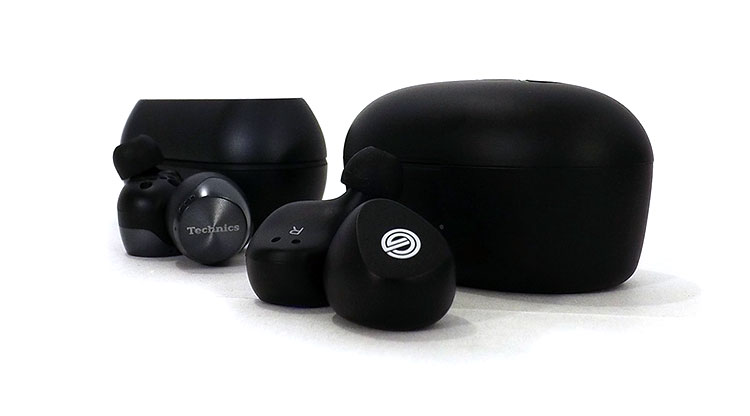 Grado GT220
Technical
This TWS is very popular and lots of people speak well about the GT220 since it came out and I am guessing it's because of its simplicity and good sound.
The GT220 design is more in line with simplicity and offers no noise suppression, app or any other feature and Grado says that was done to maintain the purity of sound, and it sort of works out. This set is a TWS that pairs easily with good reception.
The Grado GT220 does have the addition of APTx codec which the EAH-AZ70W only offers AAC and SBC. The GT220 can do all 3 plus a simple set of touch controls to complete the earbud package with similar battery life.
Sound
Grado seems to have abandoned their somewhat bright-sounding but balanced sound signature for a bass-heavy tonality that is in contrast to practically every Grado can from the past. So if you want that midrange forwardness, high-frequency extension then these will not do that for you.
Instead, you get a big bass sound with a smooth midrange and a relaxed high-frequency response that is not piercing although there was some noise present on the GT220 above 14 kHz that was absent on the AZ70.
On the APTx codec, the Grado does have a better resolution in audio with better detail retrieval. The soundstage is wider on the AZ70 however, especially in the high frequencies but the GT220 has a more personal and realistic intimate Jazz club presentation.
Dyplay ANC Shield Pro
Technical
Perhaps you need a quick fix and are strapped for cash but want something that will work with no issues and sound decent for everyday use then the Dyplay ANC Shield Pro is a good start. This model offers wireless convenience with noise reduction, the end.
You get a decent TWS set but you miss out on some on trinkets like a metal case, a feature-rich app, and lose some distance in reception by perhaps 5 feet. Another thing worth mentioning is that the EAH-AZ70W has great documentation while the Dyplay documentation is sketchy.
Sound
Sound suffers some and it is expected when you look at pricing. Bass extension reaches 24 Hz before it takes a plunge although in an initial listening test you will notice the ANC Pro has a more prominent bass that is big and full.
The midrange in general is very smooth with a polite character that will never become bothersome which is excellent for long listening sessions. High frequencies do not extend as high, however, and there is some noise present but fortunately is undetectable listening to music.
One thing the Dyplay ANC Shield Pro has going for it is that depth is deeper presented while the EAH-AZ70W suffers from that but on the opposite side it has more width with more accurate positioning capabilities.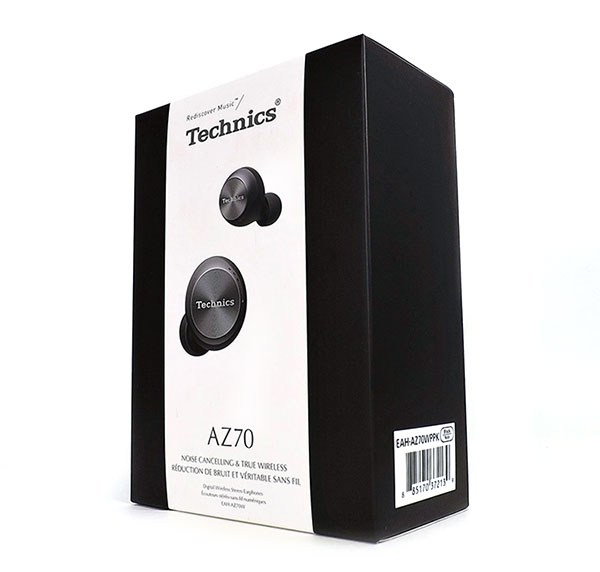 Our Verdict
I would put the Technics EAH-AZ70W on the top of my list if you are looking for a TWS around this particular price range. They do everything well. They sound very good, are comfortable, have a very good app with lots of features and they have one of the best noise-canceling implementations around.
Can I mention one con? Perhaps the earbud size will not be pleasing to some but comfort levels are good regardless and might just be a sore sight to see because of how much they protrude. I think that is the only con. The positive traits outweigh the one con many times over.
It really doesn't matter to me if this is Technics' first attempt at a TWS model or their tenth attempt, the EAH-AZ70W is one of the top TWS models out there in my opinion.
Technics EAH-AZ70W Specifications
Driver Unit 10mm Graphene coated
Magnet Type Neodymium
Frequency Response 20 Hz to 20 kHz
Control / Microphone Touch Sensor / MEMS Mic
Playback Time Ear Buds 6.5 Hours NFC on / Charging Cradle Approximately 19.5 hours
Charging Time Ear Buds Approximately 2 Hours / Charging Cradle 2.5 Hours @ 25c or 77f
Quick Charge 15 Minutes for Approximately 70 minutes of Playtime with NFC on
Continuous use time 5 Hours
Weight Earbud Approximately 7 grams / Charging Cradle Approximately 65 grams
Accessories USB –C Charging Cord, 5 Earpieces, Owner's Manual
BT Wireless technology Version 5, Supported profiles A2DP-AVRCP-HSP-HFP, Codecs AAC/SBC up to 10 feet
Water Resistance IPX 4 Equivalent (Ear Buds only)