The SMSL DP3 is a feature-packed desktop wireless streamer, amplifier, and DAC priced at $278.99.
Disclaimer: The SMSL DP3 sent to us for the purposes of this review is a sample and does not have to be returned. Thank you to SMSL for giving us this opportunity.
To read about other streaming products we have reviewed on Headfonics click here.
SMSL DP3
This is a great speaker source that I would love to tote to gatherings and parties to use with a 2.1 setup or something like my Riva Festival BT speakers. With that in mind, the experience comes with a very high-value rating.
Not too long ago, SMSL sent me their $278.99USD DP3, which is a bit of a Swiss Army Knife of an audio product. There are quite a lot of features that are jammed into this device, so I can't waste much time here in the intro.
There are not many other streaming USB DAC/AMPs out there that can do what this does at this price range, so I look forward to the testing phase and seeing what this thing is capable of.
Design
The chassis is made of CNC'ed aluminum and has a very hefty feel to the entire structure. The control knob is dense feeling, without a hint of a cheap feel to any part of the entire product. At only $278.99, this is an excellent deal in terms of build and overall design with a nice IPS view screen right on the front for menu navigation needs.
The DP3 also comes with an IR remote control, so sitting back in a chair or bed and having the ability to control everything without getting up is always a plus. At this price range, with a full screen and included remote control, I am safely able to say that the build of all components offered is more than good and that they extend into the very good range.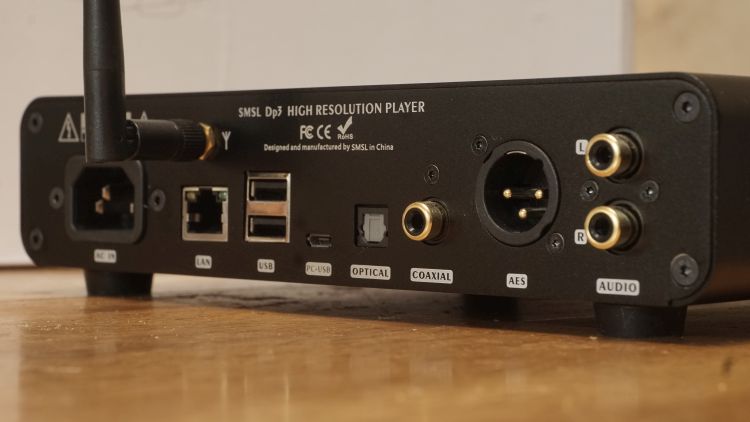 The Features
This DP3 is feature-rich, very rich. The DP3 offers DLNA, AirPlay, HiBy Link, WiFi and Bluetooth for wireless needs, with aptX support. Toggling through each is a breeze and connections have never been dropped or glitchy.
However, I found that Bluetooth connections were much slower than I would prefer to get a source device registered. My Sony TV, my iPhone SE and my plethora of portable music players each took a few attempts at scanning for sources to achieve a connection.
Beyond that, the unit can be used as a normal USB DAC with a 9018Q2C chip inside. It can also support MicroSD and be used as a source by itself, output via RCA to an external amplifier, or run a USB 2.0 hard drive/source as well through a standard ¼ output for headphones, or a balanced 4-pin XLR. Furthermore, the DP3 allows for Optical, Coax, AES, and RCA wired output. That is a lot of stuff for a $278.99 product.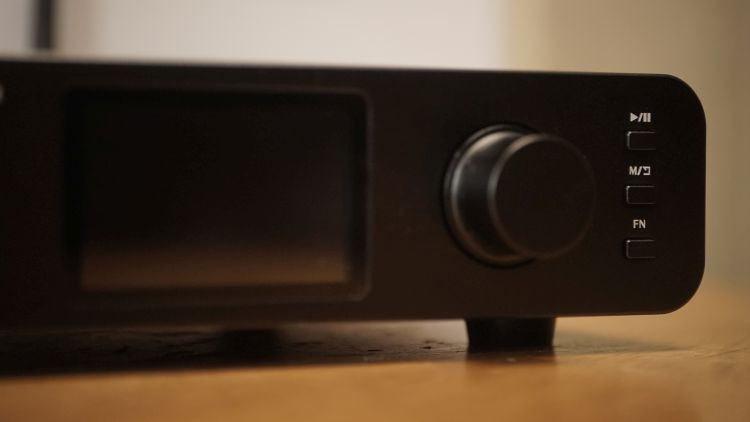 The DAC
I am really not keen on the 9018Q2C in this implementation. When the product is used by itself for headphone or speaker usage, the experience is just passable in terms of fidelity for my higher end products. And notice there that I said higher end and not budget or middle tier. For middle-tier products, let's say like an HD650 from Sennheiser or an AudioEngine A5/Edifer A2000Pro speaker, the DP3 is a good stepping stone product to a much nicer DAC purely for audio listening.
I understand the selection of the DAC here. It is used as such because the product is immensely feature-rich and if there weren't so many nice things in it, the DAC might have been more of a focused feature with something a lot nicer. But, for what is there, it is just fine and makes sense.
Subjectively, I don't enjoy the totality of the product, nor the physicality and heft to the sound signature as a whole. But then again, I have only rarely been happy with the 9018 mobile versions and only once ever been happy with the 9018 desktop version in the older Burson Conductor SL amplifier.
The UI
SMSL has a very basic design here and I really thank them for it. The volume knob can control some of the navigation, which I find to be a bit strange and overly sensitive with how fast the menu can scroll past. A push of the volume knob is like a selection button tap, so be a little careful not to turn the knob and also push it at the same time, or you might end up activating something you don't want to.
The menu is very standard, as mentioned, and the reason I am stuck on that concept is that controlling it through remote control usage is a breeze and very enjoyable. However, the standard IR remote still needs to be close to the screen, unless you have Superman vision and can see that little screen from across the room.
The unit needs to be fairly close to you to use the IR remote control, which, of course, is an issue with anything with a small screen that can sit a fair distance away. It feels funny to have to sit close and aim the remote at the little screen sometimes is all I am saying. The sub-menu system design here is very easy to navigate, thank the audio deities.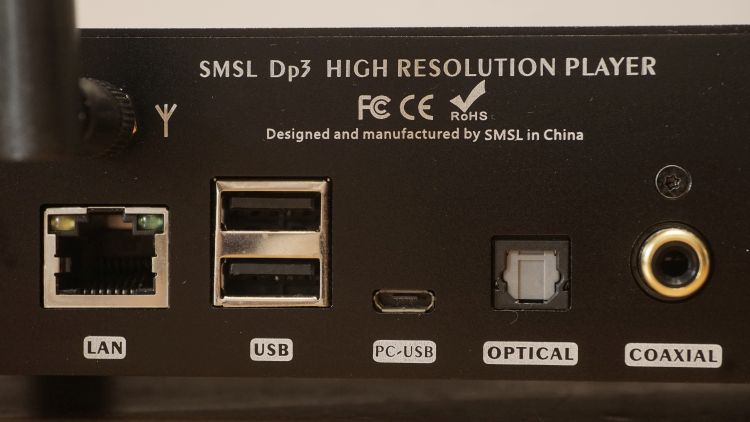 The Hiby App
If you want, you can use an App to control the system via your phone, which for me, simply was a nightmare. Not that it wasn't set up well, because Hiby is awesome. It was just sluggish for me and just wouldn't work properly even through a few different phones being tested on the hardware side of the connection. I think they need a bit of a patch at the moment and it seems immensely easy to fix My phones are fairly good and shouldn't have sluggishness like that inside a music app.
For now, the App very slowly navigates for me and track skipping can take a few seconds to complete on the DP3 side of things, which gets a bit annoying. What I mean by that is the App control is good and will let you move things around nicely inside the App itself, but after you select or make a change, the DP3 takes a few seconds to respond. I am hoping that can be fixed with some DP3 firmware upgrades in the future. But for now, it is not at all a serious problem, just a little bit slow to process.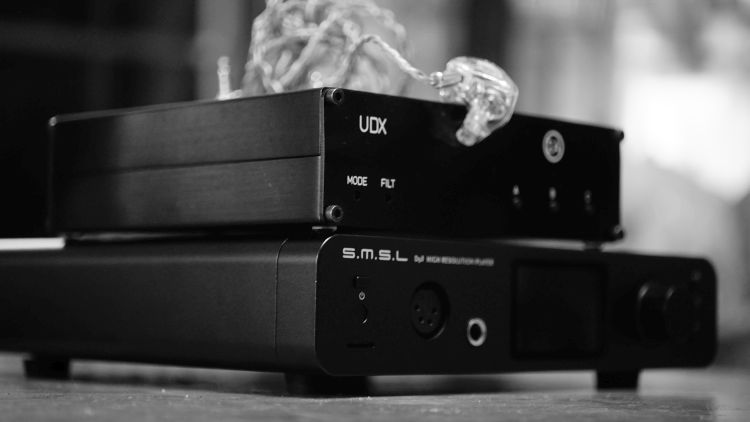 A Quick Note on Bluetooth and TV's
It is important to note that this DP3 is bi-directional when it comes to BT connection. That means you can stream BT from another source into this, and use the better components inside the DP3, if that is the case, to then use on speakers or a headphone. Or, you can output Bluetooth from the DP3 to a BT-enabled device. Such as a set of headphones, speakers or even a TV if said TV is compatible.
My problem was that my Sony 900E (a very high-end Sony TV) was unable to stream properly from the TV to the DP3. This is entirely the TV's fault and not the DP3, but this is very important for people who want to stream from a TV to the DP3, it just might not work properly.
My expensive TV lags and has a solid 2-second delay with BT connection. Meaning, visually the TV and sound are about 2 seconds apart and the experience is nigh unusable. That isn't always the case, depends on the source input for Bluetooth. My TV is just terrible at it.
So please, research your TV or monitor first and make sure it isn't known for Bluetooth issues. I was very sad to find out my Sony 900E, one of the best LED's ever made, just flat out fails at Bluetooth in general. Again, not at all a fault of the DP3, which handles BT just fine elsewhere.
Sound Impressions
Bass
Unfortunately, the 9018Q2C chip in there sounds just like all other DAC's that house it. The low end is lacking a sense of depth and richness that I crave. I find myself constantly altering EQ when used as a USB DAC just to find a sufficient bass experience. I am not at all fond of the physical quantity offered on a flat EQ, it is just overly lacking in my opinion.
The overall fidelity is just fine for the price. Again, the unit is a budget tier or very low end of the middle tier in pricing, so I am just fine with the fidelity experience offered. What is there, is plenty clean and clear sounding.
Purity factors, in a player like this, are a common trend, but, as a subjectively musical user, one who enjoys exaggeration and fun factor more, I would really love more of a vivid tonality here. For me, it is too pure. So those clinical users out there who like that type of an experience will surely enjoy this.
EQ Possibilities
For me and on my personal setup, the experience is subpar and I don't want to add in that much bass to make my setup sound more balanced. If your gear is on the clinical side, or not known for good bass quantity, then you won't really notice. But, those who have a bassy setup will find themselves altering EQ often and boosting.
The DP3 is running on a +7dB bass boost when used as a USB DAC > Airist Audio Heron 5 solid state amplifier for headphone usage. Sometimes, I'll plug into speakers through a wired RCA connection with the DP3 as the source unit. With that, the experience is just too lacking on the bass quantity end, unless I EQ, of course. But, when used as a source by itself, meaning microSD card/USB thumb drive/HDD mode, the bass experience can't be altered inside the menu navigation and you are stuck with the stock 9018Q2C sound.
Midrange
The 9018 series isn't at all known for a rich or creamy midrange. It is pure feeling and on the low end of moderately thick in substance. With that in mind, the unit projects itself in the midrange with a sense of flatness. By that, I mean that the experience for vocals is lacking an engaging sense of physicality. It isn't forward, nor relaxed in physical placement. Intimate recordings will sound less intimate than usual on your vividly forward setup (if you have one or enjoy that).
As far as overall fidelity goes, at the $300 and under price, this is just "good" quality for me and in my experience. With a unit that is a dedicated USB DAC at the $300 level, you can do better. But, you'll sacrifice a ton of features in this DP3 for that superior DAC quality. Most headphone amps in that price tier don't do all these things and will focus on fidelity first.
With that in mind, the 9018Q2C is just good at what it does in terms of raw purity and clarity. I don't get a sense of dynamic bloom or a very well formed and shapely experience. Dynamics are a bit lacking as well compared to some other $300 USB DAC's. But, again, those other DAC's are specialized products that have a fidelity focus. They are not feature rich or well rounded.
Treble
The DP3 is a bit bright on the upper end, noticeably so on a disabled EQ experience and when using the DP3 as a source by itself. Through a USB PC connection and using Foobar2000 as my source software, the experience is less than stellar without an active EQ to balance the spectrum out. I need to boost the bass and midrange just a bit to compensate for the more plentiful treble experience. Thankfully, it isn't dynamically slamming or overly bright. What is there is certainly enjoyable and plentiful in terms of quantity.
As for quality, the top end takes a bit of a nose dive through Bluetooth, of course. But, that is expected, even with aptX in the mix. Without any wireless connection active, the top end is a bit bright, engaging and more vivid than anything else in the bass of mid regions.
As a result, the experience feels a little lopsided in that regard, but not too much to annoy or be a problem. If you have middle tier headphones with a bias for treble, this will suit you nicely.
Imaging
The DP3's height, width and depth factor in the stereo void was all shoulder shrug-worthy at best. The aim of this product was certainly to be good at everything and allow for most products to sound pretty good. Sadly, excellent soundstage products are not a good fit with this DP3, but pretty much everything else is just fine for usage here.
I feel a sense of moderacy in all of the imaging properties, neither lacking nor grand in size or prowess. Height and width factor feel a little offset, meaning the width factor feels like it needs to be a little wider to compensate for the slightly superior height factor.
This isn't noticeable on speakers but was noticeable on some of my higher-end headphones. The depth factor is just fine for the price and I don't expect a cavernous, realistic appeal in that sense at the $278.99 level. But, depth of field certainly could be improved.
The air factor between instruments and vocalists is the problem for me, which I find to be decent at best. And that lends a lot to the lacking sense of density factor, which comes from their DAC selection. That DAC just isn't great at feeling hefty or tonally dense.
The realism factor takes a little hit on that front, so the sound staging experience of the DP3 ends up being middle ground everywhere, which seems the common trend with the unit as a whole. It is just good at what it does, but not at all intended for usage with very vast sounding equipment.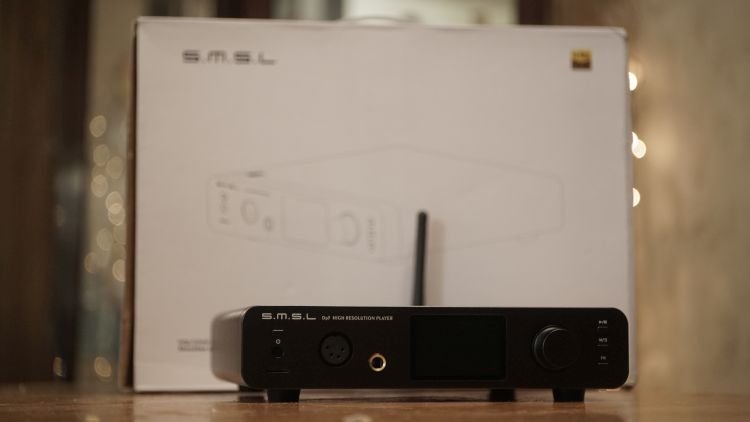 Our Verdict
The DP3 is a great product that offers a ton of useful features. They need to improve DAC selection though and move forward and away from the 9018 family. But, everyone needs to do that. These are old chips now and I want to see innovation and advancing the technology in all future products.
I am not fond of the lacking bass quantity, nor the just okay imaging properties of this product. But, thankfully the overall fidelity is more than justified for the price tag at $278.99. What is there, is good. Tack on a ton of features and functionality and you get one of the most useful middle-tier products I've come across in a while.
This is a great speaker source that I would love to tote to gatherings and parties to use with a 2.1 setup or something like my Riva Festival BT speakers. With that in mind, the experience comes with a very high-value rating. No doubt.
SMSL DP3 Specifications
Input: USB (U disk), USB Audio, SD card, Bluetooth, DLNA, SAMBA (NAS)
Output: line, balanced headphones, unbalanced headphones, fiber, coaxial, AES Bluetooth, USB
THD+N: 0.0008% line, 0.0008% unbalanced headphones, 0.0004% balanced headphones
Dynamic Range: Line 121dB
Signal-to-noise ratio: line 121dB, unbalanced 121dB, balanced 110dB
Amp Output Power: Unbalanced 58mW(32ohms) 46mW(64ohms), 26mW(150ohms)
Balanced Headphones 113mW(32ohms) 110mW(64ohms), 78mW(150ohms), 49mW(300ohms)
Line output level: 2Vrms
USB Audio: DSD supports up to DSD256; PCM up to 384KHz
USB Audio system compatibility: window 7/8/8.1/10; Mac OS X; Linux
D2P: Up to DSD128
DOP: Up to DSD256
DSD Native: Up to DSD256
Digital Output DOP Output: Up to DSD64
PCM: up to 384KHz
File System: Supports FAT/FAT32/NTFS
TF card capacity: up to 256GB capacity
USB (U disk/hard disk): Up to 4TB capacity
Bluetooth version: Version 4.0
APT-X: Support
File Browsing
Software Upgrade
Power consumption: 3W