The Shanling M5s is the new upgraded M5 digital media player and represents their current flagship player in their line-up. It is priced at $429.
Disclaimer: The Shanling M5s sent to us is a sample in exchange for our honest opinion. We thank the team at Shanling for giving us this opportunity.
To read more about Shanling products we have reviewed on Headfonics click here.
I don't have too much experience with the older gen Shanling music players, which saddens me a little bit as I type this out. The new $429 M5s portable music player arrived at my door not too long ago and I've been in a bit of a great conundrum ever since.
Sometimes, the life of a reviewer is a good one. Let's toss the M5S against the competition now and see how it fairs in the current market.
The Build and Box
Shanling has crafted the M5s out of thick CNC'ed aluminum and it certainly feels fantastic in the hand. Nothing on the product feels even remotely cheap by my standard as a reviewer. At this price, I have seen far worse quality in significantly more expensive products, so this is a real win for me.
At roughly 180g in weight, it feels rock solid top to bottom. The physical buttons on the side of the unit have a satisfying click and feel very tactile and enjoyable. The microSD card cover is a real nightmare to get off though. I struggle often to flip it out and open. If I had one gripe about anything revolving around the design of the unit, it would be that. It isn't a big deal, so long as you plan to leave the SD card inside and do not swap SD cards often as I do.
Otherwise, the unit is actually moderately thick, but the size is still more than portable enough for me to slot into a pocket without thinking twice. The M5s comes with a USB-C charging cable, some paperwork and with an optional leather case. The box is fairly standard and has nothing to write home for.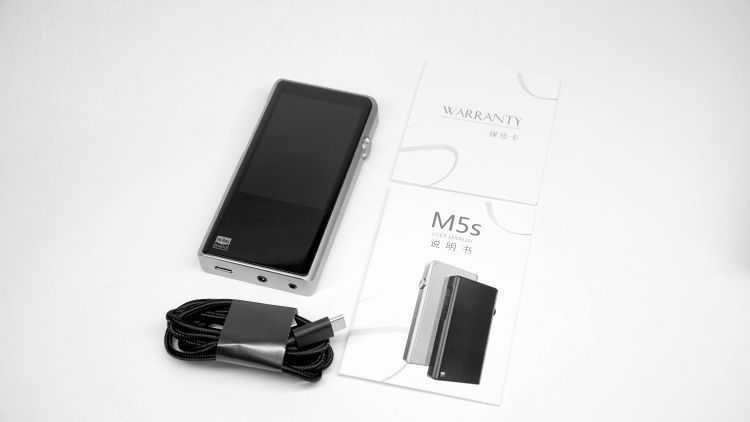 The Battery Life
Thankfully, the M5s is USB-C and semi-quick charge compatible. The battery is about 3400mAh and claims 16 hours of usage, which I find a fair spec listing by the company. Generally, battery life is always less, but my tests with non DSD/FLAC track types granted me more than 15 hours with the screen off.
Beyond that, the charge time is 3-4 hours which seems extremely slow by comparison to something like my AP80 from Hidizs, which USB-C quick charges in full in about an hour. Although, the battery is significantly less powerful but still lasts a very, very long time too.
Tossing everything under the sun at it, I played a loop of DSD tracks with the screen on the brightest setting and connected to a home set of speakers all while in High Gain mode. The result was about 6 hours of playback time, which is very good considering everything that was active at once.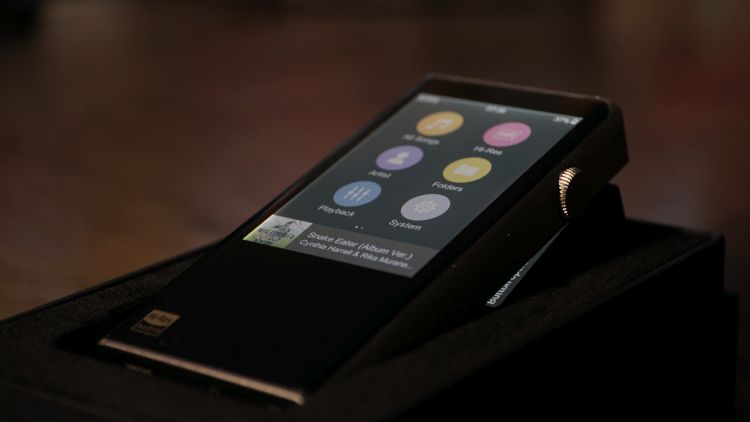 The UI
Boot & Home Screen
The home screen is customize-friendly and can be altered as you please with any icons you wish, in whatever order you prefer. While not specifically snappy or quick on the draw, the player boots up significantly faster than the Colorfly U8 (which had an absurd 36 second boot time) and a fair bit slower than the Hidizs AP80.
As far as the layout in a physical sense of the word, as mentioned, customized icon placement is lovely. I don't use a lot of the icons present on the home screen so I moved my favorites bin to the first page of it and I could not be happier.
Track Skipping
Track skipping is a bit sluggish and prone to excessive lag time, just over 1 second if you continue to push the UI and CPU with constant track skips in succession. It is a little slower than the U8 from Colorfly and not as quick as the AP80 from Hidizs in this test.
Shuffling
If you are like me, someone who shuffles constantly, then this could be an issue and you may want to seek a more snappy feeling portable player. It is worrisome at times when I find that my U8, which is 3x the price of this M5s, finds itself lagging and potentially unable to understand that I want it to shut off. I don't have that issue with the M5s, which a simple click will restore the screen out of sleep mode and a long press will shut off. That scenario doesn't play out on the U8, which bothers me a lot.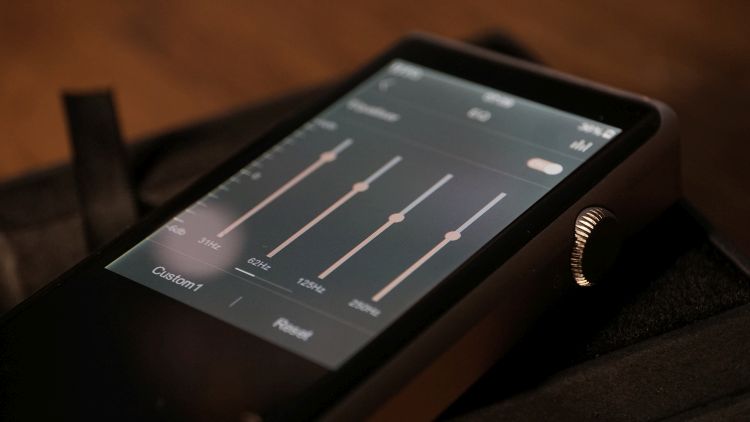 EQ
Sadly, the EQ function is lacking for the price. I found the M5s to produce very good quality audio all around, but the need for more bass is something I will never get over as a basshead on a subjective level.
The included EQ set is underwhelming at best and moderate raising of selective parts of the frequency band results in hardly any audible changes. You will never get me away from the MSEB EQ of the AP80 because it's the best implementation of DSP I've ever come across on a DAP.
Despite the M5s sounding noticeably cleaner and of a higher standard than the AP80, I'm not going to stop using the AP80, due to the fact that the MSEB EQ is a godsend for me as someone who likes to change EQ with the track or album in play. No, I do not recommend using the EQ of the M5s unless you want slight changes. If that is the case, it is more than sufficient. If not, grab a Hiby DAP instead.
Wireless Features
The M5s has a slew of great features for only $429. If you like wireless, this is a great DAP to opt for. WiFi, DLNA, dual directional Bluetooth, meaning it streams and accepts BT signals in and out of the player you can't really go wrong here.
I love pairing the M5s with my Bluetooth speakers and headphones, I've never had a single issue with pairing! However, I've had a hoard of problems pairing with my AP80 and I opt to never try to anymore, due to the time lengths required to connect, frequent disconnects and also battery life drain. The M5s doesn't have the same problems, thankfully.
Sound Impressions
Fidelity – Bass
While the bass response is fairly lacking via EQ and boosting attempts, the raw fidelity factor is excellent for the price. I am more than happy using my Empire Ears Nemesis IEM's with the M5s and going on about my day.
I think the low end of the DAP is firm, tonally balanced and very pure sounding. But, with that, comes a sense of lacking engaging tonality. Meaning, the bass is very flat and overly pure sounding. If you are a purist, you'll love it. If you are someone who wants to have a lot of exaggeration and interesting texture in your bass, then you might want to seek something else.
On a flat EQ that is disabled, the bass quantity is lacking for me and I find the entire experience top to bottom to provide an overly diminished low end. At least, in comparison to the plentiful mids and treble above. It sounds clearer than the AP80, but not as clean as the U8.
Midrange
The M5s is a very relaxed sounding portable player and I am unable to get it to sound as midrange forward as the Colorfly U8 or the AP80. With volume and tracks equalized to roughly the same output, the M5s presents a smaller, but wider feeling midrange than the other two DAP's mentioned. It feels the most recessed of the trio and the most socially acceptable for live recordings and not for intimacy.
As far as 'literal' quality goes, the M5s once again scores very well, as perhaps among the best midrange DAP's I've heard in 2019. However, tonality thickness and heft is the lacking problem I have with the product. As great as the fidelity is, the heft factor is moderate, which takes away from the experience. Especially when you are familiar with how the more expensive DAP's out there tend to sound.
It isn't a thin feeling, but it is certainly thinner and less tonally dense than the U8. For that reason, I would call it a good all-around DAP, but not one that is a specialist product. I very much prefer some other DAPs with the EE Nemesis than this M5s. However, midrange headphones pair exceptionally well with this M5s such as the HD6XX and HD58X, so don't worry so long as you are not using demanding high-level headphones with this one. You'll enjoy it plenty.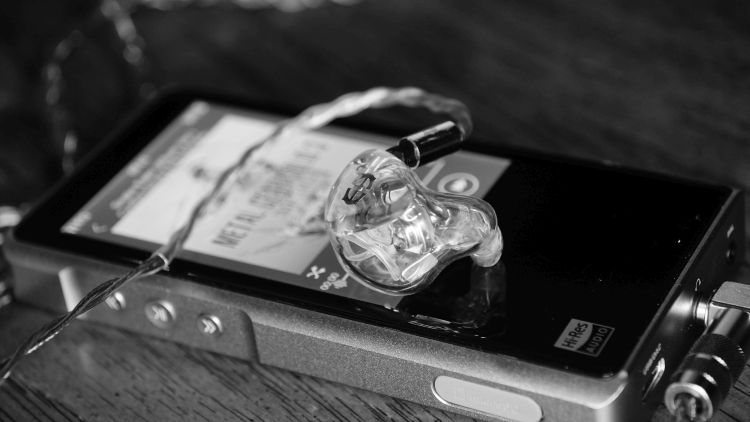 Treble
The top end of the M5s is the weak link in the chain in overall fidelity, at least, in my opinion. I find that, even with sufficient boosting in the EQ, the top end lacks shimmer and sparkle that I find enjoyable.
I consider it neutral and lacking a sense of engaging quality, which is actually a great thing at this price point so don't take that as a negative. I very much prefer they took the safe route instead of making the top end harsh, prickly and impacting in a negative sense.
The opposites are what is true about the top end in regard to physicality. It is softer than usual, refined and still present enough to enjoy, but lacking that wonderful luster and zing that I hear in the U8.
Despite that, the M5s it the most tonally neutral of the trio of DAP's used in testing for this review. Usually, neutrality spawns harshness in quantity. Yet, in this case, the M5s feels enjoyable in a physical quantity sense but lacking a harsh bite. That makes me happy. I feel like this was actually custom tuned by human ears prior to release and to feel that from Shanling is a great precursor to future products crafted with love and care.
Imaging
As mentioned, the M5s feels wider than tall at times with a noticeable rectangular shape to it, yet, also one that is a little prone to a recessive tendency in the midrange. It isn't a forward sound, so tracks sometimes feel very spacious from stereo left to right.
Sennheiser fans would like this DAP. Audio Technica fans probably would not. The depth of field factor is also moderately good to my ear and not spawning a sense of amazing to me. However, the air factor from left to right and the separation of instruments is very, very good.
I recently acquired LZ's newest IEM, the LZ6, which is a bit of a staging monster and wow, the M5s's wider feel to the image pairs much better than with the U8 or the AP80. If you enjoy live content, this is a great DAP to purchase and pair with a wide sounding monitor.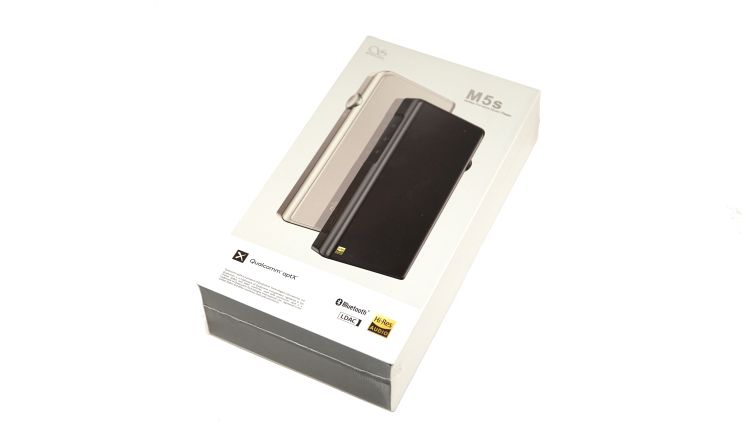 Our Verdict
Shanling did an excellent job with this DAP! The pricing is fantastic for the quality received and it is punching way above the list price. The battery life is very good and the UI is not problematic at all for me. It offers slight customization in what icon folders will be front and center on the home page and also feels fantastic in the hand in terms of build quality.
The only lacking aspect is the relatively basic EQ system which is just not good enough for the very good fidelity offered from the system's hardware. I hope they can improve that in future products. Beyond that, the M5s is a fantastic midtier DAP. I will certainly be recommending it to enthusiasts looking for something in the $500 range.
Shanling M5s Technical Specifications
Size: 117mm x 59mm x 16mm
Net weight: about 178g
Screen: 3.2 inches HD screen
DSD playback: supported to DSD256
PCM playback: supported to 768kHz–32bit
Bluetooth: support LDAC (both ways), aptX (launcher only), AAC (both ways)
Wi-Fi: IEEE 802.11b/g/n support DLNA, AirPlay, OTA online update, HiFi cloud music library.
D/A converter: AK4493EQ x 2
Amplifier: AD8397 x 2
Gain: low gain / high gain
Support format: DSF, DFF, ISO, DXD, APE, FLAC, WAV, AIFF, AIF, DTS, MP3,
WMA, ACC, OGG, ALAC, MP2, M4C, AC3, M3U, M3U8
Sampling rate: 44.1kHz–384kHz
Output: single ended output (3.5 mm) / balanced output (2.5 mm)
Output power: 130mW@32ohm (3.5 mm) / 300mW@32ohm (2.5 mm)
Channel separation: 65dB (32 Ohm) /85dB (300 Ohm) – 3.5 mm
109dB – 2.5 mm
THD+N: < 0.001%
SNR: 121dB
Output impedance: ≤0.3 Ω
Frequency response: 20HZ~20KHz (-0.5dB)
External memory: supported up to 512G TF card
USB interface: Type-C (USB2.0)
Battery: lithium battery for 3400mAH
Playing hours: 16-17 hours (3.5 mm) 9-10 hours (2.5 mm)
Charging hours: 3-4 hours