Sound Impressions
Summary
If I could sum up the sound of the Questyle in one word it would be impeccable. Well almost, the best way I can describe it is to state that to date it is the best sounding portable player I've heard.
The music oozes out of this thing without a hitch or hiccup. Nothing is overemphasized or underemphasized. Adamantly there is a warmer undertone, but it never feels like it lends itself to overdoing it like other devices that pursue a similar tuning.
If you were looking for that piece of equipment in your system to simply relay music without getting in the way and to sound gorgeous whilst doing it, I think you might need this.
Pairings
I tried the QP2R with the IMR R1 earphone, Status Audio's OB-1 and have tried the original with some planar headphones which the QP1R was able to drive comfortably which is no easy feat. Varying from over-ears to in-ears the current matching tech in here does its job well never allowing anything to sound underpowered.
Everything is perfect, instruments open up and suddenly feel like they have room to breathe when being played through the QP2R. I've so many good words to say about it but summing up the overall tone of this device is a little tricky.
On the one hand, it's almost too effortless to describe. On the other hand, you can clearly tell something is happening when comparing it to a lesser source. It's rare for you to come by pieces of equipment that demand your attention as much as the QP2R does when you listen to it.
Synergy
Sources
There has been an array of sources I've tried over the years as well as sandwiching amps and DACs together, upgrading every wire, and spending thousands in search of upgrading every aspect of sound. I have even resorted to modding the internals of an iPod.
With this device, I just don't see the need to do all that. It gets out the way and gets the job done and never leaves me feeling like there is a need or a want for more. It has been able to match well with every headphone and earphone I own never adding too much color of its own.
The AKM AK4490 DAC chip can decode a wealth of micro-detail and spatial cues which relay and portray a deeply immersive soundstage. Treble is replicated as good as the track and your gear can handle it.
Mid-range comes across buttery smooth and spacious whilst bass remains tight and agile with maybe just a hint of a mid-bass boost. The overall tone leans towards a warm and natural touch it's like adding color to a canvas without ever restricting or directing the flow of paint.
All in all, it's what you would want from any high-end source and I can't see anyone being disappointed with this purchase. I've always found a flaw or cravat to sound when partnering gear up with other gear but for some reason, the QP2R seemly has great synergy with anything I threw at it.
USB-DAC
The QP2R will also work as a portable USB DAC. This used in conjunction with my laptop results in a heavenly setup. All the strongest points still stand true and I can't tell the difference between using the device as an external DAC or a dedicated audio device.
It's almost an all-in-one solution for those audiophiles looking for a no thrills portable device that can essentially replace an entire system.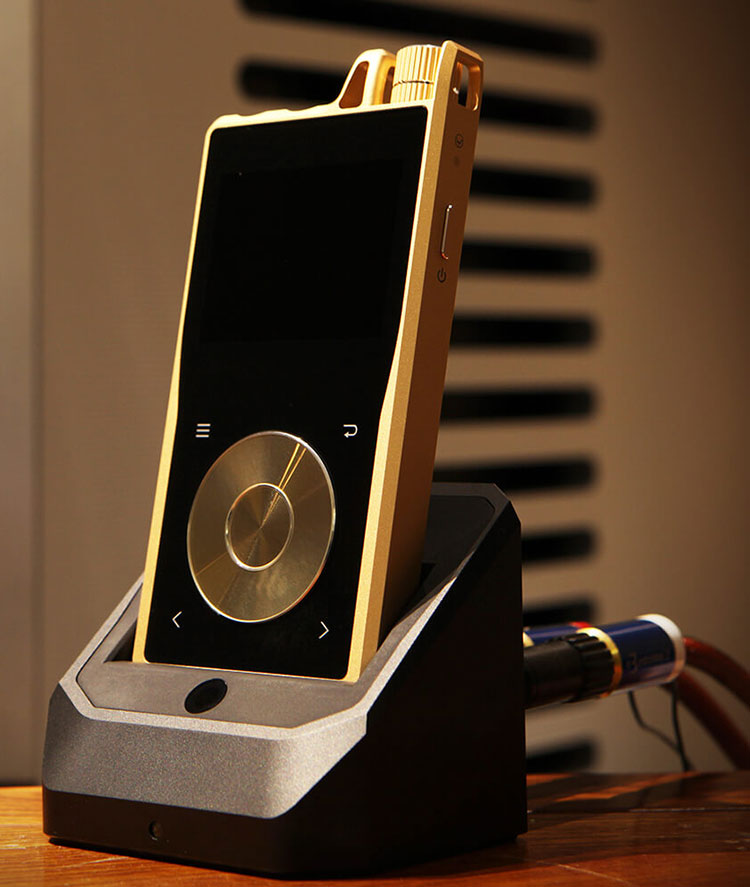 Questyle HB-2
Docking
Questyle has also brought to the table a handy little docking station named the HB2 priced at £499. You can also buy it with the Q2PR at a combined price of £1599 at selected retail outlets in the UK. Whilst I wasn't able to fully review the unit with any gear worth mentioning it will make a great device even more diverse with the aim of replacing your old CD player.
The docking unit will charge your device unless the music is being played in which case it shuts off to reduce interference. It can also be controlled via remote and features RCA and SPDIF outputs.
Home Systems
For those who intend to use the player in the home system, I can highly recommend it with the addition of HB2. The QP2R pushes the highest quality of audio straight to your speakers. I even tried out the optical output on my edifier B3 soundbar using the optical adaptor.
It was almost astonishing to hear the difference it made in comparison to the Bluetooth system I often opt for when at home. Blasting Ed Sheeran's album X music suddenly things became alive. The best way to describe it is to say things went from a flat 2D sound to a fully encompassing 3D-rich sound.
Subpar Recordings
Despite the way I have raved about the quality of the audio sometimes you will find it equally transparent. If you happen to own a few poorly recorded tracks you will see the QP2R isn't very forgiving. It will do a good job of sounding the way it should, but you will see the smudges of detail and may experience some harshness and consequent ear fatigue.
Select Comparisons
Acoustics Research AR-M2
Compared to Acoustic Research's Android-based DAP, the QP2R is ever so slightly clearer. I think this comes from the added space the QP2R offers. Instruments have more of a soundscape to work with making the player more adept at extracting detail from tracks.
The M2 and QP2R share a similar style of tuning to some degree. The M2 following a warmer overtone with much more low-end emphasis the QP2R more on the leaner neutral side of things. Both sound remarkably smooth and lifelike but do a beautiful job of delivering the music coherently.
Gun to my head though it is easy to see where my beloved M2 flaws slightly behind the QP2R. That aggressive mid-bass bloat and synergy issues can suffer from making the QP2R a better choice in music fidelity alone. It offers a more balanced and holographic sound over the M2. Note, it's not by a huge margin but just those few polished areas make a difference.
In terms of the U.I, considering the approach each company has opted for, my heart remains faithful to the Android-based operating system which is overall a little more user-friendly and familiar. Both players are great at what they do. The M2 covers a little more diversity with its range of features including Wi-Fi, whereas the QP2R offers a slightly more audio-focused approach.
In terms of raw power output both comfortable have enough power to drive almost anything you throw at it, so the decision then comes down to the rest of the features.
Our Verdict
This one is a little tough as I feel Questyle did a pretty good job with their last player. The new one doesn't exactly offer a ton of difference to its predecessor. On the other hand as a stand-alone unit, it is a brilliant player.
If you are thinking about the QP2R as your main DAP, you will not be disappointed at least when it comes to sound quality. The device is sexy, sounds superb, and offers some nice features to turn this into an essential desk piece, home audio setup, and of course a great on-the-go listening device.
If you are able to live with some of the shortcomings on the QP2R it's difficult to recommend many above it within the price bracket. It still remains one of the best bits of kit I've heard for pure audio fidelity alone. Maybe next time the inclusion of fast charging, bigger battery, wi-fi, etc could be an option but for now, I will say this much, I am happy.
Questyle QP2R Technical Specifications
Patented fully discrete/full-balanced/Current Mode AMP
Pure Class A BIAS control system
Audio Formats Supported : WAV, FLAC, WMA, MP3, OGG, AAC, ALAC,AIFF, DFF, DSF,APE(Normal/High/Fast)
Sample Rate: PCM 32kHz – 384kHz (16/24/32Bit)
DSD Native: DSD64(1Bit 2.8MHz), DSD128(1Bit 5.6MHz), DSD256(1Bit 11.2MHz)
DAC: AKM AK4490 DAC chip
Outputs: Headphone out (3.5mm) / Optical out (3.5mm) / Balanced out (2.5mm)
Output Level: Unbalanced 1.6 Vrms / Balanced 3.2 Vrms
Output Power : Unbalanced RL=32Ω,Pout=38mW; RL=300Ω, Pout=9mW; Balanced RL=32Ω, Pout=70mW; RL=300Ω, Pout=38mW
Frequency Response: ±0.1dB (20Hz-20kHz)
S/N: 100dB @ 1kHz, Unbalanced / 102dB @ 1kHz, Balanced
THD+N: 0.0006% @ 1kHz, Unbalanced / 0.0005% @ 1kHz, Balanced
Output Impedance: 0.1Ω