The Questyle QP1R is a unique current mode implemented digital media player featuring an in-house Linux-based operating system. It is priced at $899.
Disclaimer: The Questyle QP1R that was sent to us is a loan sample in exchange for our honest opinion. We thank Questyle USA for their support and for giving us this opportunity.
To read other Questyle products reviewed on Headfonics click here.
Note, this review follows our new scoring guidelines for 2020 which you can read up on here.
Questyle QP1R
Questyle has chosen to go down a retro-style approach, which rests more in line with this DAP's design language. What impresses me most is that the QP1R continues to sound great through all of its gain settings giving it the much-needed versatility to stand out as an all-in-one solution.
With a wealth of globally patented technology, Questyle Audio are a company dedicated to the design and manufacture of high-quality audio products for use in the home and portable settings. The company, which has subsidiaries in China and the US, has dedicated large proportions of its research & development to perfecting high-end audio reproduction.
After setting themselves a goal to create a portable audio solution, Questyle has recruited all of their efforts and technical prowess to rethink the Hi-Fi listening experience.
The result, just after three years, has culminated in the QP1R Digital Audio Player; a machine employing a twin steering wheel design, pure class A capabilities, support of DSD128, and impressive build. As if that was not enough, the DAP runs with quiet operation while simultaneously being able to drive high-impedance headphones.
The QP1R retails for $899 (£745) which places it in competition with several other audio players including but not limited to Fiio's X7 ($649) and Cowon's P1 Plenue ($729). The DAP improves over its predecessor with the inclusion of higher grade resistor and capacitor components which propel it towards higher levels of resolution and performance.
Design
Questyle has gone to great lengths with the design of their product and it certainly shows. Encased in a CNC-machined aluminum body, the QP1R sports a champagne-gold or space gray anodized finish complete with Gorilla glass merged into the anterior and posterior of the device.
On the front, the QP1R supports a 43 by 39mm color screen amidst an all-black finish. While not the largest of screens, Questyle has allowed users to enhance legibility by increasing the font size in their latest 1.0.6 firmware release.
Further down, users are greeted with the navigation wheel inspired by a 'spinning CD' as CEO Jason Wang described it. Adjacent to this are 4 buttons on each corner of the navigation scrolling wheel which represent the home, return, and left & right keys respectively. The tucked waist completes the surface of the DAP with a unique but stylish design flair.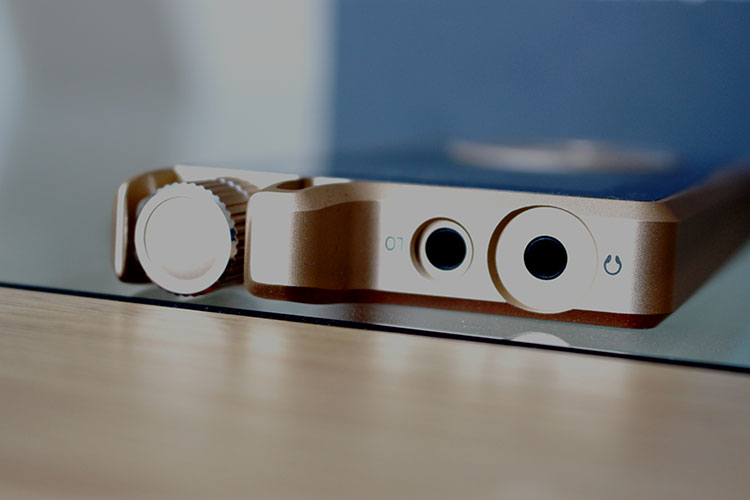 On the top, Questyle has chosen to implement a luxurious and elegant volume control in the shape of a crown inspired by a high-end watch. Jason Wang says that this implementation was embarked upon for two reasons: the first for an aesthetic and timeless appeal and the second to define the QP1R as a precision instrument.
A smart decision on their behalf to make their DAP distinctive in a market of metal blocks and add a touch of luxury. On the far right of the player rests a dipped line-out & optical output and on the far left, a 3.5mm headphone jack.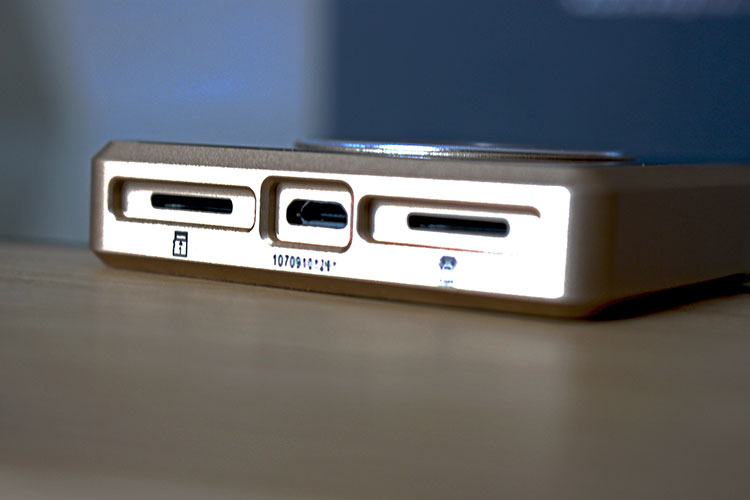 The bottom edge hosts the charging port sandwiched between two micro SDXC card slots. While the QP1R has a 32 GB onboard storage capacity, each micro SD card is capable of up to 128 GB storage boosting the device's capacity to a total of 288 GB. Finally, on the left edge of the player is the single power on and off button.
With regards to the weight, the Questyle measures in at a modest 218g. Now while this will not compromise portability at all it would have been nicer to have a slightly reduced dimension and mass to improve ease of use. Having said that, this product's weight makes it incredibly sturdy and premium feeling to the touch.
Screen
The QP1R adopts a 2.35 inch 400 x 360 IPS color screen which is embodied within the toughened glass structure. Together with the curvilinear metal and glass combination, the device truly stands out aesthetically.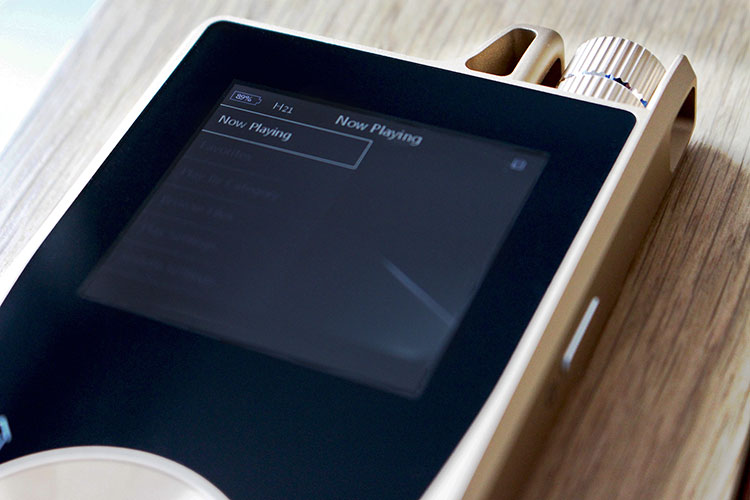 In contrast to the FiiO X7's larger and capacitive screen, the Questyle QP1R pays homage to the retro iPod design whereas the former is towards the modern smartphone era.
Both have their advantages but the X7, in my opinion, has better practicalities from a large music collection standpoint. Nevertheless, the Questyle screen is fitting for the look and appeal that the company is going for.
User Interface
The UI of the QP1R is derived from a custom version of Linux which is fluid and smooth without any detectable jitter or lag in the current firmware version. The home menu bears 6 different categories including: 'Now Playing', 'Favorites', 'Play By Category', 'Browse Files', 'Play Settings' & 'System settings'.
While for the most part, the interface is intuitive, it did take a while to figure out how to add songs to favorites and make new playlists. To do so, the home key must be held on the currently played song and the option to add it to either of the two options can be selected.
Gain Control
To change the amping of the player, the 'low', 'medium', or 'high' gains can be designated from the system settings. EQ settings can also be applied from a set of 2 user-defined customizations (but be warned that there will be a 6 dB drop in sound once turned on).
The Wheel
The functional navigation wheel is stiff upon initial use but does loosen up a bit with continuous play. Although not the best method of selecting songs from a large playlist, it is a necessary feature to keep up with the retro-style appearance of the QP1r.
Buttons
Perhaps my largest critique of the user interface and to an extent the software is that all of the hardware buttons except the power and play/pause buttons are disabled when the screen is on standby.
This means that changes of volume, fast-forwarding and even changing songs require the screen to be turned on. Questyle should take note of this hindrance and incorporate a software update to enable these buttons while on standby to optimize ease of use.
UI Comparison
Compared to Fiio X7's Android-based UI, the Questyle QP1R falls several steps behind. The implementation of a touchscreen and a familiar way of interacting with music settings not only smoothens the overall experience but also upheaves the device into the modern era.
While Questyle does not want to be associated as a gadget with unnecessary features, I feel a touchscreen could have still been executed without compromising this prerequisite. For what it is worth, though, the minor quirks of the QP1R can be overlooked with time as muscle memory sets in and the whole process become second nature.
The Internals
DAC
Incorporated within the architecture of the Questyle QP1r is a Cirrus Logic flagship DAC (CS4398) which is said to 'capture more detail hidden within the music'. The chip can support the decoding of DSD64 and DSD128 files as well as PCM files of up to 24-bit/192kHz.
This is quite a refreshing change to see from the often implemented ESS Sabre chips that many Chinese-based companies employ in their flagship DAPs. Also included is a 3x clock USB asynchronous transmission system derived from the company's flagship CAS192D DAC which guarantees better stability and more precise operation.
Current Mode Amping
Borrowed from their flagship CMA800R headphone amp is a patent-pending "Current Mode Amplification" technology that operates in a pure class A state to allow for more power with ultra-low levels of distortion. These innovations aid the device in achieving a 'wide bandwidth' amplification for the best price available.
Among the improvements from the standard QP1, the QP1r utilizes higher grade components with a more 'critical approach' to drive distortion levels lower whilst promoting a superior quality of sound.
Battery
The battery of the Questyle QP1R comes in at 3300 mAh which is a bit smaller than the Fiio X7's 3500 mAh battery and more akin to that of the Fiio X5's 2nd Generation DAP. Through daily testing, the battery lasts around 9 hours with the use of high and low gain combined and minimal on-screen time.
The device takes around 3 hours to charge from the mains but a bit longer through the USB output on a laptop or computer. While the battery is not bad at all, it could have been slightly improved in its capacity; something which Questyle should consider in a next-gen model release.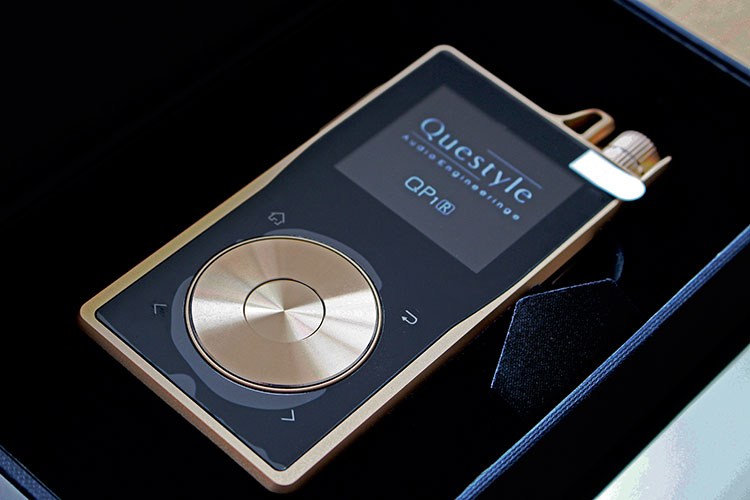 Sound Impressions
Summary
The Questyle QP1R offers a very refined listening experience with a clean delivery and top-class resolution. Notes sound full and fleshed out preventing it from ever sounding clinical or digitally emphasized and without being considered warm or colored. In fact, the QP1r is an accurate beast while still managing to retain a fantastic sense of rhythm and musicality.
Resolution
The Cirrus CS4398 chip, for example, can decode bouts of micro-detail and auditory cues to portray an immersive and complete soundscape. The result is a clear-cut and decisive sound that leaves no stone unturned for the end listener.
Testing the QP1r with a plethora of tracks, it was evident to see that the DAP handled everything that was thrown at it. Music sounds clear and cohesive while delivering pure unadulterated harmonies to justify the DAP's claim as a high-end device.
In Jill Scott's "Love Rain", bass stops on the dime with articulacy and authority while the overall complexities are handled with resolve and a layered presentation.
A rather unfair comparison to the desktop Schiit Mjolnir 2/Gungnir Multibit combination sees that the QP1R can maintain a tauter bassline equipped with punch and body while the former's lower-end is softer and slightly more diffuse albeit more textured and voluminous.
In Avicii's "Shame On Me", there are excellently defined transients providing the necessary air and space to separate each musical instrument within a highly detailed and involving sonic image. To this end, staging is fantastic; it is not often a DAP that can produce such a consistently layered and open sound.
Unforgiving
Having said that, there are some perceived downsides to this DAP's technical proficiency. For one, the transparent nature of the QP1r is revealing flaws which mean that poorly mastered or highly compressed tracks are suspect to some harshness and consequent ear fatigue.
Secondly, the player is not the smoothest around and thus may not bode well for those seeking a very warm and lush tonal character. Once you get past the poor quality tracks, however, it is plain sailing from there on in as the QP1r allows details within tracks to shine.
Synergy
The QP1r presents a deep black background with the ability to power audio devices from three power settings (low, medium, and high).
The particular gear tested in this evaluation were the Rock-it Sounds R-50s, Earsonics Velvet, HiFiMAN HE-400S & HiFiMAN Edition X V2 headphones.
Each was able to be powered sufficiently with the QP1r also handling full-sized headphones. Both the HE-400S and Edition X used around 35 and 40 clicks out of the full 60 in high gain mode to achieve sufficient volume and headspace.
Select Comparisons
Fiio X7
Compared to Fiio's latest android-based DAP (with AM2), the QP1r is clearer and more adept at extracting detail from tracks. While the X7 stays in the neutral-warm category, the QP1r revels in a more neutral-bright affair.
As a consequence, the X7 sounds more polite and smoothened next to the QP1r. Despite this, Questyle have still managed to make their DAP sound full and natural. Both of these DAPs have great staging abilities presenting music in a holographic fashion with the QP1R edging the X7 in separation.
iBasso DX90
While the DX90 has a better low-end presence and heft, the QP1r delivers the same frequencies more tightly and articulately. Across the board, the QP1r is quicker and more adroit in the retrieval of details while possessing better positioning, layering, and separation than the DX90.
Our Verdict
Overall, the Questyle QP1RDAP is an excellent companion which offers outstanding sonics in a durable and yet stylish design. Having said that, the user interface is not the best and would have benefited from a more modern approach akin to today's smartphones.
Questyle has chosen to go down a retro-style approach, however, which rests more in line with this DAP's design language. What impresses me most is that the QP1R continues to sound great through all of its gain settings giving it the much-needed versatility to stand out as an all-in-one solution.
At $899 (£745), it is not the cheapest player around but should be a serious consideration for anyone wishing for a great build and an excellent audiophilic sound.
QP1R Technical Specifications
Patented "Current Mode Amplification" in headphone AMP, all discrete components, Pure Class A circuit.
File Format Support:WAV, FLAC, ALAC, APE, AIFF, ADPCM, LPCM, MP3,
WMA,WMA Lossless, OGG, AAC, DFF, DSF
Sample Rate:
PCM Native: 44.1 kHz – 192 kHz(16bit/24bit)
DSD Native: DSD64(1bit 2.8MHz)/DSD128(1bit 5.6MHz)
DAC: Cirrus Logic CS4398
Output:5MM headphone output, 3.5MM line out & optical output
Frequency Response: 20Hz-20 kHz(±0.1dB)
QP1 R THD+N = 0.0006%
Output Impedance :
QP1R: 0.15Ω
Memory:
Internal: 32GB
External: Micro SD card 2*128GB
Battery:3300mAh Li-polymer, 8-10 hours
Charge Current:
Via PC USB connection @ 450mA,
Charging Time: 8 hours