The Padmate PaMu Slide Mini is a competitively priced TWS featuring aptX, BT5.0, and up to 40 hours total battery life. It is priced at $55.99
Disclaimer: The Padmate PaMu Slide Mini sent to us is a sample in exchange for our honest opinion. We thank Padmate for this opportunity.
To learn more TWS reviews on Headfonics you can click here.
Note, this review follows our new scoring guidelines for 2020 which you can read up on here.
The Padmate Company was started through an Indiegogo campaign by the Harda Group in 2010 and is one of Harda's most successful startup companies. Harda is an R&D company founded in 2004 that works mostly with OEM companies in the development and manufacture of new and future wireless TWS audio products.
The Padmate PaMu line is composed of several TWS units all developed in house by their product management team in their own testing labs and their own manufacturing facilities.
Padmate sent us this unit in exchange for an honest review. We are grateful and give thanks to Padmate for the opportunity to review their products.
Product Introduction
The PaMu Slide mini is a TWS offering and is an alternative take of their PaMu Slide plus model which I believe is their second best seller. Their best seller according to their website is the PaMu Scroll.
The PaMu Slide Mini is basically a smaller alternative to the Slide plus and has basically the same tech, Features, and even the same earbuds.
The major changes between the Mini and the Slide plus are the charging case and battery capacity. The reduction in size has made this their smallest offering which is the major niche of this particular model.
The PaMu Slide mini is available in Black, White, Pink, and Green. It also comes with a 1-year warranty and have a 30-day return policy.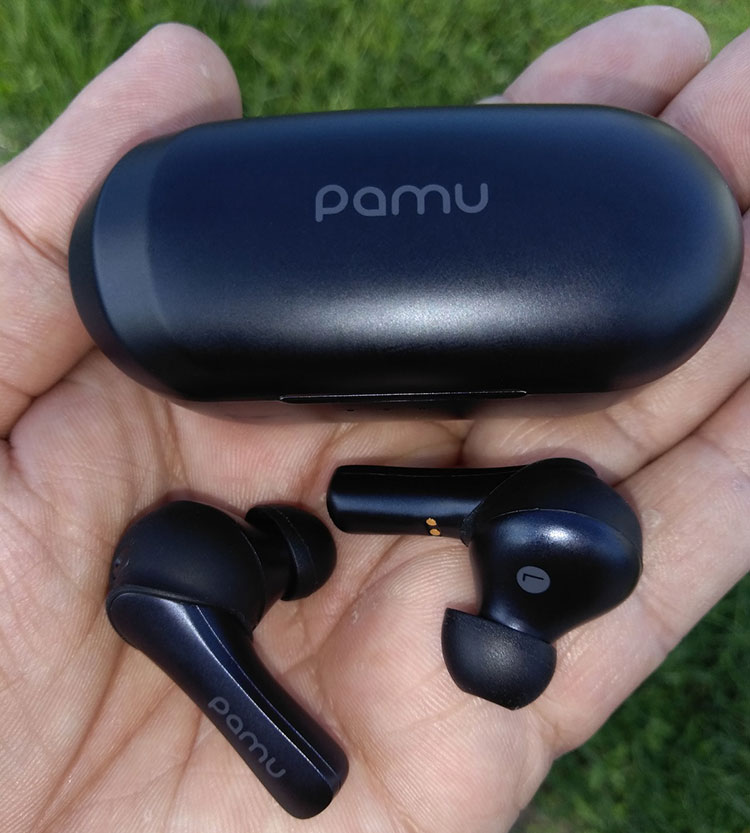 Tech Inside
True Wireless 5.0
The PaMu Slide mini is equipped and powered by a Qualcomm QCC3020 Bluetooth 5.0 chipset. According to Qualcomm this tri-core chip is capable of APTx, SBC, AAC, 32-bit decoding, and has cVc noise-canceling technology.
It also features Kalimba configurable DSP and has a single-core 120 Mhz DSP subsystem. This Qualcomm chip is capable of 2mbps of dual-mode Bluetooth speeds at up to a 10-meter range.
I got a little less than the 10-meter range out of these. 9 meters to be exact and when they fell out of range, I had to reseat them inside the case to reset them and again initiate the pairing sequence every time they fell out of range.
This Qualcomm chip is part of the QCC30xx low power entry-level SoC series of Bluetooth chipsets and Padmate says it's responsible for the great battery life and overall performance of the Slide mini at its price point.
Driver
The stem style earbuds sport a 6mm 16-ohm single dynamic ultra-thin composite diaphragm driver. I had to dig deep for this specification. There are no frequency response specifications or other specs available that I could find for this driver.
There's a Led indicator on each earbud but it's unclear to me what they're for. I know they turn red when charging in the base and turn off when fully charged but their blinking sequence while out of the base is not specified anywhere that I could find. There is also an embedded microphone in each earbud for phone call use and or social media voice chat apps.
Ear Bud Battery
Each ear bud has an 85mAH battery with a 10 hour battery life and it took me 2 days to completely discharge the internal batteries. These buds have very good battery life and can be used all day long without having to worry about charging them through an entire day.
Controls
There are touch controls available at the top of the stem. The usual touch once, twice, long-press sequences are implemented and have all the functions you'd expect from a good TWS unit except there's no previous track function even though a couple of other functions are repeated. Siri assist is available through touch controls as well.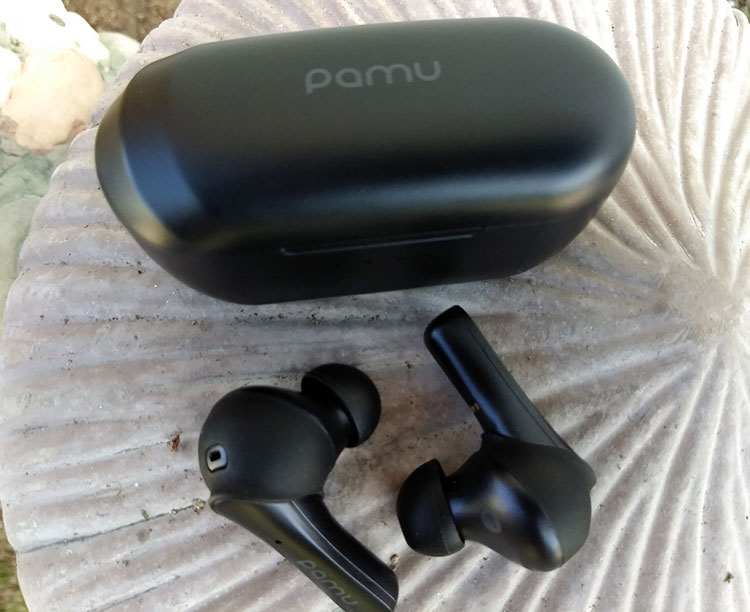 Comfort & Isolation
The earbuds come with a silicone sheath and Padmate claims it makes the earbud more comfortable and fall out resistant. The IPX6 water-resistant earbuds have an ergonomic design and angle down and into the ear canal and stay put pretty securely. Padmate has made available replacement earbuds and extra charging cases on their website as well.
These earbuds stay in place pretty well. They're pretty comfortable but I did get a sore spot inside the ear after wearing them for about a couple of hours or more. Isolation was not bad. There's no active noise canceling, just passive and it depends highly on getting a good seal.
The Tips
This is probably the worst aspect of this TWS unit. The tips are not a standard size and are oval-shaped. They don't go deep into the ear canal either. I had a very hard time finding one that fits my ear and since the stem mounting system is also oval-shaped, there's no possible way of installing your favorite aftermarket tips or any other tips on these earbuds.
Tips should be made a standard size on all earbuds and IEMs. Sound quality is highly dependent on fit and if the 6 tip sizes included don't fit your ears then you won't get the full benefit of the drivers tuning.
Charging Case
The charging case is very small and fits inside the palm of one's hand. If size matters to you and you're looking for a small TWS model that can fit in the smallest of spaces you'll like this one. It measures 2.71×1.29×1.2 inches or 70.2x33x30.5 in millimeters. It's a dual function charger equipped with fast charging through a USB-C port and it also has built-in wireless charging capability.
The case has a flap-type door on a hinge with magnets and unlike the Slide plus, it has no sliding door and perhaps should have simply been called the Mini. It's about half the size of the original Slide Plus and because of the size reduction, the battery capacity has been reduced from 60 hours to 30 hours worth of charge and or playtime.
The 400mAH battery charges very quickly in approximately 2 hours or less and is capable of charging the earbuds about 3 times from 0 to 100%. Four LEDs give a visual cue on charge levels and each LED represents 25% of charge.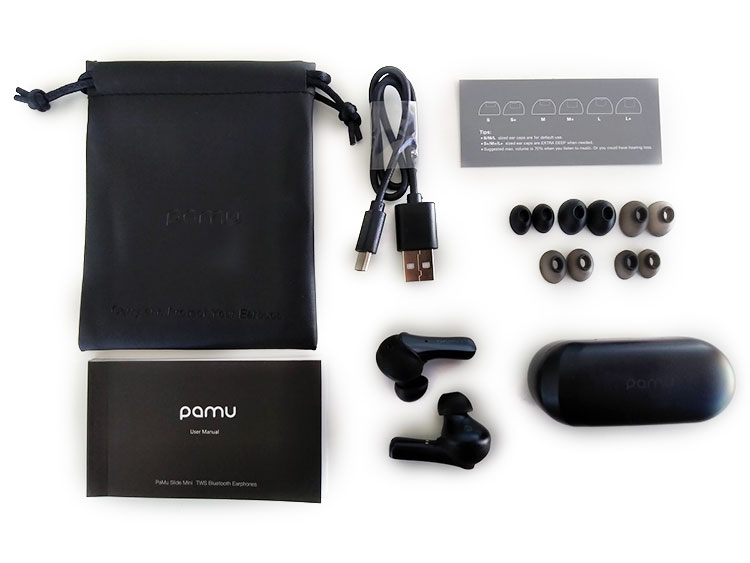 Accessories and Packaging
The box is robust enough to protect its contents. It's a white printed sleeve covered black box with a magnetic flap that measures approximately 5 inches tall, 4.2 inches wide, and 2.35 inches wide.
It's UN boxing worthy but doesn't go overboard in its presentation. It looks good and has an elegant feel. Opening the magnetic flap reveals the 2 earbuds and charging case.
Inside the box, you will find a PaMu embossed carrying pouch, an instruction manual in various languages, 5 spare tip sets with a size chart, and a USB C charging cable.
Slide Mini Sound Impressions
Before I judged the sound quality on this set I ran the Mini for about 20 hours to rule out driver break-in and made sure the drivers were well broken in.
I included a graph posted on the Padmate website of the frequency response measurement curve of the slide mini. Although graphs at times don't tell the entire story, it can visually show certain issues in sound quality.
The graph shows a 20+ decibel difference from 20hz to 500hz. The graph shows that these earbuds have an elevated bass response, a peak at 3k, and roll off at about 16khz. The sound signature is not V-shaped but rather bass-centric. The mids and highs are pretty flat until the roll-off except for around the 3k peak which can be tamed with an equalizer.
These play well with almost any music genre but these are more suitable for listening to music streams, phone use, and MP3 files and are not the best for playing high fidelity FLAC files.
Bass Response
The Slide Mini bass has a slightly funny character to it because of its elevation. It's not a monotone bass. You do get tonality. It's just too elevated and bleeds all the way into the mid-bass and even into the lower midrange section.
The bass digs pretty deep. However, I ran a tone generator with them and I did hear some rattle at about 25 Hz to about 40 Hz. It might not be the driver but some of the other internal components that rattle.
Midrange
Not everything is gloomy. The Slide Mini midrange section on these is quite good once you tame down the bass with an equalizer. There are good tonality and detail but it is recessed and does take a back seat approach because of the elevated bass.
There is good separation of instruments and vocals and lots of detail for what they cost and for the price bracket. They're not the best at micro-detail retrieval but they do okay in that department.
The midrange images pretty well. It's pretty flat with an accurate presentation of instrument tones. Piano tones, guitars, and voices, for example, all sound correct in tone.
Treble
Here is another area that these do okay in. The Slide Minin highs are sufficiently sharp, somewhat airy and detailed with some sparkle. The highs image very well with good placement and have a decent extension. They don't go into sibilance territory and are not offensive or piercing.
However once again, I detected anomalies with a tone generator above 15khz. They produced artifacts up and above that frequency in the form of noise. I didn't detect any artifacts while listening to music, only with a tone generator. It's a very strange thing indeed.
Imaging and Separation
I was expecting a narrow soundstage but the Mini has decent imaging and have some width. Left to right positioning is quite good and it's pretty accurate.
You will find good depth and decent width. It's not the best but it is not the worst in this area especially in their price range. There is very little height detected by my ears with the width being their best attribute. I dare say that these will work well for gaming.
The Microphone
The Slide Mini microphone is simply acceptable. It does sound just a tad muffled but people at the other end understood what I was saying and the microphone shouldn't be a big issue in most cases. It's useable just don't expect studio-quality performance.
Wireless Performance
Pairing
The Slide Mini paired up well with every device I had. I paired these with success to an iPod touch, two ZTE android phones with BT4.2, an LG style, and my custom built pc which is equipped with Bluetooth 5.0. They pair automatically once you do the initial pairing.
There is about the typical .2 second latency delay. It's barely noticeable and it's not the worst in latency of most TWS models. Latency is quite acceptable.
Range & Stability
The Slide Mini wireless range was average. I was able to walk about 30 feet away from the source in a straight line and at that point, I experienced some dropouts using a 5.0 BT source. But once again I have to mention the repairing issue every time they fell out of range.
Loudness was sometimes an issue and at times I wanted more volume but I like music extra loud normally and the loudness might be sufficient for most. I think these are capped at about 90db to protect users from hearing damage.
Select Comparison
Hifiman TWS600
SRP $149
Technical
Here is a TWS unit that is totally different in sound signature and construction. Battery life on the Slide Mini is better far as the buds are concerned but the Hifiman unit holds more charges per case. The Hifiman case is larger with more capacity but has no wireless charging.
Hifiman did it right by using a shaft that's pretty much universal and can use almost any aftermarket tips available contrary to the Mini model. Touch controls vs. push controls? The Hifiman unit has the missing previous track at least but the touch controls win for me. They're so much easier to operate. Both buds are equal in comfort but the Hifiman edges out in weight by just a hair.
The operating range is greater on the Hifiman unit and pairs back up automatically when you fall out of range and come back. Hifiman wins in that respect. Neither model offers any type of application neither for PC or Android use. I forgot to mention this before about the Pamu Slide Mini.
Tuning
The TWS600 has a midrange centric sound contrary to the Slide Mini which has a bass-centric sound. If you like bass you might not enjoy either, to be honest. I can tell there's better quality in the Hifiman driver but the tuning is off because there's no bass and you must use a heavy bass boost to get any plus the midrange is way too elevated.
On the opposite side the Pamu Slide Mini bass is what's elevated and to the point where it bleeds into even the lower midrange section. They both have decent clarity in the highs but the Hifiman wins in micro-detail retrieval.
There are certain things you can do to improve the TWS600 like changing the tips to foam tips but there's not much to do with the Slide Mini. It is what it is as they say.
Our Verdict
The market is being flooded with TWS models from many manufacturers and each has to either offer something unique or offer better sound quality compared to the rest of the competition in order to be competitive.
The Padmate PaMu Slide Mini has a very good battery life and a very small charging case and that's their niche and that they're offered at a reasonable price. They don't sound too bad and I think most will find the sound quality acceptable, just don't expect audiophile quality sound. I think that applies for most TWS units out on the market today with a few exceptions until further development is done and certain barriers are broken with this fairly new technology.
The bad points of the Slide Mini are basically in these areas. I disliked the oval-shaped ear tips and I don't like the fact that the bass is extremely elevated by 20 decibels. Plus there's no previous track function. Padmate should look into these 3 areas for their future products. There is also the out of range repairing issue.
If you're looking for a small factor TWS set that doesn't cost a fortune, with a great battery life that sounds decent enough as to not offend most people with a good feature set then give these a try. Buy them for the conveniences they offer alone. You might like them and you can always use the 30-day return policy if you don't.
Padmate PaMu Slide Mini Specifications
| Bluetooth | Play Time | Talking Time | Charging Time |
| --- | --- | --- | --- |
| 5.0 | 10 hrs | 10 hrs | 1.5 hrs |
| Water Resistance | TWS Chip |
| --- | --- |
| IPX6 | Qualcomm QCC3020 |
Battery Capability
Dimension:
400mAh+85mAh
37.5x26x19.5mm (earphones);
70.2x33x30.5mm (charging case)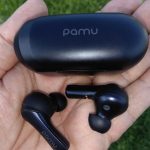 Padmate PaMu Slide Mini
The Padmate PaMu Slide Mini has a very good battery life and a very small charging case and that's their niche and that they're offered at a reasonable price. They don't sound too bad and I think most will find the sound quality acceptable, just don't expect audiophile quality sound.