The HiBy Seeds II is a pure copper shell, vacuum-electroplated, dynamic driver universal monitor. It is currently priced at $129.
Disclaimer: The HiBy Seeds II was sent to us a sample in exchange for our honest opinion. We thank HiBy Music for this opportunity.
To learn more about HiBy reviews on Headfonics you can click here.
Note, this review follows our new scoring guidelines for 2020 which you can read up on here.
HiBy are known primarily for their excellent range of DAPS such as the R3 and R6 range. However, you may not have noticed their IEM sideline.
The second-generation "Seeds" or Seeds II universal monitor is being pitched as a complete overhaul of their original Seeds IEM which came out a few years ago.
Out of the box, this is a stunningly attractive IEM with an attractive $129 price point. At merely $20more ($149) you can get the platinum Seeds II option which packs in an additional 4.4mm balanced cable, offering even better value.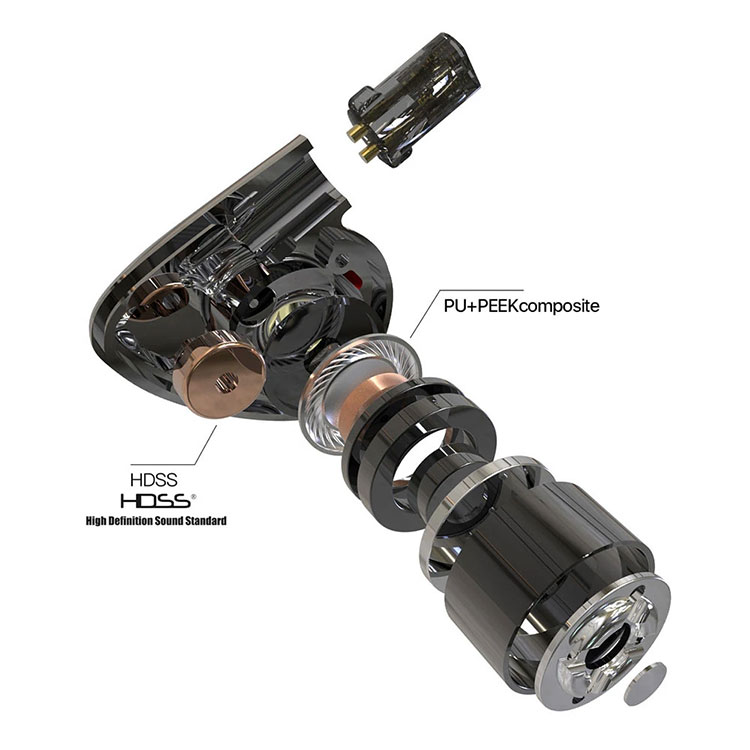 Tech Inside
The pure copper, vacuum-electroplated housings engraved with "Seeds" houses a 10.2mm dual-coil dynamic driver. The driver is a PU+PEEK composite diaphragm designed for meaty lows, natural mids, and rounded higher frequencies.
The earphone is HDSS patented technology. This is a high definition sound standard developed by TBI Audio System LLC in the USA which emphasizes phase coherence by using a single dynamic driver approach in patented housing designs. In theory, this helps to avoid back wave interference and ensure the piston motion of the driver.
With HDSS technology HiBy aims to achieve a higher tone purity, a 3D soundstage, and a non-fatiguing sound with the Seeds II.
Packaging & Accessories
The Seeds II are professionally packed in a cleanly designed paper box. Opening up you will find the IEMs sitting on the front layer with two cables packed inside the carrying case beneath.
There are 3 sets of silicone and foam tips in S/M/L sizes. The dual cable edition is sold at a slightly higher price which makes it a much better pairing if you have 4.4mm balanced outputs on your DAP.
Design
The Seeds II are surprisingly well built and not as hefty as I have imagined while being quite small in size. The body is molded from copper and smoothly electroplated, silky smooth finishing done in high quality.
13 stages of reliability tests are done for this design including abrasion-resistant and plating hardness to reassure production quality. The electroplating consists of 9 steps of treatment including vacuuming, baking, freezing, ionizing, pre-sputter, plating, surface treatment, cooling, and re-pressurizing. The Seeds II comes in Black and Blue and both of them look stunning
HiBy claims that it can reduce unwanted resonances using copper as its base material. You can see in their explosion diagram above how the driver fits into the housing. A slightly extruded 2-pin socket can be found on the Seeds II which will allow you to upgrade to higher-end cables with a 45-degree bend that will well fit most ears.
The metallic nozzle with silver grills has gold-colored plating which gives the design a nice contrasting aesthetic.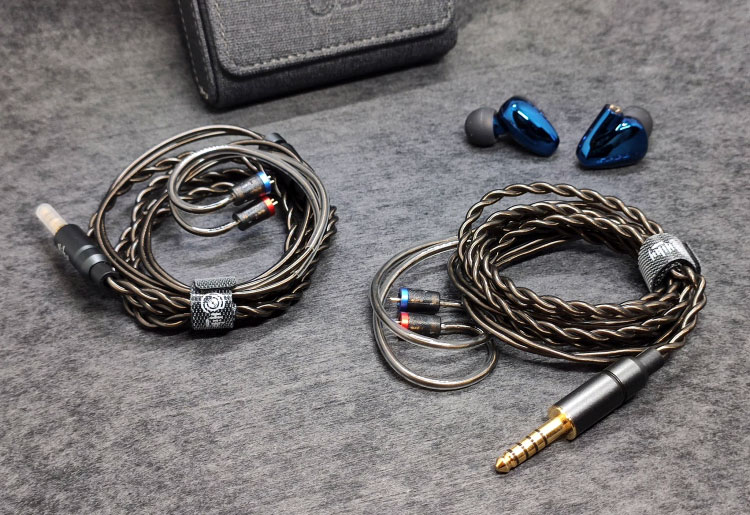 Cable(s)
The version of Seeds II cable sent to us uses a quad-core SPC cable, featuring 36 x 0.05mm cores inside and sell at $65USD as a standalone purchase.
With 3.5mm and 4.4mm terminations, you can pair the Seeds II with any DAP player that uses a balanced output. It can be useful to compare different outputs on the same machine with both cables out of the box.
The build quality on these cables looks promising and tough with metallic parts and a molded strain relief. However, there is a low level of microphonics with the thick cable though the chin slider will help to position and reduce the noise. The cable also has a locking mechanism to the slightly extruding socket on the earphones.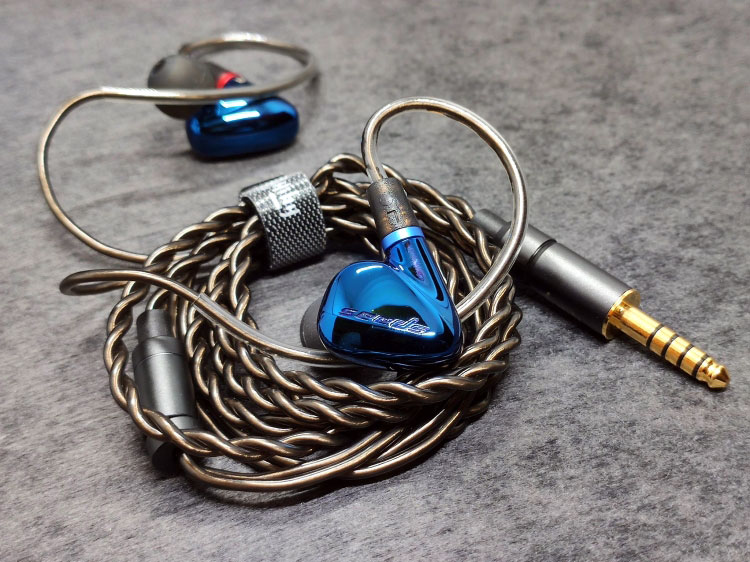 Comfort & Isolation
The over-ear design is built around a petite size enclosure with a tilted nozzle. This allows for a flush fitting and a fairly discreet look in the ear.
I am getting a deeper fit and a good seal with foams. With the stock tips, I prefer letting it sit less deep inside, with foams it is blocking out a good amount of noise. The cable is quite thick but it doesn't cause much stress on the ear as the Seeds II drivers are not that heavy.
Sound Impressions
Setup
As usual, we are letting the Seeds II burn in for some good time before we start. The below impression is made with various gears such as Macbooks, Phones, and different DAPs.
Bass
Testing on various 3.5mm outputs the Seeds II shows a hint of warmth. With adequate power in the output, the bass is fulsome, nicely balanced between resolution, dynamics, and texture.
The punchy lows articulate swiftly to the higher registers, where the lower-mids are slightly pressed down for vocal clarity. Vocal imaging forward with a pronounced upper midrange performance.
Mids & Highs
Overall, the mids are nicely balanced with good note weight. Instruments such as viola and acoustic guitar solos sound quite natural without too much softness so vibrato effects are easy to pick out.
Being moderately hard on power, weaker output pairings may sound more congested and veiled with a bit of a treble roll-off. This may make high notes on instruments sound dimmer. Fast impact high dynamic notes from woodwinds, violin plucks, clarinets, and percussion sound cleaner with more power.
Power
When powered correctly the Seeds II delivers better texture and layering in the lows. You can hear the improved resolution and as a result, sounds more natural with a fuller vocal and airier treble. Nothing seems overly emphasized or sharply rolled off.
Instrumental separation is decent with good width rendering an oval-shaped, chamber-sized soundstage. The Seeds II is forgiving with most tracks, especially old Japan/ Canto pops that have thicker vocal lines, jazz, and live recordings.
Balanced Cable Performance
The Seeds II is well balanced and responsive to reflect how much resolving power and coloration the source can provide. You can try to equalize a bit to give your setup a better balance and bring up the fullness in vocal depending on your source synergy.
It is also friendly with most music genres and has an advantage with powerful sources but won't sound harsh or lossy with lower end DAPs. The overall performance under balanced configuration is more than satisfactory considering the asking price of most 4.4 terminated IEMs are more costly.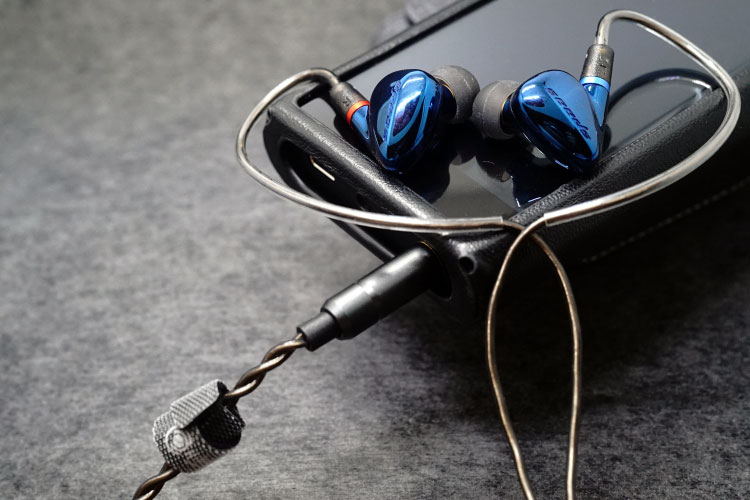 Synergy
Efficiency
The Seeds II rating of 34Ω and 109db SPL is much lower than its predecessor, the Seeds Gen 1 which had a 50Ω rating. However, being relatively higher in impedance than many IEMs the Seeds II still requires some good power to shine.
One plus point of lower sensitivity is the lack of background noise from source high noise floors. That is ideal as the more power you throw at the Seeds II the better the resolution and response, regardless of using a balanced or unbalanced response.
Sources
The Seeds II is responsive to sources, with good fullness in the lows, clean vocal, and rounded highs. The tuning matches better with higher gain/ outputs for better dynamics and liveliness, revealing more treble details at the same time.
Amping the Seeds II or using more powerful DAPs/ desktop sources will give you the best tonal balance. It can get quite bassy when powered by weaker outputs, possibly tuned to compensate ambient noise for outdoor listening.
On a balanced configuration, the performance is audibly superior promising better-resolving power, openness, and refined. Therefore I recommend getting the 4.4mm + 3.5mm cable, ( platinum version).
Pairings
Higher-end DAPs such as the HiBy R6 Pro, Shanling M6/ M6Pro, and the FiiO M11/M11 Pro optimizes the balanced output with solid bass impact and resolution. Frequency extension sounds more audible with these DAPs on the Seeds II. The bass layering and treble texture are improved with better dynamics.
Putting on the 4.4mm balanced cable, the Seeds II immediately sounds cleaner and more resolving. The bass is tighter and more controlled so you can hear every instrument clearly in the mid-treble range.
Using a balanced configuration or stronger output the Seeds II works better for classical music which requires more dynamics, resolution, and air in the treble. Pops music also gets more sparkle with the 4.4 cable upgrade. In particular, EDM genres sound energetic and punchy.
On the FiiO M11Pro/ ZX300 you will hear a more analytical performance. On HiBy's own R6Pro and the new Shanling M6 Pro, you will hear fuller mids that make vocals more natural sounding. There is an excellent synergy between Seeds II and HiBy's own DAPs and I recommend listening to higher resolution files with the Seeds II on both.
Select Comparisons
Final Audio E4000
At a similar asking price, a comfortable bullet-design and a single dynamic configuration, the E4000 is a potent competitor. The 15Ω rated E4000 is noticeably more responsive to lower output power than the 34Ω rated Seeds II.
Mids and mid-lows on E4000 are more weighted and pronounced than the Seeds II. Side by side, you can feel the E4000 is focused on being more of a vocal performer. The Seeds II are a better all-rounder than the Seeds II. They are more extended and balanced sounding to capture fine details in the highs and lows.
There is more weight and energy in the mid-lows with the E4000. The Seeds II are more laid back in that area but shows more space in staging and sounding more holographic with fuller sub-to-mid bass responsiveness.
Side by side, the two IEMs show very different characters. The E4000 works easily with phones and laptops for vocal lovers and the Seeds II is more for higher-powered DAPs and capable of handling more genres of music with its tuning.
Ikko OH1
The hybrid OH1 is a popular choice at a similar price, encasing a single dynamic driver and a single BA driver configuration. It is easy to drive with a catchy V-shaped tuning that sounds energetic in the lows with a clean vocal.
Comparatively, Seeds II holds up better with higher volume and has better texture in the bass. It also sounds more controlled in the treble, less peaky offering more coherence and swiftness in articulation.
On the other hand, OH1 sounds more exciting with lush mids, but less controlled on both ends with less detail in the bass. The OH1 performs well on everyday sources such as laptops and phones but if you are a mid-higher end DAP user the Seeds II will scale better.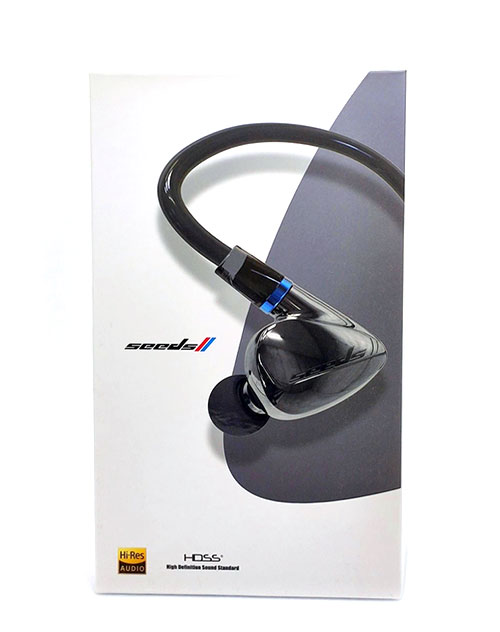 Our Verdict
I didn't expect HiBy, a DAP manufacturer, to release an attractive IEM like this. The Seeds II has outdone my expectations remarkably well made with a balanced tuning that pairs well with their own DAPs and other portable sources.
Although 4.4mm terminated IEMs are always more costly it is strongly recommended to get the dual-cable bundle as it offers better value. If you still haven't got your first 4.4mm balanced earphones for your new DAP the Seeds II is definitely worth a try!
Seeds II Specifications
Sensitivity: 109dB
Impedance: 34ohm
FR response: 20Hz-40kHz
I didn't expect HiBy, a DAP manufacturer, to release an attractive IEM like this. The Seeds II has outdone my expectations remarkably well made with a balanced tuning that pairs well with their own DAPs and other portable sources.