The NuPrime Hi-mDAC is a small portable high-resolution DAC and headphone amp capable of PCM 32/384 and DSD 256 decoding. It is currently priced at €139.
Disclaimer: The NuPrime Hi-mDAC sent to us is a sample in exchange for our honest opinion and does not have to be returned. We thank the team at NuPrime for giving us this opportunity.
To read about other NuPrime products we have reviewed on Headfonics click here.
Note, this review follows our new scoring guidelines for 2020 which you can read up on here.
A few weeks ago, a swarm of small mini-DAC's arrived at my door. One of these was the NuPrime Hi-MDAC. Priced at a modest €139 I consider this one to be the most interesting of this current batch.
The competition is blazing hot for portable mini-DAC's that are intended for usage with smartphones, so I am extremely curious to get the ball rolling and see what NuPrime has to offer.
The Package and Accessories
The box container is quite small and modest, nothing fancy to report there. Inside, a small folder piece of paperwork, the Hi-mDAC, and a USB cable.
So, NuPrime included a treasure trove of interconnects with their S8 mini DAC, I am a bit underwhelmed to see just one USB-C included with this mini DAC.
Is it a big deal? Nah. Not really. I think most audiophiles have their own interconnects by now, although it is an issue for anyone else who does not have a USB to a Lightning adapter or a phone that rocks the original USB-mini port.
Design
No question about it, this NuPrime Hi-MDAC has the best build quality in a small form factor DAC that I've ever seen…and dang, I own so many and have reviewed so many.
They decided to just carve out a chunk of solid metal and toss some volume buttons on it. Seriously, this little thing is heavy and so dense feeling. Oddly, it is also the biggest of the small form factor DAC's that I have ever seen…it is a chunky boy for sure! But, in all honestly, at this size, nobody cares. It is still absurdly tiny.
True, most of the other tiny form factor DAC's are slimmer, but none of them have the power this NuPrime shells out. The volume buttons feel rock solid…or…metal solid…not even sure what term is proper there, but they do feel like they are metal to me. I rate the overall build quality in the excellent tier.
The DAC
NuPrime has used a CS43131 DAC chipset implementation inside the Hi-mDAC, which happens to be a chip that ends up sounding very smooth overall in some other products I've experienced.
It reaches up to 384kHz and is DSD256 capable, which is very competitive. I remember the days where I paid $1500 for DAPs that housed DSD64 and I was absolutely blown away by it. For this price, this is a steal.
No doubts in my mind, this is one of the better sub $150 DAC's out there that I've seen that offer this teeny tiny form factor. Typically, the CS chipset is a hit or miss, depending on the implementation, so I am happy to report that NuPrime studied and did well on their test in this product.
Whoever designed it, took some time to make sure the tuning was proper and not just a fast hobble of parts with a randomized end-result.
Sound Impressions
Bass Dynamics
The Hi-MDAC is extremely smooth on physical dynamic slam and engaging factors. However, the depth and weight carried it moderate at best, fixed with some DSP usage and a tweak here or there with the EQ on my sources.
This is not the DAC I want to use for bassy headphones, like my Swan Song Audio open back or something like an Audeze LCD-2. Yes, I think this little NuPrime can power most headphones, but I would avoid the power-hungry planars, as you get a weak sense of bass overall, even at higher volume settings.
Bass Fidelity
As far as fidelity goes, the experience is roughly the same as the Hidizs S8 that I will be reviewing soon. Bass is not the strong suit of this product, but what is the low ends strength is the smoothness factor, of which no other small DAC I have to compare with can match.
This is a very musical and slick sounding DAC. Swapping to the S8, the bass churned into harsh and gritty, annoying even on the S8 and lacking a sense of elegance and glistening effortlessness that comes with the Hi-MDAC.
Midrange
Interestingly, this is a laid-back feeling DAC and not overly engaging or too forward, as most of these tiny DAC's seem to be these days. This DAC shines very well with my Moondance IEM's, as well as my older Kinera's, which are two sets of IEMs that have a gentle recessive quality to the physical placement of vocals in the void.
I do not consider it recessed sounding, only slightly laid back in placement. It is not at all overly spaced away from the listener, nor is it overly forward. This plays very well with live recordings and classical music.
In fact, I love using this DAC with the newer Aeon2 Planar, which offer an absurdly smooth and impact-less physical feel to the experience.
Treble
The top end of this DAC is the star of the show. As if the bass and mid-range smoothness weren't enough, the top end sparkles and glistens in the starlight so beautifully. This DAC smashes some of the other small DAC's I've reviewed, specifically the ones intended for usage mostly with phones on the go.
The dynamic kick factor is less than moderate in quantity, which is also another way of saying this DAC is exceptionally smooth feeling and with the quality sound of the Aeon2, the pairing is exceptionally tailored for each other.
Of course, you can far exceed the fidelity of the Hi-MDAC with desktop amps or the larger portable DAC's out there. But truth be told, I have not found another DAC that meshes on the tonality level, as well as this NuPrime, does with the AEON Flow.
The top end has a great density factor, a solid sense of sparkle and brightness, without being overly dulled. This is exceedingly rare for small DACs. Usually, they all end up neutral or clinical, but this one is highly musical and smooth.
The difference between the FiiO models like this, the S8, and this Hi-MDAC are extremely branched in different directions. This is the only truly elegant sounding small DAC of the lot and the top end is no exception.
Staging
This is also the most coherent sounding of the handful of small DAC's I have now, which can be a good thing in its own right, as well as a curse. Too much smoothness gets a little too non-engaging over a short period of time and my ears require something to latch onto.
Forward mids, a good snappy punch now and then, or perhaps deep-reaching bass? None of those qualities are part of this experience. When that lacking engaging quality combines with good stage depth, good left/right width, and good air between instruments the experience overall tends to become a bit underwhelming in excitement.
Live Recordings
YouTube rips, specifically those with live recordings of an actual concert, sound amazing. Simply breathtaking and open, very spacious and relaxing.
I do not consider this DAC well geared for very engaging midrange headphones, such as my Grado PS500, but of course, it still sounds particularly good in fidelity factor. I think out of the crop of competing dongle DACs, this Hi-MDAC sounds the cleanest and the smoothest, by far.
I'm a sucker for open-air venue recordings, where the audio is not being fed to the recording through the band mixer, but instead, actually being recorded from the band itself projecting outward.
This really gives a sense of awesome spatial awareness and hearing the crowd and noises at stage left and right, while hearing voices and instruments project at different impact levels, is quite an amazing experience.
S8 vs Hi-MDAC Stage Depth
As mentioned, fidelity on the Hi-mDAC is not an issue. This is just a rare smooth sounding tiny DAC that is not neutral in the slightest. And I love it for that so massive respect to NuPrime for not making it super clinical sounding. Some of the other small DAC's have superior imaging traits here or there, but only in one specific area.
For example, the Hidizs S8 DAC has noticeably superior stage depth and airiness. However, it is also less clean and far thinner sounding than the Hi-MDAC. There are tradeoffs are here and there, but I consider the NuPrime the only one of this group I have heard that is a great generalist product. Good at everything, master of none though.
Synergy
I love that the Hi-mDAC starts out at a low volume when plugged into my phone. I use a Sony ZX1 Compact and when I run it through Hiby (a great, free music program for android) the Hi-MDAC defaults to an exceptionally low volume level.
That is good because when I use something like my Hidizs S8, there is a huge dB default difference between them, as well as with most other DAC's I have available to test with that range from FiiO to Schiit Audio's Hel DAC.
This Hi-mDAC is the most powerful of the smallest form factor DAC's I have reviewed. Noticeably so over the likes of the older FiiO's that I have reviewed not long ago.
What I enjoy most is that it is properly voltage feeding as you increase the volume pot and not just offering more loudness. I can feel the bass firm up over the course of some clicks on the volume keys, which to me, denotes more power output instead of just more volume improperly issued out.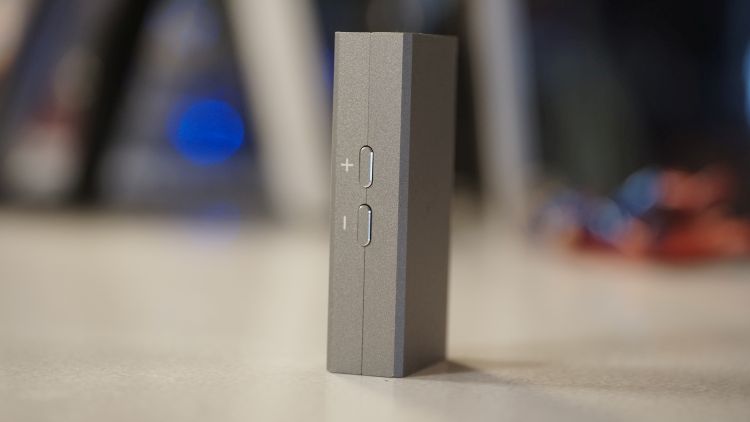 Our Verdict
Gods honest, I am so tired of the larger DAC's that claim to be portable but are the size of small bricks. These little DAC's are the future and I want these companies to push the boundaries of what is possible.
The Hi-mDAC is the first I have heard that is actually very musical, enjoyable on a tonality viewpoint and that offers a slick sense of style in the physical dynamic impact area of the listening experience.
By that, again, I mean it sounds smoother and easier to listen to than most other small DACs. The tradeoff is that it is quite chunky and much bigger than the others, but still, it is petite. And it has decent power! To see a budget tiny DAC performs well with demanding planars such as the Dan Clark Audio Aeon Flow is impressive.
Of course, it does not power it as well as a good desktop amp, but for a casual walk, or sitting outside somewhere, doing the dishes and cleaning the house with this Hi-mDAC in your pocket? I cannot complain when I look at the bigger picture.
We have come far with these little guys and I am happy to keep this in my pocket for the duration of my day, at least, until my phone dies and cannot power the DAC anymore.
NuPrime Hi-mDAC Specifications
Input: 1 X USB (32-bit/384kHz & DSD256 decoding)
Output: 3.5mm analog or 3.5mm optical (PCM 192kHz, DoP64)
Frequency Response: 20-20kHz +/- 0.5dB
S/N Ratio: > 100 dB (20-20kHz A-weighted)
THD+N: 0.005% @ 1mW
The Hi-mDAC is the first dongle I have heard that is actually very musical, enjoyable from a tonality viewpoint and that offers a slick sense of style in the physical dynamic impact area of the listening experience.