The MMR Gae Bolg is a new high-end 5 balanced armature universal monitor featuring a high impact design steeped in Celtic mythology. It is priced at $1199.
Disclaimer: The MMR Gae Bolg sent to us is a sample in exchange for our honest opinion in this review. We thank MMR for this opportunity.
To learn more about hybrid universal IEM reviews on Headfonics you can click here.
Note, this review follows our new scoring guidelines for 2020 which you can read up on here.
MMR Gae Bolg
The Gae Bolg is a looker, one of the most original IEM designs I have yet to review and certainly a new way of thinking about how a universal monitor shell should look
Metal Magic Research is their full name and for those of you familiar with Jomo Audio, then the name of Joseph Mou, the Managing Director of MMR will have a high degree of familiarity.
The company was launched last year and debuted with two high-end models, the 4 driver e-stat infused hybrid Homunculus at $1699 and their TOTL 9 driver quad-stat hybrid, the Thummim at $4499.
Their latest launch, the interestingly titled, Gae Bolg, is their most affordable offering to date, starting from $1199, and combined with its 5-BA driver config, aims to offer an alternative choice to big hitters such as the Andromeda 2020, Vision Ears newly launched universal VE5, and hybrids such as the Meze Rai Penta. All of which are at the same price point.
The Ulster Cycle
The interest in the title is because Gae Bolg is derived from my own personal cultural heritage, that of Celtic mythology, or more specifically the Ulster Cycle from the 1st century AD. Gae Bolg was the name of the spear of legendary Celtic demigod, Cúchulainn, (Cú Chulainn) which in English means 'the Hound of Culan'.
The Gae Bolg was famous for being made from the bones of a sea monster called the Coinchenn. However, the bright red finish you will quite often see it depicted in is more likely from Anime comic history and referred to in Japan as a fire emblem or 'Gei Boruku'. The only time the traditional Gae Bolg would have been red was when it was being taken out of some poor victim's gut.
Tech Inside
Configuration
The Gae Bolg is an entirely balanced armature affair with a configuration of a dual vented bass BA for the lows, a single full-range BA with bandpass for the mids, a vented BA for the mid-highs, and a tweeter for the highs. That is 5 drivers in total all pieced together using MMR's new patented 4-way Electro Frequency Division crossover.
The Gae Bolg is rated at 25Ω with an SPL rating of around 98dB. That is not your usual sensitive specification and does not follow the recent trend of ultra-low resistance rated highly sensitive monitors. You can turn to page 2 and our Synergy section to see how it fared in terms of efficiency with some competing IEMs.
4-Way Electro Frequency Division
The 4-way Electro Frequency Division crossover inside the Gae Bolg is something entirely new with a fusion of passive electronic components coupled with a specific RLC filter circuit.
The filter enables a precise electronic signal to control how the various frequency bands conjoin at specific drivers. Given the relatively complex nature of the Gae Bolg configuration, the crossover does need to be tight.
GB Acoustic Chamber™
The shortened term is GBAC and its full name is, logically enough, Gae Bolg Acoustic Chamber. MMR are pitching their 3D-printed acoustical chamber design as perhaps one of their most critical aspects in relation to the Gae Bolg tuning.
The precise design covers aspects such as the density of the acoustic chamber to the precise pathway control is intended to carefully control or ensure phase coherence is optimized whilst at the same time ensuring the overall sound is as intended.
TriBore Waveguide
The Gae Bolg uses a triple bore system called a TriBore Waveguide. Because of the 3D Printed process, there are no traditional tubes inside so in a way this is a tubeless delivery system.
Rather, the Gae Bolg uses a specific structure inside the chamber that guides the sound waves with a minimal loss of energy by restricting the transmission of energy to one specific direction. In this case, the three exiting bore channels.
Design
Aesthetics
The design of the Gae Bolg is very unique, striking, and most importantly, robust. This is a two-tone CNC aluminum dual beveled design with a gunmetal colored fine matte base shell. This shell sits underneath an incredibly intricate 3-dimensional crimson red faceplate.
The plate is dripping in Celtic aesthetics with its homage to the big man's spear. It also reminds me a little of a cross between a Doire knot and the classic Hounds of Cúchulainn charm with its intricate curves and strong center line binding it together.
That matte black backplate you see under the raised red carvings is really the normal functional backplate but it does a lot to enhance the impact of the design hovering above it.
If you also look a little closer you will see the finishing of the plate has a bit of roughness about it. That is done on purpose to give it a unique tactile experience when touching it and is achieved with irregular sandblasting techniques.
The backside of the shell has a more traditional slice of Viking/Celtic art in the form of a partial rune, (Vegvisir), on a slightly raised surface close to the nozzle. Now that raised wedge is also there for a reason as it offers some additional cushioning against the ear concha for better comfort.
Form Factor
Now the Gae Bolg form factor itself is a smooth teardrop styling and it is slightly on the larger side but given the complexity of the design, I am not sure you would want it much smaller.
It is incredibly smooth in the hand with nary a sharp edge to be found anywhere along the edges. Even the slightly raised 2-pin 0.78mm socket on the top has a beautifully smooth finish.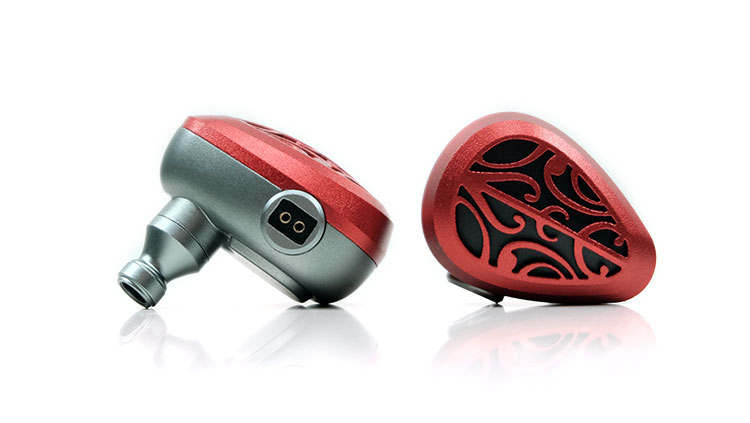 Comfort & Isolation
These are surprisingly lightweight for CNC aluminum monitors of this size. These hold up pretty well in the ear also, not once feeling loose or causing me to constantly adjust to get the right sweet spot. Credit to MMR for the smooth edging and base plate raising as they barely touch my ear and when they do it is buttery smooth with no irritations.
There is not a big amount of aggressive contouring on the Gae Bolg such as you find on more malleable acrylic designs. Aluminum is not that kind of material that you can create a lot of wild contouring to shape exactly to the ear to shut out noise as well.
However, the reasonably long angled nozzle combined with the supplied Acoustune AET07 tips does a good job of securing the fit and enhancing the passive isolation. Being an all BA design it does have its advantages with a lack of bass venting holes so compared to other similar all BA monitors' level of passive isolation, the Gae Bolg is competitive.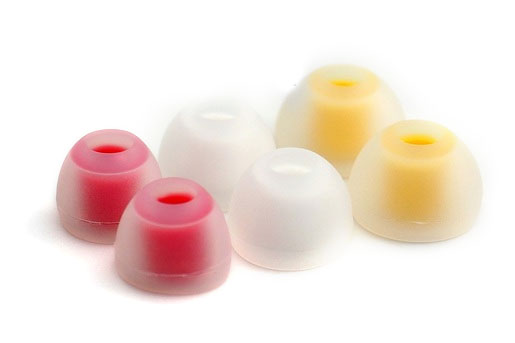 Tips
The Gae Bolg is a little tip shy in terms of choice. You only get one set of silicone single bore tips in small, medium, and large.
However, the supplied Acoustune AET07 tips are actually very good with a nice balance between strength and suppleness. That means they apply just the right amount of pressure to your ear canal to get a decent seal and stay secure whilst at the same time they remain very comfortable.
Personally, I went for the largest size and they fit like a charm but your mileage may vary given all ears are different.
As for performance in case you are thinking of tip rolling, the AET07 are excellent performers sitting somewhere between Final E and SpinFits in terms of sound signature.
They are a little more open and expansive sounding than SpinFits and slightly thicker on the low-end but not as punchy and full-bodied as the Final E. However, I found them more expansive and richer in the mids and treble compared to the Final E alternatives.
Stock Cable(s)
The Gae Bolg has 2 stock cable choices at the checkout with the standard stock cable setting you back $1199 and an alternative using Eletech's Prudence priced at $1399 which is a saving of $50 on the $249 retail SRP of the 3rd party cable.
We have never tested the Prudence cable here but it's a 26AWG OCC Silver Plated Copper wire using a hybrid Type-4 Litz geometry and a Kevlar resilient core with individually enameled strands. It looks pretty competent and aesthetically a step up on the stock Gae Bolg cable.
The stock cable is a 1.2m 4-wire SPC wire with a Litz geometry inside a tightly braided black PVC jacket. It is terminated with a 3.5mm gold-plated TRS jack in a right-angled barrel with a matching branded black barrel splitter and chin cinch. The terminations are 2-pin 0.78mm withing solid and grippy black barrels using a strong white L and R label scheme.
There is some generous use of clear memory wire coating on the stock cable also but it is the softer springy type so it's quite soft and never feels too pressure-heavy on the ear. The handling is very good with no memory retention and very low microphonic performance on the wire up to the splitter.
Packaging & Accessories
The box is impressive, no two ways about it. It is not huge but it has a bit of gravitas with a strong mix of the anime and Celtic theme and the Gae Bolg sword smack in the middle of a vinyl cover. The box form factor is flat rather than deep and medium-sized with a lid structure and a black-velvet-lined protection layer just underneath.
Lift that off and you get a gorgeous black and white inset full of Celtic rune imagery and each key component of the package neatly laid out across the entire width of the box in their respective cubby-holes.
Inside the packaging you get the following accessories:
Drivers
Selected stock cable
Acoustune AET07 tips (S/M/L)
Carry case
Cleaning brush/pick
Carabiner
Emblem plate
Now I do not have the actual case here to tell you firsthand how it handles, feels, or articulates but from the pics its does keep the red Celtic theme tight. I am also told that the materials used are a high-quality semi-rigid pressed pattern cowhide material.
It is also reasonably large looking which means plenty of space for the drivers, tips, and cable without struggling to close it up. There is also a carabiner which you can attach to it and keep it securely latched to bags and straps when on the go.
Click on page 2 below for sound impressions and comparisons