The LZ A5 is a new hybrid IEM with a single Dynamic Driver + 4 Balanced Armature Hybrid MMCX Detachable IEM priced at $269.
Disclaimer: The LZ A5 was sent to us for the purpose of this review is a sample and does not have to be returned to LZ. Thank you for giving us this opportunity.
To read more about LZ products reviewed on Headfonics, click here.
Note, this review follows our new scoring guidelines for 2020 which you can read up on here.
A while back, someone told me about a nifty and middle-tier oriented IEM that came equipped with a few different nozzle types that can be installed on the IEM tip, each for a different sound variant type. I thought to myself "Wow, nozzles on a mid-tier IEM? Nice! Sign me up!".
A few days later, I was able to obtain a few thanks to the good guys over at LZ Once again, delivering great stuff to my door to talk about and share with the community.
The LZ-A5 – Accessories
For roughly $270 msrp you can score yourself one of the better sub $300 IEM's on the market, at least in terms of overall value and variations allotted for your preferred listening type.
The IEM comes with 4 different types of very small (blue, black, gray, red) nozzles, which can be quickly removed and installed to the top of the IEM tips and just under the ear-tip area. It also comes with 3 standard sets of IEM silicone tips and an awesome, detachable MMXC cable! Now, this is what I like to see. Plenty of extras, great fabric laced cable, a good little carrying case. I can't really ask for more.
Build
The A5 is made of aluminum and sports a lightweight factor. Compared to a similarly sized IEM of the same general type, the AKG N5005, the A5 feels thinner and lighter by a significant margin.
I feel like, for the current pricing of $279, this A5 could have been handled better in terms of overall build. I worry about the connection port being damaged each time I remove the cable and try to reapply it, I'd really prefer a sturdier housing here with better connector ports on the cable leads, at the very least.
The reason I worry is that the removal of the cable and reapplication of the MMXC cable requires more force than I am comfortable with and I simply am afraid of harming th connector or the cable ends each time I try.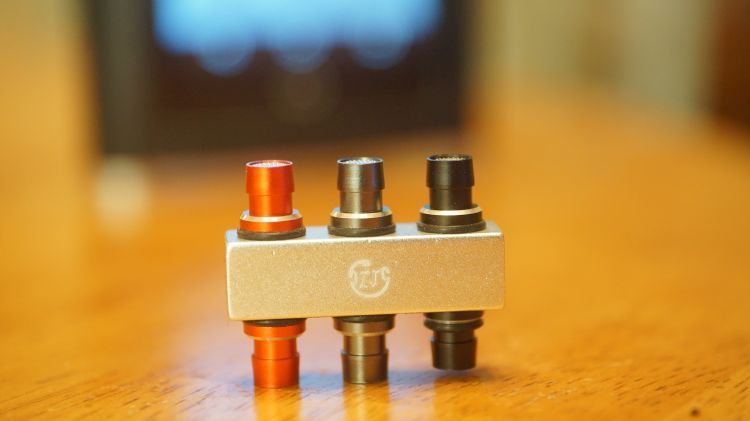 Fit and Nozzle Selection
The tips are also specific to the FR response. Each set raises or drops the level of forwardness in certain regions as follows:
Blue:3KHz ~ 10KHz +2db
Black:3KHz ~ 10KHz +1db
Gray:3KHz ~ 10KHz -1db
Red:3KHz ~ 10KHz -2db
The Blue and Black nozzles add a bit of high end to the experience, while the Gray and Red remove it and allow for a more linear feel.
Preferences
Subjectively, and because I enjoy exaggeration, my preferred and personal nozzle was the Blue set for added top end. But, to each his own. If you like a reference signature or want more of a linear type of a sound presentation, go with Gray or the Red instead. All of them sound pretty good.
The nozzles are aluminum, so they give off a nice, higher-end vibe to them when handled. Just don't lose them! Keep them inside the included dock and inside the box as well at all times. They are super easy to misplace or roll off a table and get lost forever on a train, bus or in your car.
I have found that the stock tips don't quite fit my ears, so I've swapped some blue foamies from another set entirely onto them that just so happened to fit and have achieved excellent results, again, subjectively. AKG's newest and $999+ IEM (the N5005) also has tuning filters and a detachable MMXC cable, so it was really cool to see a cheaper set like this include such a nice feature. We need more options like this in the mid-tier!
Sound Impressions
Bass
With the bass filter attached, the experience is vividly different from the other tuning filters included. With said bass nozzle installed, the low end is deeper reaching, punchier and of a heftier substance factor in terms of solidity.
With that said, it is also audible darker sounding and also less clean feeling, which is only natural due to the +2dB down there. It isn't a big issue at all. For the price, it is very nice quality. However, we are near the price of the last generation's Flare Audio R2PRO IEM level here in the sub $300 category.
Keeping that in mind, it is still one of the best overall sub-$300 IEM's I've heard that I can recall in an overall sense of the word when it comes to low-end clarity. This A5 is audibly distant in terms of quality and a few steps behind. However, again, it is offering a customized sound and the R2PRO wasn't. So, that is something to consider.
No, I'd not call this a basshead IEM. But, for a general, all-purpose on the go travel buddy, the A5 is probably one of the few I'd want in my bag to help me feel closer to whatever Playlists I am listening to currently. I can drop or add the bass filters as I please and get a different sound signature. That is always preferred, over software EQ up to a certain point.
EQ Response
Some headphones sound good with EQ toggling, some do not. This A5 seems to struggle with solid responsiveness factors when upping the dB levels on bass boosters. For example, when switching my Xduoo X5's bass switch, the degradation in shakiness should not have been present. But, it was.
Adding more bass on top of the Blue nozzle filters made this aspect worse. But, don't fear. Even with the bass filter and added bass boost via EQ, the experience is still good overall. I worry about an overly thick sound. Even with the +2dB filter on and a +1 or +2dB bass booster added, the experience is more thickened than I'd prefer it to be. I want that added depth and deep-reaching tendency, I do not want it to be thick and muddy feeling. However, some mud is present when adding in any low-end EQ.
For this price, I am not actually complaining though. Sub $300 IEM's tend to do that anyway, so don't take that as a bad quality. Just know that this model isn't really for bass enthusiasts specifically and is catering to a wider audience of buyers. The top end of this A5 is almost always unaffected when adding in some extra top end. Likely, that is due to the IEM already having plentiful treble on all the tuning filter options.
Mids
The A5 feels less than linear in terms of presentation and I do not consider it a forward sounding IEM, no matter which filter is being used. The Treble is always very present and with the +2dB filter added, the midrange sometimes takes a dip into the slightly recessed areas that I am not fond of. Without that filter actively installed, the experience is much more to my liking.
Any amount of EQ will ruin that linear feel if you add some extra bass. Quality is excellent for the price. Vocalists sound vividly engaging and well formed, shapely and dense feeling. Coherency factor is good, no doubt about that.
However, and again, comparing to the Flare R2PRO (one of the best, if not the best sub $300 IEM) vocals feel a bit emaciated, lacking even in heft quality. I don't find the A5 to sound realistic in that regard, nor effortless. It looms somewhere in the gray area on that front and again, for this price, it is a realism factor in the vocal presentation that I would consider normal for us enthusiasts with $300 IEM experience. It is neither grand nor lacking in realism. It is just pretty good overall in that area of the presentation itself.
Treble
The A5 is treble happy at times, with a good deal of bite too often for me. The IEM is not painful or wince-worthy, but the brightness factor on any of the nozzles was just a step out of my comfort zone.
If you like abundant treble, this is a great option for you. Why? Because with the Blue filters installed, you can really balance out the top end feel and retain good presentation quality with non-vocalist-centered tracks. Meaning, Jazz, Classical, etc, all sound fantastic and well-formed.
The top end isn't what I would call potent. Abundant is the correct term, but again, not annoyingly so. There is a difference between Sparkle and Abundant sound up there. This A5 is not sparkled and I don't consider the sheen factor to be beautiful and jaw-dropping. I consider it just bright most of the time with a tendency to house very good energy levels.
Slam isn't an issue unless the track is really awful quality and there are some harsh hi-hat cymbal crashes, sudden spikes in loud and icy sounds in a movie or music track and so on. When that isn't happening, the top end is plentiful and of a good quality overall. Just make sure to avoid adding any extra dB's up top via EQ.
Imaging
Due to the plentiful treble energy, the A5 here feels light and aired out on top. Lacking density is the biggest issue I have with the upper end, but that lends to more air and openness, at least, in my opinion.
Imaging in terms of void shape and depth of field is pretty good. Definitely, a solid performer in stage depth and reach out front. Width is the biggest culprit of complaint for me, which even then, is not a severe one. It exceeded what I thought it would be based on specs and pricing, so that will gain it some credibility in the imaging department in my book.
Don't expect massive staging properties, but do expect a good all-around performance without an objectively lacking sense of width, height or depth of field. At the $300 and under price, this is a good IEM for staging presence and a lighter feel to the airiness factor of the presentation itself. Again, if only it could have this and also a more dense feel to the treble…I'd be very satisfied personally.
Our Verdict
This is a very nice IEM and I am certainly going to recommend it to others in the sub $300 tier. I don't need to actively engage EQ too much, despite it not being very responsive on the top end, I will stick to the nozzle hardware instead.
For the price, this IEM offers a wide array of sound presentation types. This makes me happy as both a listener and an audio journalist. I enjoy the product, no doubt. I would like to see more response up top to EQ and less energy, more density in the next product they release.
As it stands, the treble energy is plentiful, but it needs more heft to balance it out. With that small improvement, I feel like this could have been a real home run IEM. For now, it is still a very nice IEM with an excellent cable and accessories list. Tonality and Matchability will score very high, due to a variety of nozzle selections that alter the tone of the presentation in 4 different ways, as well as the IEM not requiring anything beyond what a solid portable player can offer in terms of amplification needs.
LZ A5 Specifications
Driver unit: 1 dynamic + 4 balanced armatures
Sensitivity: 105 dB
Impedance: 16 ohms
Frequency range: 8–36,000 Hz
Total harmonic distortion: < 0.2%
Rated power: 5 mW
Cable: 47.2 in (120 cm), MMCX, detachable
Plug: ⅛ in (3.5 mm), gold-plated
Blue filter: 3–10 kHz +2 dB
Black filter: 3–10 kHz +1 dB
Gray filter: 3–10 kHz -1 dB
Red filter: 3–10 kHz -2 dB