Sound Impressions
Summary
Ever since I hear the iFi Diablo I realized iFi is looking for a darker background, less noise while at the same time trying to look for more top and bottom end extension but simultaneously retaining accuracy in tonality.
This is exactly what I'm getting here. I'm getting better extension but more so especially up top with better high-frequency presence, more shimmer plus a slightly cleaner top end. It still carries over some of the warm signature iFi units are known for but the bilateral extension is just better.
Of course, if you engage the HD6xx or the XSpace feature you will get a lot of color but if you keep these features off then the sound characteristics remains the familiar somewhat neutral but warm-ish sounding iFi type sound they are known for.
Most of the improvements in sound quality I believe to be from the improved DAC section. The noise floor has been lowered but I am uncertain if this characteristic comes from the units themselves or due to the fact that the iPower X was being used to supply power. Hiss has been lowered and practically absent.
6xx Feature
I borrowed a pair of HD6xx from a friend to test this set. I sold them to him after convincing him to sell his beloved AT M50s. I convinced him with one listening session that the 6xx were better and most will probably agree especially with this setup.
To be honest I had just okay results from the 6xx feature sound signature using the HD6xx and had mixed feelings. Mostly because this feature replaced the Xbass which I thought was the best bass boost out there. This feature does raise frequencies from the lowest bass frequencies but up to 500 Hz and shaves the top off the notorious 7kHz frequency peak.
I did like the fun factor of the added color at times but what I did not like was the added thickening in the lower midrange especially with other headphones and IEMs. It tends to thicken up the lower midrange too much at times. The reduction of the 7kHz frequency did appeal to me because lots of headphones have that area elevated anyways.
XSpace Feature
This particular feature is another DSP implementation that changes the sound signature so I decided to talk about it singularly. This feature replaced the 3D function from the original ZEN CAN.
Honestly, I'm uncertain if this is just the same relabeled 3D feature of the past or if tweaks were made to accommodate the HD6xx or HD650 and improve them exclusively because it sort of has the same basic effect to me. I could not tell much of a difference.
It does work well by adding some width and some height when engaged and it did improve some cans or IEMs that I used the feature that naturally lacked in width.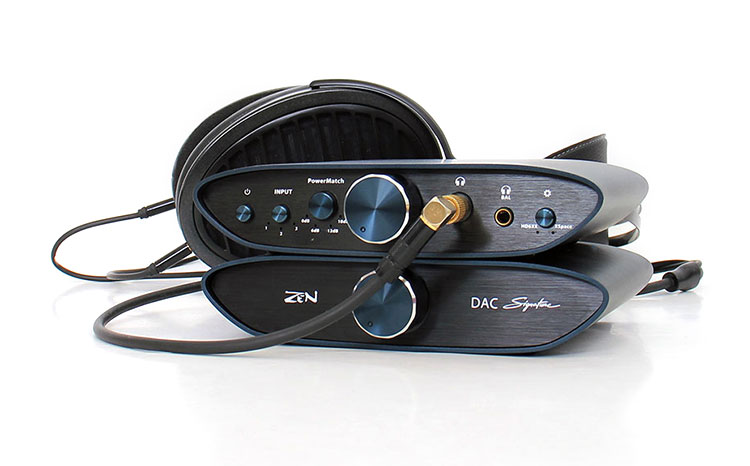 Synergy
Efficiency
I have a few amplifiers minimum at my disposal and heard many others but somehow most iFi amplifiers I have are the loudest far as volume knob position versus volume quantity is concerned. On efficient IEMs I cannot go past the 9 O'clock position and that's with the gain on zero. It seems the gain rises very fast.
Using the 4.4mm balanced output did not increase the volume levels much but did give me some extra headroom above the line drive and I was able to squeeze a couple of decibels of extra volume up top with no added distortion.
The benefit of using the balanced output is small and if most times you listen to music at moderate volume levels you will be fine using the RCA connections.
Power
Most people could do with just with this setup alone because the available power is enough for I would say 99% of headphones out there. I pushed Hifiman Aryas just fine on the single-ended side and even better on the 4.4 Pentaconn. Would I recommend this setup with a HIFIMAN HE6SE or a Fostex T series? I probably would not. Definitely for an HD6xx or similar headphones.
One good aspect I found was that both headphone outputs on the 6xx amplifier seem to be closer in output to each other now. The original ZEN CAN had larger differences far as output power which gives the newer version better balance with less of a need to exclusively use one or the other.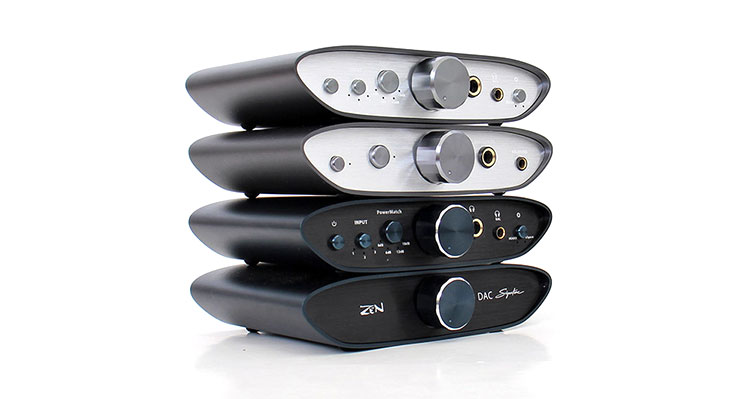 Select Comparisons
ZEN DAC & ZEN CAN
$159 & $189
Technical
The original ZEN DAC with headphone outputs was and still is a solid bargain. For a small investment, you get a decent DAC section with an amp section that was fairly clean but did lack the power to drive hard-to-drive headphones.
Combining this component with the ZEN CAN makes up an almost identical setup as the ZEN Signature 6xx stack but since both are sold separately they serve a particular purpose especially the ZEN DAC.
For example, if you are lust looking for a soundcard replacement or just want to improve the mediocre audio device of a laptop, the ZEN DAC is a perfect inexpensive and versatile solution. Once you have it and if later on, you need more power then you buy a ZEN CAN.
Incrementally you could build a comparable setup to the box set but be aware of cost issues. These units might not come with the power adapter, particularly the ZEN DAC and for certain not with the 4.4mm wire which is sold separately for 70 bucks.
Design
Both these components are almost identical in design and appearance but the original iterations with the brushed uncolored aluminum have a more retro look. I would call the new blue color scheme neo-retro.
I did mention button rattle on the original design and somehow it was quietly fixed. Perhaps the buttons were constructed with tighter tolerances and fit better but who knows.
Performance
Sound qualities are practically identical between the ZEN CAN and the 6xx with all the DSP switches disengaged. Power output is almost identical for voltage output which is actually what drives a headphone driver. I would look at if I could live without the Xbass or vice versa. Do you need that 6xx curve or do you prefer to use XBass?
One thing is for sure, the DAC sections are way different and you could tell the difference. The original ZEN DAC has a good DAC indeed but the signature DAC is exclusively a DAC and does a better job. But the unit alone cannot directly drive headphones so you will certainly have to get an amplifier.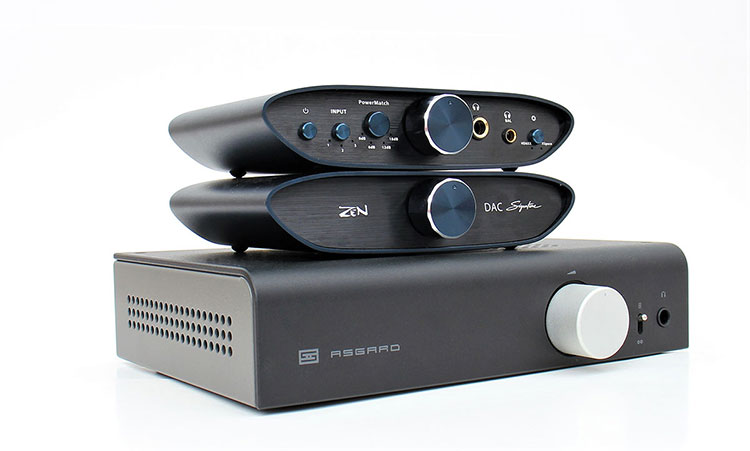 Schiit Audio Asgard 3 (AK4490 DAC)
$349
Technical
I know it's a bit unfair to compare a 349 dollar unit with one that costs 500 but that is one positive trait of the Asgard which is the high value per dollar ratio on this particular piece of gear. Then again you get over 200 bucks worth of accessories with the iFi box set so taking them out somewhat evens out the playing field.
The Schiit Asgard 3 has a full 5 watts per channel, class A hybrid amplifier section, and no fuzz connectivity because the full power of this amp is available through its sole 6.35mm single-ended plug and there's no need to go balanced.
The AK4490 DAC section is an add-on module that is one of the DACs Schiit used to offer before they recently switched to ES DACs due to the AKM factory fire. They also offer a multibit DAC for an extra 200 bucks.
Design
The design here is minimalistic and simple, rugged and durable. Simplicity is key here because it offers one analog input and one analog pre output which is variable by using the large volume knob, one single-ended output, and one USB digital in and that's it. The Asgard is a rather heavy piece of equipment and construction is solid, to say the least.
The Schiit Asgard 3 outer shell is made of very thick metal with portholes for venting since it does operate in class A most of the time which notoriously runs hot. However, I have felt much worst temperature wise and the chassis of the Asgard helps to keep temperatures under control.
The Asgard has no need for a wall-wart either simplifying things even further and uses direct 120 or 240 AC voltages to operate with a typical and common IEC C14 female 3 prong plug. The power cord is supplied by Schiit.
Performance
The Asgard has a particular characteristic in where the volume at halfway point does not give you much volume and most times you have to go past the halfway point which is a typical characteristic of the hybrid design.
Contrary to that the volume response on the ZEN CAN is faster at raising the volume and rarely would I have to position the volume control over that same halfway point.
The Asgard sound is warmer with a somewhat thicker low end and a more tranquil top end. The iFi set seems more dynamic with more top-end shimmer but obviously, the Asgard can push headphones harder due to the extra power it has over the ZEN CAN 6xx. The 6xx combo is the cleanest sounding of the two, however.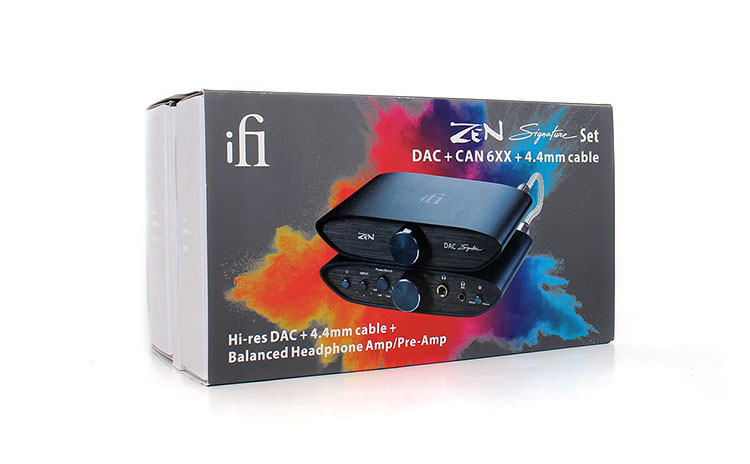 Our Verdict
I knew from past experiences with iFi gear that this was going to be a great sounding and versatile combo. My major concern entering was did I specifically need a pair of HD6xx or the HD650 variant to enjoy the iFi ZEN DAC / ZEN CAN 6xx combo? The answer is absolutely not. There's plenty of versatility here.
You can use mostly any headphones or IEM with this combo and get great results. The DAC section alone is good enough for almost any audiophile except for perhaps some eccentric and esoteric audiophiles who install custom-installed electric power poles with gold-plated transformers to separately power each one of their custom built amplifiers.
Remember you also could purchase each of these components individually but the value lies in the box combo because if you add the included accessories plus the cost of the separate components you will probably spend more.
Color sometimes is good and this combo can give you color plus neutrality, warmth, and clarity with inputs to spare and a decent amount of power and give it to you all in one convenient box. So off I go to try and get the HFM variant now. It does not stop here so stay tuned.
iFi Audio ZEN Signature Set Specifications
ZEN DAC Signature V2
Input: USB-B 3.0 socket (USB-B 2.0 compatible)
Supported formats: 44.1 / 48 / 88.2 / 96 / 176.4 / 192 / 384kHz, PCM
8 / 3.1 / 5.6 / 6.2 / 11.2 / 12.4 MHz, DSD
353 / 384kHz, DXD
MQA
DAC: bit-perfect DSD and DXD by Burr-Brown
Power consumption: 5V / 174ma, P = 0.887W (on idle using included iPower)
Audio RCA output (unbalanced): 2.1 V fixed, 1 V – 3.3 V maximum (variable)
4 mm Pentaconn output (balanced): 4.2 V fixed, 2 V – 6.2 V maximum (variable)
Z output (unbalanced): ≤ 100 ohms
Z output (balanced): ≤ 200 ohms
SNR: < -117 dB(A) at 0 dBFS (unbalanced / balanced)
DNR: > 117 dB(A) at -60 dBFS (unbalanced / balanced)
THD+N: <0.0011% at 0 dBFS (unbalanced / balanced)
Dimensions: 4.6 x 3.9 x 1.2 in (11.7 x 10 x 3 cm)
Weight: 1.05 lbs (505g)
ZEN CAN 6xx
Inputs: RCA, 3.5 (single-ended), 4.4mm (balanced)
Headphone output: 35 mm, 4.4 mm
Gain: dB, 6 dB,12 dB,18 dB adjust
THD+N (A-Weighting): 0066% (balanced), 0.0058% (single-ended)
Maximum output power (16 ohms): 3.0 V / 600 mW (balanced), 4.0 V / 1000 mW single-ended)
Maximum output power (300 ohms): 15.1 V / 756 mW (balanced), 7.6 V / 196 mW (single-ended)
Maximum output power (600 ohms): 15.2 V / 385 mW (balanced), 7.6 V / 98 mW (single-ended)
SNR: -122 dB (balanced)
Dynamic range: -122 dB (balanced)
Frequency response (-3dB): 10 Hz – 200kHz
Function Button: HD6XX adaption and/or XSpace; Bypass
IMD: 0.0098%
Crosstalk: -50 dB
Zout (headphone out): 0.25 ohms (single-ended), 0.5 ohms (balanced)
Zout (balanced line out): 200 ohms
Maximum power consumption: 13 W / 2.6A
Dimensions: 4.6 x 3.9 x 1.2 in (11.7 x 10 x 3 cm)
Weight: 1.87 Ibs (848g)