The iEAST Stream Pro is a wireless multi-room sound streaming device specifically targetting those with audio systems. It is priced at $199.
Disclaimer: The iEAST Stream Pro was sent to us in exchange for our honest opinion in this review. Many thanks to iEAST for giving us this opportunity.
You can find out more about Colorfly reviews on Headfonics here.
I'm having a bit of a case of Deja Vu here. Audiocast and iEAST had sent me a package containing two audio steamers which included a budget model and a more expensive one that I will be reviewing today. Streamers have come a long way in recent years, so I was very excited at the idea of 24bit decoding speaker streamer coming into my home.
The Streamer Pro – Features
For $199, I enjoy the options offered in this one. A 3.5mm output is great when routing the Streamer Pro through a wireless setup and then connecting my Harman speaker amp to the unit.
I'm getting more and more on board with this type of a setup over time, as I've found I very much prefer to use my phone as the interface function, or the included iEAST remote control that comes with this in the box. I still prefer to use my phone, even with a dedicated remote nearby.
You can hook in via a dedicated hardwire LAN as well if you prefer that…seems odd to put on a wireless streamer though, but hey, options are great and it is only going to hike up the value of the product at the end of it. More options are always a good thing when the price is also right. SPDIF optical output is also fun, but I feel like that is less needed than the LAN port. This is a streamer, I don't see a need for the SPDIF, but again, still great to have if you want direct connection.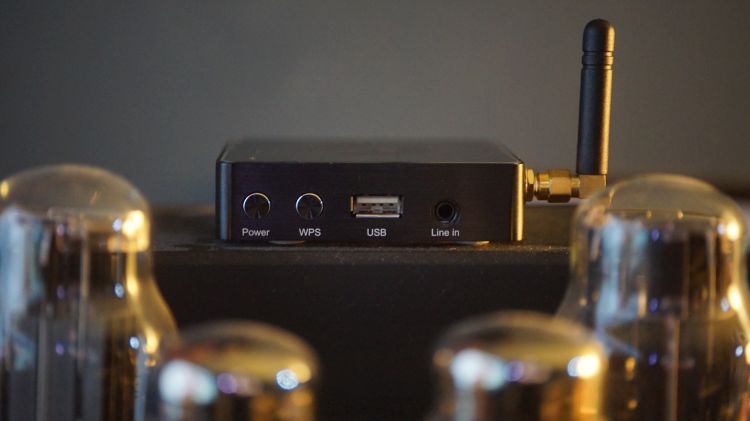 Connecting and Pairing
To connect the Streamer Pro, first, you'll need to grab your Wifi password off your router. Once you have that, enable Wifi on your phone or tablet, go to the App store in the iOS or Android Market and look for the iEAST application. Download that and follow the connection prompts. You'll be asked to type in your router password for pairing and also tap the WPS button on the Streamer Pro.
Once the connection is made, you'll be able to access the iEAST application features and wirelessly stream audio from your device and to a set of speakers or your speaker amplifier. In my case, I have to use a 3.5mm cable that extends from my Harman receiver that is powering my speakers, so my iEAST Streamer Pro is wireless from my phone to the product itself, but the product is then routed to my speakers via a 3.5mm to RCA connection.
It still is great for me, because I can hide the Streamer Pro and keep wires from running everywhere. Ever see a reviewers home setup. Wires everywhere! So for me, this type of thing is a blessing. If you have true wireless speakers with Wifi enabled, such as my Oppo Sonica, you can pair all of them with the App and play the same feed throughout your entire home on different speakers. Pretty cool to walk downstairs and hear the song continue as normal just after leaving my audio setup room being played on an entirely different set.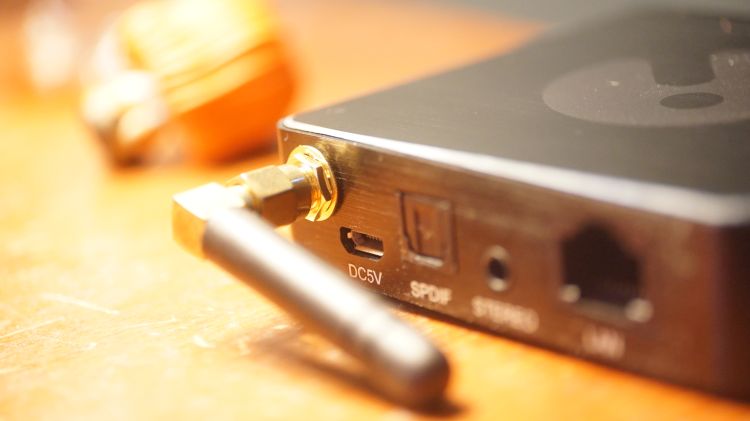 The Application
iEAST Play is a free app, you don't need to sign up for anything. Just download and connect. Once paired, a list of features will be shown to you that include a few streaming services like Spotify, IHEARTRADIO, and Pandora. You can also stream anything stored on the device as well, which is how I use this product most of the time. Sorry, not going to pay for Spotify Premium's mobile version.
But, for science, I made sure it functions normally and it does. I prefer my own music though and will be sticking to that instead so I can make sure I am using the best quality audio for testing purposes.
The application itself is pretty basic but handles itself very well. I don't have any connection losses and have actually kept the connection on for a few days without a hitch. Track skip is sometimes a little sluggish, but not annoyingly so.
Swapping application processes makes audio linger briefly. Outside of that, I don't see any real issues with the app. It is fairly basic and gets the job done without any annoying UI issues or layout grievances.
Sound Impressions
Bass
As with the budget model, purity seems to be the focal point of the low-end experience of this streamer. I feel myself always needing to boost the bass end to justify the speakers I am using, which are the HDP6 from Audio Engine ($499).
These speakers have a very firm, solid bass tonality, and presentation that can dip low when needed. I do not feel the iEAST Steamer Pro does justice to the quantity potential that I know I can achieve with a hardwired connection direct to my USB DAC and with Foobar2000 controlling the audio itself. But, I am asking too much perhaps there.
Quantity is the issue, not quality. Fidelity is very good. In fact, I think it is good enough for me to continue to use in my home setup. I am enjoying it, no doubt there. So, my feelings on it objectively and subjectively are in harmony over quality allotted.
If I had to gripe, again, it would be the quantity of the bass end of the spectrum that is offered on a flat EQ. With customization in the app, I can get a better result. Not so much on a 0dB EQ plane though. This is pretty much the same deal as the lower cost model I reviewed recently: what is there is just fine in quality, but quantity is an issue. Fixed with EQ subjectively for me.
Midrange
I detect no placement differential between this more expensive version and the cheaper one. Meaning, both feel moderately placed with the midrange band areas of the frequency response. Things are not too forward, nor are they recessive in characteristics.
The middle ground is always nice and plays well with most tracks, seems to be the case here on this Streamer Pro. No real genre faults there, everything plays well with it. Liquidity is noticeably superior on the Streamer Pro though, which means decay factor, effortless appeal, purity and quickness factor seem more "Hifi".
Quality is very nice for this price. At the $199, I feel comfortable recommending this to users with mid-tier speaker setups like mine. I'm having some issues with very forward tracks, which when routed through my USB DAC to the same speakers yield a different feel of positioning.
I think the Streamer Pro is not intended for forward sounding rigs, but rather, intended for a more balanced or neutrally aligned placement of midrange. Middle-ground setups will sound good here, which really equates to most mid-tier speaker setups anyway.
Treble
Hey! The top end here is very well suited for use with my HDP6's. Neat. The treble provided on a flat EQ feels very good to my ears, plentiful, but not overbearing, strong, but not impacting or annoying.
I am very pleased with the entire top side of what this product has to offer and I feel like those with treble happy speakers may want to give this a try. It may subdue the very potent middle-tier speakers a bit up yonder and provide a lessened approach in terms of quantity.
The quantity that is given on a flat EQ is nice but seems to handle in-app EQ functions with some treble boosting pretty well, at least, in my opinion. That means you can boost a little treble and get more kick if you want it, or drop down a bit and get a more reserved appeal.
Physical dynamic impact (wince factor) is not an issue, so don't worry about potent kick and slam effect unless you are EQing too much with the music apps available.
Staging/Imaging
Sadly, I hear a better depth of field over the budget model when playing the same tracks, but not stunningly so. It is certainly audible, so if staging is your thing, as it is mine, then you might want to opt for this model just for that better distant reach this Streamer Pro has for the stage-forward depth of field factor.
Width and height are exactly the same as the budget model in my tests. I don't have too much to say there. Realism factor and substance feel more dense, of a higher fidelity than the budget model I reviewed recently.
Beyond that, my impressions of the Streamer Pro for sound staging needs is underwhelming, to say the least. Thankfully, I can toggle between my iEAST app streaming music and my USB DAC playing through the speakers directly, all through my receiver.
With that, I notice a wider field and much better resolution with the hardwired DAC setup than with streaming. I don't think Streamers are quite there yet for imaging needs, they all seem to feel a bit too constricted and sometimes even inorganic.
Our Verdict
Take it for what it is. This is a very good Wifi streamer that has very nice mids and treble response. Allowing for multiple connective options and also offering a very nice control app and remote control as well, I consider this a good deal all around and something I will be using it in my home I am sure what will be daily. I enjoy being able to multi-cross-connect and listen to other sets playing the same thing elsewhere.
I enjoy the iEAST app, it is simple and has no real UI issues what so ever. The connection is strong, I've had zero cutouts or any issues with weird popping noise or disconnects since I received the product. Yes, I will absolutely recommend this one to others who are looking for a solid, all around good Wifi Streamer. Good job guys and gal's over there at iEAST. This is a great step in the right direction.
iEast Streamer Pro Specifications
Audio line-in: 3.5'' standard line input for more audio sources
USB: USB 2.0 to get music from flash drives and mobile HDD
Audio output connections
Stereo output: 3.5'' standard analog stereo output for connecting to your amplified audio equipment
Optical output: SPDIF optical audio output especially for audiophiles
Power supply: 5V-1A, USB power cable DC in
WPS: WPS for quick setup
Dimensions-(LxWxH): 100x79x21mm(including the antenna)
Weight:460g
WiFi
Connects to your home WiFi network with any 802.11b/g/n, 2.4 GHz broadcast-capable router for uninterrupted wireless streaming.
Wifi encryption:WPA and WPA2
LAN: 10/100Mbps Ethernet port for direct connection to home router
SNR: 87dB
Decoding: up to 24bit, 192kHZ
Audio format support: FLAC, WAV, AAC-LC, HE-AAC, MP3, WMA…