The House of Marley has been on my radar for quite some time. Cool styling, ethical approach business wise, and a competitive price point piqued my interest late last year. The UK market has also started pushing these cans out so luckily both Advanced Headphones and Hifi Headphones gave me and Tim Reeves, our UK staff writer, a listen to the Exodus edition headphone. So the review is a bit of a joint effort in that instance. Tim is in the regular font, I am in the italics – hope we don't fight :)
Before getting into the details I just want to thank both Advanced Headphones for supplying the Exodus to Tim and for Hifi Headphones supplying one to me. Big up to our UK sponsors on this! Take it away Tim…
So my first item up for review was definitely a product I was already in two minds about and that product was the House of Marley Exodus closed can. As you may have seen from the press shots these things look beautiful and are made out of some pretty awesome materials (one piece curved wooden headband? Yes please!) However what you may have noticed from their website is a slight lacking in technical details and very little mentioned about the audio quality side of things. Being an audiophile obsessed with good design you see my predicament that I faced.Enough of the assumptions and onto the real deal.
I can help you out there Tim, here are some of the tech specs floating around at the moment for the Exodus headphone:
Tech specs
Frequency response: 20Hz – 20kHz
Sensitivity: 114dB @1kHz
Nominal Impedance: 32 ohms @ 1kHz
Drive Component: 40mm Moving Coil
Input Connection: 3.5mm Stereo
Size (LWH): 4.9 inches, 8.7 inches, 9.25 inches
Weight: 1 pounds
I agree with Tim also, the package and the message seem very good indeed. I am not sure if the latest generation of kids these day's resonate as strongly as my generation with Bob Marley but trust me the beer still goes down easy with his Greatest Hit's collection!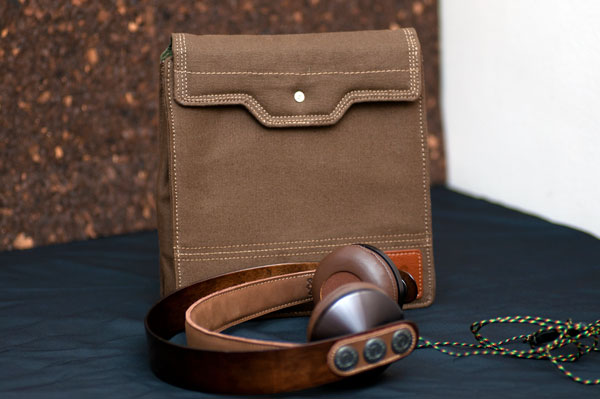 Packaging
The brand push their green credentials and the packaging on the exodus headphones looks to re-enforce that idea using lots of natural undyed cardboard ready to be added to the paper recycling box, this isn't to say there was a lack of care, in fact, there was some seriously impressive cardboard cutting and folding design going on, incorporating a secure section to store the headphones and a side pocket to hold the completely unexpected carry case that also comes with these headphones.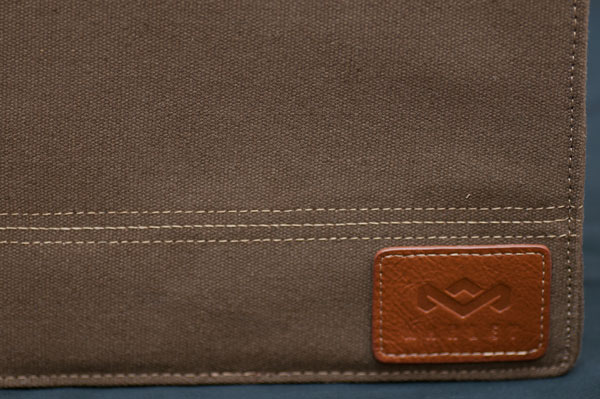 The carry case is well designed with a re-enforced front and back and soft side walls to keep your cans in great condition wherever you may go. This added bonus wasn't mentioned on the website and was one of many great finishing touches along with the perfectly folded headphone cord tied up with some hemp string in a neat little bow that really helped set this product apart from anything else I've seen in this price range, they really do have a personal touch.
If you don't like the Exodus the bag is almost good enough in its own right! I have to say everything, as Tim mentions, came in nice and neat and very well packaged. I saw mention of a black velvet case version also but I can't confirm this, the current bag is upright and made of strong material though not a hard case for total protection.
The Cans
Taking the headphones out of the box for the first time I literally had to caress and inspect the headband to believe it was a real piece of wood, the finish is immaculate and the stain really emphasizes the grain beautifully, this story was continued throughout the rest of the product. The Suede headband is well stitched and feels lovely and the braided cord balances a fine line between being a little gaudy and being quite classy and in my opinion manages to stay on the classy side despite its Rastafarian colors. I was not 100% sure on the cups and pads to begin with, due to the cups feeling a little light and cheap at first and the pleather on the pads felt thin and fragile, unfortunately only a number of years of testing would prove whether these parts would stand the test of time.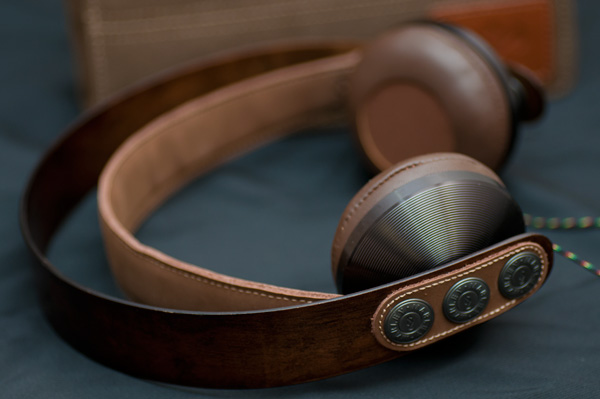 The headphones are non-adjustable and are designed as a one size fits all solution by utilizing the flexible wooden headband, however, this may well be these cans biggest downfall. The suede headband pushes down too much on the top of your head forcing the cups over your ears, this was not only a problem for me with my giant pumpkin of a head but also my girlfriend who's head appears to be a lot smaller than an average adult's noggin. The only cure for this for me appeared to be to tie the suede headband up against the wooden headband and after doing so the cans were incredibly comfy indeed with a moderate but very acceptable clamping pressure on my ears.
The headphones incorporated a 40mm driver and a microphone built into the cable along with some basic controls for phone functionality, the rest of the technical specs are rather lacking.
I must have a small head, or smaller than Tim's girlfriend's head because they clamped well on my ears and didn't move so much though I did find that from time to time I had to do a slight adjustment to get it just right. The clamp is pretty strong without the slight band modification. They do indeed look immaculately well designed with lots of nice touches. In particular, the leather and steel button finish over the cup was really classy. I am a big fan of organics and natural design so this gets the two thumbs up from me. I do wish the on ear was slightly over the ear as the cups are a little stiff on the ear but no biggie.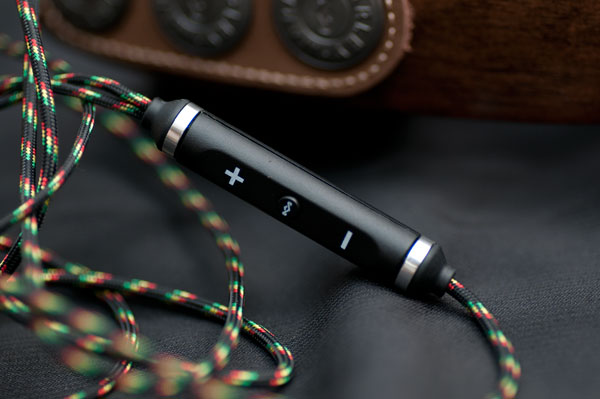 The can is a dual entry can and as Tim mention's the braid is finished in a nice rasta tone. I would have preferred a much thicker cable with a little less memory again I am nitpicking on what is a really great artistic design and build.
Sound
For testing I use 2 sources, the first being my trusty Sansa Clip+ for use out on the move and my pc hooked up to an M-Audio Audiophile sound card for my home listening. I find both products to be class leading in sound quality on a regular Joe's budget.
When I opened up the box, grinning like a kid at Christmas, then plugged them in I was greeted with sour disappointment, they sounded almost shockingly bad and my face went a little white as I considered how I was going to write up this review without hurting anyone's feelings. Luckily I've learned to let headphones break in before making a real judgment; a couple of hours later with some pink noise playing through and things were starting to look up – a lot! Seeing that these were clearly going to keep improving I decided to let them burn in for a further 6 hours or so before finally sitting down and having a real listen. Read on to find out what changed.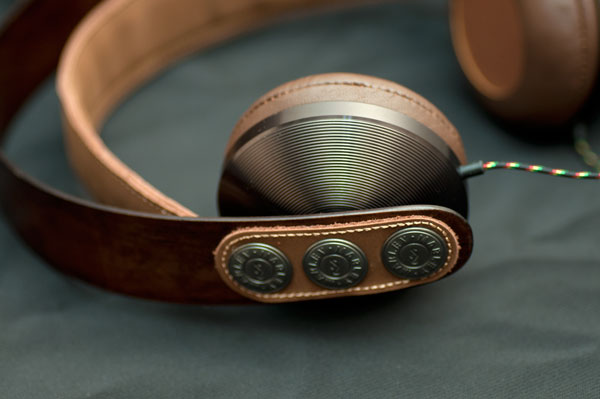 I experience the same as Tim, you really do have to let these babies burn in just a touch – out of the box they are veiled and recessed but after about 10 hours the veiled lifted and was able to get right into quality listening.
After the mentioned break in period the first thing that I would have to say is how dynamic and involving these headphones are, this is no laid back listening but a tub-thumping barrel of fun that will get your feet tapping every time. Snares were brilliantly precise without being piercing, the kick was solid and thick and cymbals had plenty of sparkle and space. This wasn't your usual case of pump the bass and highs then forget about the midrange, vocals were forward and engaging and listening to Florence and the Machine's anthemic selection of festival tunes really set my hairs on end. Obviously, these are not a purist's fantasy and there was a slight sibilance apparent. The bass, although full and with plenty of kick did not drop down terribly low, there was also a bit of a lack of space around instruments, I wouldn't go as far as saying they sounded congested but were definitely typical of a closed back can.
Did they work well on the slightly weedy Sansa Clip+ portable player? Amazingly, yes, even when pushed hard with some heavy metal or dubstep they rarely lost their composure and retained 90% of the fun and intensity as when connected up to the much more powerful M-Audio unit. These cans have definitely been designed with portable players and phones in mind, which is surprisingly rare to see, especially from some of the larger manufacturers.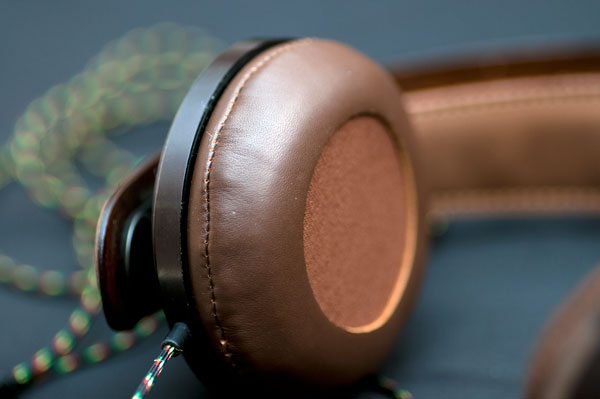 I went for a small desktop setup – nothing too fancy but certainly powerful and clean with the Kingrex UD384 DAC and the uPower module and the Bravo Audio Ocean tube amp. Certainly affordable but one of my favorites for on the go testing without loss of quality. I took a mixture of quality (ahem) 80's rock with The Cult's 1990 Sonic Temple album and moving up to Buika for vocals, some Major Lazer for those bass lines and then finally Goldfrapp's Head First album from 2010 which I always thought to be a bit of a bright recording for most headphones.
First up the isolation on the Exodus was excellent for an on ear headphone and certainly better than the Beyer T50P, maybe the same level as the ESW9 from Audio Technica and slightly below the DT1350. Being a consumer can then no surprises in the expected sound signature with a more emphasis on the lower mids and a midbass hump with some roll off in the highs. The closed nature of the can didn't allow the sound stage much room to breathe but it competes reasonably well against similarly priced headphones and I am never too critical of sound stage on closed cans knowing their limitations.
The overall tone is a dark headphone with a warm sound though not overly laid back – as Tim describes it – lively, but in no way fatiguing. For me, the Exodus is more at home with modern R&B than classic rock but I did enjoy the way it gave a beefy presentation of the rhythm guitar work on The Cult's Sonic Temple. More complex mids it does struggle a touch due to the condensed imaging but once you throw in some heavy dance floor or ragga beats and switch to tracks such as Major Lazer's "When You Hear The Bassline" of their 2009 album "Gun's don't kill People Lazers Do" then the Exodus really starts playing to it's strengths. This track pumps out bassline after bassline and the Exodus just sucks it up and churns out punch after punch without any undue bloat or boom.
Conclusions
To come to my conclusion I've decided to carefully consider the market these headphones are aimed at, with their fun design and microphone I think we can agree that most people buying these will be of a young demographic and using them with portable players. With this in mind, I would say that these are fantastic at consistently delivering an engaging and exciting performance that I would wear on my daily walk to work every day. There are however a couple of gripes, the ill-fitting headband that even after a couple of months tied up failed to sit on my head properly after being released and the ear cups feel a bit too fragile where they connect to the headband.
The House of Marley Exodus currently retail at just under £100 and when you consider the materials used, the attention to detail, beautiful design and the decent sound they offer I would say this is a fantastic package for anyone seeking a pair of fun cans for under a ton.
Thanks Tim! I think you are certainly going to notice the bottom end more than the top end with these headphones. This is not a neutral headphone, this is a fun and musical headphone with a bit of classy styling and certainly, a headphone people will notice when out and about. If you want something cool and better than 'da beats' then this is a pretty good option if you ask me
For more information you can inquire with:
www.hifiheadphones.co.uk
www.advancedheadphones.co.uk
http://www.thehouseofmarley.co.uk/