The Westone MX is a brand new Bluetooth IEM sporting a single balanced armature and a detachable MMCX cable/BT module. It is priced at £139.00.
Disclaimer: The Westone Wx sent to us for the purposes of this review is a sample and does not have to be returned. Thank you to Westone UK retailers Hifiheadphones for giving us this opportunity.
To read more about Westone products reviewed on Headfonics, click here.
Note, this review follows our new scoring guidelines for 2020 which you can read up on here.
Well most of us who've been in the audio game a while know Westone quite well for their flagship earphones, they were established in 1959 by Ron Morgan and have grown ever since. Typically, Westone is known for its high-end earphones, custom monitors, and hearing solutions today.
However, they are taking things in a new direction with the Wx. Westone has decided to join the growing Bluetooth or wireless IEM market.
There are a ton of cheap products out there that do a similar job of music delivery and battery life. However, not many have the finesse and finish of a high-quality product.
The Wx is a premium Bluetooth set of buds but do not let the simple box fool you because they sound the part.
Not only do the earphones work great, but Westone is also including a semi-universal accessory out of the box allowing you to swap the Bluetooth cable with other earphones that share an MMXC port. The cable is also available for purchase separately in case you fancied giving that a go without the earphones.
Build Quality
Build quality feels great. They have done a stellar job smoothing all the plastics and ensuring the housing is sealed tightly since BT Cable is certified to IPX4 sweat/water/dust resistance rating.
The same with the micro-USB connector where the rubber flap tightly seals the port opening to protect it from moisture. The overall design is something we've been used to for many years. The only new addition here is the cable.
The shells are encased in a black shiny plastic with bold silver letters reading "Wx" written on the outside housing. Each earpiece is marked with left and right indicators on the inside of the shell written largely in silver font. This is something I wish more manufacturers would do. Whilst I understand it's not the most aesthetically pleasing it is practical when using earphones like these.
Comfort & Seal
The Wx are naturally very small which makes them great for all types of ears. However, I have found them to be a little tricky getting a good seal without the correct ear tips. It was fortunate that the included silicone ear tips on the device will be perfect and not need changing. I still tried the other provided and it was virtually impossible to get a seal as good.
Getting a good seal on these earphones is imperative for getting any sort of solid sound out of them. I cannot express this point enough. Without a decent seal, they sound shrill, anemic and virtually unlistenable.
Thankfully, once you get past that caveat the comfort levels are great. They fit snugly within the concha of the auricle which is the bowl shape within your ear. Ergonomics are great from a technical standpoint, however, I can see a few people finding them a little tricky when first inserting them and finding their perfect fit.
Cable
Design
The cable design feels durable but comes at the cost of some flexibility. The wire is flattened probably to reduce the likelihood of tangling. However. with such a small amount of wire, I would have rather seen the rigidity taken away in consideration of something a little suppler.
The cable on the back is narrow and flat for a more comfortable fit as it goes behind and around your neck. There is the addition of a cable cinch too which seems a tad superfluous as the cable is fine without it however it is important to get a good fit universally.
MMCX
One of the best features of the Westone Wx wireless earphone is that it is detachable. This means you can replace it with any suitable MMCX style cable including a standard 3.5mm wire. The MMXC connector is light, snappy, and secure and works with almost all other earphones that used this type of connection making it a great accessory along with the headphones themselves.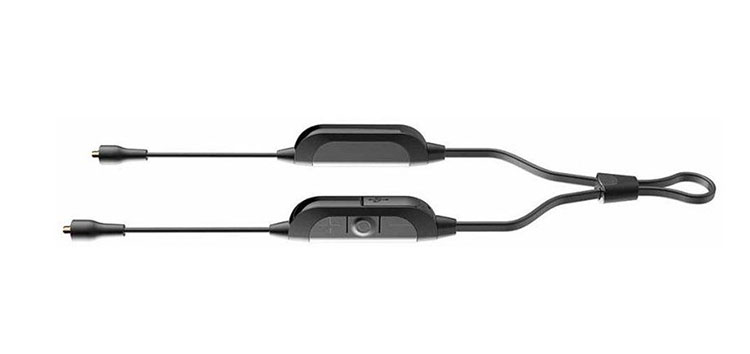 BT Module
Westone is also offering the BT cable as a separate purchase to the earphones themselves. This essentially what makes the Wx earphone a Bluetooth earphone. The wire consists of two MMXC pins, a silver, and black battery housing unit, as well as a silver and black control module. It's a sleek design offering symmetry and modest looks but more importantly, works well. The housing is made of high impact plastic with an aluminum matte plate over the top.
On one side of the unit are functional controls which host an in-line remote with Vol +/- (also doubles as track skip), Power/Play/Pause/Call multi-function button, micro USB charging port, and a mic pinhole. The other piece merely contains a battery. Westone did some prototypes of the design and finally managed to cut the weight down to 12g and get a decent 8hr playback which I can confirm is more than accurate from my testing.
The LED is located between the Power and Vol- buttons, shining through a slit opening. It's bright and multi-colored (blue and red), but to see it you must be sure to press the Power button with your thumb resting across the Vol+ button so you don't cover Vol-. The LED indicator is important because it shows power status, pair up status, low battery notice, and charging status.
Features & Functionality
Bluetooth and Connectivity
Connecting to the Westone Wx is easy enough. Simply hold down the middle button on the inline control and you'll engage Bluetooth pairing mode. Then find it in the Bluetooth section of your smartphone or player and select Westone Wx.
There has been a minimal signal drop since using the product however sometimes when walking around with them I did notice crackles probably due to RF interference.
Wireless Range
The Westone Wx wireless earphone offers a 30ft range from the source and I can confirm with using my Oneplus 5T this turns out to be accurate as I got to about 30ft before experiencing any dropouts.
Bluetooth 4.0 with aptX
Built-in to the Bluetooth standard is a protocol for Hi-Res audio called the aptX audio codec. The aptX codec allows lossless and Hi-Res players to stream audio via Bluetooth without compromising the sound.
The result is crystal clear audio because the signal sent is the same audio you'll receive with the Westone Wx wireless earphone. This works incredibly well with my Oneplus 5T through the use of Qualcomm inbuilt aptX codec software.
Battery Life
The Westone Wx promises up to 8-hours of continuous battery before it needs to be charged. I am very pleased to say so far this has been fairly accurate.
In fact, I would say due to me not having 8 hours to continually use them I've had closer to 10 hours switching them off with about 40-minute listening breaks. Charging time from empty was 2hr on the do. When charging, the LED will show a red light. Once fully charged the indicator will change from red to blue.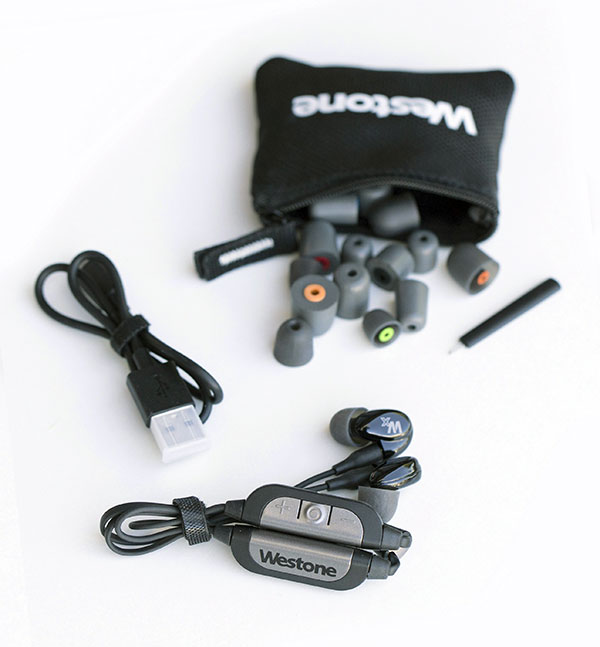 Inside the box
Westone has opted for less luxury and more practicality when it comes to the box. A simple design, lots of information and all you need inside. Westone has been extremely generous when it comes to providing ear tips inside you will find the following;
Westone Wx In-Ear Monitors
Removable MMCX Audio Bluetooth Cable
5 silicone ear tips
5 foam ear tips
Carrying case
I can't complain, I think they've provided a great array of accessories to try and accommodate every user.
Sound Impressions
Tonality
I've never been the biggest fan of wireless buds due to signal drop and loss of quality. It is not worth the tradeoff for a little convince especially when you factor in battery life which can be more of an inconvenience than the problem it solves.
Saying that the Wx may have just won me over though with a good day's battery life, stellar performance, combined with aptX codec and a semi-universal Bluetooth solution it's hard not to like them a little.
So, what to expect from the sound well it's typically Westone. As expected you get a warmish delivery of music with a mid-centric voice and a darn decent soundstage. The Wx are detailed especially considering the use of only a single BA which is noticeably warmer than what one might expect.
I like the house sound Westone portrays almost shamelessly with about every earphone they do. However, whilst they still holding true to their values they've seemed to sacrifice a smidge of vocal clarity. I feel this has been due. in part, to the pursuit of ergonomics and cost which I will elaborate on.
Mids
I think it's time to get into the nitty-gritty of how they really sound. Vocals are supposedly the star of the show here but for me, the nasal projection of the vocals can somewhat distract you from the gorgeous and copious micro details, nuances, and staging the earphones can reveal.
Vocals come across clearly on most tracks but occasionally you get a smear of detail. This is pretty track-dependent and I know it sounds like I am giving them a hard time but simply put they are almost there.
It is a forward projection of the vocals with just a touch of bite, a sound signature I am very fond of and have ended up liking. The sound they are going for is great but I just wished they would have tweaked it a little to clear that midrange fog away.
I want to emphasize how good these can sound with a decent track and a little brain burn-in. I didn't like the sound out the box but given a few hours they really grew on me particularly when vocals came across clear and forward. Around 80% of the time this makes them a joy to listen to as they offer a slight sense of euphoria with their ambitious and energetic representation.
To elaborate on what I mentioned earlier I think due to the fact Westone was opting for something small and lightweight using only a single BA to pull this off makes sense. Nevertheless, it comes with a slight tradeoff of putting sound quality second.
The Wx does a great job with just a single BA driver but I know Westone could have cleared that midrange up with the addition of another BA, just my two cents.
Treble
Moving onto the treble we find ourselves lost in an array of detail. If there is one thing a BA driver earphone should be capable of delivering and that's detail. Some have missed the mark and can come across as harsh or peaky. With the Wx, I am pleased to say it's just not so.
A tip of the hat to Westone for doing such a fine job with the treble. It sparkles, shimmers, and nestles its way in between the music superbly. The Cascades of notes fall around your ears, nuances are present within every beat, and every pop and click displayed with its proper time and space. This is a grain-free and easy listening experience.
Easily an impressive earphone when it's down to treble alone. So far, these are easily the most detailed I've listened to and do a much better job than the iBfree earphones in this regard.
Bass
All of this comes at a sort of sacrifice in the Wx's low-end. Bass notes hit hard when called for, however, it can too polite or lacking in quantity during busy passages where the single BA just struggles to keep on top of everything.
The bass quality is above average and very good for a single BA, but it lacks depth, refinement, and texture. It's quick and punchy but an analytical audiophile on the listen might be a little disappointed with the results especially with a bad fit in which case just forget bass exists. A decent seal is vital for these earphones to function as they should and once again I stress this point get your tips straight!
Soundstage
Lastly, let's talk about the soundstage which by all accounts is marvelous. There is a lot of room for things to breathe with the Wx stringed instruments and panning details come across particularly well. I must say I'm a little impressed.
I've heard earphones twice the price with a solid hardwire connection that have lacked similar refinement. Westone is offering here with just a single BA. The soundstage is wider than it is deep but it also gives you a real sense of space which is a great contrast in some ways to the mid-centric tone of the earphone.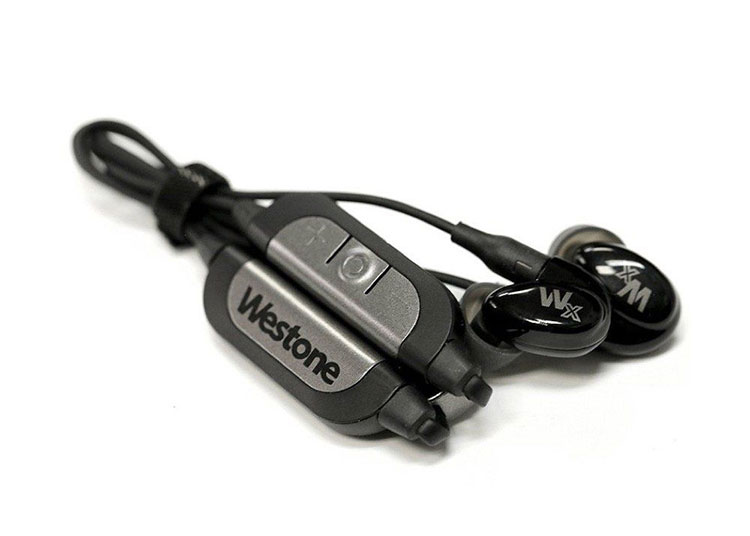 Select Comparisons
Whilst I can't do an in-depth comparison to any of the following Bluetooth earphones I will give a little breakdown of some of the similarities and differences.
1MORE iBfree
The iBfree were a great pair of reasonably priced earphones offered by a company called 1MORE. The Wx is noticeably more refined but that should come as no surprise considering the price differences.
The iBfree, on the other hand, is more impactful when it comes to bass, but the details and peaky midrange make them more fatiguing to listen to. The soundstage is noticeably smaller on the iBfree and this is where the Wx really does shine.
With the addition of being able to use your own MMXC connected earphones and the Wx holding more than its own regarding sound quality, it all comes down to what you want from your Bluetooth earphones. If the price is no object then the Wx is hard to not recommend but for an audio enthusiast on a budget the iBfree is a great deal and I would still recommend it to anyone looking for a decent set of Bluetooth earphones under $100.
Generic Bluetooth Earphones
In comparison to some cheapies, I bought from Amazon to use at work the Wx is a million miles ahead. In fact, it's not worth the comparison. Everything from sound quality to wireless range and battery life is compromised when using them.
The Wx may not be the perfect choice for someone just merely looking for a set of Bluetooth earphones, however, if you have the money and are after a real treat I would give the Wx a good looking at.
Our Verdict
In monetary terms for what you get, the Wx is more than reasonable and a very competitive offering. First, you get a wonderful set of earphones that even alone are worth a listen if you like mid-centric detail orientated earphones. Second, you also get the cable/Bluetooth adapter which is a standalone product delivering great quality audio nearing the performance of wired devices.
If you are in the market for some great Bluetooth IEMs that offer some refinement and finesse over the typical cheap bass bloated Bluetooth generics that are saturating the market, then give these a shot.
The overall experience is excellent, and I can only hope Westone will also include a modular design, so we can make use of the Bluetooth cable with two-pin connections as well as MMXC making for a truly universal device.
Westone MX Specifications
Sensitivity: 114dB @ 1mW
Frequency Response: 20Hz – 16kHz
Impedance: 19 Ohms
Driver: Single Balanced Armature (Full-Range)
Bluetooth: v4.0 with aptX
Battery Life: Up to 8-hours
Wireless Range: 10M
Warranty: 1-Year Limited Warranty