Synergy
Efficiency
The MS2 are very efficient but they do tend to produce hiss due to their high efficiency so careful pairing these with amplifiers that tend to have high power with no gain control.
Efficiency is rather high, yes, but I like these at moderate volume levels and probably would be moderate with the power source also and match them up with something similar or slightly higher in cost equal to the IEM itself.
There is no need here for expensive gear with these IEMs and these are designed to be budget-friendly and fare well in a budget low output power setups. They can run directly off a phone but in my opinion, deserve something cleaner in output.
Long as you feed them a clean source you will be okay and get good results from these IEMs. Low power and high powered amps alike, they play well with both types however just in case. The gain control usually stays at the lowest setting however to avoid that hiss on high power models.
Pairing
I used mostly low-powered stuff, dongle DACs, and even Hidizs own H2. Everything I used in my opinion gave me ample amounts of volume and bass response which never sounded anemic due to lack of driving force. I even got some decent bass off a phone.
The Mermaid MS2 IEMs don't scale up with high power and eventually hit a limit in fidelity capabilities once you start venturing into mid-tier amplification or above.
But one of the Mermaid MS2 virtues is that you could pair it with whatever you have and give you what they can give with no picky pairing requirements. These IEMs seem to not care much about the source or the gear being used.
On a side note, did you notice something? The H2 uses the same number 2 in the model number. Perhaps it's because of the excellent synergy they share and I think Hidizs did that purposefully. For around 150 bucks, you could get this combo and go wireless. It makes a good little portable combo indeed on the cheap.
Select Comparisons
Tin Audio T5
$129.00
Technical
Here is another audiophile starting point IEM for those who want a taste of audiophile sound but are on a budget and want an IEM that offers high value in terms of price per performance. I like the T5 for a few reasons.
They come with a nice storage case, 6 tip sets plus a foam set, a decent wire, and the IEMs are robustly built but contrast the resin body style of the MS2 and are all metal. The included accessories are actually very similar also in content except for the foam tips, the tweezers, and the cleaning brush.
The driver configuration on the T5 is a single 10mm DOC dynamic. While I am not a fan of single dynamic drivers nor am I biased either, I fully understand that if done right can be superior in performance mostly because of the lack of need of any filter or crossover circuitry.
Design
The Tin HiFi T5 has ergonomically shaped shells that are made of Titanium. Some might think since the shells are metal they are doomed to feel either cold or too warm on the skin but Titanium has the ability to not absorb cold or heat much but can adapt quickly to your body temperature so it turns out it's actually an ideal material to use.
The all-metal design uses the same type of 0.78mm connection as the MS2 but the T5 has a recessed plug which adds strength to the connector instead of relying on the strength of the connection pins.
The T5 stock cable is decent, all the hardware is metal including the 0.78mm plugs and I think in this category there is a tie between the two in quality and usability. They both come only with 3.5mm TRS connectivity and that's okay at this tier.
Performance
While the MS2 has that bass response impact bump with slightly accentuated high frequencies the Tin HiFi T5 somewhat contrasts that signature by being more neutral and mostly flat below with a leaner bass response. The MS2 can certainly dig deeper especially with an EQ bump.
There is definitely a more midrange-centric tuning on the T5. The high frequencies on the other hand are a touch overcooked and could sometimes sound splashy and I prefer the crispness of the MS2 highs on most occasions.
Perhaps the sound tuning of the MS2 has the fun factor but the one area the T5 wins is in staging due to the lack of depth in the staging of the MS2. Another area the T5 might have an edge on the MS2 is in micro details which are more prominent and bought forth more on the T5.
On imaging, the T5 seems to do panning in three-step movements while the MS2 smoothly moves sounds across your head in a more precise manner.
See Audio Yume
$169.00
Technical
At a slightly higher cost, the See Audio Yume has an additional BA driver and uses a more elaborate filter system with LFC technology, a better wire, and has a tuning that closely follows the 2020 Harman Curve.
Packaging and included accessories are better presented and ampler. For example, the Yume comes with more tips, a hefty hockey puck style storing case and it all comes in a larger, more artistic package.
I am not a box fanatic and prefer content over presentation but the Yume box to me is rather large and I do prefer the smaller box of the MS2 simply for storage space considerations.
Design
Both IEMs have many similarities since they both share similar resin bodies with surface mounted .78mm connectors and artistically finished front plates. Both shells are similar in size, weight and even have similar aluminum output port tubes.
The Yume stock cable assembly uses a thicker 4 wire braid with metal connectors and is, in general, a more robust looking cable but none of these models step up to multiple connectivities and only offer a 3.5mm TRS connection.
The driver array inside the Yume consists of a single 9.2mm liquid silicon diaphragm dynamic driver along with two custom BA drivers that play the part of the midrange and tweeter in a 3-way setup.
Performance
These two IEMs have similar sound signatures and although the Yume was tuned according to the Harman curve they still have a slight U-shaped sound due to the vocals being pushed back some. Not only in volume but further front-wise in the sound staging position.
I think the Yume frequencies are flatter than the MS2 but somehow the midrange is pushed further out into the soundstage giving the illusion of a U shape while on the MS2 the midrange seems closer to the listener.
The Yume generally has a softer sonic character compared to the MS2, especially at higher volume levels. It seems to be more neutral compared to the MS2 but mostly because of the slight bass elevation the MS2 have which brings in that fun factor I mentioned earlier.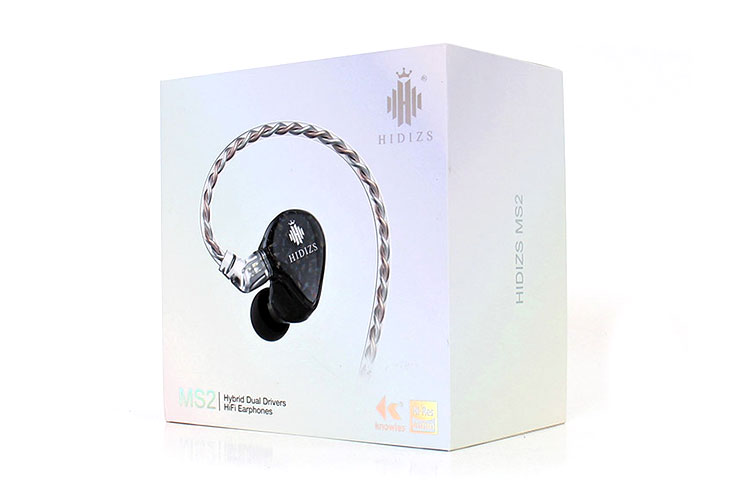 Our Verdict
I would consider the Hidizs MS2 a piece of gateway gear that brings the average buyer or those on tight budgets to jump in the audiophile game and not break the bank as they say.
They have a very good bass response that punches past some higher-priced models and their only drawback sonically is the lack of depth and a couple of peaks that can make these IEMs sound edgy but only at very high volume levels. At moderate volume levels, they can sound quite nice.
The MS2 IEM shells are light, good-looking, and comfortable plus come with enough accessories to get you by in a general sense and come with a decent stock cable.
I have gotten to know the company Hidizs as a manufacturer that offers high performance per dollar gear and these IEMs follow that tradition and I consider the Mermaid MS2 a rather safe buy that offers performance that would have cost double or more just two years ago.
Hidizs MS2 Specifications
Earphone Type Customized HIFI In-Ear Monitors
BA Driver Knowles RAD-33518-P183
Dynamic Driver 10.2mm, Dual Voice Coils & Dual Voice Chambers
Appearance German Eco-friendly Resin Body, Gold-plated Sound Nozzle
Frequency Response 20Hz-40kHz
Sensitivity 112dB
Impedance 18Ω
Cable Mixed Braiding of Quad-Core Wires 1.2m in Length
Earphone Connector Detachable 0.78mm 2pin Gold-plated Socket
Plug 3.5mm Gold-plated Plug
Weight(a pair) Approx.10g (excl. earphone cable)