The HiBy R5 Saber is a detail-orientated DAP featuring a Dual CS43198 DAC, Android 8, a Qualcomm Snapdragon 425 SoC, and MQA 8x. It is priced at $399.
Disclaimer: The HiBy R5 Saber was sent to us as a sample in exchange for our honest opinion. We thank HiBy Music for this opportunity.
To learn more about HiBy reviews on Headfonics you can click here.
Note, this review follows our new scoring guidelines for 2020 which you can read up on here.
HiBy R5 Saber
If you are looking for a nicely designed 4.4mm ready DAP, the R5 Sabre is like an audio Swiss Army knife packing in very up-to-date features with a big sound under its small hood that may surprise you!
The ultra-smooth experience on the R6 2020 and R8 captured our attention in late 2020 with some killer tech. However, at the same time, HiBy quietly released a different rendition of their R5 DAP codenamed R5 Saber with Android 8.1 OS. Also, if you are aware of the R3 Pro Saber upgrade the R5 Saber is a similar clean tuning vision.
On HiBy's site, they explain the naming this way: "The Saber edition ruthlessly cuts through the most complex of recordings to reveal detail for all to hear". Is this the Excalibur amongst the mid-end DAPs competition and how does it fare against the original R5? Let's find out!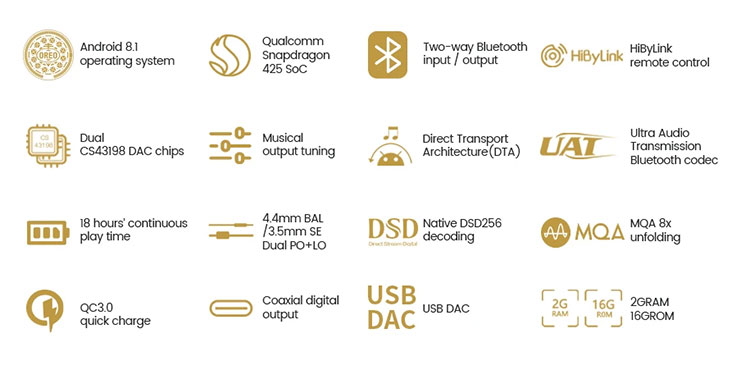 Tech Inside
The R5 Saber is positioned as a small upgraded package to the original R5, keeping most of its architecture and has the Op-Amp replaced from the Texas Instruments OPA1612 to OPA1642.
Two pieces of OPA1642 are used as LPF (Low pass filters) and the AD8397ARDZ(s) are used in the amping stage, achieving a very high 1040mW output at 16ohm load. Interestingly, HiBy also put in heatsinks for better heat dissipation and they claim that it will enhance the sound quality and performance.
Qualcomm Snapdragon 425 SoC
We can see the whole line of HiBy products with Qualcomm processors with the R5 Saber using the proven 425 SoC, enabling a very smooth operation with audio-orientated apps.
The processor offers rock-steady system programming plus 2GB RAM and 16GB storage, so the experience is not laggy unless you scroll fast. The R5 Saber can handle minigames and basic apps, with the same hardware as the original R5 so the system is getting quite mature. During my time with the R5 Saber, I came across no glitches or force stop using any apps I installed.
High-resolution video playback is also smooth without delays but I would strongly recommend going for a DAP with a bigger screen like the new R6 2020 if you want to watch videos and animations on the device or to stream videos on it as you can barely read subtitles.
Internet browsing is quite speedy on the R5 Saber but it may take some time to get used to the small keyboard. When scrolling very fast in a large music library you may notice some lagging but the speed with everyday normal playback is satisfactory.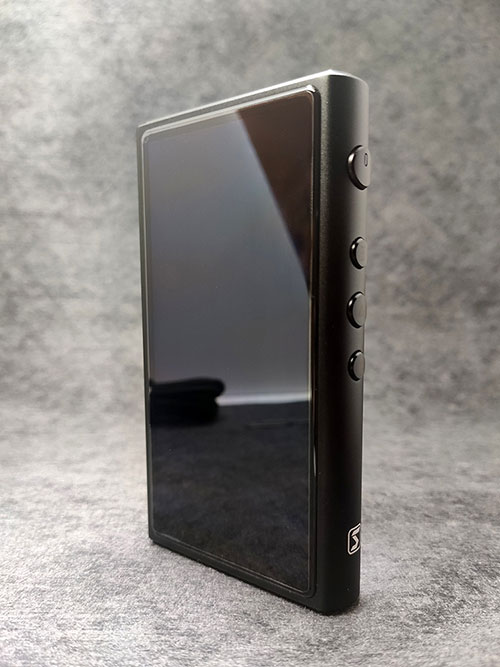 Design
There is a lot of effort in making the R5 Saber a nice fit for users that demand an audiophile machine but prefer a less geeky design and better portability.
While the R8 and R6 2020 look like a muscle car, the R5 Saber has a more subtle but elegant design that employs a lot of reflective elements, for example, the I/O panel that has a bold chamfered edge. It is quite a nice touch to the design and with the opening on the leather case, the effect is nicely displayed.
The weight of the R5 Saber on the other end is only 160g and feels incredibly light on the hand. A 4" 16.8 million color IPS panel takes up almost the whole front panel, maximizing the screen area while keeping the form factor very compact and portable.
Navigations and volume buttons are placed on the sides and you can easily control it single-handedly even if you have smaller hands.
Screen
The screen has a high pixel density so it remains legible but quite small. The R5 Saber resolution and its elements in the GUI are spaced enough to not be wrongly pressed, but you may need a little bit of time to get used to the smaller interface moving from bigger phone screens. Bigger thumbs may be challenged when needing to type.
Battery Life
The R5 Saber supports QC3.0 quick charge with a 3500mAh battery for 18 hours continuous playback on 3.5mm SE output. It drops to 11 hours of playback on the 4.4mm balanced connection which is still quite competitive
In my own experience with the R5 Saber, the idling time is surprisingly long and the power drain is very well controlled when the DAP hibernates. Listening for around 2 hours per day I don't need to charge after 1 week so the user experience for battery life is very good.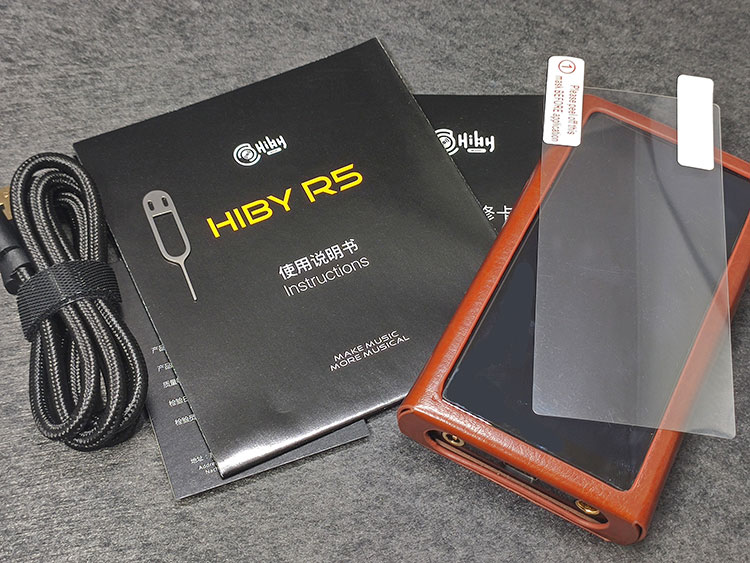 Packaging & Accessories
The new packaging has the laminated image of the R5 Saber on top and looks more stylish than the R5's packaging. Inside you will find a slot-in leather case instead of the original plastic casing with R5, this steps up the experience and makes the whole package much more premium.
The new R5 Saber leather case material feels quite tough offering great protection as well as enhancing the aesthetics.
You will also get a user manual, gold plated charging cable, memory card slot pin, and the R5 Saber unit with a screen protector pre-installed. There is also one extra screen protector packed inside.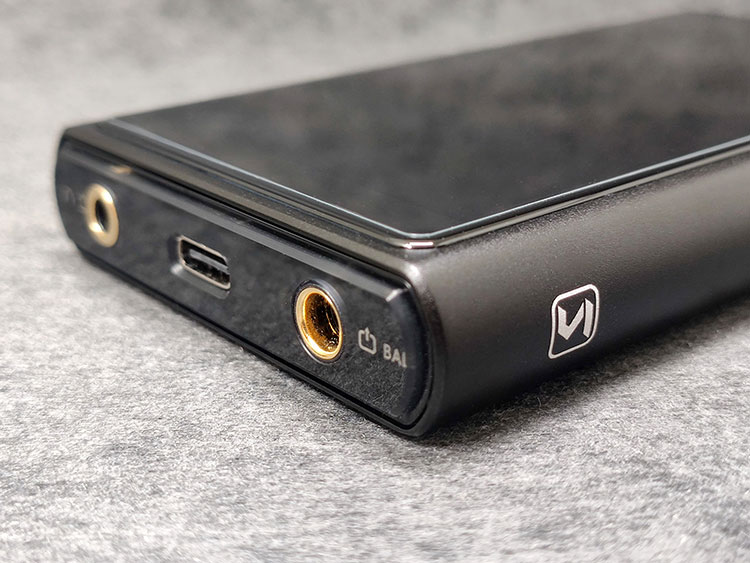 Internal Hardware
USB DAC & Bluetooth
You can use the R5 Saber as a USB DAC or for USB output, if you want to hook it up to the laptop you can download the ASIO driver for the best sound or rely on the stock driver that has less latency.
The R5 Saber also supports high-resolution BlueTooth codecs and acts as a receiver as well as a transmitter, with LDAC/ HiBy's own UAT support.
It also supports up to 32/384 via PCM, DSD up to 256, and a wide range of codecs including FLAC, WAV, MP3, AAC, WMA, OGG as well as native MQA unfolding to name but a few. On the stock HiBy player app, you will also notice ISO and cue files are supported.
MQA 8x unfolding
One of the more attractive features this small player packs in is its MQA unfolding capability. When you stream on Tidal or play music in the HiBy Music App you will see the sampling automatically being boosted, (taskbar indicator).
The HiBy R5 Saber is capable of rendering MQA files to a factor of 8, pumping out 8x the files' original sampling rate to increase the density in the output.
Amplification
Audiophile parts including 4x 470µF Panasonic electrolytic caps are used in the amping stage to increase current output for clean and powerful sound.
7x 200 µF and 4x 47µF Panasonic Hi-Polymer Tantalum POSCAPs are also used on the power supply circuitry with minimal equivalent series resistance. These are used for maximal power supply noise reduction that will assist in offering a clean low-noise sound.
The amplification on the R5 Saber is actually very good with both 3.5mm SE and 4.4mm balanced headphone and line outputs similar to the original R5. You get up to 1040+1040mW on a 16Ω load and just over 500mW into a 32Ω load when going balanced. There are not too many DAPs offering this output capability for a similar price.
Software
Android 8.1
HiBy is known for its software coding prowess and the Android 8.1 based R5 Saber packs offer bit-perfect playback system-wide with their in-house DTA design. This bypasses Android's own resamplings/SRC and allows bit-perfect audio playback that supports all Android apps.
Google Play
The international version R5 Saber has Google play planted out of the box. Basically, any app can be installed. You may install pure apk or other app markets so that you could download apps without logging in to Google.
Performance Measurements
The R5 Saber packs in the same internals as the original R5 and achieves a similar score running Antutu tests. There is enough speed for everyday music playback and if you need to browse the web or play some mini-games with enhanced graphics, it is recommended to go for faster machines like the R6 2020.
HiByLink
Like the other siblings in the line, the R5 Saber supports HiByLink. You could install the HiBy player app on your phone or pads then use it to connect to the R5 Saber via WiFi or Bluetooth to control playback, library browsing, control the volume with the R5 Saber in your pocket.
This is a handy feature that I recommend all users to try although it may be slightly more power-consuming.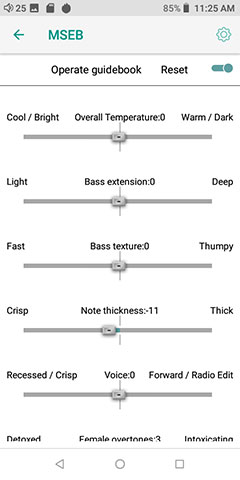 Systemwide MSEB
The MageSound Eight-ball (MSEB) tuning panel allows system-wide sound tweaks, and this could be applied on every app onboard of the device, even games, and streaming contents.
This tuning mechanism is one very handy feature that could compensate for simple flaws in IEMs and the DAP's output and allow users to tune the sound to their preferences at the same time. If you think your IEM is too bassy, too thick in the vocal, too clean or veiled, the MSEB could be a fast rescue.
On firmware v1.6 and higher the tuning panel does not affect DSD, MQA. And this only applies to onboard headphone outputs, line, and coaxial digital outputs, which means it is excluding BlueTooth, and USB outputs.
Click on page 2 below for sound impressions and select comparisons