Fiio for this year have begun to think outside the box and by the look of their new product range coming out this summer and beyond I would hazard a guess that their R&D is being seriously beefed up.
After the winning combination of last year's E9 and E7 amp and amp/dac to add to their E5 and E3 stable, Fiio now bring us a new DAP called the X3, (which is a first for them), a mature headphone amp offering called the E11 which for the proposed price is looking to be a signature product already, the A1 which is an extension of the E9 with more focus on driving speaker type setups and a curious little accessory called the D3 which seems to be a little micro-DAC which for mini desktop setups might be very useful indeed. I thoroughly doubt though that this is the end of what is proving to be a very impressive lineup from this fast growing company.
Speaking to Fiio the direction now is D for consumer market and E for audiophile market which suggests we are going to see a lot more new models in the market in the coming months.
A few examples below of what is in store for us.
E11 – Headphone Amp -= suggested SRP (TBC) $60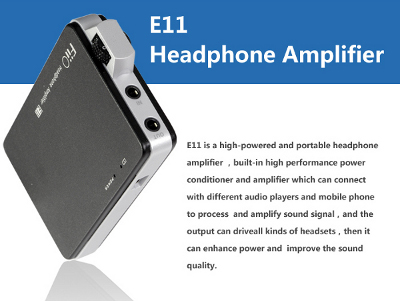 Classic headphone amp adaption with some impressive statistics and advance reviews already for advance screener. Expect a review of this shortly from my good self. I have a feeling this will be a signature model if the price remains steady and supply can meet demand.
A1 – Hifi Digital Power Amplifier
A modified design of the excellent E9 headphone amp, the A1 is focused more on speaker hookup boasting 14w x 2 @ 8 ohms, with its dedicated binding posts and can act as a either a pre-amp or dedicated amp.
D3 – DAC
This looks really promising for the consumer market, a tiny DAC with 192KHz support. Though consumer orientated I have a sneaking suspicion a few of my more complicated buddies will snag one or two of these just for convenience sake. The D3 has optical/coaxial in and output to two channels analog audio.
The timeline these are on for release can always be subject to change but it is looking like June through to Autumn for this line up to hit the shelves globally.