In this feature, we review the FiiO x Jade Audio JD3 is an extremely affordable stainless steel in-ear monitor with a single 9.2mm dynamic driver. It is priced at just $15.19.
Disclaimer: This was sent to us as a sample for our honest opinion. Headfonics is an independent website with no affiliate links or services We thank FiiO for this opportunity.
To learn more about the FiiO products highlighted on Headfonics you can click here.
Note, this article follows our latest scoring guidelines which you can read up on here.
FiiO x Jade Audio JD3
I have to give FiiO a hand here with this latest JD3 offering which is feature-full and has a sound signature that aims for some balance, much more so compared to similarly priced bargain-basement earbuds. The sound quality alone is worth the price of admission.
FiiO never stops working it seems. Here we are once again with another FiiO launch but this time it's different and much like the JH3 we featured recently it's another Jade Audio branded launch at the entry level rather than any of their TOTL gears.
Just how entry-level is this? FiiO went and produced a decent-sounding IEM for 20 bucks which to me is unheard of in the Hi-Res market. You heard right, 20 bucks and we're not talking budget big store bargain bin stuff either.
This one is called the JD3 and up till now, it's the least expensive IEM FiiO has introduced to date not counting the old $10 EM5 earbuds. The JD3 seems to have lots of features for the cash so it almost seems like one of those "too good to be true" bargain deals.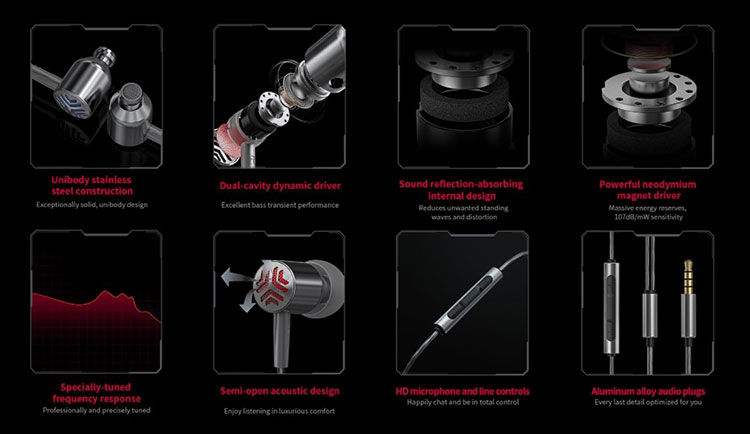 Tech Highlights
The main component inside the FiiO JD3 is a 9.2mm dual cavity composite diaphragm dynamic driver that sits within a semi-open acoustic design shell using a CCAW voice coil pushed by a Neodymium magnet.
At this price bracket, you would expect something a bit more basic but it seems the driver alone is worth the price of admission here. This driver has many features and one of the features is a sound-reflecting and absorbing internal design.
The lightweight driver moves within a magnetic return system with an inner and outer cavity which combined seems to make this driver aim for a neutral-sounding character with a rather flat frequency response and is able to produce a rather good amount of audio fidelity.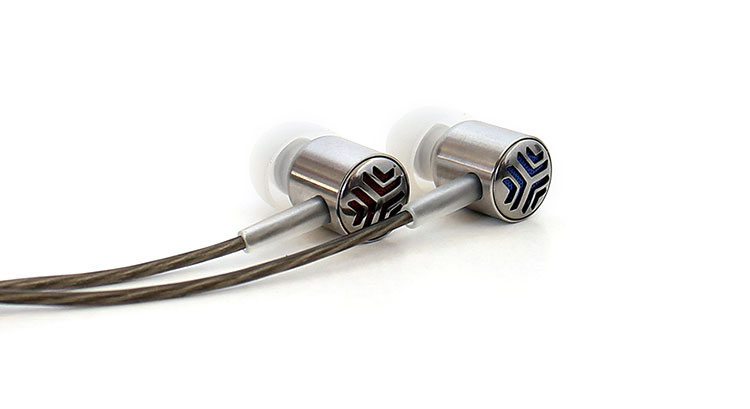 Design
The driver is mounted within a Unibody shell made of stainless steel. The shell incorporates a straight driver insertion design to mount the driver within the shell. The shell itself is a simple and solid cylinder shape with a tapered end and an end cap.
Speaking of the end caps these have perforations that allow venting through the rear so technically the JD3 is a semi-open back IEM. The perforated backplates are also color-coded red and blue for easy left and right identification. I do prefer this over a small letter, mark, or a colored dot somewhere.
The tapered ends of the aluminum shells have a common-sized output nozzle mount which will accommodate most common tips out there and is closed off with a stainless steel mesh grill to keep dust bunnies and debris off that driver.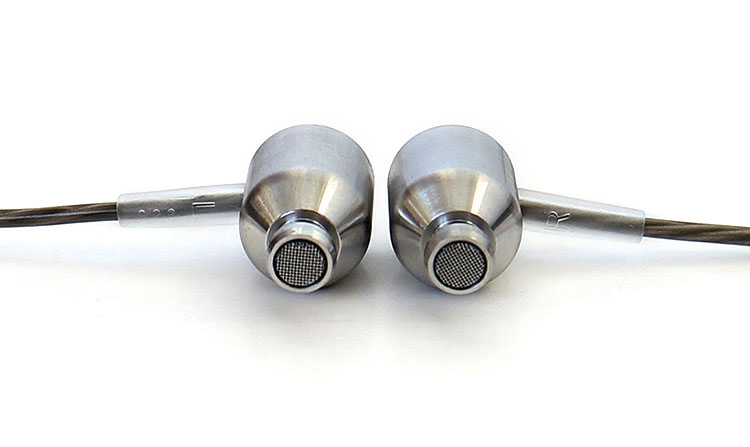 Comfort & Isolation
The FiiO JD3 shells are very small and very light and while wearing them you will barely feel them and will probably only feel the inserted tip, or at least that was my experience far as comfort was with them.
I sometimes prefer the cylinder shape IEM because it tends to point straight inward, avoids touching any part of the inner ear and all you really have to deal with at that point is the wire, tip seal, and tip comfort.
Isolation seems very high using the pre-installed tips, more so than other similar earbuds. I was not expecting this much isolation since the backplate is vented I thought there would be more external sound coming through so I would say isolation is very good and bleed is also kept to a minimum.
Tips
The white silicon tip set that comes preinstalled works well enough but it's good to know you could always experiment with some of your favorite tips since the output stems have a common type nozzle.
The stock tips seem to be the silicon type that has anti-bacterial characteristics. I have sensitive skin and these do not bother me a bit. I could use them for hours with no irritation, comfort, or fit issues.
I could recommend these IEMs for working out and physical activities long as you tuck the wire under your clothing because the earbuds stay in long as you don't yank on that wire or pull them out purposely. Plus they're so inexpensive that if you break them or lose them at the gym you could just buy another pair or perhaps a few.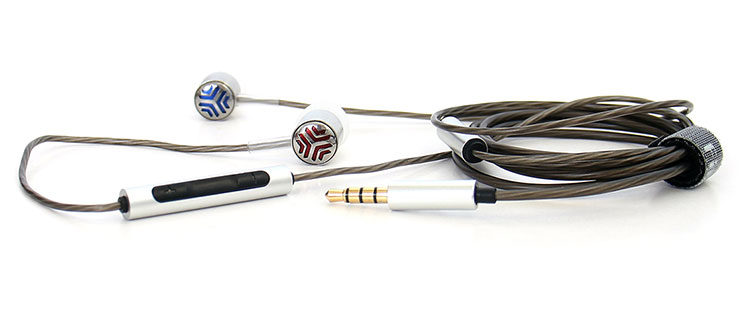 Stock Cable
The JD3 stock cable is permanently attached to the shell and is not the removable type. At the asking price, I will forgive this discrepancy. At least the oxygen-free copper wire used is thin and flexible enough as not to be annoying but it does pick up some noise if you rub up against it but again, not in a very intolerable way.
One nice feature the stock cable has is the inclusion of aluminum hardware which is composed of a centerpiece with an absentee chin adjuster and the 3.5mm plug. The total length of the cable is right around 4 feet from the tip to the earbuds.
Built-In Microphone
The stock cable has a built-in microphone and the cable terminates in a 3.5mm TRRS plug which works great with phones equipped with a TRRS Jack but unfortunately, some phones nowadays are omitting the 3.5mm plug and I implore manufacturers to stop that practice, please.
This microphone is not too bad, it does sound somewhat thicker compared to a higher quality model or even my phone's built-in microphone but in combination with the multimedia controls you rarely have to make adjustments at the source or have the need to remove the phone out of your pocket and that's a big plus for such a budget model earbud.
The multimedia controls work very well making this set an even bigger blockbuster deal. The stock cable has a set of buttons along with the microphone whose shell is also made of aluminum which controls volume, previous and track advance and you could also pick up a phone call plus hang up.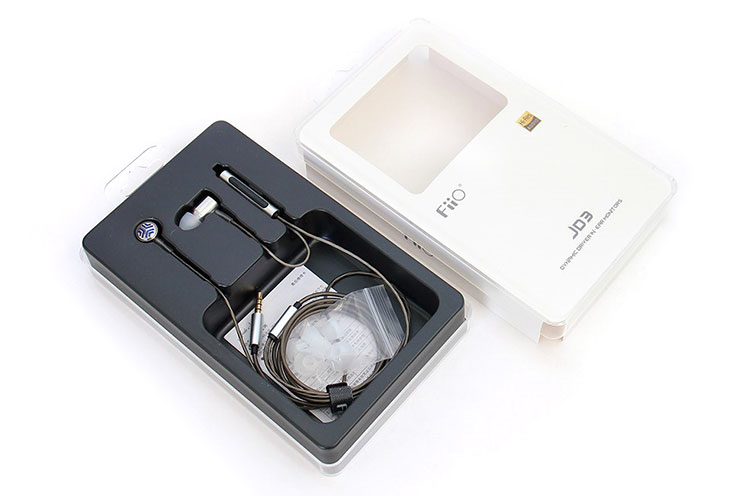 Packaging & Accessories
No trees were harmed to produce this package. In other words, the FiiO JD3 does not come in a cardboard box but rather in a crystal clear plastic case. Well, there is some paper within the packaging but it's kept to a minimum.
The clear case has a thin white cardboard insert which has a cutout window to allow you to see the IEMs and the microphone volume control piece. The rest of the insert space is used to display some basic product information. The IEMs and the microphone sit inside a plastic custom mold.
The other piece of paper inside the clear case is a small owner's manual and that is all you get besides the 4 sets of white silicon tips and the IEM assembly. The packaging is so simple and basic it doesn't even come with the customary ritualistic audiophile silica snack pack.
Sound Impressions
Summary
Off the bat, the FiiO x Jade Audio JD3 sounds better than most twenty-dollar models and it sounds too good to sit in this price category. The overall sound signature is a slight U-shape which would not work well as a clinical tool but there's plenty of fun-sounding character here which is more important to the average listener.
The bass is punchy above 30Hz since the bass seems to dip below that point and is almost inaudible below 20 Hz which I verified with a tone sweep. The bass response was actually somewhat flat all through its transition into the midrange which happens smoothly and does not cause any bleed or lower midrange anomalies. Contrary the transition area takes a slight dip.
The JD3 midrange has some peaks and the most noticeable one I found was a peak at 2 kHz which at times combines with a 5k and a 7k peak to produce some anomalies from neutral that at times could cause harshness but if you maintain volume at or below medium levels the peaks are heard as presence in the overall tonality.
The highs were basic sounding but better than most in this price class. The JD3 high frequencies seem just right in output all the way up to around 13kHz where they sharply roll off a cliff. So the major pick points of the high frequencies are the lack of extension and sometimes they were not the best in terms of definition.
Timbre
The JD3 low end has a thick character around the midsection which to me seems rather pleasing but it does not rattle your eardrums with impactfulness, in that category they would sit around medium on the sensory scale. The bass is also medium categorized in speed and definition.
The midrange transition is slightly lowered in output giving the JD3 their slight U-shaped sound character and this particular character makes male vocals sound reared but female vocals seem more forward since they fall within a frequency range that gains a few decibels in the overall output and fall close to some of those midrange peaks.
The peaks in the upper midrange area give the JD3 an added amount of presence but not forwardness within the upper midrange frequencies which somewhat throws off the overall balance and is more noticeable when you raise the volume.
The JD3 higher frequencies tend to sound a bit more balanced but the very top end is absent. The overall tonality of the JD3 high frequencies are somewhat lucid and coherent but at times do get fricative and raucous, again this is most prominent at high volume levels but when you use moderation and a clean source they're not too bad.
Staging & Dynamics
I was surprised to be greeted with some good staging and placement on the JD3. I have heard tons of budget IEMs that do much worst. The JD3 has a soundstage that on a blind test I would throw in a category 5 times higher in price.
Although the stage is not the widest and to be honest the stage is quite small especially when it comes to depth but what's there is fairly enjoyable. You could hear a good amount of isolated placement with a pretty accurate imaging capability.
Another area these do well in is with dynamics and transient response. Of course, I've heard better but the JD3 is not slow sounding or lazy and at times surprises the listener with a good amount of attack.
Synergy
Efficiency
Yes, the FiiO JD3 is fairly efficient and could easily be powered by low-powered devices like Android phones. Efficiency is rated at 107 decibels at 1 kHz with a 1mW input.
However, higher input power levels give small to no benefit with these IEMs, and to be honest this is quite a good thing because that means they are not source-sensitive and you could pair them with practically anything you have.
Pairings
The FiiO JD3 is a basic IEM so I would just pair it with any clean source. A phone will suffice in most cases and these IEMs play well with dongle DACs but beyond that and since the fidelity is somewhat limited, using more exotic source equipment will be in vain since these IEMs could not demonstrate the full capacity of an expensive DAP for example.
On the other end of things, these do play well with other tips. I popped on some foam tips and did not notice much change in sound signature from the stock tips which means the JD3 is not tip-sensitive. I tried foam tips which did bring out the midrange forward some but it allowed for the peaks to come through more prominently so I went back to the stock tips.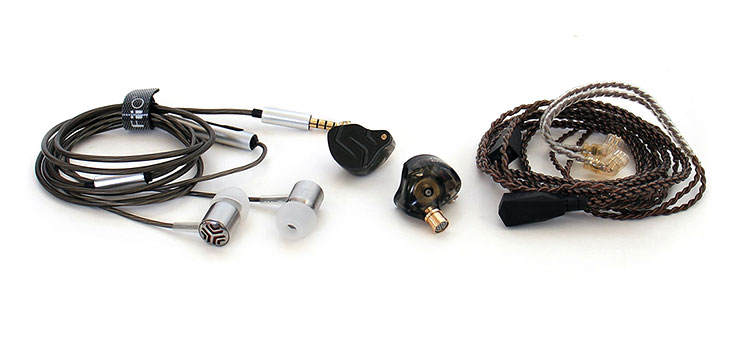 Select Comparisons
KZ ZSN Pro
Price $24.99
Technical
The KZ ZSN Pro has been a go-to for 25 bucks or less for a long time now and of course, at one point I got curious enough to hit the buy button just to see what all the fuzz was about and what kind of sound you could get for a mere 25 bucks.
The internal 2 driver hybrid configuration consists of a 10mm dynamic driver and a Knowles 30095 balanced armature driver with a2 way electronic crossover network, which is not too shabby for a budget setup, (so long as all the drivers are working).
Design
The shell shape has the more traditional universal IEM mold type and is made of a clear smoked resin topped off with an aluminum end cap with a couple of small vent holes. There are a few color schemes available.
They sit inside the ear fairly comfortably but one observation I made was that they isolate very little compared to other models including the FiiO JD3 so if outside noise is important to you these will not fit the bill.
The stock wire is removable and uses a 0.78mm connector plus there are two models available. One has a microphone for a whopping extra buck and the other doesn't but the wire has this bad habit of tangling up fiercely. At least if you decide to splurge later on you could always upgrade the wire.
Performance
On a first listen, the KZ ZSN Pro does have more impact because they have a more forward and aggressive tune that hits you harder compared to the JD3. At certain volume levels, you could say they sound like a more expensive model.
The problem lies with a few points that become prominent when you turn up the volume like the various peaks which start at around 2kHz and from there on you run into many other peaks and valleys. The bass has a mid-bass emphasis that gives them a nice punchy character but the midrange and highs get rather hotter, to say the least.
The ZSN Pro high frequencies, on the other hand, seem to extend well and probably beat the JD3 in that category but once again, if you raise the volume the highs become harsh and serrated.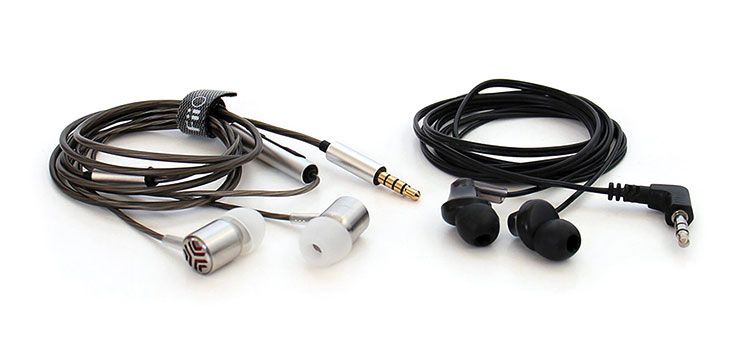 Panasonic Ergo Fit
$17.99
Technical
When the Panasonic Ergo Fits were first released they retailed for around 22 bucks but today you could buy them for much less and honestly, anything less, and you might as well go buy and listen to a paper Kazoo.
People bought these as stocking stuffers and in large quantities and for youngsters who have not yet developed an appreciation for quality IEMs and are not very cautious with their possessions so if they break them or lose them the loss is small in monetary value.
I have a pair because again, I was curious to hear what 20 bucks could buy, and although many people complain of the attached wire longevity and reliability my pair has been solid and working well for years now.
Design
One award I have to give the Panasonic Ergo is best in fit and comfort. These are designed to stay put no matter what, are light and very small, and most importantly have one of the most comfortable designs far as comfort and fit I've used.
They come with an attached wire and come with or without a microphone for around an extra 3 bucks plus these are available in a plethora of colors to choose from.
Performance
At the asking price, of course, some cuts have to be made and unfortunately, it was in sound quality. Although to the untrained ear they might sound good to some most of us here know what good sound is so the first thing you will notice is a bloated 80 Hz area followed by unevenly produced midrange.
Again, if you are listening to low volume levels they might give you more enjoyment but the many peaks are most prominent at loud volume levels. The high frequencies are also restricted in extension but at least are not as bothersome as with the ZSN Pro.
So in summary the most sonically balanced set of the three sets mentioned here in this comparison is the FiiO JD3 but the best bass probably belongs to the ZSN pro by a small margin. The Panasonic Ergo Fits however offer the best comfort level.
Another aspect to consider here is the number of features they offer. So while the only one with a removable wire is in fact the ZSN Pro, the tradeoff is the lack of multimedia controls which the FiiO JD3 has and is a feature that is not offered on the other settings either.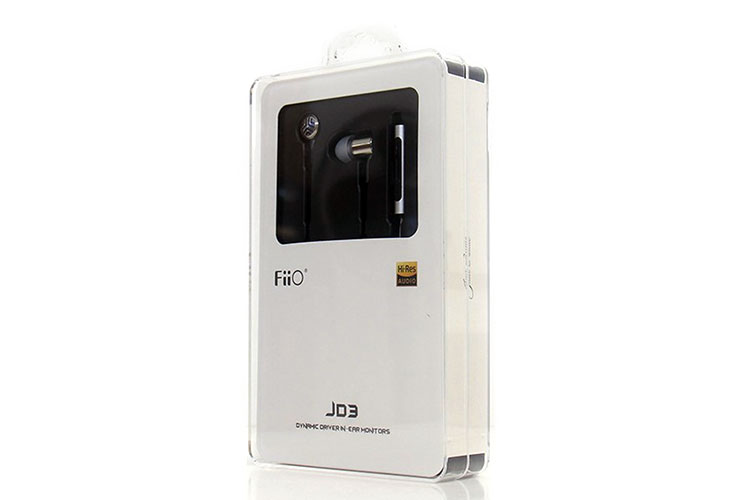 Our Verdict
I have to give FiiO a hand here with this latest JD3 offering which is feature-full and has a sound signature that aims for some balance, much more so compared to similarly priced bargain-basement earbuds. The sound quality alone is worth the price of admission. The microphone and multimedia controls are an added bonus.
You could get a pair or two and use them as backup pairs, stocking stuffers, or as a gift to a neighbor or someone who has a phone equipped with the 3.5mm jack and who you think will appreciate a better quality earbud compared to the three dollar models that at times come bundled in with some phones.
So, it seems you can actually get decent sounding earbuds for 20 bucks after all and it took a company like FiiO to make an IEM like the JD3 with decent sound quality and make it so inexpensive that it makes it feasible to buy many and even share your hobby with family and friends.
FiiO x Jade Audio JD3 Specifications
Driver 2mm composite diaphragm dynamic driver
Frequency Response 10Hz to 40kHz
Impedance 16 Ohms @1kHz
Sensitivity 107dB 1kHz @1mW
Max input power 100mW
Cable Oxygen-free copper
Cable Length 120cm
Weight 3 grams including cable