Our review of the Fearless Barcelona, which is a dual-driver hybrid universal IEM featuring a single dynamic and single balanced armature driver. It is priced at $118.
Disclaimer: This was sent to us as a sample for our honest opinion. Headfonics is an independent website with no affiliate links or services. We thank the team at Linsoul & Fearless Audio for giving us this opportunity.
To read more about Fearless products we have featured on Headfonics click here.
Note, this article follows our latest scoring guidelines which you can read up on here.
Fearless Barcelona
The Fearless Barcelona caters to a fun-sounding signature that is geared towards a more pronounced bass, which is best for hip-hop, EDM, and high-beat music.
Fearless Barcelona is the 3rd and last installment of the 3-part feature of Fearless Audio's Colorful World series which is a collaboration between Sonion and Colorful World. Barcelona continues with the hybrid driver theme similar to its siblings, the Provence and Shangri-la only this time it's the most affordable of the bunch.
Fearless Audio has described Barcelona as offering a powerful bass, lush and warm mids, and comfortable natural highs. Priced at $118, Barcelona is positioned as the entry-level IEM of the Colorful World series.
Consistent with the more expensive Shangri-La and Provence, Barcelona is also designed with those distinct color combinations. These monitors come in with 3 bright colors to choose from – Cream, Azure Neon.
Tech Highlights
Fearless Barcelona is a 2-driver hybrid universal IEM with a 10mm dynamic driver and a single balanced armature with a 2-way crossover.
The 10mm dynamic driver inside Barcelona is Fearless Audio's new proprietary Fearless Special Research Pole-Magnetic Dynamic Driver. It uses a unique compound material that results in minimizing distortion and adds a rich texture on the low frequencies.
With the collaboration from Sonion and Colorful World manufacturer, Barcelona is equipped with a special 2300 series BA driver specifically to improve on the mid and high frequency.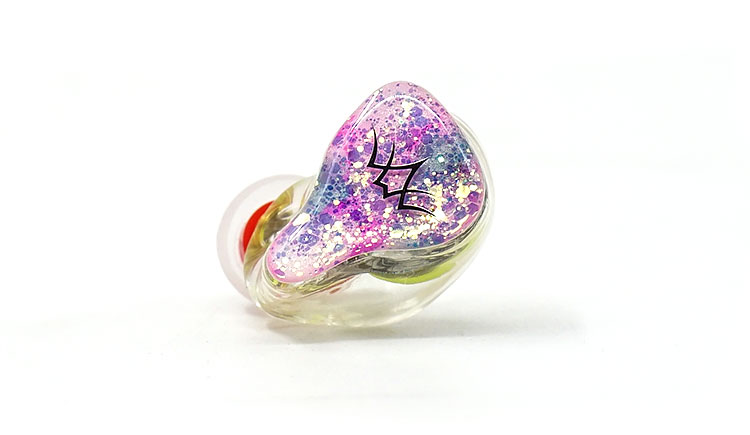 Design
Similar to Provence and Shangri-la, Barcelona is a quirky fun colored monitor. I enjoy Fearless Audio's play of colors and it does look much better in person. To be frank, it was something I also looked forward to when unboxing these three monitors.
The cream variant of the Barcelona is a pink-violet glittery colored IEM, reminding me of either a fairy dream theme or a galaxy gradient design.
The shell is made of a common transparent resin material wherein the multi-driver set-up can be easily seen at the back. A light green color covers the dynamic drivers, complementing the overall design.
The Barcelona has the same ergonomic-shaped shell. It has ample insertion to ensure a comfortable and good fit. The monitors are light and comfortable, which is a must in portable in-ear monitors.
Comfort & Isolation
These monitors are incredibly light. Wearing the Barcelona for long periods was easy on the ears. The shape and insertion depth of the shell was perfect for my ears.
Silicone tips that were included gave above-average isolation. Background noise was not heard while listening, although high-frequency alerts like alarms and calls can easily pass through.
Stock Cable
I was surprised to have the same quality cable packed with the Barcelona. This is the same high-quality Litz cable, known to avoid distortions and keep the physical wire from oxidizing and going green, found in the Provence and Shangri-la.
To be specific, it's an 8 strand ultra-pure oxygen-free copper (OFC) silver-plated Litz cable. It's braided and silver in color, greatly completing the overall look of the monitor
It has a 0.78mm 2-pin configuration which is friendly to cable rollers to upgrade, change aesthetics, or use Bluetooth cables on the monitor. The other end is terminated with a straight 3.5mm TRS Fearless Audio plug.
Packaging & Accessories
Identical to Barcelona's older siblings, the Fearless Barcelona uses the same packaging and accessories line-up.
Inside the box is the Barcelona monitor with silicone tips, a 1.2m cable, extra 3 pairs (S, M, L) of silicone tips, an earphone cleaning brush, wipe cloth, and a white-semi-hard magnetic carry case.
Sound Impressions
Bass
Barcelona's bass response is the highlight of this monitor, with its L-shaped sound signature. This monitor is aimed to be an overall fun-sounding monitor, with an emphasis on its bass response.
It goes deep and low, with an adequate rumble in the sub-bass region. The mid-bass region also has a good sense of control, with its fast attack and decay. Fast bass tracks are fine with Barcelona, it can handle it pretty easily.
The tuning of the bass region is just right, not at all obnoxiously boomy. There was enough rumble and details while maintaining a clean presentation with no bloom in the upper regions.
Mids
The midrange region of Barcelona is recessed compared to its bass region. It is tuned to take the backseat and provide more emphasis on the lows.
That being said, mids are still tuned properly to have an even lower and upper midrange, with no audible fluctuations. The midrange is detailed and clear with vocals and instruments sounding very natural.
The midrange coloration of the Barcelona is on the "cool" side, not surprising for a BA driver. This seems to be a consistent temperature from Barcelona's older brothers – Provence and Shangri-La.
Although this is not a monitor meant for analytical listening, this monitor still tries to be articulate while maintaining a fun L-shaped sound signature.
Treble
Barcelona is on the dark side on its treble tuning, which is not necessarily a bad thing. It is tuned to be buddies with the midrange region and let the Bass be emphasized in the overall tuning.
It does not have the best treble extension, but it does reach higher frequencies quite well, although faint. Cymbal crashes are far away in the background, barely heard and felt.
Still, it has a good sense of control where there was no observed harshness or piercing peaks in the high frequencies. Overall, the treble is tuned well in achieving an L-shaped sound signature.
Staging
The soundstage and imaging were above average. It has a good depth and width and a multi-directional sound replication comparable to monitors beyond its asking price.
Vocal separations are projected with clarity, easy enough to distinguish vocal layering and blending of lower and upper midrange frequencies.
Synergy
Efficiency
The Barcelona is fairly efficient with 24Ω and a sensitivity of 110dB. This can be easily powered by any smartphone, in my case the iPhone 12 Pro Max. Although, I found that using a high-quality source like a DAP, such as the iBasso DX150 with AMP6 and the AK SE100, improves the staging and imaging dramatically.
Pairings
To balance Barcelona's recessed highs, a brighter DAP like the Hiby R3 Pro Saber with good bass and elevated highs would be good to pair it with. It gives Barcelona an extra bass and treble boost that elevates Barcelona's performance.
Since Barcelona also has a cool tonality, it would also be great to pair it with warm-sounding DAPs. The iBasso DX150/AMP6 known to have a warm tonality with energetic upper mids would make a good pair as well.
Select Comparisons
Fearless Provence
$138
Technical
The Provence and Barcelona both have a hybrid configuration with a 2-way crossover design of the same Fearless proprietary dynamic driver and Sonion/ Colorful World BA collaboration. The Provence has 3-driver (1DD + 2BA) configuration while the Barcelona has a 2-driver configuration(1DD + 1BA).
Design
These monitors are nearly identical in design, having a glittery dominant pink design. Initially, I confused one with the other with its similar colorway. The difference can easily be spotted by checking the number of the driver in the transparent resin.
The shells do have an identical shape. A 2-pin 0.78mm termination with a 3.5mm straight plug termination can be found on both monitors.
Performance
With just a $20 price difference between the two, it's tough to choose. It boils down to a matter of preference. The tuning of the Provence and Barcelona are very similar with one major difference, the treble region.
The lows on the Barcelona are more emphasized due to its overall tuning, while both monitors have the same bass response. Bass is not as low as I wanted it to be, where rumbles are felt but only at an adequate amount. However, both monitors have good mid-bass control with fast attack and decay.
The mids are more articulate on the Provence than the Barcelona, but not by a large margin. If I were to nitpick, it's just that vocal textures on some tracks are more revealed in the Provence, whereas with the Barcelona, it is more rounded and overlooked with fewer details.
Highs on the Barcelona are recessed compared to the Provence. The Barcelona felt dark compared to the better treble extension from the Provence. Cymbals crashes were more heard and energetic in the Provence, wherein the Barcelona it was faint and dull.
Even though the soundstage and imaging of Barcelona are good enough as it is, Provence exceeds Barcelona with its wider soundstage and more accurate imaging. With the Provence, vocal and instrumental layers sounded farther apart with more space outside my head. Sound direction is also more accurate in positioning which gives the overall upper hand to the Provence.
Fearless Shangri-la
$228
Technical
The Barcelona and Shangri-la both have a hybrid configuration with a dynamic driver from Fearless pole-magnetic driver and a Balanced Armature Driver from a Sonion and Colorful World collaboration. The key difference is its number of drivers. Shangri-la has a 1DD+4BA 3-way crossover configuration while Barcelona has a 1DD+1BA 2-way crossover configuration.
Design
Being in the same Fearless Audio Colorful World series, these monitors have a similar style and design. Both have a bright-colored glittery shell, with the Shangri-La having a blue-snowflake colorway and the Barcelona having a dreamy-fairy-galaxy colorway.
The shells are ergonomically shaped with a 2pin 0.79mm termination on the iem side and a 3.5mm straight plug on the other end.
Performance
With the same bass tuning, the bass response of both is on the shy side. However, Barcelona's bass is more emphasized due to its tuning with recessed mids and highs. Despite both being on the lean side, both monitors deliver a good sense of rumble in the sub-bass region and a detailed and controlled mid-bass region
From the midrange to higher frequencies, the Shangri-la hands down outperforms the Fearless IEM, which was not surprising, all things considered.
The mids of Barcelona are heavily recessed, which drowns out the details, unlike how it was with the Shangri-la. Instruments and vocals also have a richer and more accurate timbre with the Shangri-la making it the more articulate and natural sounding of the two.
The treble region is also recessed in Barcelona though with a decent treble extension. The Shangri-la has a better presentation of the highs with crisp guitar strums and splashy cymbal attacks. Details are also more pronounced in the Shangri-la, with a good sense of brilliance and presence.
Soundstage and imaging are more accurate on the Shangri-la. The Shangri-la has a wider and more multi-directional presentation with a positioning that is more distinct and articulate.
IKKO Gems OH1S
$159
Technical
The IKKO Gems has a hybrid 2 driver configuration, a carbon nano dynamic coil for the lows, and a Knowles BA driver for the mids and highs. The Fearless Barcelona has a similar hybrid 2 driver configuration with its 10mm proprietary dynamic driver and a 2300 series Sonion-Colorful World driver for the mid and high frequency.
Design
In terms of design, both have contrasting features. The Gems have a play on textures of resin and metal build, while the Barcelona goes for a traditional ergonomic resin shell.
Both IEMs share a space-inspired design, with the Gems looking like a substance found on an exotic planet with the Fearless's colors more like a background galaxy atmosphere.
The Gems are slightly smaller overall and with more of a triangled-shaped shell. The Fearless design is standard in size, with an ergonomic look.
Both monitors have an ear-hook design with the IKKO Gems having an MMCX termination while the Barcelona has a 0.78mm 2-pin termination. The Barcelona also has a more premium cable with the included Litz cable. Both monitors are terminated with a 3.5mm straight jack.
Performance
Right off the bat, these 2 monitors are very different in sound signature.
Although I find Barcelona's bass to be just right, the Gems' bass is leaner. That deeper and meatier rumble is not as readily replicated by the Gems. The sub-bass of Gems is barely there to distinguish the bass notes.
The mids of the Gems are also more forward sounding. Comparing the vocals, Barcelona has a detailed but "cooler" sound tonality and the Gems have a more warm and richer textured tonality.
The Gems is known to be a bright-sounding monitor with a more pronounced high wherein guitar strums and cymbals sounded crisper and splashier. Gems' energetic highs make Barcelona sound dull in comparison.
Both IEMs have above-average staging and imaging, especially at their respective price point. Although Barcelona never felt cramped, the Gems do have a wider soundstage. Vocal layering is also more accurate with the Gems, multiple vocals had more multi-directional positions.
Our Verdict
The Fearless Audio Barcelona caters to a fun-sounding signature that is geared towards a more pronounced bass, which is best for hip-hop, EDM, and high-beat music.
Priced at $118, it is a good offering for a 2-drive hybrid monitor that can deliver decent soundstage and imaging at its price point.
This monitor would be great for audiophiles wanting an eye-candy monitor with a playful color scheme that is more focused on a bassy sound signature with a conservative treble tuning.
Fearless Barcelona Specifications
Sensitivity 110dB (@1kHz)
Impedance 24Ω (@1kHz)
Frequency response range 15Hz-20000Hz
Passive noise reduction 26dB
Drives Fearless special research pole magnetic dynamic driver
Sonion 23 colorful world cooperation funds Medium and High-Frequency BA
Standard socket 78mm 2pin notched socket (can change the line)
Standard wiring material 8 strands of high-purity OFC silver-plated wire with O.78-2Pin with3.5mm plug
Quality control range ±2dB