In today's review, we feature the Edifier S2000Pro which is an active bookshelf speaker combo based on a Phil Jones-inspired Italian-style bookshelf system.
Disclaimer: This is a sample in exchange for our honest opinion. Headfonics is an independent website with no affiliate links or status. We thank Edifier and Essence for this opportunity.
To read more about the Edifier products we have previously featured on Headfonics click here.
Note, that this article follows our latest scoring guidelines which you can read up on here.
Edifier S2000 Pro Active
I've waited a long time for a sub $500 pair of speakers that sound like these. It has a very dense feeling and has excellent clarity at low volume. It lacks the annoyingly painful wince factor and doesn't hit hard, which I also value a lot in my home speakers.
A while back, Edifier sent me a set of S2000PRO stand-mount / bookshelf speakers designed by the legendary Phil Jones (AE1). Since then, I've struggled to find a competitor worth a proper comparison for what it offers. I've failed at that task, which to me at least is a great promo for Edifier.
These speakers have a lot to offer in this price tier, so let's dive right into the review.
Design
If anyone here reading is familiar with my past reviews, you'll know how much I prize wood veneer products with a sheen. Edifier has used a high-quality real Birch veneer on the side panels on each Edifier S2000PRO unit, alongside a matte black appeal on the front and center area.
Thankfully, the speaker also has some elevation to it so that unwanted vibrations into whatever it is placed on do not appear to be a problem.
I've also received the S2000PRO Speaker Stands, which sell for $149 a pair and have mounting plates that are attached via heavy screws to the mounting plate. I assume the wood used is exactly the same in the speaker cabinet as well, both look and feel incredibly well built and extremely solid…and heavy at 38lbs!
The bass and treble dials are also of a hefty feeling, although I'd have preferred more of a clinking sound and feel to each incremental step, due to being unable to see the dials back there without turning the entire tower and speaker around.
I'd prefer to be able to count each click so I can match the speakers dialed in EQ to an equal amount. Small gripe there, nothing wrong with it objectively as it is.
Aesthetics
From a pure visual aesthetics perspective, the S20000PRO looks damned sexy, if I do say so myself. The tilt-back appeal is highly satisfying, and each line feels well thought out.
By that, I mean that there are no odd design choices, nothing sharp or improperly glued and set, and nothing weirdly sticking out somewhere. The lines flow nicely and that is something I crave in high-end-looking speakers.
They could have gone the basic route and not opted to let the speaker appear to be leaning back slightly, as well as not highlighted certain areas in the center with something extra. But, they went for it and made it not only visually pleasing but functionally smart as well.
One small gripe I have is the brightness factor of the S2000Pro LED light on the left-primary speaker. It is very bright, too bright, perhaps.
I needed to cover it with some layers of light-colored tape, due to needing to see the LED indicator as on, but also so that it dims the light enough when I am sleeping at night to not illuminate my listening area in my bedroom for my bookshelf speakers
Inputs and DAC
The S2000PRO's primary method of receiving audio is standard RCA, so grab yourself a solid-sounding music player with RCA or 3.5mm output and go enjoy it. If not, set up via Optical or Coax, or even 3-pin XLR.
Not enough? It does Bluetooth too. I'm able to connect in every way I can think of and the included remote control is a godsend for a set of speakers of this caliber.
The DAC included for conversion to analog is the Burr-Brown PCM1802 and it handles 24-bit files. This is a lot of extras for a stand-mount / bookshelf speaker that only costs $399 a pair.
Sound Impressions
Bass
Without the bass dial active, I found the S2000PRO to portray a relatively flat bass experience. While neutral overall in presentation, I consider it to be one that fell somewhere on the softer edge of the spectrum, with regard to physical slam and impact (dynamics).
As far as tonality goes, neutral for the most part, I felt like there is just a smidgen of warmth and wooliness on the low end at all times. To me, that is the sound type I want. I like warmth, subjectively.
On the flip side, I am not able to remove that warm with EQ or dialing unless I drop below a +0 factor on the software and also make sure no bass is dialed up on the back of the speaker itself. I am, however, able to gain much more warmth with the bass dialed up and some EQ active via the source.
As a bass enthusiast, I prefer this presentation heaps over my AudioEngine A5+ and HDP9, both of which were my primary home usage speakers for a while. I enjoy both hearing and feeling low end and not feeling emaciated bass, even with a +5dB or more EQ on the bass end active on my source.
The S2000PROs achieve good bass quantity and feel of a good enough quality and fidelity to make me happy with their price point. Yes, I do really enjoy them. They aren't totally neutral and have the ability to become warmer with a little bit of play with their bass EQ dials.
Midrange
Turns out the S2000PRO also has a very good vocal presentation. Although, I'd not call it optimally forward when the bass dial is heightened past 50%. Adding in extra bass EQ always results in a loss of a strong sense of solidity, as most equipment gets shadowed over when low-end boosting is active.
In the $300 to $500 tier though, it is rare to find a good set of 2-channel speakers that has a bass dial, to begin with, and even harder to find one that is vocal-centered with a strong midrange presence. Yet, here the S2000PRO has both. Just make sure to not go overboard with the EQ, or the midrange appeal will get lost in the mix quickly.
Usually, speakers of this driver type have a solid signature to them and portray a very dense sense of vocalism. Thankfully, the S2000PRO shines very well here. Solidity and density factor are excellent, even besting my HDP6 from Audioengine, which is a midrange speaker that I found to house excellent midrange dynamism.
For the price, this is easily my favorite tonality, which shifts from a potentially flat experience overall with no dials active and no EQ present to something on the warm side with all of the above active. I really enjoy the lushness and the wooly sound with a +5dB boost on the low-end active with this speaker.
Soundscapes – Lower Mids
I enjoy listening to binaural audio tracks when I sleep, mostly thunderstorms and rain sounds. When I boost up a little on the low end and play through my Alexa Echo Dot, I am able to enjoy endless looping of nature tracks that, when thunder and a deep sense of bass come into play in the track, the S2000PRO reacts spectacularly!
At low volume, that density factor on the bass and lower midrange are stellar, actually the best I've heard in a midrange speaker of this type. This is a problem area for many speakers. Specifically, the ones I currently own…naturally. And with that said, the Edifier here is going to replace them immediately, undoubtedly.
The reason being I, enjoy the lower midrange and rich deepness factor with boosting active that I can get when using sources that don't have any EQ in software. I can rely on the physical dials to boost the bass as needed. This is wonderful. I have slept so nicely with these speakers running thunderstorm sounds at night.
At low volume, they retain that sense of density factor and rumble that I highly prize, and most of that frequency range that I need to be done well is found in the lower mids. The distant rumbles and rain playing through sounds lovely, so lovely, that I have been falling asleep much faster and more soundly than usual. Fantastic lower midrange and bass end on this model.
Undoubtedly. The same thunderstorm track playing through my A5+ or the HDP6, vs this S2000PRO is a completely different experience. And one for the better, too.
Treble
The top end is handled by a "planar" tweeter, clearly designed to be safe. I hear no sense of sibilant tendency at all and often attempt to raise the treble factor a few dB just to get a coherent sound that I find to be linear.
It is hard for a relatively tamed treble experience to become engaging when the bass and midrange sound very dense and lush. You'll need extra oomph up top and sadly I do not feel the S2000PRO offers that when needed.
That doesn't have anything to do with fidelity, it has entirely to do with quantity. Even boosted, I am not able to get the treble to sound varied and like a separate entity over the midrange and bottom end when they are boosted as well. I am actually glad about this. I don't want peaky treble and what is there is fine on its own.
Adding in the extra treble is tricky with speakers and luckily, I am able to dial some treble in on the tone controls and achieve good things. Reserved is the word I want to use when referencing these speakers' top end and what it is capable of.
It has a very slight sheen to it, which I subjectively enjoy a lot. But, others who like a neutral or accurate experience will be left feeling and wanting more.
Treble Fidelity
As far as fidelity goes, I prefer the clarity factor of my HDP6, however, I drastically prefer the tonality of the S2000PRO by heaps, due to it feeling much more solid, dense, and tonally interesting.
The fidelity factor is just good for the price, but the star of the show is the speakers' dense flare and feel, which to me, at least, is something I've always wanted in a 2 channel stand-mount / bookshelf-sized speaker.
Staging
As most bookshelf speakers are, the imaging factor is relatively moderate and lacks a sense of amazement. For what is there, it is very nice and more than comparable with the Audioengine HPD6, which again, I found to be relatively good at what it does and for its price tag.
For $399 a pair, the S2000Pro sounds equal in height and width factor, but has a strength in the stage-forward department. While I don't find the imaging prowess to be engaging in the sense of air or separation of instruments, I do find its depth of field very enjoyable.
Again, when vocals are present, as well as anything of a booming low end, the dense layering occurring in the stage forward field is something my ear always connects to first and foremost.
Beyond that, these speakers do a fine job of filling my bedroom with sound. They sound very nice at moderately sized venues, such as a family member's birthday that I happened to tote this set to…for testing…of course.
It was a solid hit and I had more than a few people ask me what speakers they were and more about them. The reason is the sense of solidity factor and excellent low-end and lower midrange, which really helps electronica pop more in an open area.
Most of the speakers I test end up sounding thin and overly spaced out, whereas this S2000Pro tosses a center image very well, even when the speakers are set more than 15 feet apart.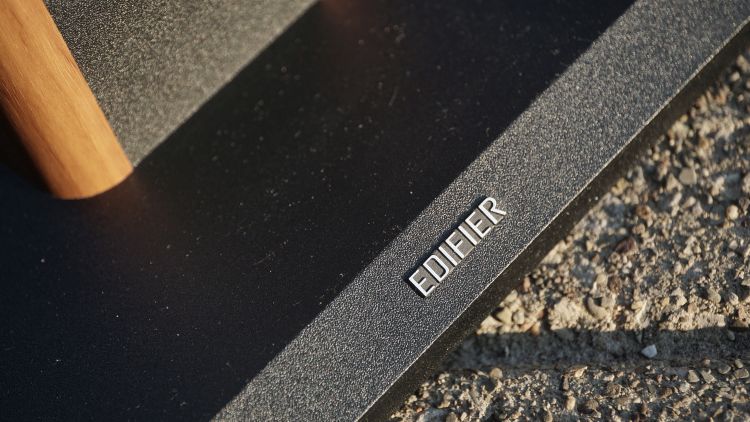 Our Verdict
The Edifier S2000Pro are my new primary speakers. I've waited a long time for a sub $500 pair of speakers that sound like these. It has a very dense feeling and excellent clarity at low volume. It lacks the annoyingly painful wince factor and doesn't hit hard, which I also value a lot in my home speakers.
These are can-do-anything speakers. From YouTube to PC gaming, to casual music listening. The lack of a need for a speaker amp makes this a great "portable" set of speakers that you can toss in your car and bring to a party and set up via an RCA to 3.5mm and run off a music player, CD player, or phone.
The construction of the housings has that lacquer-finished wood veneer appeal that I love most. The speaker stands are also immensely gorgeous. The pairing of both looks incredible and really sets up nicely in my listening area next to my TV.
I love using them for movies and Netflix, where I use my TV's 3.5mm output to connect to the RCA input of the S2000PRO. That experience is lovely, dense, rich, and plentiful on the low end.
These qualities are all in a package that runs $399. Goodness, I'd pay double that to achieve a density and tonality like this in an everyday 2 channel system. Lovely set of speakers, I enjoy them very, very much.
Edifier S2000Pro Active Specifications
SIGNAL-TO-NOISE RATIO: ≥94dB(A)
NOISE LEVEL: ≤25dB(A)
FREQUENCY RESPONSE: 48Hz~20KHz
TWEETER UNIT: Planar diaphragm tweeters
MIDRANGE / BASS UNIT: 5.5 inch (148mm)
DIMENSION: 8" x 13.5" x 10.5" (WxHxD)
CONNECTION CABLE: 5M/16.4FT
TOTAL POWER OUTPUT: L/R (treble) = 12W+12W RMS: | L/R (mid-range and bass): 50W + 50W
RMS INPUT SENSITIVITY: Balanced input: 700±50mV | Auxiliary input: 600±50mV | Bluetooth input: 350±50mFFs | Optical input: 350±50mFFs | Coaxial input: 350±50 mFFs