Hardware
DAC
AKM AK4490EQ
This is possibly the most notable change from the DX200 and one of the major reasons why they can get the price tag just a shade under $500. Out go the dual ES9028PRO and in comes a dual 32-bit AKM AK4990EQ implementation.
The EQ variant is the 2-channel version of the pro level AK4490 so it is less power hungry than its 8-channel sibling which will help in terms of battery consumption during playback. It is also a fairly common DAC chipset used by competing manufacturers such as Cayin with their older i5 and FiiO's current X5iii which uses the EN version.
The cost difference between a dual AK4490EQ and Es9028PRO is big though, even if bought in volume the price is well down on similar volume purchases. I believe on a single chipset its less than $10 for the AK4490EQ on the open market and still around $50 for the ES9028PRO.
Decoding
That being said it is traditionally a much easier programmable chipset than some ES variants for engineers. Even in today's market, it is very competitive for a wide range of relevant codecs. The DX150's decoding capability is pretty much where you need it to be for commercially available hi-res and lossy tracks. It will handle PCM from 8kHz to 384kHz in 8, 16, 24 and 32BIT as well as native DSD decoding up to DSD256. Just to note in comparison, the X5iii has a hard stop at DSD128 for native decoding using the AK4490EN version.
Where you lose out to the ES9028PRO is the dynamic range potential with the AK4490EQ (combined with the amp 6 card) up to 15dB lower in dynamic range at 118dB compared to 135dB of the DX200 with Amp 1.
Amp 6 Card
The Amp 6 card is an all-new amp card and can be used in either the DX150 and DX200. In fact, you can use any of the existing iBasso amp cards with the DX150 which should provide a range of interesting colorations to the DX150 sound.
Battery tweaks
On an engineering level iBasso have introduced a Texas Instruments buffer update and tweaked the power supply on the Amp 6 to match the 10-hour battery life target goal. It is designed for line-out, balanced and unbalanced output capability. It is not as powerful as the Amp 1 or Amp 5 cards (balanced) and that is also a contributing factor to the better battery life. Mind you if you swap over to another higher rated card chances are the numbers will drop.
Power Numbers
Amp 6 is rated at unbalanced at 2.4Vrms with a 32Ω load and balanced at 3.7Vrms. That's about 180mW unbalanced and 430mW balanced which is not that bad actually. This is a little higher than the Cayin N5ii which is rated at 150mW into a 32Ω load unbalanced and balanced at 250mW into 32Ω. FiiO's X5iii unbalanced output is higher at 250mW into 32Ω and 740mW in balanced turbo mode.
Compared to Amp 1 performance the Amp6 card is also a little weaker. Amp 1 is rated at 3Vrms (280mW) unbalanced and (1.1W) 6Vrms balanced. The Amp 1 is a heavy-duty card and one of my favorites for driving beefier headphones. Amp 6 is really focused more on IEMs and portable headphones of a moderate level of efficiency.
Performance Benchmarking
SOC
The SOC is the same as the DX200 which is a Rockchip RK3368. The RK3360 packs an ARMv8-A processor, the 64bit 8-core A53 version. Its miles ahead on paper in terms of capability compared to the older ARMv7 processor, the Rockchip RK3188. The RK3188 is being used in the Cayin N5ii and the FiiO X5iii, however, you do have to note that these two devices use Android 5.1, not Android 6.
In case you are wondering, yes, this is the same arm processor inside the Snapdragon 425 of the HiBy Music R6. It also uses a 64-bit CPU with Cortex A53. Now, most will say the 425 is faster for modern Android 6.0 upwards which is what both devices use. However, the main difference is the RAM. The R6 uses 3GB of RAM and the DX150 uses 2GB. In most usage scenarios, particularly with streaming buffers and multitasking, you will find the R6 to be the faster of the two, (see our benchmarking results below) as a result.
I would say 2GB has to be the bare minimum now moving forward for good performance. Especially if it is Android 6. However, even with Android 5.1, 2GB is desirable so it is no surprise that Cayin's recently announced N5iiS comes with 2GB. Hi-Res streaming and DLNA solutions will run a lot smoother as a result.
Antutu Results
Test Conditions
Tested with firmware June 2018 V2.10.275 on DX150 and latest firmware V.2.10.215 on the DX200. All other units also had their latest firmware. WiFi, BT, and other non-essential services were turned off, screen brightness at 50% and one other app (screenshot) running on all units.
A minimum of 5 mins between each run was completed to prevent CPU temperature from thermal throttling the result. Each unit tested had 3 runs completed with the best score shown below out of those 3 runs.
Results
Going purely on the overall score the DX150 Antutu benchmark result was surprisingly lower compared to competing models with lower level CPUs and smaller RAM allocations.
DX200
It was also a little lower than the DX200 which should, on paper, perform in the exact same manner considering they have the same processor and 2GB of RAM. The difference between the DX150 and DX200 are fairly marginal though at 1000 points or less with only the UX score noticeably lower. The score was being pulled down in areas not that relevant to the day and daily use of the DX200 and DX150 alike, namely strategy game performance. Otherwise, the margin is not enough to say there is a definite difference in performance.
N5ii & X5iii
The DX150 hammered the weaker RK3188 CPU of the Cayin N5ii and FiiO X5iii in terms of graphical optimization with the 3D modeling scores much higher. However, the rest of the results did not fare as well to the supposedly older tier models. Much of that can be attributed to the use of Android 6 and I would throw in the much more demanding LCD screen with its higher pixel count putting more stress on the I/O performance. I would say the DX150 would perform even better if it was loaded with Android 5.1 and a smaller screen.
That being said the difference in some areas was quite slim with some having a gap of only 1000 points. The glass can be half full here and you could argue that even with a much bigger screen and Android 6 the 2GB/Rockchip RK3368 performance is technically the better given the load.
R6
The R6 is the clear winner though on all 4 key areas tested. The 3GB combined with the Snapdragon 425 processor is way ahead of the pack including the DX Series. Unless DAP manufacturers pack in the Rockchip SOC and move to Snapdragon or load their units with 4GB or more I can't see that balance changing for a while.
Software
No Mango OS
The core OS on the DX150 is still Android 6.0.01 (64-bit) which is the same OS version as used on the DX200. What has changed though is the omission of the Mango Dual boot framework meaning you can no longer boot into a pure Mango mode for bit-perfect playback.
With the DX150 setup, you can only use Mango via the standalone Mango app within Android 6.0.01. As of now, I can confirm that the Mango app has bit-perfect output. I am also informed by iBasso that the Neutron app will give you bit-perfect output if you want a different media player option.
Stock Apps
As with the DX200, the DX150 has a very nice "vanilla" version of Android with no bloatware to speak off. You do get the Mango player, a small video app as well as a clock, calculator, and browser for going online. You also get an explorer app from which you can check your files or install other APK packages if needed.
No Google Play
What you do not get is Google Play integration and services. DX200 users should not be surprised at that omission. If you live in China you will never likely see a commercial Android release with Google Play integrated, usually something local like the Cool APK marketplace app. If you have Google Play dependent apps you want to install you are out of luck as they will not work. I have tried installing Google Play on the DX150 and whilst it will install and allow you to log in it will not function correctly with a lot of downloads simply in perpetual pending status.
Sideloading
However, you can sideload and install apps which is very easy. Again, if you are a DX200 user, this is nothing new on the stock OS. A good store for this is Aptoide which offers most of the latest builds. Since it is Android 6.0 there is a good chance most of the apps you need will be compatible also with the DX150. Apps such as BubblePnP, Hifi Cast, Spotify and Deezer work just fine so streaming and DLNA management will pose no issues.
UI & Settings
The DX150 UI and Settings in both Android and the Mango App operate in the same manner as the DX200. For more information on the how the UI works and the various core features, you can read our DX200 review which covers it in detail here.
UI Performance
In term of UI performance with an internal storage load of around 21GB, I did not find any noticeable lag in swiping in and out of apps both stock and 3rd party. Using the latest firmware (June 2018) swiping on the Dx200 and Dx150 at the same time produced a very similar level of responsiveness within the Mango App.
The Mango app also seems to have some sort of 'lazy load' when it comes to album art. For those that do not know what lazy load is, this is basically a process where icons or images load only when the screen is in focus for faster performance. So for a split second, you will not see any album art until the screen stops scrolling. The update is instant though and should not be confused with any possible lag.
New Features
The title is really a misnomer because what is new on the DX150 is also new on the DX200. However, since they are not in the original DX200 review I thought it would be worth going over two of the stand-out features on the latest firmware.
Bi-Directional Bluetooth
The first new feature is a Bi-directional BT option called "Bluetooth DAC+Amp" mode. This basically allows you to stream an audio signal from any compatible smartphone or alternative BT source right to the DX150 without the need to use an audio software. You control everything from your original source and the DX150 acts as both DAC and amp for the signal.
The Qualcomm chip being used I presume is the CSR8645 and for now, there is no aptX. I am informed that iBasso is working on a new firmware that will include aptX and LDAC. It would also mean apt-X HD is impossible since you need the hardware upgrade to a Qualcomm CSR8675.
Performance
Either way, there is world of difference between standard BT 4.1 ACC /SBC codecs and aptX, nevermind aptX HD and it shows on the new bi-directional mode performance.
With my LG G6, I got a very spotty AD2P connection with plenty of drop-outs at less than 30cm away with little or no movement using the DX150. It also caused the DX150 to suddenly reboot about 30 minutes into the test. I got a slightly better connection using the HiBy Music R6 BT setup but still with some minor drop-outs.
A streaming BT audio signal to the DX150 seemed to be impossible from my Onkyo Granbeat. I can only presume you need Android 6 or higher to get it working because I was able to stream using the HiBy Music R6 which is also Android 6.
Overall, this is a feature iBasso needs to work on because I see the potential. However, the weaker BT 4.1 non-aptX signal is prone to a lot of drop-out and stutter so it is not as smooth yet as the HiBy bi-directional BT service.
Sound Style
The second new feature is tucked away in the main Android settings menu under the 'Sound and Notification' section. This is much more nuanced than the bi-directional option. Basically, it is a little sound tweak, I believe done on the DAC side, perhaps a touch of DSP but iBasso is not revealing exactly what has been done.
You have two options, "Standard" and "Full sound" and you can alternate between the two without interrupting playback. Switching between the two of them the difference is quite subtle at times and other times it feels a bit more "dramatic". From what I am hearing, 'Full Sound' has a little more dynamic range, slightly better instrumental separation, and more staging headroom. The "standard sound" seems more neutral to me and less 3-dimensional.
Streaming
External
If you are intending on streaming or using DLNA it will ultimately depend on how dependent the apps you use are on Google Play services. Setting up TIDAL and Spotify were very easy via sideloading and they will allow you to download and play files whilst offline. You can also elect to store on the DX150 or an external memory card.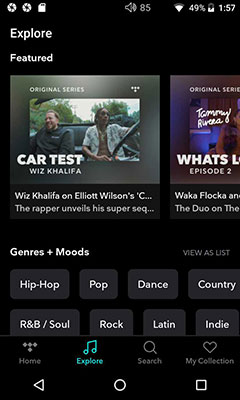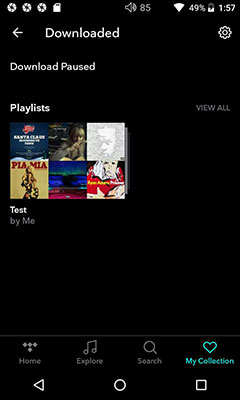 Just note which version you are sideloading because you will not be able to automatically update the app via Google Play. If you want to update you have to sideload a new version from one of the 3rd party APK sites.
DLNA
If you plan on using DLNA services then the road is not so clear unless you know which app relies on Google Play services and which ones do not. I can tell you BubbleUPnP will not work on the Dx150 stock OS, even with a Google Play attempted installation. It still requests you to update it before becoming functional which I have not managed to solve.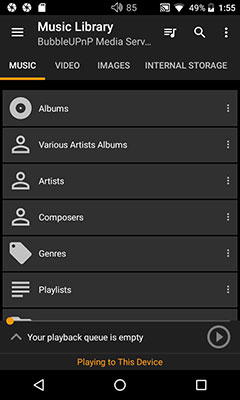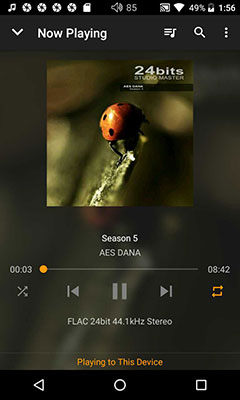 My other favorite DLNA service, HiFi Cast does work and works quite well on the DX150. The buffering was decent but not mind-blowingly fast with a 1-2 second lag until a 24BIT 44.1k was loaded from my LG G6 BubbleUPnP media server. However, after the initial lag, it streamed just fine without any dropout. Depending on how well you have your files organized the display hierarchy of your media server should be easy to navigate using Hifi Cast on the DX150. The audio quality was excellent by the way and far superior to the BT alternative on the DX150.
Internal vs External Memory Performance
Scanning
Scanning was reasonably fast for roughly 23Gb of music at around 30 seconds. That was a combination of 60 24/192 Flac tracks on a 64GB card at around 25MB a track and around 1800 tracks on internal memory (FLAC 44.1 up to DSD256).
Lag?
There is a slight lag of 1-2 seconds when moving from PCM to DSD due to switch to XMOS which is required for DSD playback. There is not much lag to speak off when loading hi-res large files from microSD cards. An Alex Cole 24BIT/192k 25MB Flac recording on a Samsung 64GB card took maybe like a half a second or less to load before playing. Overall, a very impressive response time from the latest firmware.
Click on Page 3 for Sound Impressions & Comparisons