The Dethonray DTR1 Prelude is a boutique digital media player with a strong focus on high-end audio performance. It retails for around $550 depending on location.
Disclaimer: The Dethonray DTR1 sent to us is a sample in exchange for our honest opinion. We thank the team at Dethonray for giving us this opportunity.
You can read more about DAP products we reviewed on Headfonics by clicking here.
Note, this review follows our new scoring guidelines for 2020 which you can read up on here.
Dethonray DTR1 Prelude
Well, I am very impressed with the sound quality of the DTR1 Prelude. Dethonray has really extracted a lot out of this old DAC and cured it of some ills I tended to hear in quite a lot of other sources that use this chip.
One of my favorite media players of all time is the Colorfly C4 Pro. Quite apart from being one of the original DAPs to bring back the era of hi-res portable players, it also sounded pretty damn good. It was huge mind you, but the wood and brass finishing was "purty".
Times move on and apart from the excellent Alien+ from Shozy everyone is jumping on the all-singing and dancing Android DAPs to stay connected to the outside world, stream, and generally listen to hi-res at the same time.
But what about those who still have a stack of good locally stored digital files and just "want to listen to music"? Is there a market left for those who put audio quality above all else or are the water's muddying a little with DAPs moving closer to smartphones in functionality? Should we just buy a used Colorfly C4 Pro?
Well, new-comers Dethonray, (Dr. Evil with raised quotation finger meme's here?) believe audio is still the number one factor. With their diminutive $599 DTR1 Prelude DAP they believe they have a ready-made solution for putting audio quality first without scouring eBay for oldies.
Tech Inside
If you ran lightly through the specs you would probably raise an eyebrow since the DAC chipset is the very old AKM AK4490EQ. However, as many are fond of saying without really analyzing what that means, "it is all in the implementation" because Dethonray has a very different approach to extracting the most out of this decoding solution.
Clean Power
First of all, there is no balanced circuitry in the DTR1. Instead, you have a dedicated 3.5mm LO and 3.5mm TRS unbalanced output. The implementing principle of "less is more" is behind this approach from Dethonray.
The focus is not on throwing in tons of circuit paths for a wide range of connection options but instead a design that fixated on the quality of power being delivered to that single output.
The DTR1 basically uses two batteries or a dual high-density battery system instead of one universal battery found in the majority of DAPs today. With a dual battery system, the DTR1 effectively separates the power supply to the digital domain from the power that goes to its analog domain.
The concept is that you get a cleaner power supply to both domains and therefore less noise through a shorter less complex circuit board path. The DTR1 dual-battery system delivers a ±8.5V PSU power supply as well as a high-level of EMI shielding to really hammer down those noise levels.
Linux Audio Sub-System
Quite a lot of DAPs process based on the ALSA, (Advanced Linux Sound Architecture) audio sub-system including brands such as the FiiO and iBasso. The DTR1 differs by using an OSS sub-system and a customized Linux decoding engine called "Nature".
Dethonray claims the OSS sub-system is 30% more efficient than an ALSA audio sub-system and will do a better job of reducing transmission delay.
The sub-system is tucked away also in their own GUI OS layer of Linux called Ocelot which I am told by Dethonray is pretty light and flexible. Certainly, since speaking to Anson Tse, the CEO of Dethonray it does seem the company is very fast with firmware updates and correcting errors which is a very welcome trait in new DAP OS's these days.
Unboxing & Accessories
Unboxing is a bit of a throwback with a sturdy black but a simplistic medium-sized flip-lid black box. The box has a slide off sleeve with the Dethonray logo front and center but not much else in terms of information.
The player is well protected with a top-layer contoured velvet-covered black foam insert that you can lift with a small pull tie. It also has a small protective layer of film on the LCD screen and the rear glass plate.
Underneath the top layer, you get an assortment of informational cards and the manuals including your warranty information which includes 1 years on the player itself.
You also get an AC power supply with a micro-HDMI termination which is a new one for me. That does mean you cannot just connect to your PC and transfer files and charge it out of the box with your regular data USB-C or micro-USB cable.
I cannot confirm just right now if a USB-A to micro-HDMI converter solution will work for mounting the micro-SD card slot or charging but given the supplied charger works off a higher voltage to feed that 2-cell battery I suspect that 0.5A USB slots will not get the job done.
For now, I will be using a card reader slot in my laptop to transfer files to a micro-SD card and then slot it into the DTR1. That is a pretty old school method by any standard.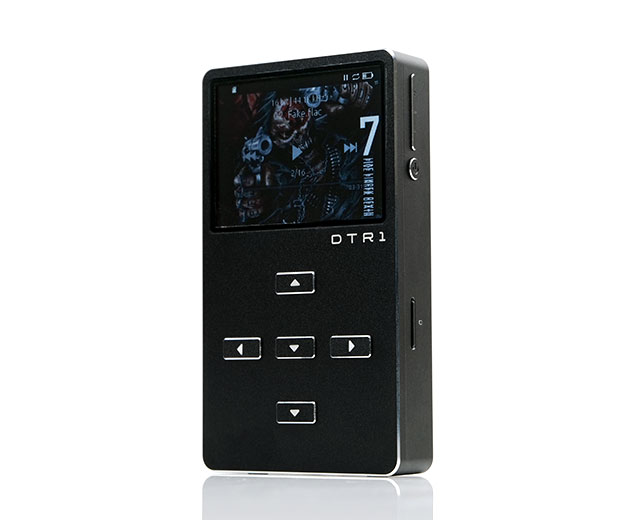 Design
I had a chuckle to myself thinking, well, if you are coming from the Shozy Alien this is a bit of an upgrade and on par, if not better than the Alien+ experience.
Definitely sturdy with its machined aluminum alloy housing with next to know cheap plastic bits and a to die for glass behind. I do advise grabbing the optional carry case to protect that glass rear. I won't drop it to find out but I suspect that might be the first casualty if you did.
The DTR1 is also fairly small and light with some nicely rounded corners that do not bite into your skin quite like how the Alien did. I can say that for sure the DTR1 is not as "weaponized" in its build quality as those two.
It has bags of old school charm but also a look that will certainly not appeal to those who want a big touchscreen with all the associated knobs and whistles. This is a mechanical finger poking experience with physical buttons and a volume rocker.
Controls
All menu operations are controlled via a set of 5 buttons on the front panel just below a fairly deep-set 2.32″ TFT screen.
To the right, you have a small power button that is time delayed and also controls the LCD screen on and off, and just above, a small volume rocker. Further down the right panel, you have an open micro-SD slot that will hold a big a card as you like. The left panel is flush with no functionality.
All I/O's are on the base of the player with a dedicated 3.5mm line-out to the left and your 3.5mm TRRS or unbalanced output to the right. The center has the micro-HDMI port and just to the right of that a small hard reset switch.
I find the hard reset pinhole psychologically comforting and much prefer it to a soft reset or button-mashing most DAPs use these days. Mind you, I have not had recourse to use it yet so kudos to Dethonray for some welcome initial stability.
Hardware
DAC
OK so AK4490EQ is not the DAC on everyone's lips these days but I did mention at the outset there is much more to it than that. Having said all that, the AK4490EQ was always much easier to engineer with from the feedback of most manufacturers compared to Sabre DACs.
That has changed in 2019 with some superb Sabre DAC DAPs out there such as the iBasso DX220, however, the AK4990EQ "house sound" was always a dash more colored, more fun, and 'musical' as they would say.
Decoding on the DTR1 is respectable if not top tier. You get a wide range of useable codecs both lossy and lossless both PCM and DSD. Rates tap out at 24BIT/192K and DSD64 which is a bit of a throwback but for the majority of users, this should suffice for 95% of anyone's typical collection.
Amp
The DTR uses two OPA1611 opamps, (L/R) for its LPF and a single high-current AD8397 for the amp staging. The SNR: 117db is about as good as you can get using the AK4490EQ but the THD at 0.008% will likely mean super sensitive IEMs might pick up a bit of noise with the DTR1.
Output power on the DTR1 contrasts markedly depending on the level of gain you choose in the main menu. For high gain, you get a fairly substantial 6.4Vrms (on a 300Ω load) and in low-gain a more monitor friendly 1.7Vrms.
I am presuming that is a max power rating tested under load conditions and should be more than enough for thirsty modern planar headphones designs. 1.7Vrms on a 16Ω in low gain is much more suitable for sensitive gear offering around 180mW of power.
Software
The software is a limited but quite stable and fast OS. This is more Lotoo than HiBy but with less spit and polish. I do hope the rapid release of firmware updates continues and the OS expands. I would love to see this grow like the Lotoo OS which is superb.
Browsing is via folder and although there is a database mechanism of some sort the DTR1 OS does not seem to read tags but rather hunt for album art to display. Long titles seem to get cut-off on the main payback page rather than scroll and the fast forward and rewind long-press options seem a little uneven in moving forward and back.
Volume control is beautiful, plenty of micro-control and I do love that little fade in and out when hitting play and pause. Delays seem minimal also when reading and FLAC files from a 64GB card.
There is little other than audio and file management to play with in all reality with this version of the firmware. You can go into settings and adjust the gain and DAC filters and some environmental controls but that is all she wrote folks.
Initial Sound Impressions
The "Pièce De Résistance" and certainly an interpretation of the classic AK4490EQ sound I have yet to ever hear from a DAP or portable source.
Normally, when I envision an AK4490EQ type tuning I am thinking of a punchy full-bodied low-end, forward vocals and upper mids. I usually hear a slightly hard edge to female vocals and percussion also. If there is a treble presence I also tend to find it injects that slight hardness into percussion timbre. It is a fun sound, but not without its foibles.
I do not hear any of that with my initial listening using the DTR1, not even with brightish difficult pairings such as the Campfire IO. In fact, the IO sound totally at home with the DTR1. Normally, something, as colored as the IO, would not be my first reference choice, just so happens it is next in the queue for a full review. I am thankful I gave it a try.
What I am hearing is a slightly smoother more neutral low-end in terms of positioning. It still has some warmth and wetness but it isn't as aggressive as I anticipated.
Vocals are far smoother than I could wish for. That upper mids 'shoutiness' and the odd injection of sibilance on lesser amps with the AK4490EQ is completely gone. Percussion timbre is full, wet, and easy on the ear. It is a very likable tuning out of the box.
Noise & Power
Just a quick note on noise because you will hear some hiss with sensitive IEMs such as the Solaris and even the 109dB SPL CA IO has a slight background noise, but nothing annoying.
And yes, in high gain the DTR1 does seem to have some excellent dynamic range with planars such as the Empyrean and Hifiman's Ananda. Hard to believe really given its size.
Our Verdict
Well, I am very impressed with the sound quality of the DTR1 Prelude. Dethonray has really extracted a lot out of this old DAC and cured it of some ills I tended to hear in quite a lot of other sources that use this chip.
Of course, the DTR1 is never going to appeal to the modern generation streaming touch-orientated big screen users. I get that and just how wonderful would LDAC BT have been to allow your smartphone to deliver the goods. I guess that might compromise the impressive performance I am hearing already.
The DTR1 is a very interesting if somewhat esoteric DAP with some excellent audio quality.
DTR1 Prelude Specifications
Menu Language support: Chinese, English, Japanese, Korean
Format supported: WAV,FLAC,WMA,MP3
APE(normal,high,fast)
AAC,ALAC,AIFF,DFF/DSF,OGG
Sample rate supported: 44.1/48/88.2/96/176.4/192 khz
Micro card support: 2t(exfat)
Output: line-out & earphone
Battery endurance: 10 hours
2.32″ TFT screen
Frequency response: 20hz ~ 20khz
SNR: 117db
THD: 0.008%
Max. Power output: 1.7vrms+r: 1.7vrms+l (16Ω)
Dimensions: 100 x 56 x 16.4 (mm)
Weight: 146g