The Colorfly U8 is a new flagship-level digital audio player or DAP from Colorfly, the creators of the C4 Pro many years ago. The U8 is priced at $1089.
Disclaimer: The Colorfly U8 was sent to us in exchange for our honest opinion in this review. Many thanks to Colorfly for giving us this opportunity.
You can find out more about Colorfly reviews on Headfonics here.
Note, this review follows our new scoring guidelines for 2020 which you can read up on here.
Colorfly U8
ColorFly's U8 is a slick, powerhouse of a DAP with excellent sonic capabilities, a fantastic EQ system, and a great set of features that range from Wi-Fi all the way to a touch volume sensor. 
Back in the day, Colorfly was one of the pioneers of the portable HiFi music player world, offering a very powerful and large portable player called the C4. Today, evolution takes place and we will be taking a gander at their newest installment, which is an Android software-based DAP called the U8 that will retail for $1089USD.
The Box
For $1089USD, I would expect a bit more than this. The accessories are very basic and the box is offering the bare essentials. I would really like a nicer carrying box/case or something I can protect the U8 with when I am traveling. It comes with some manuals and paperwork, a screen protector and also a USB-C style charging cable.
The Build Quality
In terms of raw build quality, I feel like the U8 is one of the best I've ever held in my hands. It feels heavy despite it being moderately thick. I love the weight factor, I understand that a lot of people want a light approach to portability but I prefer a very dense and weighted feel to my ultra expensive DAPs and phones.
The exterior is all aluminum but clearly cut from a very thick piece of it. Recently, I acquired the Shanling M5S ($499) and it also feels absurdly heavy for being so small. However, the thickness of that M5S is much more significant, although, the U8 is longer and taller. From a pure build standpoint, the U8 is amazing and offers fantastic tactility in the hand.
The OLED and IPS Screens
OLED
OLED screens are all the rage at the moment and it I am very happy to see portable players opting for this route. Only the top of the unit houses an OLED screen, which will reference some information and bootup sequence text too when the unit is powering on.
IPS
The U8's primary IPS screen resolution is very low at 800×480 and this entire unit costs $1089. Right now, I can buy a Samsung S7 Edge for $225USD used and get one of the most beautiful true 4K screens on the market that runs in 1440×2560, but, that screen is also immensely vibrant, rich, and detailed by comparison to the U8 at a much lower resolution.
I do not see the value of using this type of screen when the battery life of the DAP isn't great, to begin with.
Thankfully, the touchscreen sensitivity is very nice and I don't have issues tapping anywhere on the screen and getting no response from it. I've had that issue in the past with some recent touch DAP models, so this makes me happy.
Despite that, the U8 screen is very nice. The colors are good and crisp by comparison to most other DAPs on the market, I just feel like the very low-resolution factor isn't really bringing the display to life as I would like it to be.
Battery Life
The battery in this device is just not up to par. I am hardly able to get 7 hours of usage out of this and it takes me right back to the days of the HM801 and the original DAP wars, where the quality and fidelity of audio far outweighed the need for battery life.
In today's era, everything is of equal importance. I cannot leave the U8 on standby with the screen off and hope to come back half a day later to the player still active and able to be used. The battery will drain itself dry overnight even when not used.
This needs to be improved drastically in future firmware because I just received a Fiio M3K, a $69usd player that has 5x the battery life of this U8. I can leave my phones from 5 generations ago on standby overnight and come back to maybe a 10% loss or so. Yet, the U8 will drain itself completely.
Some of my DAPs, including my now older Cowon Plenue M, can keep the screen on and not drain the battery that much unless tracks are playing. If Colorfly releases another DAP in the next few years, they need to upgrade the battery quality.
By far, the U8 is the warmest player that I've ever used. My Samsung S7 Edge is notorious for being very warm after light usage. My older Calyx M also got fairly warm and that bummed me out because that battery life was around 4 hours on a good day on that model. Thankfully, the U8 has a bit more battery life in it than the Calyx M.
Android
Skinned
This is not a stock Android platform and in today's market, that may hold this player back. Android, normal android, is so much better than custom firmware over an Android base and I just cannot for the life of me understand why 99.99% of Android's amazing features will be locked behind a custom version of it.
I've never met anyone who wants to be locked from the Play Store. Custom Android base software versions, as this U8 has, are just limitations.
UI
Having said that, what Colorfly has done with their UI is pretty good. It has a funky way to add files to a playlist instead of just a simple 'add to playlist' function.
It adds an extra step that sends you to the tracklisting window and then you have to long hold the track to open a function that lets you select it, you tap to check that track, and then at the bottom of the screen, you can add to a favorites bin.
These favorites do not save themselves if you remove the SD card. I spent a while adding my favorite tracks in, only to receive another DAP for review and test that out for a little bit, removed the microSD card, and came back to the U8 a time later only to find all my favorites gone. I added one, then removed the SD and put it back in…and it was gone again.
The DAC
The Colorfly A Alpha chipset is nice. Whatever that is…it sounds good. It isn't a classic 90xx or a 17xx or an AK49xx DAC series. It is something new it seems and I can't give a reference point for it because Colorfly seems to have made this one.
The EQ system is absurdly detailed and trumps even what Cowon models seem to have now. Whoever designed the EQ needs an award for the U8, because it is fantastically bountiful with what you can do with it.
There are actually some presets that are good, too. I like the Rock setting. It sounds great. But, I am able to tailor two custom EQ options as I please as well and what is inside of it, is very, very, usable.
Wireless
Beyond that, the player supports DLNA, Wi-Fi, and BT, of course. I almost don't want my Oppo 205 anymore. Does anyone want to buy it? Lol. Kidding. The DAC experience on the U8 is lovely and meshes well with what musical gear I own. In that regard, I consider the U8 a musical sounding unit and not one that sounds very reference or pure.
It has some bloom to it and that is a good thing for those who want musicality, just a bit of it, without it ruining any fidelity factor or sounding bloating anywhere. The U8 offers a 3.5mm and also a 2.5mm balanced output jack for those with balanced cables.
The side of the unit has a touch-sensitive volume control, which is really interesting. I give them originality points for that, and also the ability to touch the screen itself just after you start moving your finger around on the side of the screen to toggle up and down the volume control on the screen itself.
It is a bit odd, but it is nice to have that option function on both the side and the screen itself.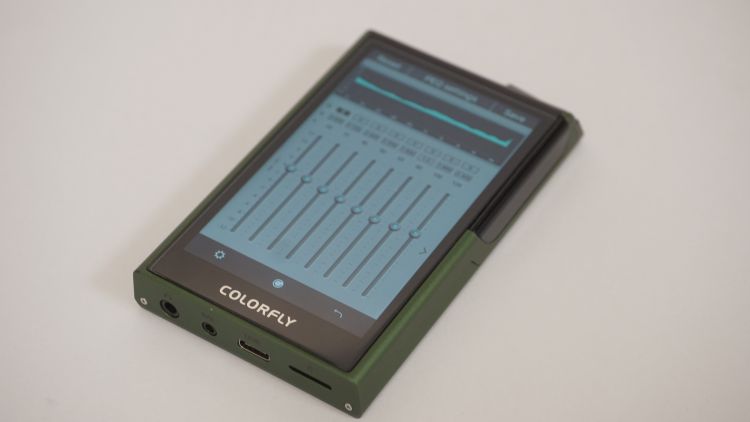 EQ Function
I am very impressed by the EQ system inside the U8. What is there really reminds me of Cowon's setup with individual frequency selection buttons and toggles that let you detail the frequencies you want to alter.
'One by one' is a good thing, although, immensely involving and time-consuming. If you take the time to fiddle with it (thankfully, there is a reset button) you can tailor the sound setup to your liking in a manner that is more well endowed by comparison to most other DAPs outside of Cowon and their JetEffect EQ system.
Great stuff here, I am very happy with it and there are also a few presets in there that sound great too. I enjoy the Rock setting very much.
Sound Impressions
Bass
Thanks to the nice EQ system, you can pump up the bass quantity a fair deal and do justice to some of your basshead headphones. Although, I did encounter just a bit of bloat and shake when trying to listen to a bass boosted EQ customization and what I thought was a moderate level of added quantity.
Perhaps, I missed a setting in there that was oddball compared to the other toggle switches that made it sound a bit off. I reset the EQ and tried again with different results and that is a great thing to note. If you have trouble, play with it more and you'll more than likely get what you need out of it.
It is not a boosted-sounding player on default and with EQ disabled. It is a very flat and linear feeling in terms of quantity top to bottom. The bass fidelity is very nice and one of the purest sounds I've heard in some time.
However, with just a little bit of boost via EQ, that depth potential can broaden the experience on the low end to very satisfying levels. It can dip very low and retain good control, especially so with my Empire Ears custom Nemesis IEM.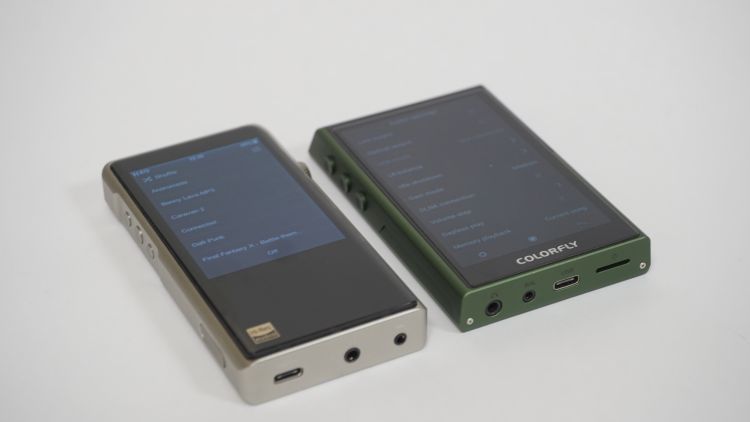 The Midrange and Vocals
This U8 is a very forward feeling, at least, in comparison to most other DAPs on the field that I have.
I recently received Shanling's M5S ($499) which playing the same track with EQ disabled and attempting to equalize the volume of both DAPs through the same headphone, resulting in the U8 sounding significantly more forward and the M5S from Shanling sounding more relaxed and wide in staging output.
The U8 is the DAP for you if you want a very engaging, forward vocal experience. In the way of fidelity, expect a hyper-slick feeling, almost liquid-like tonality with a pension for a gently brightened upper midrange. A nasal tendency is completely absent, which is lovely to the ear.
I enjoy older Jazz recordings with this DAP more than any other DAP I currently have on hand, or that I can even recall. The reason for that is the musicality factor and not a purist tonality. It isn't raw.
It is just a bit subdued, soft and elegant feeling most of the time and it only takes very harsh tracks to sound harsh to my ear. Through sets like my ATH-ESW11LTD, a very intimate feeling portable headphone, the U8 meshes immensely well and that ends up being a sound I enjoy very, very much.
Relaxed headphones with a wide field really aren't a good match for this U8, but of course, you'll still get great sound out of it. Very V-shaped sets I own still sound fantastic, but it would be much wiser to properly rig pair with a forward and engaging headphone than a relaxed and distant feeling one. Either way though, the U8 will handle it just fine.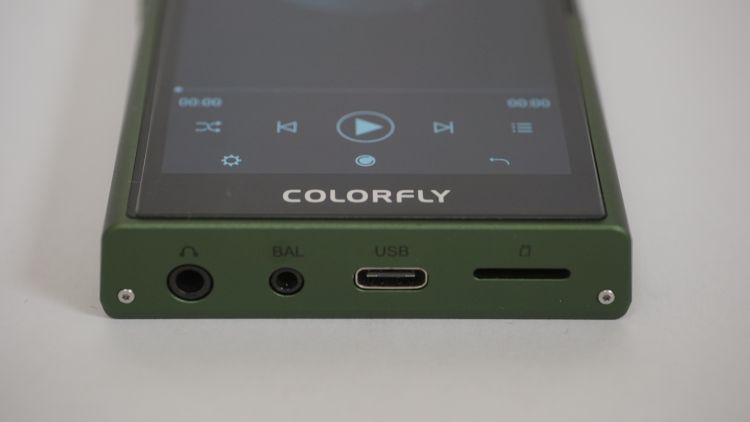 Treble
I didn't really expect the treble would be the star of the show in this DAP. It is wonderfully beautiful in the way of tonality and presentation. It never feels harsh, unless the track is blisteringly terribly recorded and icy, to begin with.
The entire top end is very seductive and sounds noticeably better than my older Cowon Plenue M and even the newer M5S from Shanling. The density factor is by far my favorite presentation quality in this player. It feels very yummy and weighted, very solid, and carrying great physicality.
In regard to fidelity, again, excellent all around and doing justice too expensive custom IEM's from Empire Ears.
Believe it or not, the player is moderately powerful, to begin with, and doesn't require High Gain mode to get anything extra out of, at least, not with the sets of headphones I am using. With High Gain mode on, I hear a bit of a downgrade in treble fidelity when using moderately efficient headphones.
With inefficient ones that benefit from High Gain, that doesn't sound audible to me at all. Overall, the entire top end is blissfully well done and tuned. I enjoy it a great deal.
Imaging
The U8 sounds extremely coherent and well-formed but lacks a sense of very broad height or width. Swapping to the M5S from Shanling brings a noticeably larger left to right staging property, but where the U8 still sounds deeper and more realistic, denser even.
Both of these DAPs sound smaller, all be it more focused than my Cowon Plenue M from years ago, which itself isn't really the most open-sounding player on the market. The U8 does a good job and lacks nowhere in the imaging department, it only trails behind players regarded for exceptional imaging properties.
Usually, DAPs that have a great singular feature are DAPs that lack coherency and proper realism. Those flaws aren't a part of the U8's imaging prowess. What is offered in sound staging feel and vastness in the U8 is just good all around and I would think that adding somehow more width to the factors that are audible may decrease the intimacy factor of the midrange.
I'm glad they opted for a generally all-around good imaging setup instead of a wide field that is noticeably larger than its height factor in some other DAPs out there right now.
Our Verdict
ColorFly's U8 is a slick, powerhouse of a DAP with excellent sonic capabilities, a fantastic EQ system, and a great set of features that range from Wi-Fi all the way to a touch volume sensor.
However, the battery life needs to be addressed in future models and the bootup time of the unit is a staggering 36 seconds for me. I also need some memory recall for favorites when I remove the memory card from the unit so that I can keep my files and inventory saved in favorites.
Beyond that, the player is stunning to look at and has a great wireless function. They did a very nice job with this one. It looks great, sounds great, and performs great as well. The custom Android UI really upsets me though. I want that Play Store and the ability to run whatever I want on the Android system while using the hardware components of the U8.
Beyond that, the player is highly intimate feeling with a pension for sounding glorious on the top end. Light Classical music, Jazz and acoustic guitars sound amazing.
Colorfly U8 Technical Specifications
Display: 3.97 "WVGA 800*480 0.87" OLED auxiliary screen
Sampling rate: PCM 8KHz-384KHz DSD64-DSD512
Output level: unbalanced 2.1Vrms balanced 2.1Vrms
DAC chip: COLORFLY α (alpha)
DNR@600RZ: 123dBA
THD+N@600RZ: -110dB (0.0005%)
Maximum output power: 130mW
PEQ: supports 31 segments of +7 segment (professional mode)
WiFi: 802.11b/g/n (2.4GHz)
Bluetooth: V4.0 (A2DP, AVRCP)
Size: 110mm * 66mm * 14mm
Headphone interface: 3.5mm (single end ) 2.5mm (balance)
Native memory: 64G
TF Card: 256G Max
Battery capacity: 3300mAh