Performance
To get an in-depth review of the core presentation of the Mojo please click here for our original review. The Poly will tweak here and there in terms of performance but the timbre is largely unchanged.
WiFi
Local Network
You have to go WiFi with the Poly/Mojo to get the absolute best performance in terms of streaming audio quality and stability. The ability for the Poly to create its own WiFi Hotspot as well as hook up to local networks pretty much overs the bases in terms of streaming to the Mojo.
Our network testing allowed us to get a far better range away from the source router than using a Bluetooth equivalent connection. Normally, we expect maybe 10m with a typical BT source connection, less with a BT4.1 pairing and some walls.
The WiFi connection gave us a ton of additional distance with the Poly/Mojo combo with no dropout behind up to 2 walls and possibly close to 20-25m depending on where your router is located.
Sound Quality
The resulting sound quality is much better than Poly's Bluetooth connection. The first thing you will notice is the dramatic increase in dynamic range with the Poly WiFi connection.
A better dynamic range means a black background, better instrumental separation, and a perceptibly more engaging presentation via the Mojo. Accepting that the final level of detail is entirely track-dependent, nevertheless, there is a palatable increase in the amount of micro-detail compared to BT AD2P quality streaming. In short, the Poly/Mojo simply sounds exceptional for a wireless local renderer.
Also, if you have been jacking up the volume for Bluetooth then lower it when you switch to WiFi as most everything, either on the memory card or from a streaming capable WiFi service sounded much louder.
Poly Hotspot
Poly can create its own hotspot which allows something like your smartphone to join. Once joined you cannot stream from the web, but you can stream from your phone to the Poly for audio.
You can also access the Poly's memory card via its own internal media server using a UPnP app and command it to playback tracks directly into the Mojo from the card.
The Poly becomes more of a digital transport at this point and does not stream audio from an external source rather it simply delivers audio directly via the micro-USB connection into the Mojo's DAC for decoding to analog.
Remote Control
All UPnP apps become more of an LCD remote control unless you decide to change the local renderer from the Mojo to your smartphone or another receiver. Only then does WiFi come into it for streaming audio from the Poly.
Otherwise, accessing and playing stored memory card tracks on the Poly is a wired but enclosed signal entirely free of traditional issues of wired USB-DAC connections such as jitter and noise.
And you can load anything within decoding range of the Mojo as well without worrying about buffering issues. We tested 16BIT/44.1 FLAC up to DSD256 without a single hitch from the microSD card using a HiFi Cast app on Android Oreo as our remote control and the Mojo as the local renderer.
Sound Quality
If anything this is the zenith of the Mojo's audio capability given the level of isolation from unforeseen jitter, network congestion and streaming app bit rate limitations.
We ended up listening to Dire Straits "Your latest Trick' from their 1985 Brothers in Arms album and Talk Talk's excellent "Such a Shame" from their 1984 It's My Life album over and over because both tracks sounded incredibly fresh from the Mojo.
By fresh I mean detailed, lacking in any form of compression with a perfectly black background using even modest monitors such as the single BA driver TP Audio Aurora custom monitor.
Bluetooth
Spoiler alert – BT4.1 is not as good as full WiFi Hi-res decoding. I do not think Chord will be surprised by that statement though because Bluetooth was never meant to be seen as a primary streaming protocol. A2DP is miles behind in terms of both stability and audio quality and it shows if you try to stream from your smartphone to the Poly using the Bluetooth only.
Our testing had drop-outs well before a smartphone equivalent connection petered out so the distance is not great. Audio quality was also fairly poor with a very compressed sound from the likes of HiBy Music.
Staging narrowed considerably and details simply got lost in that flat delivery. The dynamic range on the Mojo also takes a noticeable dip which may result in pushing up the volume to compensate.
That being said, the primary purpose is for Gofigure to establish a connection with your smartphone and set up a WiFi connection to your network without having to use the pin. Audio streaming is merely a bonus optional should you not be able to access WiFi.
Synergy
Apps integration is where the value add is with the Poly and it does seem Chord is progressing with a lot of worthwhile services integration. With Roon/TIDAL integration, AirPlay and DLNA you do have most of the bases covered here.
Roon, (TIDAL)
This is the most recent development with a Roon Ready status and access to a Poly profile. 'Roon ready' is more than just the ability to see the Poly in Roon and transmit audio from the PC to the Poly.
For a start, you do have a Roon app on Android that does allow you to effectively remote control browsing and playback from your PC 'Core Roon' media library as well as access the core's integrated TIDAL feature. You also get access to ROoon's excellent DSP functions including PMEQ which makes pairing with IEMs even easier with the Mojo.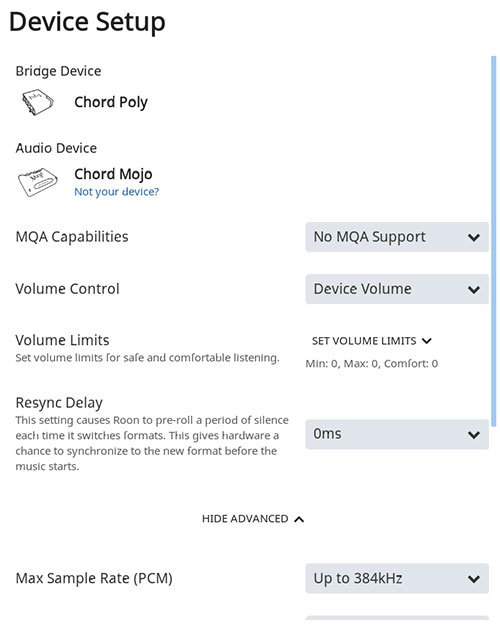 Roon Performance
My own experience with Roon and the Poly experience was a bit frustrating though it is more to do with my own setup and router capability. Sadly, our route is not built for massive data streaming overheads.
Quite often I would get the 'slow loading experience' warning after 30 seconds of playback even after rebooting the router. This was the same for both locally stored and TIDAL tracks. On the first dry run, I had no issues with either so fairly sure it is my own router's crappiness. I do strongly suggest you make sure you have a decent router to avoid this.
Two caveats with Roon, and TIDAL. The first is the fact once you activate the Roon feature in the Poly Gofigure app you cannot use any other DLNA or Airplay service. You are locked into the Roon service until you deactivate it via the app. The second is the lack of support for MQA though ROON will do the initial unfolding before sending the audio to the Mojo/Poly.
The sound quality from Roon was also a tiny bit behind the hotspot microSD card experience but still very impressive.
Just slightly less compression to my ear and a blacker background from the memory card loaded tracks. Tiny little nuanced details and spatial cues were easier to pick up from the microSD card stored tracks which can often make the difference with high-end monitors.
AirPlay
AirPlay was stunningly simple to use with the Poly and my old 6th Gen iTouch. You can use it in either Poly's hotspot mode or any shared WiFi network connection. Simply load up your music library then look for the AirPlay icon at the bottom of the screen and then select the Poly for audio output. It should switch right away and start streaming to the Mojo/Poly combo.
I don't use iOS platforms much except to test devices such as this but it is a lot simpler to implement than DLNA or Roon for non-tech heads.
The audio performance was good though not to the level of the microSD Hotspot level. I would recommend you use Onkyo's HF player and load up some hi-res files and AirPlay from there instead of the regular Apple music player. Compressed AAC tracks over WiFi are not a patch on FLAC lossless alternatives.
DLNA
I love the DLNA compatibility of the Poly with the apps I currently have stacked on my Huawei P20. Apps such as BubbleUPnP and HiFi Cast had no issues picking up the Poly as a media server or renderer together or separately.
Going separate invites a lot of complex source pulling and signal pushing which can be a lot of fun depending on how many streaming devices and serves you have.
For example, with both BubbleUPnP and HiFi Cast, I can select the Poly as the media server and pull from the memory cards into the app. From there I can push out to any recognized rendering device including the Poly's own rendering service and the app's own default render on the smartphone.
Another example is the excellent Plex DLNA program as the Media server from my own Windows 10 laptop and streaming to the Poly/Mojo as the local renderer. NAS style streaming on the local network was incredibly smooth with the Poly/Mojo, much more so than Roon/TIDAL with no buffering issues that I could detect.
The only problem with PLEX seems to be the lack of DSD support which is why I tend to use JRiver's Media Player DLNA service or load the DSD files locally onto the memory card which is more effective.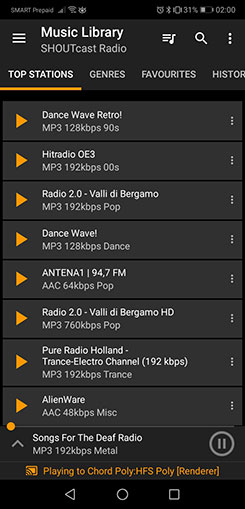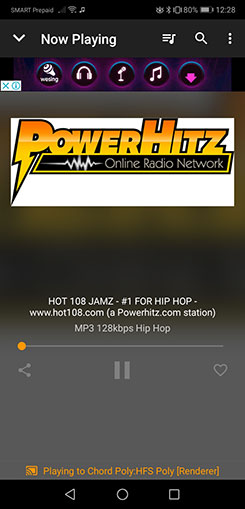 SHOUTcast
Need to mention that there is built-in support for SHOUTcast radio protocols using the Poly as a renderer so any UPnP app that supports SHOUTcast will play just fine to the Poly. The only variable is the stability of your WiFi connection and speed for buffering the data stream effectively.
Apps such as HiFi Cast do have a dedicated SHOUTcast Radio section with dozens of channels and genre breakdowns and bitrates listed and so far the only ones that do not load and more to do with the app's ability to pull the stream from the web than the Poly renderer not being able to play them.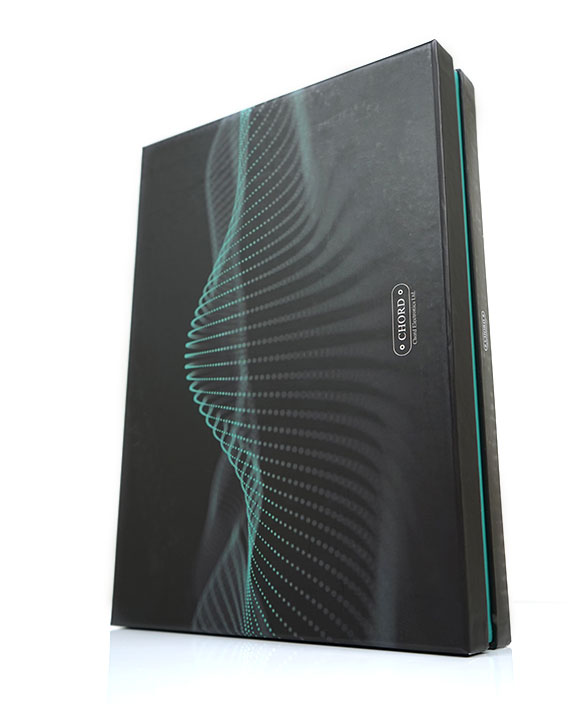 Our Verdict
Truth be told I hesitated on reviewing the Poly for some time now because of the original pin and pair process that seemed to narrow the door into its real potential. I honestly could not get on top of how to use it. The Gofigure app as it stands today is so much better now than before and for relatively low streaming users like me, it makes the Poly seem like a whole new device.
The use of Bluetooth to get connected to phones, WiFi, and create hotspots is a much-improved service and allows the Poly a degree of user-friendly functionality.
Once beyond, the diversity of application integration is very good indeed. I particularly enjoy the hotspot function with its own internal server loading from the memory card slot. If you want to hear the Mojo at its true audio performance level this is a fine place to start.
Tweaks
Can it get better? I think so. The Gofigure app is still a work in progress and rebooting from network to hotspot is not always a smooth process. For that, I look to Chord to keep building on the improvements they have been rolling out in the firmware updates.
I would love to see a dedicated DLNA or media management streaming service inside Gofigure without using a 3rd party service also.
Barriers
Are their barriers to the Poly? Yes, there is. The price alone makes something like the simple $10 OTG cable a fearsome competitor for those that are comfortable with stacking a phone on top of the Poly.
You can stream everything that a Poly can do to a Phone and then into the Mojo via a short cable. It is a cumbersome solution, however. The bitrate will be capped from both iOS and Android devices so the sound quality will take a hit never mind the additional wire and an awkward stacking balance the Mojo tends to create with smartphones.
However, if you are going for a Mojo and you want a truly wireless experience from it not to mention the best possible performance then the Poly is really the best deal in town.
I advise trying to buy them both as a package and see if you can haggle a good combo deal. If you already have a killer streaming solution at home then the Poly/Mojo will slip right in and deliver some excellent portable wireless audio.
Chord Electronics Poly Specifications
Connects via Wi-Fi 2.4GHz (for optimum stability)
Rechargeable LiPo 2200mAh battery: 9-hour + playtime and fast-charging via USB
Playback support: Roon, DNLA, AirPlay and Bluetooth 4.1
Precision-machined aluminum casing with black anodization, opaque black wireless signal window, and silicone feet
Support for all major file types including ACC, WAV, FLAC, AIFF, OGG VORBIS, ALAC, WMA, and MP3
High-resolution audio-compatible: PCM sample rates: 44.1kHz, 48kHz, 88.2kHz, 96kHz, 176.4kHz, 192kHz, 358.8kHz, 384kHz,717.6kHz and 768kHz; DSD via DoP sample rates: DSD64 – DSD256 (Quad-DSD); DSD from SD card
Devices supported: iPhone, iPad, Android phones/tablets, Windows and Mac OS X computers and DAPs
Dimensions: 50mm (L) x 62mm (W) x 22mm (H)