The Cayin N6ii is the company's latest Android-based DAP or digital media player featuring a modular DAC and swappable amplifier motherboard. It is priced at $1199.
Disclaimer: The Cayin N6ii was sent to us as a sample in exchange for our honest opinion. We thank Cayin for this opportunity.
To learn more about Cayin products on Headfonics you can click here.
Note, this review follows our new scoring guidelines for 2020 which you can read up on here.
Cayin N6ii Review
The N6ii is very much a long-game digital media player. As of right now, the A01 motherboard taps into Cayin's house sound or preference for something slightly richer, sweeter, and an all-round performance that will appeal to a very wide audience indeed.
We have been testing Cayin's latest DAP, the N6ii, for a few months now and if you want to check out our original thoughts from the initial First Contact we ran during June 2019 then click here. There is a degree of overlap in our main review for so feel free to skip to page 2 onwards to read our in-depth software benchmarking, sound impressions, source pairing, and comparisons.
From what we have seen so far, the N6ii is a huge leap up from the N5ii, Cayin's previous 'mid-fi' DAP offering. The N6ii does indeed plug a huge gap in their digital media player lineup, right where iBasso, and to some extent, HiBy, command a loyal following.
Does it step on the N8 toes? I wish I could say yes or no with a degree of confidence but since we sent the N8 back last year my 'aural' memory is not accurate enough to say anything definitive. What I can say is that yes, the N6ii is unique, something with huge potential, and presents a worthy alternative to those competing brands.
The N6ii's true value, however, will be those modular motherboards and what comes next. This review will have some fluidity in the scoring as a result and we may update it when new motherboards come out.
Tech Inside
There is the tech inside, then there is the tech further inside. Being a modular DAP, the Cayin N6ii has two distinct components, the main body or player, and the swappable motherboard.
Main Player
The touch-capable main player has had a fairly substantial upgrade from previous releases with the deployment of a Snapdragon 425 CPU using 4GB of RAM, a full Android Oreo 8.1 OS, and Direct Transfer Architecture (DTA) allowing for bit-perfect playback from the entire platform and not just 1 or 2 apps. This player is fast, very fast indeed.
It also comes with the latest Cayin Music and HiBy Music apps preinstalled meaning MSEB and HiByLink bi-directional Bluetooth up to LDAC decoding capability out of the box. Those familiar with MSEB on the HiBy build will know just how much fun this DSP app is. You can, of course, expand the OS with direct streaming apps including TIDAL, Spotify, and Qobuz or DLNA your own setup if you wish with built-in 2.4g/5G WiFi.
The main player has a built-in 64GB of storage, OTG expansion capability for memory and digital audio out, as well a single memory card slot which supports pretty much any SDXC microSD card you fit into it.
The battery inside is 5900mAh with quick charge capability in around 110 minutes from 10- 90% and delivers an excellent at 13-14 hours continuous playback on either balanced or unbalanced with the supplied card module.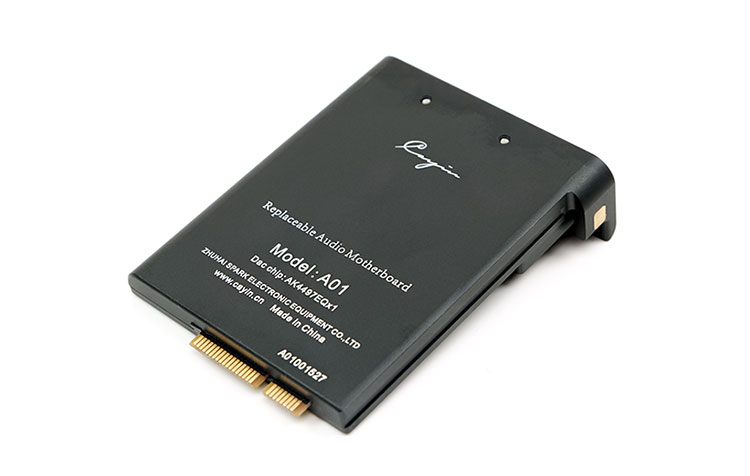 Modular
The first module supplied out of the box with the main player consists of a high-end single AKM AK4497 DAC chipset and four OPA1622's in parallel offering up to 245mW into 32Ω unbalanced and 530mW balanced. The motherboard also offers a fixed voltage unbalanced and balanced lineout set at 2.1V and 4.2V on their maximum settings, enough for any competent connection to a desktop amp's line-in.
With the supplied module the main player is capable of natively decoding up to DSD256 and PCM 32BIT/384kHz and deliver it to your headgear in a bit-perfect format due to the main players DTA architecture. It will also work just fine with SACD ISO formats and load up cue files.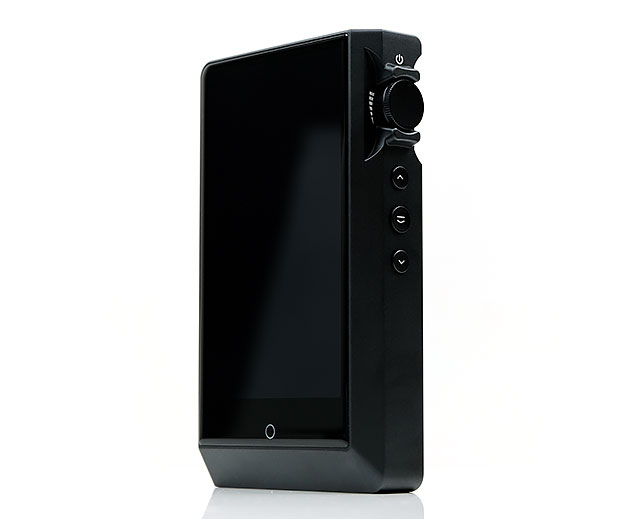 Design
There are definite shades of the N8 in the N6ii design, though its dimensions are indeed smaller than the flagship Cayin DAP. Still, it is a 'chunky monkey' of sorts compared to the slimline U8 from Colorfly. I suspect much of that has to do with fitting in the motherboard as a replaceable module as well as the massive 5900mAh battery. Those things require additional space.
Dimensions
Despite that, the N6ii dimensions are competitive when you drill down to the spec sheet. At 290g it is heavier than the likes of the aluminum R6 and DX220 but closer in weight the R6 Pro (285g). It is also only marginally taller than the R6 Pro (119.8mm) and the Lotoo Paw Gold Touch (119mm) but not as long as the DX220 (126mm).
[table id=13 /]
Ports are flush to the base and top on the N6ii and none of them seem wobbly with large gaps. The volume dial on the right side is protected a bit more than the N8 with a raised CNC aluminum guard enclosure that forms part of the main body.
The dial has a fairly grippy feel, one that I rate a little easier to use than the tighter smoother DX220 volume control. It also has a slight gap between it and the main housing to allow it to dual function as a power/sleep and LCD on/off button.
Materials
The N6ii uses a machined CNC aluminum shell, a sandblasted finish with a matte black coloring. The lines are clean, the curves are rounded so it sits nicely in one hand and yes, it feels like it can be managed in one hand also.
At the very top of the rear plate, you have a small recessed lip with screws either side for the modular motherboard to neatly slide in and out. A T5 screw will fit the screws perfectly should you want to take the board out though right now there is no pressing need beyond curiosity since there is just one card available currently.
The motherboard is finished with the same CNC aluminum materials as the main player so the design remains fairly uniform in looks, unlike the FiiO amp cards that tended to vary in finishing. You can still clearly make out the outline of the motherboard card though from the large seam that runs across the top panel.
The rear panel is made from an attractive tempered glass finish and whilst it does feel suitably tough I still feel more relaxed with the unit inside its protective leather case.
Screen
The front is dominated by a very nice 720p 4.2′ multi-point capacitive Sharp IPS panel backed by an Adreno (TM) 30B renderer. This screen is very responsive, very legible, and showing off some great color saturation. The screen is on par in every way with the HiBy R6 pro screen which has the exact same specification. Though not quite on the DX220 1080P 5″ screen level it will be a shade less demanding for battery concerns.
The LCD screen itself sits behind a 2.5D glass cover which I do love to see on DAPs. It delivers more pop to the display than the old flatter design of the N5ii and visually it is more impressive than the smaller N8 screen. The viewing angle is superb also with extreme almost flat to the eye angles presenting no reading issues. It does, however, have a bigger bezel than the R6 Pro and DX220 screens so it is not quite borderless.
The only caveat is the supplied screen protector which is a poor fit for these curved glass designs. This is nothing unique to the N6ii or Cayin, however. Curved glass seems to be presenting protection screen challenges to almost all DAP makers right now.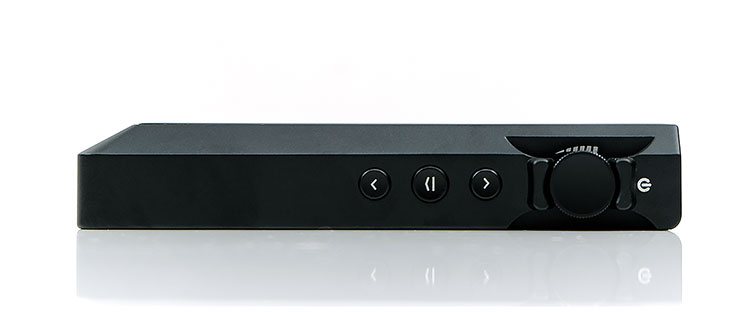 Controls
Physical
The N6ii has a fairly standard set of mechanical controls including a set of playback buttons on the right panel as well as a dual function digital rotary dial for volume and power just above. The playback buttons are nicely spaced with decent resistance to accidental knocks. With the leather case on they are covered but fairly easy to find with imprints on the case right over each button.
The rotary dial will power on the N6ii with a long press of 1-2 seconds and bring up the power-off/reboot OS option with another similar long-press once powered on. Apart from that, the dial will turn the LCD screen on and off. As per the latest 1.15FW, you can also set the physical buttons to auto-lock when the screen is powered off and this includes both volume and playback.
Volume Control
The final function of the digital rotary dial is volume control (in tandem with the software touch controls). The grip on the dial surface is actually very good and, importantly, the leather case stays out of the way of the dial making it fairly easy to operate.
I do have one slight concern at the level of accuracy the N6ii volume dial has with the current firmware. It does seem prone to skipping the odd step or two when pushing it around, even at slowish speeds. I would advise using the touch volume interface if you do want minute levels of volume adjustment instead.
Touch
The touchscreen will do everything you need the N6ii to do outside of initiating volume control. Like the HiBy R6 and Cayin's N5ii/N8, you can use the screen to increase or decrease volume control once initiated with a volume screen overlay.
Aside from that, you do have capacitive multi-gesture support including pinch and zoom, and various apps access to enhance keyboard support such as SwiftKey which I much prefer to the stock version.
Unlike the PAW Gold Touch, you cannot double-tap from the screen-off option so you have to do that one via the power button to the right side.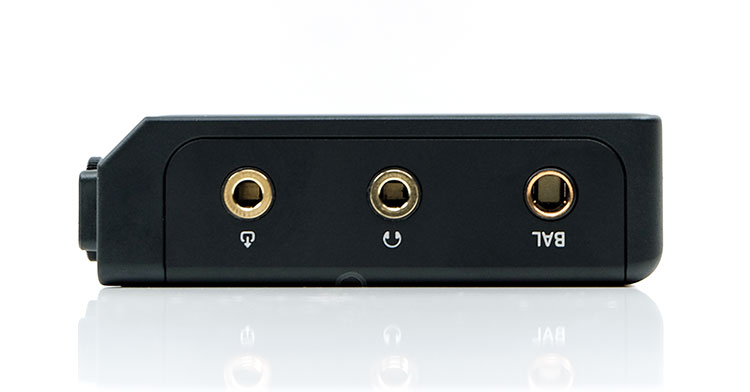 Inputs & Outputs
The N6ii has a familiar feel of inputs and outputs inherited from its bigger sibling, the N8. Unlike the N8, however, the analog outputs are part of the modular motherboard so with each new module the configuration will change.
The memory card slot has also been moved from the bottom panel to an open slot on the bottom left panel. The supplied leather case also has an opening for that slot so you do not have to keep taking the main player in and out of the case to change cards. Thank you Cayin!
Analog
Analog outputs on the N6ii are housed in the top motherboard panel and digital inputs and outputs are housed in the bottom panel. The top panel analog outputs are divided into three jack ports
3.5mm unbalanced PO output
Balanced 4.4mm PO output which also duals as a 4.4mm shared TRRS balanced lineout (up to 4.2V)
Standard or dedicated 3.5mm lineout (up to 2.1V)
You can control the 4.4mm TRRS balanced jack functionality via the OS drop-down menu bar where it offers you the option of PO or LO. Just watch you do not have headphones in the 4.4mm jack when you switch to LO as you will be hit with 4.2V of max power.
Digital
For digital at the base panel, you have 2 core I/O's:
A single I²S socket for connecting to compatible I²S systems such as the Cayin's CS-100DAC
USB-C port for charging, USB-DAC functionality, OTG, and SPDIF output using optional USB to coaxial cables. The SPDIF output, like the balanced 4.4mm LO, is controlled via the OS.
It is important to note that Cayin's USB-C implementation is not the same as a regular smartphone. the USB-C port on the N6 has 2 additional pins activated to allow it to function smoothly for SPDIF and OTG digital audio signals.
Sadly, no optional short cables such as you will find inside the N8 box come with the N6ii. You will have to buy them directly from your dealer. For data transfer/charging and USB-DAC, you can use any USB-C cable and one is included in the box.
Memory
Onboard & MicroSD
The N6ii has 64GB of onboard memory and a single MicroSD card slot to the left panel. This now seems to be a fairly clear-cut hierarchy of memory capacity with the N5ii using 32GB onboard and the N8 using 128Gb onboard. It also meets the likes of the DX220 and R6 Pro head-on in terms of onboard memory capacity.
The N6ii microSD slot will support SDXC and SDHC cards. The official rating of how much memory the slot can handle could push beyond 512GB right up to the new 1TB cards and beyond. This is not a hard ceiling in terms of memory capacity.
Personally, I cannot test that, I tend to keep 64GB size cards only. I tend to find the lifespan of micro SD cards to vary and 64Gb is a more acceptable loss than 500GB if they decide to die.
OTG
The N6ii is setup for OTG so flash drives and externally powered drives should be seen upon connection. Testing a SanDisk USB-C flash drive the N6ii picked it up immediately. I was able to drill down into it via the file manager and the HiBy/Cayin app internal storage explorer as well as access it on apps such as Hi-fi Cast to initiate local rendering (playback).
Even better, both the Cayin and HiBy Music apps are able to scan any flash drives and integrated the external audio tracks into their respective media libraries so you can seamlessly browse and play tracks across internal, microSD, and OTG memory sections.
Battery Life
The battery in the N6ii is huge. No kidding, this DAP packs a massive 3.8v 5900mAh li-on battery inside, and in part, this is why it errs to the chunky side physically. This is the second-largest battery I have tested in a DAP review with the N8's 7000mAh being the largest.
Do you get great numbers from that battery compared to the competition? You should, and it does. The specs have it at a healthy 14 hours unbalanced and 13 hours balanced. Standby in our tests was supremely good. Often l would let the N6ii just sit there with the screen blazing and without WiFi or BT on watching it drop maybe just 5-10% in a few hours.
Battery life will drop faster during playback and it will have variation depending on levels of decoding required, output power demands and connectivity options but you can expect around 11-12 hours via balanced and up to 13-14 hours unbalanced according to our own monitoring.
Charging
However, be warned you do need to take advantage of the player's quick charging feature. Otherwise, plugging it into a standard USB port from a laptop or non-quick charge is deathly slow, like glacial taking hours and hours to charge to 100%.
The fast QC3.0 feature of the N6ii battery system will get you from 10% to 90% in about 2 hours which is an excellent level of performance. In total, it took about 3-4 hours for a full charge, which, given the size of the battery, is about fair.
Packaging & Accessories
There is a fair bit of subtle harmonization here with the flagship N8 packaging. The N6ii box is a slimmer more traditional shape but it still has the same silvery pattern finish on the slip-over vinyl cover that the N8 uses.
Inside the box is a simpler black foldout two-piece display case rather than the complex layering inside the N8 case. Simplification does lower costs but more so there are simply fewer accessories with the N6ii that would necessitate any sort of additional layering in the N6ii box.
Accessories
Accessories are not plentiful but they are of good quality. The only critique I have is that I do wish the large excess space on the far right includes a fast charger since if you decide to charge the N6ii from a regular USB port (old school) you are going to be there for a very long time.
Aside from that, you get the following accessories:
Leather case
Cayin USB-A to USB-C Charger and data transfer cable
A nicely finished and very handy 4.4mm to 2.5mm right-angle converter.
screen protectors
Manuals and a warranty card
No screwdriver to take out the motherboard? Yup! The question is why do you need to take one out if you have only one card? Sounds logical right? I assume a screwdriver will come with the next card. In the meantime, if you really must then it is a T5 size and the old FiiO X7ii supplied driver works a charm.
I think Cayin has nailed the black leather case on the N6ii in terms of material elasticity and cutting. Unlike the DX200 case, this one is a perfect fit and does not disrupt volume control. Unlike the older i5, I cannot see this one getting loose and the player slipping out. Mind you it is just 2 months but so far, I do not detect any stretch in the case.
Click On Page 2 below for Hardware & Software Impressions
Click On Page 3 below for Sound Impressions & Matchability
Click On Page 4 below for Comparisons & Verdict