N6ii Modular Hardware
The N6ii DAC and amplifier are housed in a detachable 'motherboard' and positioned to slide out from the top panel. It also contains all the analog output ports and a configuration which, we presume, will change with subsequent new motherboard releases.
The current stock motherboard is the A01 which comprises of a single AKM AK4497 DAC component and a 4 x OPA1622 amplification stage. It also features a variable dedicated 3.5mm lineout and a shared balanced lineout should you wish to use the N6ii as a system component.
DAC
This is the same DAC chipset inside the Astell & Kern SP1000 and Cayin's flagship N8. However, instead of dual AK4497 EQ, the N6ii uses a single chipset version. This is still AKM's flagship 2-channel DAC chipset and in its own right, it can decode up to 768 kHz PCM and 22.4 MHz DSD.
The N6ii, like the N8, has a decoding ceiling a little lower at DSD256 and 32BIT/384kHZ PCM which is on par with the SP1000 and Sony W1Z decoding cap. It is also consistent with the HiBy Pro 6 decoding capability, a DAP which shares the same powerful Snapdragon 425 CPU as the N6ii.
The N6ii will also decode SACD-ISO which I find most useful as a lot of recordings are in ISO format. Unlike the N8, the N6ii can also decode DST-encoded DSD including DST-encoded SACD-ISO and DFF due to that enhanced CPU capability.
Despite the single chip as opposed to dual-chip, the N6ii SNR numbers are very competitive compared to the N8 at 119dB SNR unbalanced and 121dB balanced. That's just 1dB below the performance numbers on each output of the N8 chipset implementation.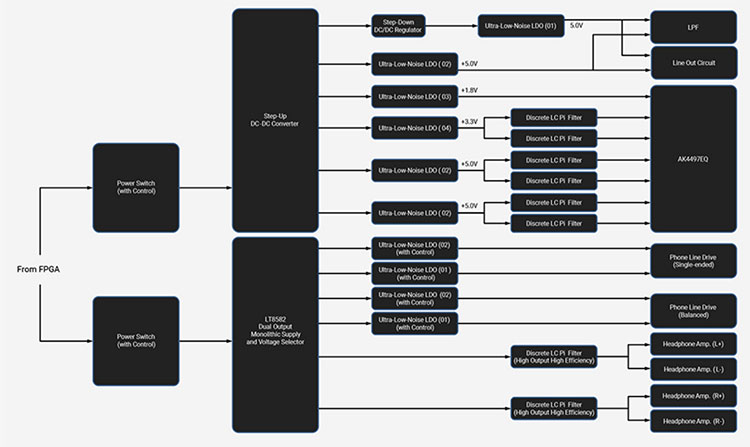 Amp
PO
The A01 motherboard deploys four TI OPA1622 opamps for its amplification stage. This allows Cayin to design the motherboard with plenty of analog outputs and excellent power ratings. The A01 offers both balanced and unbalanced in 3.5mm and 4.4mm outputs. You will not find a 2.5mm output on the N6ii but handily, Cayin has thrown in a 2.5mm to 4.4mm right-angle converter which does the job nicely.
LO
More than that, the A01 motherboard offers a dedicated 3.5mm lineout and a shared LO/PO for the 4.4mm jack output. We are not done yet because the N6ii OS combined with the design of the A01 actually allows for a variable lineout option with 3 different voltage selectors for both lineouts. From the OS, you can change the voltage output from 1V, 1.5V, to 2.1V unbalanced and 2V, 3V and 4.3V balanced depending on your needs, (low, medium, high).
Personally, if I am using the lineout of the N6ii into a desktop amp I would shoot for a 2.1V unbalanced every time given it is a standard on more than 90% of desktop analog amps. Additional or higher voltage can introduce additional distortion in the signal depending on the capability of your desktop amp.
Power
The N6ii has some respectable output power numbers. The N6ii power ratings are higher than the N8's standard output though it is missing the excellent output power of the N8's High² capability. Using an unbalanced output you can expect a maximum of 245mW into 32Ω per channel and up to 520mW into 32Ω balanced.
This is a more capable output rating than Colorfly's similarly priced U8 but slightly lower than the 4.4mm output rating of the R6 Pro (750mW into 32Ω balanced) and the 1.2mW balanced into 32Ω of iBasso's AMP1 MK11 amp card.
That being said, the N6ii's amplification stage is much quieter than the R6 Pro alternative as well as showing off far better THD+N numbers at 0.0008% compared to 0.0012%. In summary, the N6ii amp stage is more sensitive IEM friendly and at 1.2Ω max output impedance you will not require iFi IEMatch cables for low-z skew or high noise issues.
Software
Android Oreo
Finally, with the launch of the N6ii, Cayin embraces the full glory of a completely open Android platform. I believe this is the first time we have not seen either a very heavily restricted Android OS (N5ii) or HiBy's own OS on a Cayin DAP. As a result, this may well be the most versatile DAP in their entire line-up and certainly one which offers the highest level of customization possible for the user.
The N6ii comes equipped with Android Oreo out of the box and thankfully it is not filled with bloatware with just a few apps preinstalled including that all-important Google Play Store for international markets. This version means the N6ii also competes head-on with the R6 Pro for app compatibility and is a step ahead of the iBasso DX220 which has chosen not to ship with Google Play Store installed.
Unlike iBasso's implementation, the N6ii does not have a dual boot OS capability. However, I do believe Cayin has an audio priority mode that shuts down a lot of superfluous processes during audio playback planned for future N6ii updates.
RAM & CPU
With 4GB of RAM and an upgrade to the excellent Snapdragon 425 CPU, you can also expect the N6ii to be a fast DAP and on par with HiBy's R6 Pro's performance. This is a highly responsive digital media player OS, with very little in the way of lag. Boot up times seem good also and there are no issues with Google Play out of the box in terms of installing and using official apps.
Performance Benchmarking
AnTuTu Results
To get an insight into the OS performance we installed AnTuTu whilst the OS was clean to check areas such as clock rates and general performance/stability of the new N6ii Android experience.
The performance is excellent from the N6ii based on our initial run. The score is as high as the original R6 and R6 Pro on a clean install which we rated as perhaps one of the fastest DAPs sub-$1k. The accolade for the fastest DAP our reviewers have tested to date is still the FiiO M11 by some distance as reviewed by James earlier this year.
Checking the clock rate was interesting as it is not as capped as the DX220. It sits at a very nice 960-1400MHz clock rate which goes some way to explaining why everything on the N6ii feels so snappy. That 4GB also should ensure multi-tasking does not drag those numbers down either.
Numbers
From the numbers above both the N6ii and R6 Pro are running more or less equal to each other on every scoring category. We do suspect the additional 1GB RAM for the N6ii will be the difference maker between the two for multi-app loads.
The DX220 is the slower of the three Android platforms for a few reasons. The first is the clock rate. Now, when we originally reviewed the DX220, the clock rate was heavily capped. However, the last firmware update has boosted the clock rate to 216-1008MHz making it much faster but still not as fast as the N6ii's 960-1400MHz clock rate.
The additional 1080P screen does give the DX2220 a better GPU score but this also may have an effect on the speed of its RK30 CPU. Both DAPs have similar 4Gb configurations so multi-app loading should be very good.
Features
Whilst the Android Oreo platform and apps like HiBy Music have a very familiar experience to previous users of the R6 Pro and iBasso DX220, there are a few tweaks and features on the N6ii that are worth discussing as they do make a difference.

Direct Transfer Architecture (DTA)
The first one is fundamental to the entire listening experience, DTA, or direct transfer architecture. Now, this is a huge upgrade on the N5ii and brings it up to par with the HiBy R6 (and Pro) as well as the DX220's DTA capability.
Basically, DTA allows the N6ii to bypass the Android sample rate conversion cap (SRC) in a platform-wide basis for almost all apps rather than depend on an app-specific application. In short, bit-perfect output at whatever rate for all your audio files on pretty much any platform and that should include the likes of TIDAL Masters.
You will also notice the effect of DTA in the top Android bar with track-specific sample rates on display. Our tests of TIDAL Masters bitrate playback were true to the DTA promise.
Enhanced Drop-Down Bar
There are some pros and cons to the Cayin N6ii core Android screen navigation flow and choices. For instance, I much prefer the Android drop-down menu on the N6ii compared to the likes of the iBasso DX220, R6 Pro.
The options allowed in the N6ii drop-down menu are simply far more critical for ease of use as a music player. For example, the 3-level gain setting is in the N6ii drop-down menu whereas the R6 Pro and Dx220 do not have that. Instead, you have to dig into the core HiBy Music menu or Mango specific menu to change the gain. That is far more awkward in terms of UI.
Another good example is lineout control which is in the N6ii drop-down menu but not in the DX220 or R6 Pro version. You will find the lineout option in the skinned Android drop-down menu of the Colorfly's U8, but like the other DAPs, there is no gain control. You still have to dig deep to find it.
Tweaked Bottom Bar
The bottom bar takes its cue from the i5 in many respects with its singular circle that pretty much does all the navigation and glows intermittently when the N6ii is charging. This is as opposed to the R6 Pro and Dx220 which has the more traditional back arrow and square icons to differentiate between home, multi-task window call, and exiting certain functions.
I have to admit the single circle design is not as intuitive or as easy to operate compared to the back arrow the triple icon function separation of the R6 Pro and DX220. I find it a touch fiddly and slows things down for me when not using app dedicated navigation features.
You can also swipe up from the base of the screen to bring up the app's windows and then swipe right to kill the tasks but I always find that method more cumbersome than a simple click on the square icon. The N6ii apps drawer navigation is more traditional in design with its swipe up from a floating arrow on the main home screen.
Apps
The N6ii comes with a few important or useful apps out of the box and, unsurprisingly, with HiBy as their strategic partner there is a HiBy Music app installed.
Google Play Store
Perhaps the most important app Cayin has bundled is not the music app selection but rather the Google Play Store. Granted, you can use something like APK Pure as a substitute such as you will find on the DX220 and it will do a great job of breaking out of the regional restrictions Google sometimes places on app availability.
However, the Google Play Store is much more than an APK downloading and updating tool with its integration into a movies and books app. For example, apps selection is much wider than APK Pure and the compatibility is 100% with Android Oreo. Compared to the N5ii's rather ungainly semi-walled-in experience, the 4GB of RAM and open Android environment will prove a far more welcoming experience for resource-heavy apps.
Another compelling point for Google Play Store is that quite a lot of the apps you can get on APK Pure are not actually workable without Google Play Services which comes bundled with the Google Play Store. This includes some excellent DLNA media streaming apps such as Hifi Cast.
HiBy & Cayin Music System Level Apps
This one confused me a little with both HiBy Music and Cayin Music are installed out of the box. I am all for diversity but it does seem that the Cayin Music app is a reskinned HiBy Music app with access to UAT but with a few less critical features such as MSEB. I do know that both are system-level apps so their development is more tightly integrated into the N6ii core platform than other apps.
You can still use options such as HiByLink, the DLNA/Cloud server feature, as well as the exclusive HQ USB audio access mode. However, it still feels a little redundant. The good news is that both scan equally fast and both produced the exact same results with similar track counts and metadata capture so on that basis I have no issues with performance.
Of course, you are not tied to just the stock apps on the N6ii. You can download Spotify, TIDAL, or Neutron, whatever you please using Google Play Store to further enhance your experience.
Media Management
If you have used the HiBy Music app for Android then you should be very familiar with the N6ii media management capability and this includes the Cayin Music app. Scanning is very fast now with 4GB with nearly 5000 FLAC processed in under a minute for both apps. The tagging is quite accurate though what you see in the database will depend largely on how well your tags are filed.
You can also still drill down via a folder category if your tagging is not up to par. This will include any OTG flash drives or externally powered HDD's connected to the USB-C port. All the drill-down categories are user-controlled also meaning you can edit which ones you want to see and keep hidden in the sub-menu below the 5 main menu icons.
Those 5 main icons are unchanged and cover the settings and EQ/DSP management, the media library itself, your playlists, HiByLink, and the search function.
MSEB
It is a pity the Cayin Music app does not have MSEB or some sort of PMEQ option as I am finding these two specific features to be essential in almost any DAP these days. However, MSEB is there in all its glory inside the HiBy Music app and I strongly suggest you try it out. It makes matching to any IEM or headphone a piece of cake outside of noise floor and output power limitations.
The way MSEB targets the frequency response and timbre of the audio signal is, well to be frank, quite special. You can thicken the sound, thin it out, increase or decrease sibilance, deepen the bass or make the timbre sound warm or cooler. Given the stock sound of the N6ii A01 Motherboard, MSEB is especially useful if you want to thin out, brighten or enhance the low-end response of almost any IEM out there.
These are just some of the controls available. You can even decide how much each slider will affect the sound in the settings. You can use the MSEB to fine-tune or completely take over, it is your call. It makes a mockery of describing the sound of the N6ii because I can change it so radically making it a very fine tool for matching up to IEMs or headphones with fussy sound signatures.
Bluetooth UAT/HWA
Tucked away inside the HiBy and Cayin Music settings is a feature called UAT and it is a relatively new codec developed by HiBy and pitched as being a higher grade of audible quality than LDAC. You will not find this in the Cayin Music app. The full name is Ultra Audio Transmission and its basically an audio coding technology with up to 192kHz sampling frequency of up to 1.2Mbps bit rate compared to LDACs 990kbps bitrate.
The only catch is you need a UAT receiver such as HiBy's own W5 right now to actually leverage that potential quality jump in Bluetooth audio signal quality. Something which James has and reviewed but sadly not here with me to give you a low-down on its performance.
You can, however, work with a much wider range of dongles and receivers such as FiiO's BTR3 with the N6ii's LDAC, HWA or LHDC, (Low Latency High Def Codec), BT capability. HWA again is inside the HiBy Music app and not inside the Cayin Music app.
HiByLink
The N6ii implementation of HiByLink works just as good as the R6 Pro experience. Basically, HiByLink allows you to set up the N6ii as either a client or server via Bluetooth and operate another source with the HiBy Music app (and a BT connection) remotely.
For example, your smartphone with HiByLink can connect to the N6ii and playback from the N6ii library. You can then switch that around and play whatever is on your phone via the N6ii. You can also browse the media as well as operate playback controls and volume. Very handy indeed.
Streaming
There are a ton of streaming options with N6ii's WiFi capability due to the open nature of their Android Oreo implementation. Combine that with DTA capability then most streaming apps will also output bit-perfect audio making the N6ii equally as competitive as the DX220 and the R6 Pro when it comes to smashing Androids sampling caps.
We tested TIDAL, Spotify, and Audiomack for streaming capability on the N6ii and had no issues obtaining bit-perfect playback with TIDAL Masters compatibility.
DLNA setup for local networks and servers on PC's is also catered for direct from the HiBy Music app or alternative 3rd part apps from the Google Play store such as BubbleUPnP, Plex and Hifi Cast. The additional upgrade in RAM and the Snapdragon CPU means you are far less likely to encounter buffering issues compared to the older N5ii.

Import Music Via WiFi
This is a relatively new HiBy Music app feature but one I actually find pretty cool to use. Basically, you connect to the same network as your PC and the app provides you with an IP address that allows you to transfer files wirelessly to the N6ii. (Since this feature is baked into the Android app it is not exclusive to the N6ii either. You can use it on your smartphone or a competing Android-based DAP.)
This is a fantastic feature that is a bit similar I believe to the "WiFi Sender" app but it is baked right into HiBy Music so no payment is required. The only drawback for me personally was the transfer speed was slower than a wired USB-C connection to my PC.
It was faster than when I tested it with the R6 Pro, however. The R6 Pro took about 1.5 mins for a 26MB FLAC file, the N6ii took 50 seconds for a 50MB FLAC file. This could ultimately depend on your WiFi network performance and capacity when you do the download. You may get much faster than me.
Click On Page 2 below for Hardware & Software Impressions
Click On Page 3 below for Sound Impressions & Matchability
Click On Page 4 below for Comparisons & Verdict