In this feature, we review the Campfire Audio Trifecta, which is a high-end triple 10mm full-range A.D.L.C. dynamic driver universal in-ear monitor. It is priced at $3375 SRP.
Disclaimer: This sample unit was sent to us in exchange for our honest opinion. Headfonics is an independent website with no affiliate links or services. We thank the team at Campfire Audio for their support.
Click here to read more about Campfire Audio products that we have previously covered on Headfonics.
Note, that this article follows our current scoring guidelines which you can read here.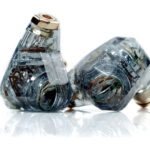 Campfire Audio Trifecta
The Campfire Audio Trifecta is one of the most unique-looking and sounding high-end in-ear monitors I have reviewed to date. With the right genre and a clean-sounding source, it conveys a very powerful and emotive quality from its triple dynamic driver setup.
Pros
Thunderous bass
Intricate and unique design
Easy to drive
Cons
A cable with 3 interchangeable jacks would have been more efficient
Will not appeal to audiophile 'diehards'
The Campfire Audio Trifecta was originally launched at the High-End Show in Munich in May 2022. That particular model has become affectionally known as the "333" model given it was a limited edition with just 333 units. Some call it the 'launch edition', with CA themselves calling it the 'Premier Edition' but either way, it's now sold out.
In its place, there have been a few variations of the original Trifecta including "Golden Sunset" and "Midnight Sky" with the last version, the one we have here for review, called the "Astral Plane" Edition.
This is Campfire Audio's most audacious high-end IEM to date but it is also one of their most talked about offerings. The price, the looks, the tuning, the pitch, everything about this monitor bucks the mainstream 'groupthink' on what constitutes an 'expensive sound'.
Is it for everyone? No, and I think CA would be the first to say that is the case here. My hot take? It's 'opinionated tuning' could well be the most 'concussive' basshead IEM of 2023 offering a truly unique experience I have not heard elsewhere.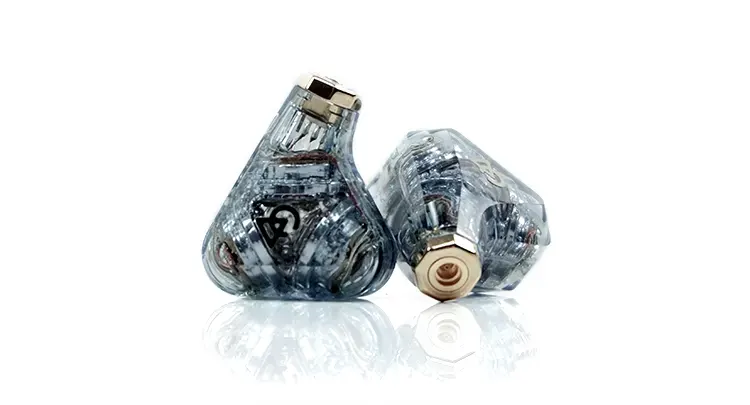 Tech Highlights
The Campfire Audio Trifecta is a multi-driver universal IEM but not a hybrid configuration. Instead, we have a triple dynamic driver setup and one that I have only heard twice before with Unique Melody's 3DD-Ti and qdc's Dmagic 3D.
Unlike the older aforementioned models, the Trifecta does not use a cascading series of ever-decreasing-sized phased dynamic drivers. There are no micro-drivers used here.
Instead, we have three full-range 10mm A.D.L.C. variants, the same type of dynamic driver used inside the likes of the older Vega 2020 and Atlas right up to the latest Solaris Stellar Horizon Edition.
This driver has been a bedrock component within a lot of Campfire Audio's IEMs down through the years though these particular versions have been updated with outer gold-plating. It should be fairly easy to drive also at 6.3Ω impedance and requiring 16.91 mVrms to hit 94 dB SPL @ 1kHz.
Like the original '333 Edition', the 3 drivers are positioned in a unique triangular formation facing each other, firing into a central acoustic chamber and out via a wide nozzle or spout.
CA does not reveal much more than that on its website but I have to presume that the Trifecta uses some rear venting airflow design and additional acoustic dampeners to regulate that airflow.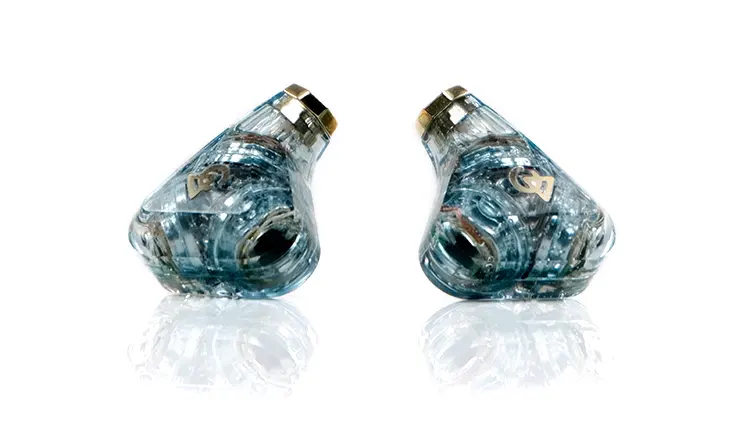 Design
Not only do we have a unique triangular triple 10mm dynamic driver configuration on the inside but we also have that quasi-triangular theme running on the outside. This is probably one of the most unique-looking and coolest universal closed-monitor designs I have ever reviewed.
Comprised of a nylon material rather than resin, the Trifecta's triangular housing is precise but also smoothly curved on each edge. It is also finished with some striking gold PVD finishing on its elongated beryllium/copper 'MMCX Capture' stems, faceplate logos, and its stainless-steel spout.
The shell is 100% transparent which means quite a lot of the design really comes from the complex internal build and its respective components.
I am a fan of those types of designs so long as the innards do not look DIY. Think HUM Delores and Vision Ears Elysium and you get the drift. This is a nice way to show off the gold accents on the drivers and thankfully also, the tidy internal high-purity copper and pure silver conductors.
You will see a faint hue of sky or light blue through the shell. It can vary the density of the color depending on the angle you look at it or the amount of light shining on the innards.
It's a nice touch and also the reason behind the use of terms like 'Astral Plane' and 'Golden Sunset' as each unit has its own unique color scheme to differentiate between them.
Just one small observation. You will notice some tiny bubbling in the shell though CA has pointed out the same on their website and cited it as being a normal aspect of the nylon material build process.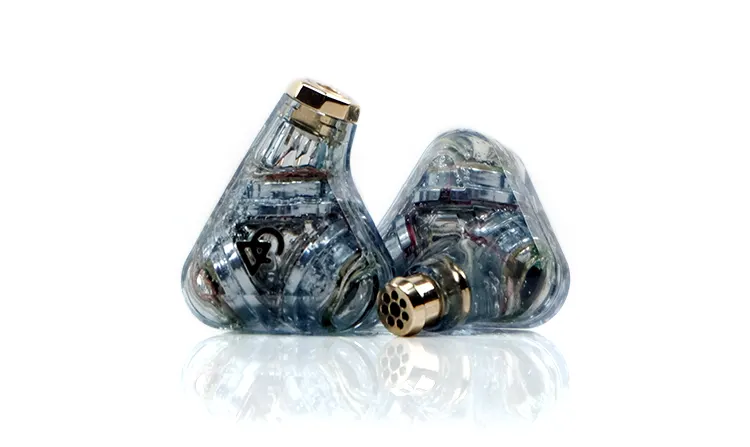 Comfort & Isolation
The Trifecta's unusual shape might seem like an awkward fit but actually, it's the total opposite.
The nylon shells are none too heavy with that protruding long MMCX connector mold helping to keep the connecting cable well away from the front of your ear. The result is a very steady and secure fit with surprisingly good levels of passive isolation for a dynamic driver monitor.
Its spout is not that long but looks are deceiving as the shape of the Trifecta shell design means you can get the nozzle quite close to the canal to begin with allowing the tips to do the rest of the work quite easily.
There is no sweet spot hunting for the best ear position either meaning that ideally, the Trifecta shells should lock into place and give you a consistent performance.
Tips
However, ear tips can make a massive difference in both the seal and performance of the Trifecta.
I will deal with the performance side of things on page 2 of this review but suffice to say, if you are rolling then keep the bore opening on any tip you choose as wide as possible to match the perforated wide opening on the Trifecta spout.
You get two sets of tips with the Trifecta package, both single flange with one set of soft wide-bore silicone and the other, a wide-bore foam finish. Both tips come in small, medium, and large.
The foam tips will isolate a bit better but I actually found the single-bore silicone alternatives a more comfortable fit and provided the better performance in terms of clarity and bass impact.
No Final E this time, one of Campfire Audio's preferred out-of-the-box ear tips. However, you can understand why with such a narrow bore opening on these tips they might not be the ideal pairing with the Trifecta.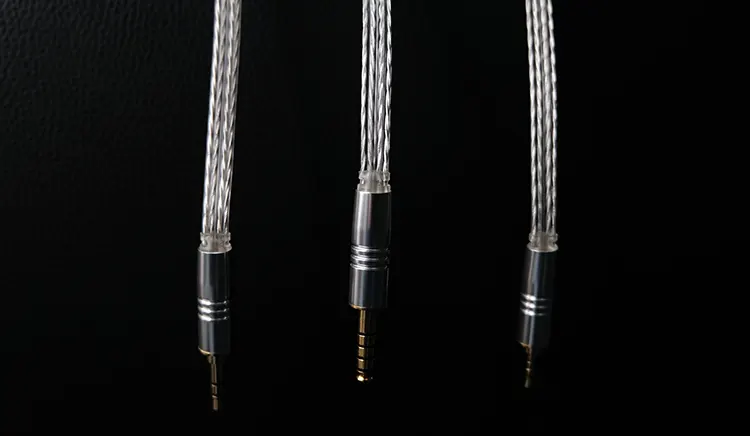 Stock Cable
The Trifecta comes with three new in-house-made cables from the company's new Time Stream series. All three cables are made from SPC as opposed to the previous OFC Litz designs and are finished with different plugs to suit your needs. Those plugs are 3.5mm TRS, 2.5mm TRRS, and 4.4mm balanced.
I have no more specs on the wire but presuming it's an 8-core SPC of around 26AWG with some element of Litz to prevent them from going oxidization given the jacket is a translucent soft PVC material.
The 46″/117cm long designs are unusual for their "Stax-like" flat geometry rather than a typical rounded wire build. It does make for a wider cable but the pros are that the cable is very memory and tangle-free making them a pleasure to work with in everyday use.
The memory coating on the trifecta MMCX connectors is super soft and low-profile. These are very comfortable around the ear creating zero hot spots through prolonged use.
The barrel finishing kind of matches some of the aspects of the Trifecta shell design with a gold PVD wrap on the very slimline splitter and gold-plated plug poles and MMCX connectors. The main barrel is made from aluminum in a chrome finish which complements the wiring quite nicely.
Any critiques? Well, given it's 2023 I can't help but wonder if an interchangeable connector system for the plugs with one cable rather than 3 individual cables would have been a more efficient solution.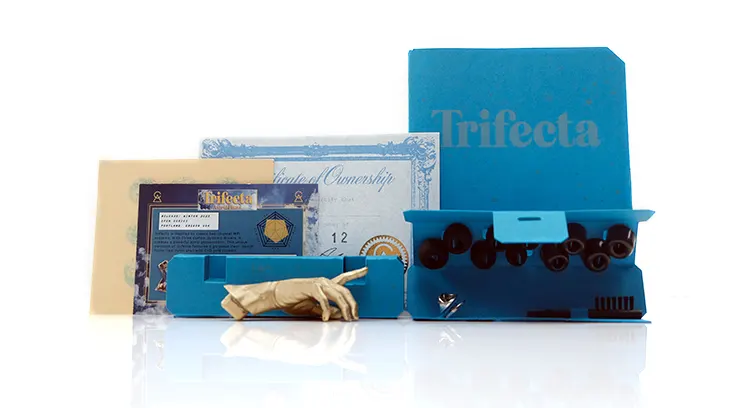 Packaging & Accessories
Campfire Audio has always done some really cool and unique packaging concepts for their IEMs with the Trifecta being no exception.
Surprisingly, we have moved away from the traditional compact paper-wrapped packaging and instead moved to a much more grandiose wooden container box with a whole host of goodies inside. I must point out that this is a hefty box but a well-built one with some beautiful grain finishing.
But it's more than a box, it also doubles as a unique display stand with an almost Terry Gilliam-esque inspired crafted miniature gold hand which slots neatly into one of the box shelves when stood upright. You simply then place the monitors on top of the hand to finish the look. Clever!
Aside from the display functionality you also get the aforementioned tips, cleaning brush/pick, the CA pendant, and various paperwork included with the Trifecta.
All of these are neatly packed beside two brand-new carry-case designs, both in an egg-blue color. The first is a nylon folding case with inner slots to carry the stock cables. The second is more in line with Campfire Audio's previous case aesthetics and is called the 'Atmospheric Blue Dimensional' folding case.
The Trifecta folding case is a fairly substantial form factor and reminds me slightly of a class Business Class amenity kit with its fold-out presentation and storage slots on each side.
Unlike the older cases it is not quite as formed or as stiff nor does it have the fur lining. Instead, it's a classy-looking Portuguese-made switched leather design and very soft to the touch. It is finished off on the inside crease with two fabric loops and a single carabiner which you can attach on either side of the case depending on your preferences.
There is loads of room to stuff your cables inside as well as the Trifecta drivers but just to be on the safe side CA has included their usual padded mesh dual pocket pouch to stuff the drivers in and give them a bit more protection.
Click on page 2 below for sound impressions and pairings.