Listening to the Beyerdynamic DT-48A today, I was reminded of a loudspeaker review I read recently in Stereophile magazine. The review of the Audience 2+2 speaker contained these phrases: "They sounded fundamentally different from most speakers I've heard in my system, in a way that was, well, weird." "The conclusion I eventually reached was that the tension I felt with speakers other than the 2+2 arose from subtle distortions caused by the crossovers and dissimilar drivers."
The DT-48A is the 'Audiometric' version of the DT-48 series, the other half of that series being the DT-48E which I reviewed previously. Based on having owned three DT-48's in the late 1970's and the two models of DT-48 sold today, the only differences are the cable configurations, the earpads, and the impedances. Using the same earpads and plugged into the same source, the DT-48E and DT-48A sound about the same, despite impedance differences. The DT-48A at 5 ohms impedance plugged into an iPod Touch sounds the same to me as the DT-48E at 25 ohms, and when each are connected to a desktop computer's soundcard or a decent headphone amp, the sound is more "airy" and feels more spacious, as though they opened up and became less congested (for lack of a better term). But regardless of which of these sources I use, the two headphones sound the same using the same source, even though the impedances are very different.
There is nothing I've heard that sounds like a Beyerdynamic DT-48A, which is why I quoted those phrases from the Stereophile review in the first paragraph. The sound is clear, clean, and free of distortions and colorations across the spectrum, and the only complaints users are likely to have besides comfort issues are in the bass area, which is lower in volume than top-tier 'neutral' headphones like the Sennheiser HD-800, and even lower in volume than other popular headphones such as the Grado PS-500 or the various 'orthodynamic' planar-magnetic models.
The DT-48A is sold with an unterminated (no stereo plug) straight cable in a 'Y' configuration, where the left and right channels of the cable split at chest level and go to each earcup directly. The DT-48E uses a single-sided coiled cable. If the DT-48A is intended to plug into common stereo systems and music players, the cable must have a stereo plug added by a competent technician.
The DT-48A is sold with semi-stiff round rubber pads that sit on the ears, for audiometry use. In my experience, the DT-48A has essentially no bass with these pads, even if I press them into my ears with about ten pounds of force on each side. Fortunately I anticipated that and ordered the DT-48E oval earpads, which arrived the same day as the headphone. The round pads were easy to pull off and the oval pads a simple matter to put on.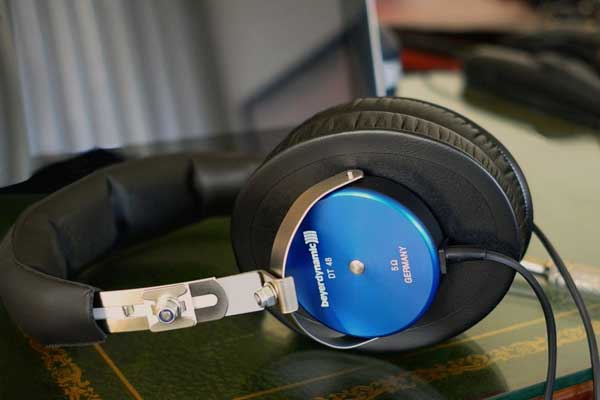 Although the DT-48A as I've configured it sounds superb, people who are used to most other headphones may not appreciate the clamping force of the DT-48A, which at best is something that takes getting used to. This is basically a 74 year old design, originating in 1937 and converting to stereo in the late 1950's. In spite of the age of the design, the appearance with the black and silver trim with red and blue earcups is simply beautiful, with a touch of Darth Vader thrown in.
There is some controversy on the Internet concerning the original DT-48 design. I've seen quite a few comments that suggest audiometry, however, the DT-48 was designed for detailed monitoring of electronic signals and communications in 1937, a critical period leading up to World War II. My guess is that when the German technical people came over to the Allied side as the war was ending, they probably described the DT-48 as an 'audiometric' headphone to lessen the chance of having all of them seized. The actual audiometric application was a natural for the DT-48 though, since it was designed for maximum detail and wide frequency response, where resonances and other aberrations would hamper its ability to perform the critical monitoring it was designed for.
I've described the DT-48A's bass response using the oval earpads, and my comments about the "clean, clear, distortion-free and coloration-free" sound are indicative of the ultra-smooth midrange that the DT-48 series are famous for. Describing the highs is more difficult, since my high frequency hearing is down about eight db at 17 khz and "flat" to only 10-11 khz. Still, the higher frequencies add only "air" to the sound, and the nuisance sounds such as strong sibilants occur mostly below 10 khz. The DT-48A's sibilants reproduction is approximately the same as the Sennheiser HD-800, but may sound worse in extreme cases since the DT-48A does not have angled drivers or very large earcups in which to soften those kinds of sounds.
Some notes about other unusual aspects of the DT-48A: Although the current DT-48 series look more or less identical to the DT-48's produced since the 1970's, the current models have genuine high fidelity sound as I've described above whereas the 1970's models did not. Earlier this year (2011) I sent my personal DT-48E to Innerfidelity for measurement testing, and the results are published at that site. I noted in my review followups that my own tests had very different results, and other users have made similar observations. There apparently is something in the DT-48's 74 year old design that doesn't lend itself to the kind of machine testing specified by the test equipment design. Not to worry though, the DT-48A with oval earpads sounds as good as the best headphones well beyond its own price range from the upper bass on up, with the only caveat being the lower bass as described above. Bassheads need not apply.
How does it sound?
Now that I've covered the basics of the headphone, it's time to describe how the DT-48A sounds with a variety of music that's available on CD's or as high-quality downloads from Internet music stores. The following are a few examples from my collection:
10000 Maniacs – Peace Train (late 80's); pleasant sound, great details and good soundstage depth.
Andrea True Connection – More More More (late 70's): Classic disco, very smooth.
Bauhaus – Bela Lugosi's Dead (~1980): Strong midrange sound effects – this is a good worst-case test for resonant-type sounds in the most sensitive midrange area. Handled well by the DT-48A.
Beatles – And I Love Her, Things We Said Today, I'll Be Back, I'll Follow The Sun (~1964, in stereo): Amazing sound quality and decent soundstage, with excellent voice and instrument detail. These four tracks are a perfect example of how good high fidelity recordings could be as far back as the 1960's.
Beethoven Symphony 9, Solti/CSO (1972): Excellent overall sound and particularly striking how the DT-48A reproduces the triangles, bells and other background instruments that are often obscured with other headphones that have limited high frequency response.
Bill Evans Trio – Nardis (early 60's): Fairly close-up recording, and despite soft highs, excellent instrumental detail, particularly the upright bass.
Billy Eckstine – Imagination (date??): Sounds like a recent high-quality stereo recording. Excellent from top to bottom and a great vocal demo.
Blood Sweat & Tears – And When I Die, God Bless The Child, Spinning Wheel (late 60's): Excellent sound quality, and fortunately (I think) given the strength of the brass instruments, the highs are slightly soft.
Blues Project – Caress Me Baby (1966): Rarely mentioned, but one of the greatest white blues recordings ever. The loud piercing guitar sound at 0:41 into the track is a good test for distortion or other problems. Handled well here.
Boz Scaggs – Lowdown (1976): Good sound quality – this is a great test for any nasality in the midrange. Handled well by the DT-48A.
Buffalo Springfield – Kind Woman (~1968): A Richie Furay song entirely, rarely mentioned, but one of the best sounding rock ballads ever. This will sound good on most headphones, but it's a special treat with the DT-48A.
Cat Stevens – Morning Has Broken (early 70's): A near-perfect test for overall sound – this track will separate the best sounding headphones from the lesser quality types. Nothing specific, except that almost any deviation from perfect reproduction will stand out with this track.
Catherine Wheel – Black Metallic (~1991): Goth with industrial overtones – I like this since it's a great music composition and the sound effects are smoothly integrated into the mix. This may sound distorted or mushy with some headphones, but the DT-48A renders the deliberate instrumental distortions clearly.
Cocteau Twins – Carolyn's Fingers (1988): Unusual ambient pop with excellent guitar details.
Commodores – Night Shift (~1985): Good spacious sound with very detailed bass guitar lines.
Cranes – Adoration (~1991): Excellent piano sound leading into a goth-flavored song with very unusual vocals.
Creedence Clearwater Revival – The Midnight Special (1969??): Classic CCR featured in Twilight Zone, this track has great guitar sounds and a really good ambience despite a mediocre soundstage.
Dave Brubeck Quartet – Take Five (1959): Paul Desmond piece – good test of saxophone sound and cymbals, less so the other instruments.
Dead Can Dance – Ariadne (1993??): Atmospheric goth music – good ambience in spite of mediocre soundstage.
Def Leppard – Bringin' On The Heartbreak (1981): MTV goth/pop/metal at its best – good ambience and high energy – the better headphones will separate the details and make for a good experience. Lesser quality and the details tend to mush together.
Del Reeves – Girl On The Billboard (early-mid 70's): Classic truck-drivin' country tune with a Thelma & Louise theme, this song's overall recorded quality (almost typical of Nashville in the 70's) is a superb demo if you can get past the peculiar lyrics.
Dick Hyman – Dooji Wooji (1990??): Swing-era composition played with perfect technique by all band members, with excellent recorded sound.
Frank Sinatra – Theme From New York, New York (1980): Ultimate Sinatra with big band production and well-balanced sound.
J.S. Bach – E. Power Biggs Plays Bach in the Thomaskirche (~1970): Recorded on a tracker organ in East Germany, the tracks on this recording have the authentic baroque sound that Bach composed for, albeit the bellows are operated by motor today. The DT-48A plays the tones seamlessly through the upper limits of the organ, which are near the upper limits of hearing.
Jamming With Edward – It Hurts Me Too (1969): Intended originally as a test to fill studio down time and set recording levels etc., this was released a few years later for hardcore Rolling Stones fans. Although not as good technically in every aspect as the Chess studio recordings of 1964, and in spite of the non-serious vocals by Mick Jagger, this rates very high on my list of white blues recordings, and sounds absolutely delicious with the DT-48A.
Jim Ruiz Group – Katerine (1998?): Unusually spacious and ambient indie-pop recording with a samba flavor. Every pop song should sound this good, in my opinion.
Jimmy Smith – Basin Street Blues (early 60's): This track has some loud crescendos of brass and other instruments that don't sound clean and musical on some headphones. The DT-48A provides excellent reproduction.
Kim Carnes – Bette Davis Eyes (Acoustic version, 2006?): Stripped-down ("acoustic") version of the big hit – good voice and very good guitar sounds.
Ladytron – Destroy Everything You Touch (~2009): Featured in The September Issue, this song has heavy overdub and will sound a bit muddy on some headphones.
Merle Haggard – Okie From Muskogee (1969): Another good-quality country recording with almost-acoustic guitar accompaniment. Lovely guitar sounds.
Milt Jackson/Wes Montgomery – Delilah (Take 3) (1962): The vibraphone is heavily dependent on harmonics to sound right, and the DT-48A plays it superbly.
Nylons – The Lion Sleeps Tonight (A Capella version, 1980's): High-energy vocals sans instrumental accompaniment – an excellent test of vocal reproduction.
Pink Floyd/Dark Side of the Moon – Speak To Me (1973): Deep bass impacts will be heard and felt here.
Rolling Stones – Stray Cat Blues (1968): Dirty, gritty blues that very few white artists could match. On some headphones the vocals and guitar lack the edge and fall more-or-less flat. If you're a really good person, playing this song will probably make you feel nervous and uneasy.
Tony Bennett – I Left My Heart In San Francisco (1962): Frank Sinatra's favorite singer. Highest recommendation. With some of the best headphones, the sibilants on this recording are very strong, but they're not too bad with the DT-48A.