This is a review of the Beyerdynamic DT 1770 Pro which is a studio professional closed-back headphone drawing from the legacy of the DT770. It is priced at $599.
Disclaimer: This sample was sent to us in exchange for our honest opinion. Thank you to beyerdynamic for giving us this opportunity.
You can read more about the beyerdynamic product we have previously featured on Headfonics here.
Note, that this review follows our latest scoring guidelines which you can read up on here.
beyerdynamic DT 1770 PRO Review
What I can say though is that, compared to the DT770, the DT 1770 PRO is more refined, more spacious, and more detailed sounding and is a definite upgrade. It is also more efficient than its older 250Ω siblings requiring a little less juice which is a score for the new Tesla tech. It also looks as great and very Beyer as always.
Beyer is one of the standards in this business. They have been around for years and released some crazy good headphones in the T and DT series.
I have never them as having a penchant for the neutral and instead they have been giving us a wide range of colored and interesting presentations for quite some time now most notably in their musical DT range and their flagship Tesla T series headphones.
I have had some challenges over the years with the Tesla sound, the first generation T1 was good but needed careful matching to sound optimal. The more portable closed T5P was just too bright for my tastes.
In all honesty, I actually loved the T70P and I was not the only one. That was a nice treble, treble done very well but most hated it due to the non-existent bass performance. Truth be told you could EQ a good bass response out of the T70P if you needed it. It was one for acquired tastes I suppose with many opting instead for the bargain DT770 32Ω LE in 2013.
What Is The Pitch?
Tesla 2nd Generation
This year Beyerdynamic has been going to work on their second-gen Tesla series headphones (T1 v2, T5p V2) with the latest Tesla technology and thankfully some of that higher-end tech has found its way into the new DT releases, namely the closed-back dynamic DT 1770 Pro which retails for a very mid-fi price of $599.
This is essentially a revision of the older DT770 Pro model which has been a very popular model renowned for its fun bass performance. A perennial bass head favorite, if you could call it that yet, they are still classed as a Pro or studio headphone and came in a variety of ohms from 32 up to 600 ohms.
Consolidation
This new DT 1770 Pro is being pitched as a slightly more mature version of the DT770 for studio pros and is still classed as a monitoring headphone. At the time of writing though you will not get multiple varieties of the DT 1770, simply one at 250Ω, (think DT770 250Ω edition).
The ohm rating pretty much means it is not meant to be a twist on the portability of the T5P or DT770 32 ohm cans, this may need something decent to get it to optimal levels.
Efficiency
At the same time, the new Tesla technology is a lot more efficient than beyerdynamic older driver tech so heavy juice might not be as mandatory as it used to be.
I am also presuming (ahead of testing) that it will be tuned for specific monitoring purposes (EDM) and as such neutral heads may find it colored in specific areas to do that job accurately rather than a general-purpose reference sound. It reminds me of how Philips wanted the A5 Pro to be used when it came out.
Design
This is a Pro range headphone built for studio use and as such the DT 1770 PRO is built like the proverbial tank. Rather than take the bendy Mr. Fantastic approach of AiAiAi, Beyer has opted to stay with the traditional utilitarian lines of the DT series.
That's an all-black circumaural round cup design with a strong metal headband and arching gimbal with allows a degree of swivel on the cups and a single entry 3-pin mini-XLR cable connection system.
There is a lot of aluminum in these cans compared to the older DT770s though the cups are made of plastic. They do feel more solid and heavier than their cheaper sibling with a more refined finish.
Like most of the full-size DT cans, the ohm rating and the name of the headphone are clean decals sitting dead center on the cups as well as the origin of manufacture, "Made in Germany". No messing around with outsourcing like AKG.
Headband
Similar to the older DT770, the single headband structure is cushioned with a pleather wrap though in the case of the DT 1770 PRO it is stitched in and feels more integrated than the buttoned on pleather wrap of the DT770.
I am told that the headband leather cover is self-serviceable should you wish to change it by taking out the screws on the top of the gimbal to release it. Audio signal wires are visible and descend from the headband strap into the top of the cups. This is pretty much been a feature of all DT cans since time began.
Comfort & Seal
Pads
The DT1779 Pro comes with a choice of two user-replaceable pads; velour and leather. Both will have an impact on isolation and tonal presentation with the velour offering sound isolation of 18dB suppression and the leather upping it to a healthy 21dB suppression.
The velour pads should give an airier presentation with a shade of the low end and a little more space on the top end and the leather pads will darken the sound a bit more with a bit more body in the low end and a little more attenuation on the top end.
Black Panther
The velour pads are slightly different from the older DT series pads with Beyer calling them the "Black Panther" range.
These new pads have been designed specifically to combat and control sweat in a superior manner to the older pads and to prevent them from flaking and falling apart over time. The leather pads themselves are made of the same pleather materials as the new stitched headband leather.
Whilst they do feel heavier in the hand than the older DT770 they actually feel better balanced when on your head. Clamping with either the velour or leather is excellent, veering to the slightly strong side with minimal up or down movement during use.
With the velour pads, the DT 1770 PRO fitting does position the driver wall slightly further away from your ear than the pleather combination so it is a shade comfier for me.
Cables
The DT 1770 PRO is a detachable 3 pin mini-XLR headphone and supplied with two cables; one a straight 3m cable terminated with a 3.5mm gold plated straight stereo jack and the other a shorter coiled cable terminated with the same 3.5mm gold plated stereo jack.
Both have threads to allow for a quarter jack conversion and the DT 1770 PRO does come with one threaded quarter jack converter which you can switch and use on either cable depending on your needs.
Good or Bad?
Depending on your viewpoint the supplied cables are either perfect for the job or cumbersome at best, there is no in-between here. Both the long and coiled suit studio desk work given its length to move around freely with the cans strapped on your head or the durability to brush up mix desks and take a bit of rough and tumble on mobile turntable setups.
On the other hand, as a headphone for audiophiles, the cables are heavy, too long, catch in arm hair (if you have any), and are not great for simple enthusiast desktops. I get that but I also get why Beyer put those cables in there. It is not for you buddy, sorry! However, the good news is you can grab some replacement short light cables on Amazon for as little as $15 so it is not a deal-breaker.
The one area that might frustrate is for those looking to go balanced. These are 3 pin mini-XLR and not 4 pins. That means balanced is not such a simple DIY cable job though you can buy aftermarket. It also means if you have a few Audeze lying around their cables will not fit unless you do some extensive rewiring also.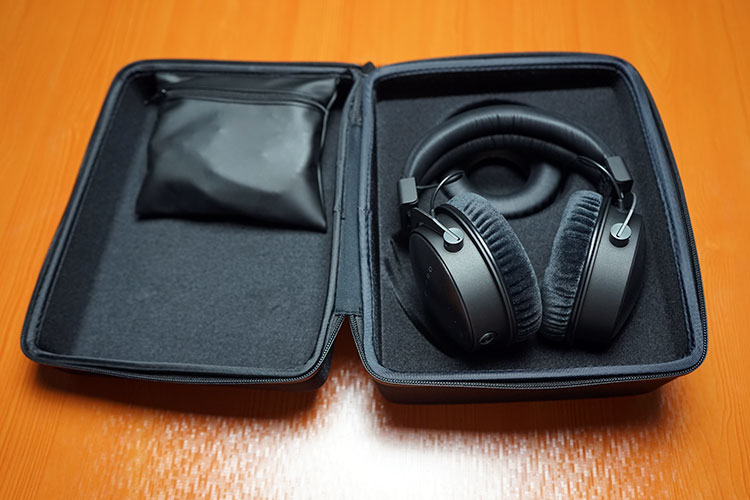 Accessories & Packaging
Inside the retail box, Beyer has updated their leather soft carry case to a firmer larger nylon cloth-covered case.
It's still fairly large and sadly it has lost its little carry strap at the top but in return, the inside looks more premium with a dedicated cable pouch on the lid side and a dedicated ear pad contoured cutaway between the marked area for setting in the headphones.
It is stylish if a little less portable than the older leather cases. Mind you the last DT770 32 ohm LE didn't even have a case so I can't complain in that respect.
Click on page 2 below for Sound Impressions & comparisons