The Audio-Technica ATH-ES7 is a closed-back dynamic driver circumaural headphone using a 42mm dynamic driver. It is priced at $169.95.
Disclaimer: The Audio-Technica ATH-ES7 sent to us is a sample in exchange for our honest opinion. We thank the team at Audio Technica Philippines for giving us this opportunity.
To read more about ATH products we reviewed on Headfonics click here.
Note, this review follows our new scoring guidelines for 2020 which you can read up on here.
For the longest time, I had been searching for a good-looking performance headphone to serve me while waiting to board at local airports filled with the usual nonstop hustle and bustle.
Honestly, the amount of noise can become unbearable during a busy afternoon if you're not lucky enough to book one at night. I've had my fair share of earphones that poke into your ear to completely isolate you from outside noise, but sadly I cannot bear the invasive nature of the design.
What actually brought me to get my hands on these shiny beauties? To be simply honest, it was the looks, and the feeling it evokes once you lay your eyes on it. Much like how a lady in a black dress that catches you off-guard while you sip that glass of Cabernet Sauvignon, or the same way a bluesman commands attention once he takes the stage.
But does it have what it takes to back up its looks?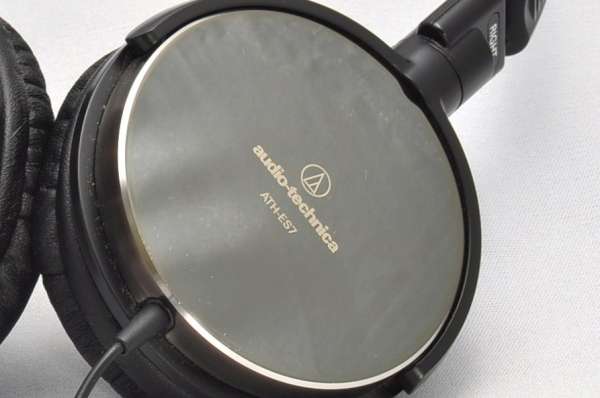 History
The Audio-Technica ATH-ES7 was released in 2006 as part of AT Japan's "Earsuit" series of headphones that focused on aesthetic elegance and performance while remaining portable.
Together with the ATH-ES7, AT Japan also released the ESW9A that uses African Paduak wood for the headphone housing, and the limited edition ESW10Jpn that uses no less than authentic Japanese black cherry wood and has a lacquer finish. Recent additions to the Earsuit line are the ATH-ES55, EC707, and ES10.
Design
The first thing that catches anyone's eye when looking at the ATH-ES7 is the mirror-finish of the aluminum cups. This is probably the strongest factor the ATH-ES7 has going for itself in the looks department.
They're not perfectly flat, but good enough to double as a vanity mirror in the off-chance that one needs it. It will reflect anything: faces, lamps, and flashes. You are almost assured of occasional stares if you take this headphone out in public. As with all mirrors, though, be wary of leaving one too many oily marks with your fingers when handling these.
The headphone pads are of faux-leather with less than half an inch of cushioning. This keeps the overall folded thickness of the ATH-ES7 at just over one inch-perfect for packing in a laptop/traveler's bag.
The headband is made of supple rubber that assures you it will not slide around. For most listeners, the headband may need to be adjusted because of the strong clamping force. Apart from these things and the metal rods when stretching out the headphone, much of everything else is made of black plastic.
Cable length is a comfortable 1.2 meters, flexible and sheathed in rubber. A gray, suede-finish protective pouch comes with the headphones. The ATH-ES7 also comes in an all-white variant.
Sound Impressions
Summary
Being a closed type of headphone with pads that are supra-aural that lie over the ear (as opposed to circum-aural that go around the ear), the ATH-ES7 does a respectable job isolating outside noise without any need for additional cancellation circuitry.
These are meant to be driven out of a portable source. 32 ohms isn't very demanding at all, but at the same time not too low to be extremely sensitive. The ATH-ES7 packs 32mm neodymium drivers behind those shiny cups; yes, it can be considered a wolf in sheep's clothing. This doesn't mean that it won't improve with a respectable desktop setup, though.
Listening impressions are out of my portables (iPod Classic 160GB 6th Generation, FiiO L1 line out dock, AMB Labs Mini³ Portable Headphone Amplifier) or my desktop setup (Acer Aspire 4920G, optical out to iBasso D12 digital-analog converter, Millett Hybrid MiniMAX Headphone Amplifier).
Bass
The Audio-Technica ATH-ES7 is a generally warm-sounding headphone, able to reach floor notes without rattling. Low frequencies are full and satisfying, with a long decay. Very surprising given the extremely slim profile of the ATH-ES7.
The drivers can shake strong enough to be felt from the outside. Needless to say, this is very good news for bass lovers who want a literal head massage. Some will find the bass overpowering at times.
Mids
The ATH-ES7 midrange performance, an important factor for most audiophiles, is impressive for this class of headphones. The vocals and guitar presentation are forward and upfront, but not as realistic as I would have wanted.
There is a slight veil which is most probably a recession somewhere between the middle frequencies. The detail in this area however remains at a respectable level that even the slightest nuances like piano pedals and slight breathing stay audible.
Highs
Upper and top-end frequencies are non-fatiguing at best, but for those who are used to a continuous barrage of satisfying sparks from a cymbal crash will be somewhat disappointed. This apparent shortcoming, however, translates into comfortable extended listening sessions, useful for when your flight gets delayed or if you just want to listen through a long train ride.
Staging
Frequency response aside, the overall headstage presentation of the ATH-ES7 is moderately wide, keeping the vocals forward while maintaining a constantly warm atmosphere all throughout. Instrument separation is notable especially on well-recorded tracks that I can easily point out musicians' positions with my eyes closed.
There is a slight improvement in the ATH-ES7 when listening out of a decently-powered desktop amplifier. Midrange performance improves about threefold, bass is more controlled, and high frequencies receive more extension. Again, due to the isolation factor and low impedance, I still believe these headphones perform at their best when on the go.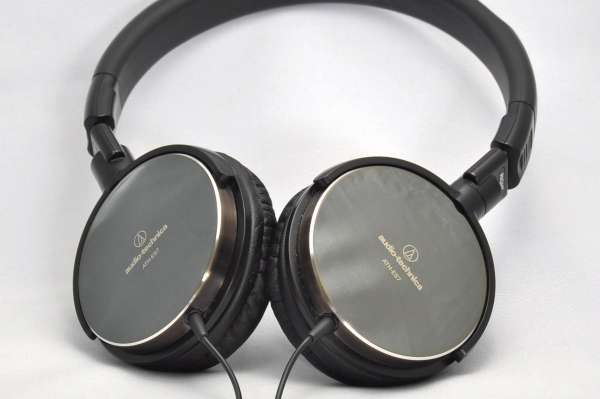 Our Verdict
Shining in more ways than one, the Audio-Technica ATH-ES7 easily commands attention from the crowd while being absolutely no slouch in delivering solid performance in the form of a full, warm, and forward sound signature coupled with a detailed and non-fatiguing presentation.
I won't be surprised to see the ES7 on fashionable on-the-go individuals who know what quality sound is.
Audio-Technica ATH-ES7 Specifications
Type: Closed-back dynamic
Driver diameter: 42 mm
Magnet: Neodymium
Frequency response: 5-30,000hz
Maximum input power: 1,000mW
Sensitivity: 100db/mW
Impedance 32 ohms
Weight: 160g
Cable: 1.2 m
Connector: 3.5mm gold-plated stereo plug
Accessories: Protective pouch, 6.3mm stereo adapter