Apps and Performance
Overview
So far, what I've shown you are the characteristics of the ASUS Transformer, and the bone-stock Honeycomb OS in general. But of course, the overall value of the device will be dictated by its real-world performance and the availability of topnotch apps.
In truth, there are a lot of apps that showcase the prowess of Android tablets today – and many more will come as their popularity grows. Multitudes of applications, both exclusive and multiplatform, have already made into the Market and received critical acclaim.
And of course, the Transformer executes most of these smoothly and effortlessly; however, some of them are admittedly not yet ready for the Honeycomb ecosystem. Without further ado, here is a collection of top apps – categorized according to usage and interest.
Music
Besides the incredibly seamless Google Music official app, there are tons of 3rd-party music apps out there that attempt to differentiate from one another. There's DoubleTwist that allows over-the-air syncing of media from a client to a receiving Android device, while PowerAMP boasts topnotch sound quality as well as a robust equalizer system.
UberMusic has the unparalleled smoothness and minimalism with its Zune-like UI, and Winamp is a favorite among users of the desktop version and syncs well with internet radio broadcasts.
These apps mostly work on tablets, showing correct music ID and album art, others even effortlessly find music throughout the filesystem. However, some have not yet optimized their UI to take advantage of the larger screen – Winamp's Now Playing screen for example has an unusually large progress bar on landscape mode.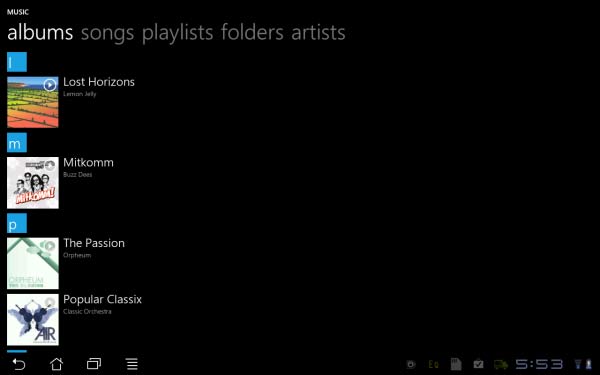 Internet Radio
In terms of dedicated internet radio, Pandora, Winamp's SHOUTcast and other similar apps are available – these streaming music and podcasts from a favorites list tied to an account.
Syncing is smooth and hassle-free, as long as a decent data connection is available. Other radio apps successfully use one's location to find and broadcast local radio broadcasts, while some exceptional ones (like my favorite TuneIn Radio) connect to all available radio stations everywhere – yes, even Philippine's very own.
Still, others found on the Market are mostly individual apps for a specific radio station, which are cool if one's into a particular station but they're simply not universal enough for my tastes.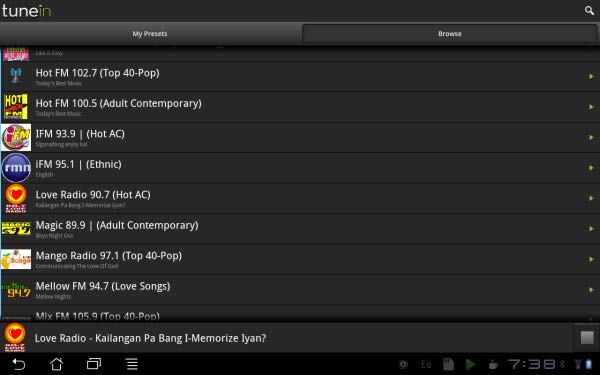 Video
The default video app incorporated in the Gallery is pretty much enough for most codecs, like MKV, MP4, and WMV files. However, there are others available which employ a much more functional UI than the barebones default one.
RockPlayer has been the favorite for decoding even more codecs and containers, while MoboPlayer does a fine job displaying videos in a Coverflow-like presentation and could choose between subtitles and audio tracks embedded within.
Others such as VLC Direct and VPlayer stream videos to and from a client PC; a word of caution though, these services are data-heavy and could even slow down a Tegra 2 device while re-encoding videos to a playable format.
These apps definitely improve the tablet's status as a full-on multimedia machine, able to playback movies and shows in outstanding quality and both from local and internet sources.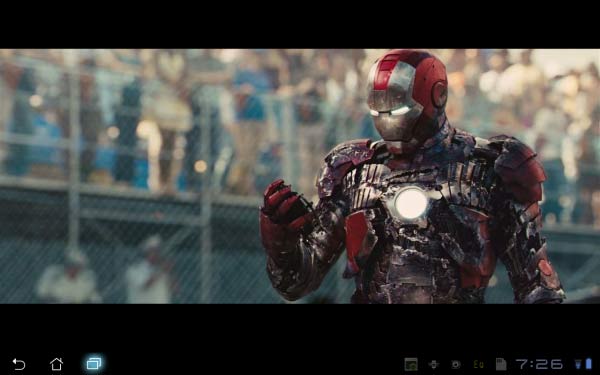 News Aggregators
If there is one category of apps that could really showcase what Honeycomb is capable of, it's got to be the plethora of news aggregators available for Android. Most of the top apps for the platform belong to this group, and I could see why they are lauded by thousands of users.
The variety and quality of such apps are astounding; there's Pulse that brilliantly makes use of screen estate to list news in interactive thumbnails, and there's Feedly which displays RSS articles in a minimalistic journal format.
Tablet-optimized versions like The Daily Habit and CNN make excellent layouts for viewing articles and videos. News360 probably has the best implementation of Honeycomb so far; it uses its famed 360 format to smoothly display news in the form of free-flowing layers of pictures, and its article viewer makes use of different panels and tabs for reading topics across numerous sources.
Reading more will take one to an in-house web browser that displays the full webpage of the selected article.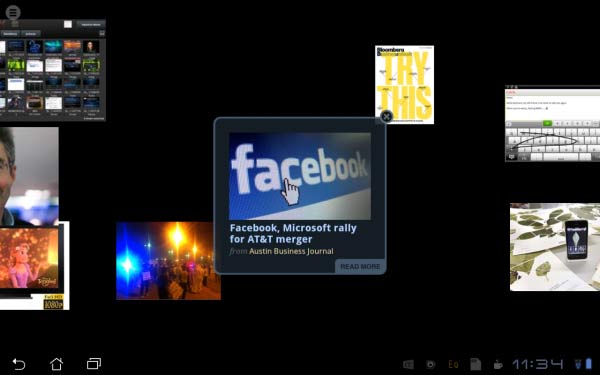 While these apps are developed by some top-dog media partners, there are also great ones created by individuals or small teams of indie developers.
JustReader for example is a powerful RSS reader that could synchronize one's Google Reader preferences as well as save articles and podcasts for offline use; this is done by a Russian developer and is constantly praised for his quick responses and timely updates.
Minimal Reader Pro is done by an XDA-Developers member, who had released the widget to the forums while it was in Beta, and was further improved as it was finally published in the Market.
This shows how Google's open-source approach to developing and publishing apps shines through; even lone devs can create astounding work for the community – and most of them do not charge at all for their products.
Gaming
In terms of mobile gaming, Android now hosts a good number of time-killers for one to enjoy. Platformers, first-person shooters, tower defense games, classic arcade titles – even console ROMs – are available for Google's operating system. Combined with the power of Nvidia Tegra 2, the ASUS Transformer performs admirably in some of these topnotch games.
For 2D games, top picks include Robotek HD (and most of Hexage's games) for its vibrant colors and unified cartoony look, Angry Birds, and its derivatives for over-the-top physics fun, and Plants vs. Zombies for the unique defense gameplay.
Also available are some Flash-based games courtesy of Kongregate, Age of Zombies, Slice It!, Burn the Rope, NinJump, and the awesomely weird Robot Unicorn Attack. You know you want it.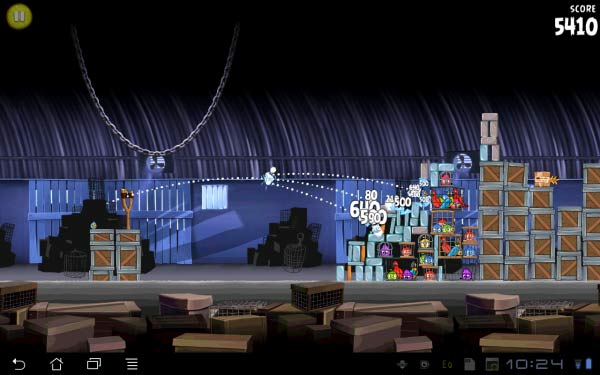 3D Gaming
Of course, the 3D games easily steal the show. A prime example would be Galaxy on Fire 2 THD – a graphical powerhouse that makes full use of the Tegra 2 GPU, with open-world space gameplay that evokes the feel and scale of EVE Online and Homeworld.
Gun Bros and Guerilla Bob are action-packed top-down shooters that boast a rank-up promotion system and unique art styles, while Dungeon Defenders is a free Tegra 2-optimized RPG with extensive gameplay elements such as the casting of spells, using items and more.
Gameloft's impressive lineup of games such as N.O.V.A. HD and Modern Combat is also making its way in Android, which is an incredible step for the OS in terms of the game library. Others of note include Need for Speed: Shift and Asphalt 6 for racers, and Fruit Ninja HD with improved graphics for dual-core devices.
Unfortunately though, comparing the game library of Android to iOS would inevitably result in Android losing to the sheer quantity and quality of games present in Apple's platform. However, I expect more and more developers – both indie and AAA companies – will see Android as a viable platform for game development as time goes by.
The recent influx of dual-core powered phones and tablets should see to it that hardware requirements are no longer an issue, and the growing popularity of Google's operating system will make it very enticing for devs to expand their market.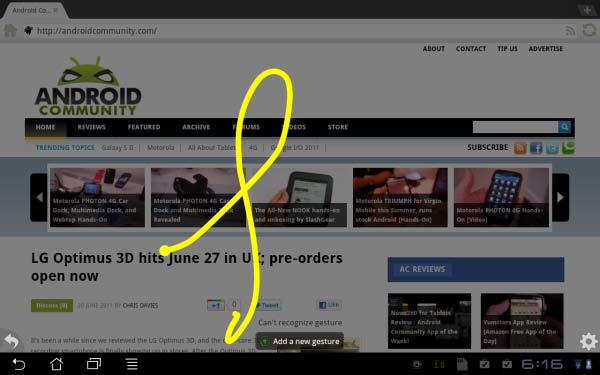 Web and Leisure
Aside from the pre-loaded Google official browser, Honeycomb also supports a healthy number of other web-centric apps you can get your hands on.
Alternative browsers such as Dolphin HD and Opera Mobile 11 have their own unique twist to internet browsing; the former uses extensive plugins and gestures for navigation, while the latter has far better Javascript optimization and the famous Speed Dial homepage.
Some apps like Read It Later will help in saving one precious data by saving webpages for offline viewing; others provide specific web content like the official apps for Engadget, CNET, and more. And while the official social networking apps can run on tablets, their layout is focused more on phones, so 3rd-party programs come into play.
Apps such as FriendMe make use of Honeycomb's fragments and panels, while TweetComb is a Twitter client engineered specifically for the larger resolution with an improved format.
Reading Apps
For reading applications, there's Amazon Kindle, Kobo eBooks, and Barnes & Noble Nook for those who want better features for e-reading. These apps sync seamlessly with Amazon's, Kobo's, and B&N's own e-book stores. Offline viewing is also possible on Android, with support for epub, oeb, fb2, etc. formats through FBReader, Moon+ Reader, and more.
Most of these apps support features like night mode, bookmarking, and even text-to-speech functionality. For webzine applications, Android has quite a handful; these can be either subscription-based or freely synchronized across various sources.
The ASUS Transformer has some built-in like Zinio that offers magazines available within its service, and PressReader which brings in full newspaper issues from multiple countries such as L.A. Times, Philippine Daily Inquirer, Bangkok Post, and more. Others, such as Comics and Mango, cater more niche audiences – specifically Western comic and Japanese manga readers.
Cool Category Apps
Of course, there other apps that I could list to be in the "cool" category because frankly, they are quite awesome (and no, not fart apps) to own.
Great apps to get include are ScoreMobile and Adidas miCoach for sports buffs, while ChordBot and Cleartune are obvious choices for musicians with their robust tweaking and tuning system. Augmented-reality apps such as Google Goggles and Layar utilize GPS and onboard camera for users to explore more of the world with layers like weather, store locations, pricing info.
Want something from the net and get it to local storage? Android has you covered; jetVD (remember JetAudio?) allows downloading of Youtube videos up to HD 720p resolution, and tTorrent is a client that turns an Android device to a torrent machine.
Anyone who wishes to use anything other than the stock keyboard can download alternatives like Swype, Thumb Keyboard (great for tablets), Perfect Keyboard, SwiftKey, and more.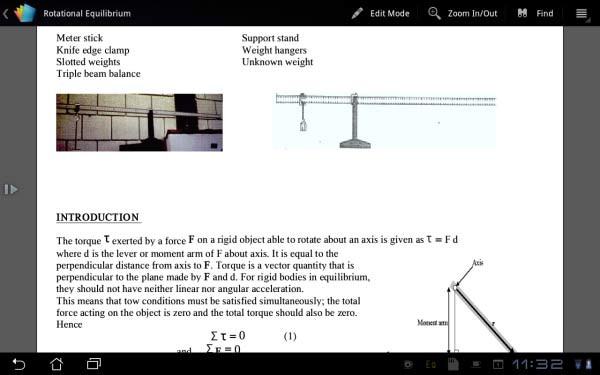 Productivity
The ASUS Transformer is not only great for media consumption, but also for more work-related applications. For avid note-takers, Catch Notes and Evernote provides quick and easy publishing of notes and support tagging of images, video, and audio recordings.
There are four major Office alternatives for those who want editing Word/Powerpoint/Excel data – QuickOffice, Polaris (included with the tablet), Office Suite, and DocumentsToGo. These provide full access and control over most content, but these are still mobile apps so not all may be correctly formatted like some charts and formulas.
However, these still excel in basic/medium-usage editing of documents. When I tested Polaris out on my school documents, all seem to work properly and given enough time, I could be used to editing them within the tablet and using the soft keyboard.
Niche
Other productivity apps fulfill some specific or niche category of work or study. Some mathematics tools include RealCalc Scientific Calculator, RpnCalc Financial and ElectroDroid for electronics applications.
Google Body is a must-have for people studying anatomy and physiology, while Google Earth is a choice for exploring more on the world at large. Autodesk's SketchBook Mobile is a prime example of a tablet-optimized drawing and artwork app.
For more corporate and web usage, there's Citrix Receiver, 2X RDP/Remote Desktop, Splashtop HD, among others. Dropbox is still a favorite among users who want to sync data and media in the cloud, while Lookout Mobile Security is an all-in-one tool for malware protection, securing data in the tablet as well as finding the device in question through GPS signaling.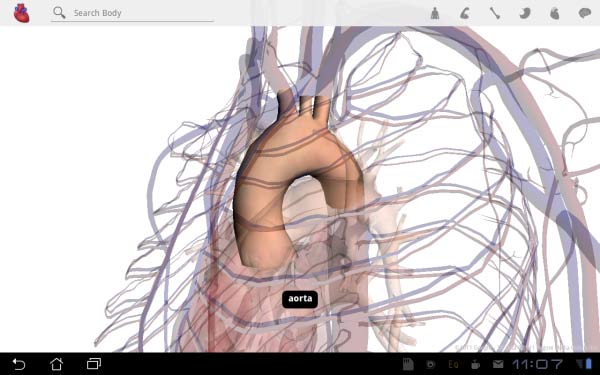 Our Transformer Verdict
There are a lot of things I love about the ASUS Transformer. It has a sleek design, with powerful hardware running a very flexible platform – all at the right price. ASUS is definitely serious in penetrating the young tablet market by introducing many hardware features at an absurdly low price point, making the device highly attractive to would-be consumers.
Likewise, Google has come a long way since Android 1.5 Cupcake, and its latest iteration in 3.1 Honeycomb speaks volumes about the ad giant's competence in this highly-competitive mobile space. The UI is tastefully modern, performance is smooth and snappy, its customizability unmatched by any other tablet OS.
Its app library, though minuscule in number compared to Apple's thousands of iPad-specific apps, shows promise with the staggering growth the Android Market is experiencing by the month.
Consumption
Media consumption is a treat with the Transformer. Connectivity options are great, with WiFi connections stable and far-reaching and the mini-HDMI port perfect for HDTV viewing of any content within the tablet.
Nvidia certainly delivered with its powerful yet battery-sipping Tegra 2 SoC, heralding the massive potential of mobile devices powered by multicore processors; with it, the Honeycomb experience is absolutely fantastic for the most part.
Exploring the Web on any browser is largely desktop-like in terms of navigation and performance, coupled with a surprisingly smooth Flash content playback.
Movies are beautifully rendered in HD 720p and made even more enjoyable with the Transformer's gorgeous IPS display, while music playback is a sleeper hit with the integrated Wolfson WM8903 DAC delivering quality sound.
And most of all, games – especially those optimized for Tegra 2 – are rendered in sheer detail and offer a variety of enjoyment across different genres and playstyles.
Shortcomings
However, I must admit that there are still shortcomings in the Transformer. First of all, not all 720p videos play smoothly even with Tegra 2 – high-profile MP4 and MKV videos stutter and lag at the most demanding scenes, particularly due to the audio decoding (found this out at XDA) choking the CPU's pipeline.
Browsers seem to have trouble optimizing Javascript, so posting in forums is riddled with some keyboard lag making for some frustrating mistakes and typos. Opera Mobile 11 does eliminate this with its own optimizations, but people would have to sacrifice embedded Flash content.
Finally, though Honeycomb is much more intuitive and smoother than other Android versions, it still has some instability – at times when 15-20 apps are actively run in the background, the Transformer seems to bog down by quite a bit and could crash and reboot in some extreme cases.
Open Platform
But despite all those problems, I still won't trade my Transformer for any other tablet. The great thing about Android (and I would love to point this out countless times) is its unparalleled platform openness.
There are simply so much to tinker with any Android device, and the Transformer is no exception. So what if there are limitations in stock Honeycomb? We could root it and install a better, much more optimized ROM for it. And why settle for 1 GHz when you can go faster? Get an overclocking kernel and ramp it up to 1.6 GHz.
Currently, developers over at XDA are working hard to resolve issues in video playback (as it is a Tegra-specific limitation) as well as making the entire OS run smoother and more stable than ever.
And just now, ASUS released its kernel source – the thing that's keeping us from developing even better mods; essentially, it allows developers to edit out the kernel which is responsible for managing resources in an OS. So, we could expect great changes to the device from now on.
Nail On The Head
It seems ASUS has hit the nail on this one, as the Eee Pad Transformer has been a commercial success for non-iPad tablets. With its excellent performance combined with a really attractive starting price, the Transformer continues to sell amidst the saturated tablet market – besting even the likes of the flagship Motorola Xoom and still holds its own against the newer Samsung Galaxy Tab 10.1.
And though the tablet in itself still faces some problems, it does present us with a host of excellent features that outweigh such issues. Also, the undeniable potential posed by Google's open-source OS continues to shine as more people pour efforts in making this device run even better than before.
This is a solid offering as long as you can handle some quirks, and even better if you have a knack for customization. Overall, a sexy piece of kit.
Beastly
– Excellent hardware design and sleekness
– Vibrant IPS display with 178-degree viewing angle
– Intuitiveness and responsiveness of Honeycomb 3.1
– Powerful Tegra 2 SoC providing great performance
– Increasing app selection and top-quality Google Apps
– Various connectivity options and supported file formats
– Android system allows customization and open development
Measly
– Honeycomb still has some stability issues to work out
– App library is still mediocre compared to Apple's App Store
– Limitations in Tegra 2 hampering HD video playback
– Input lag in some web browsers