One of my favorite brands in the DJ headphone industry – Aiaiai have been busy with new product development and have just announced the launch this year of a new headphone, the Capital. The Capital looks to tie the gap between the Tracks and the TMA-1 and is scheduled for release in March 2012.
This is what Aiaiai have to say about their latest big release when I reached out to them this week.
Capital is the new extremely durable, foldable and flexible headphone from AIAIAI, that seeks to provide the on-the-go urbanite with the opportunity to listen to his or her preferred sounds in any kinds of weather at all times – while wearing a design that's effortlessly iconic, thoroughly realised, and comfortable.

It's a project that speaks to the inhabitants of the world's major cities as it gives them a safeguard, of sorts; a kind of meticulously crafted, last line of resistance against the myriad of overpowering sights, sounds and rapidly changing environments of the city.
Highlights
• Reinforced fiberglass housing for increased durability
• Lightweight rubber brace for listening comfort and secure fit
• Inline 3-button microphone for play/pause/scrolling and answering calls
• Weather proof – Rain & Snow resistant IEC529 Standard – IP-4
• Material Housing/Sliderarms : PA 6 fiberglass reinforced polyamide – EDM finish
• Material Cushions: strechable EVA foam
Technical specs
• Driver Unit Size 40 mm
• Plug Angled Stereo Plug 3.5 mm
• Speaker Impedance 32 Ohm
• Speaker Sensitivity 112 +/- 3dB
• Maximum Power Input 40 mW
• Frequency Response TBD
• Microphone Sensitivity -42 +/- 3dB
• Microphone Directivity Omni-directional
• Designed in Denmark by KiBiSi
• Assembled in China for AIAIAI
Capital was born out of a wish to create a pair of headphones that speaks to the inhabitants of the world's major cities. People who want great sound that isn't compromised by rain, snow or hail, who appreciate distinctive design and need flexible headphones that can take a beating.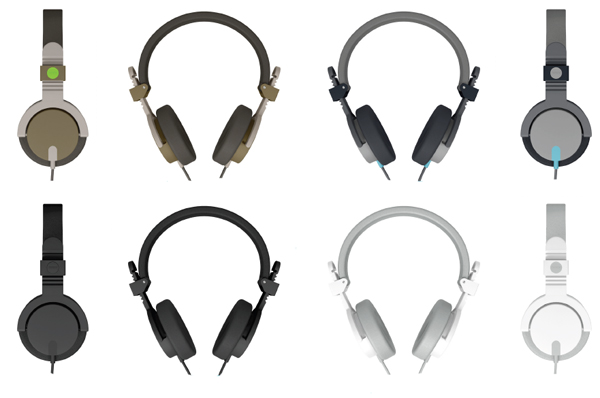 The new color schemes look interesting also with (their terms) Midnight Black, Desert Green, Concrete Grey and the Alpine White. I always felt the tma-1 could do with the lower end Aiaiai color treatment so this might be a nice stop gap until the Fool's Gold Edition of the TMA-1 which is out later this year as well.
As a fan of the TMA-1 its exciting times again and yours truly will be reviewing these when they come onto the market so stay tuned for that one.