The Acoustune HS1551 CU is a Japanese manufactured single dynamic driver with a universal form factor monitor priced at $450.
Disclaimer: The Acoustune HS1551 CU was sent to us a sample in exchange for our honest opinion and does not have to be returned.
Acoustune is not a site advertiser or affiliated with Headfonics. We thank the distributor, Soundwave Audio Visual Store, and Acoustune for this opportunity.
Note, this review follows our new scoring guidelines for 2020 which you can read up on here.
Acoustune hail from Japan and has been operating now for about 5 years according to the website. This is the first time I have reviewed their products though by all accounts they seem to have been well received to date.
Their product line is exclusively IEM and 100% focused on dynamic drivers. The calling card is a medical-grade mix of materials called 'Myrinx' which they use to coat their dynamic drivers and give it their unique tone and presentation.
The HS1551 CU is one of two variants from their HS1551 line-up. The other being an aluminum chamber construction or AL. The CU in this one denotes a brass chamber instead of aluminum. Both retail at around $450 with some regional variations.
What Is The Pitch?
Myrinx Driver Design
Myrinx is a new term to me and is stated as a blend of synthetic materials distinct from the likes of beryllium and PEEK style materials. Reading Acoustune's site though it has much the same goal to improve the performance of the HS1551 CU 100 single DD over regular dynamic driver designs.
This is being pitched as a long-term durable material that is designed to enhance traditional dynamic driver diaphragms by upping the level of potential resolution, especially in its higher frequency response. In doing so they believe this will greatly enhance the staging ability of the HS551 CU beyond a normal dynamic driver.
For those with a medical background, you should be familiar with the term myrinx as it is another name for your ear's tympanic membrane. This is a thin tense membrane separating your external ear from your middle ear.
Brass Chambers
The myrinx diagram is designed in conjunction with Acoustune's unique chamber housing. Acoustune is pitching this as the Acoustune Integrated Acoustic Management System.
This is described as a multi-chamber configuration in combination with their Myrinx driver design. In the case of the CU, it is a brass chamber whereas the AL is an aluminum chamber and both should have slight variations in sound as a result.
Price Point
This is the pushing north of mid-fi but still relatively affordable compared to a lot of good dynamic driver IEMs out there. At $450 this dynamic driver IEM is is going head to head with the likes of the older IE800 and slightly cheaper than the Campfire Audio Lyra. Those considering the Flares Audio Flares Pro and the IMR Acoustics R1 might want to take a second look at the HS1551 CU also.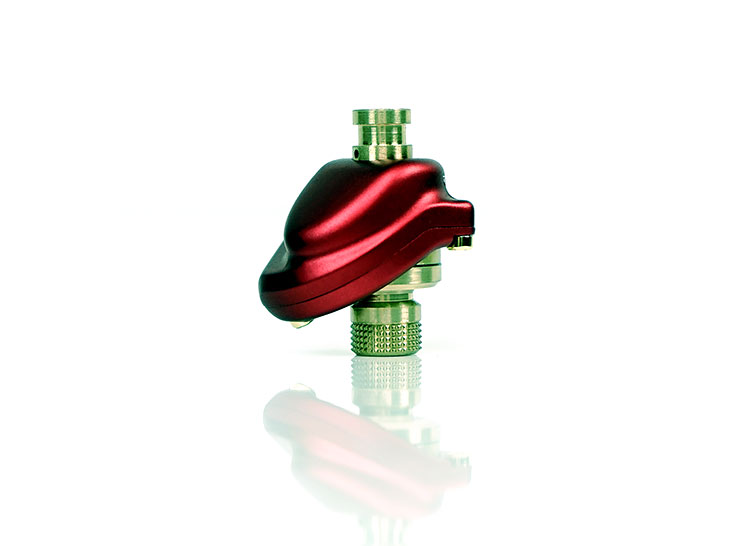 Build
Form Factor
One of the most unusual IEM's you are likely to see. It does not conform to any traditional form factor such as RHA/Westone or Noble/Campfire Audio. It also makes the IE800 look positively prim and proper. I would say it is a design that will have you twiddling it in your fingers for a while because from each angle it looks like a totally different IEM.
From the side, it has what seems to be a Frankenstein-like long gold plated bolt running through the middle which Acoustune calls a damper rod (resonance elimination). From the top, it looks rather like Admiral Ackbar or some sort of wild red mushroom. It almost looks like a missing component from the chassis of a kit car. I need less coffee I think.
Materials
The HS1551 CU is a very robust IEM. That I can assure you and somewhat weighty also. The HS1551 CU is machined from CNC aluminum on the outside and houses the brass chamber on the inside. Depending on the thickness used, brass can be a heavy material to work with. This IEM does feel well over 30g and perhaps one of the heaviest IEMs I have handled to date.
The main body is comprised of two shells pinned together tightly with 3 small hex screws facing outwards. Running over the side of the housing towards the top is an arched tube housing brass plated MMCX connectors. Both the damping rod, screws, and MMCX connectors all neatly coordinate with the same gold finish.
The contouring is aggressive rather than submissive and personally, I think it looks much better in the red than the blue alternative finish. Red is an aggressive styling color and this is an aggressive-looking piece of kit.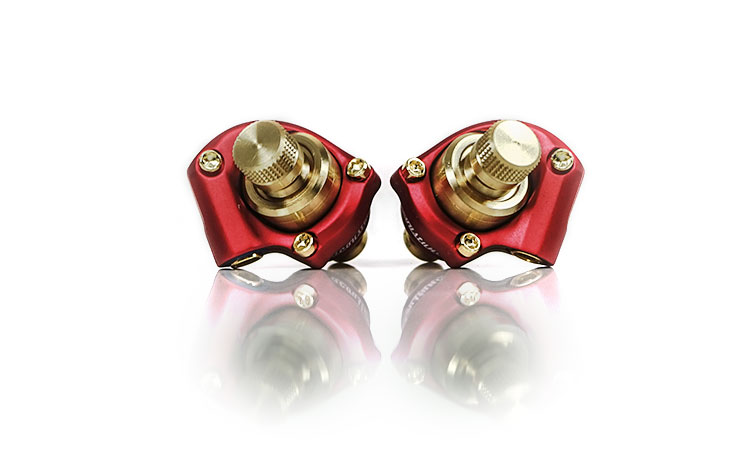 Cable
The HS1551 CU has an attractive looking cable if I may say so myself. This is a multi-braided 4-core 1.2m OFC cable with a PET jacket that gives off a subtle shine under light. It is relatively stiff and quite heavy for 4-core but the pay off is that it is almost microphonic and memory retention free. That is the sign of a very good cable design indeed.
The HS1551 CU is designed to be worn with the cable over the ear but you will not find any memory hook on the MMCX connector side. You would think that might be an issue but somehow it isn't. Perhaps its the weight combined with the tension from the MMCX socket around the ear but mine stayed right where it should be and did not move at all. Your mileage may vary compared to mine though.
Strain relief is excellent both on the connector side and on the 3.5mm TRRS jack side. Both the Y-split and right-angle jack barrel seem to be made of a similar strengthened rubbery finish and look fairly durable.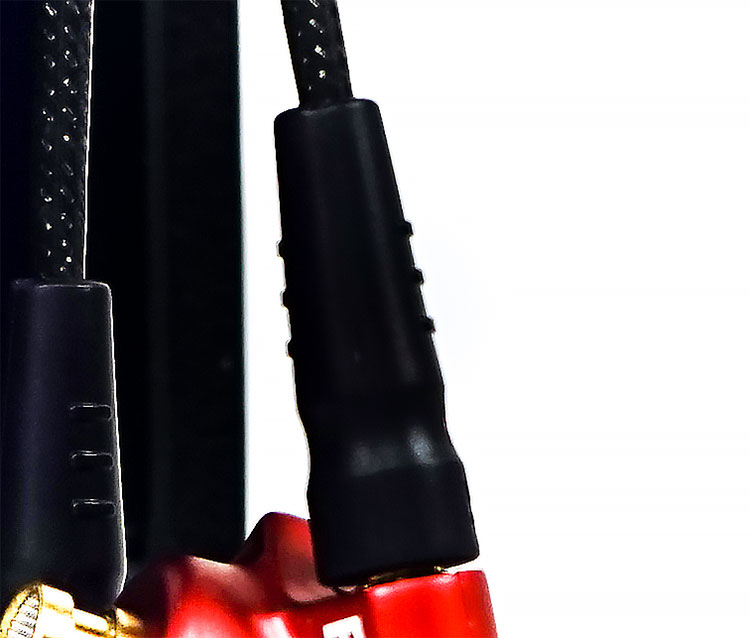 Comfort & Seal
Although the body is angular and extends reasonably well the nozzle is still what I would describe as relatively short with much of the comfort and seal in the hands of the particular tip you would use.
The substantial weight of both the housing and the cable has some pros and cons also. You will feel the HS1551 CU in your ear, it is not a lightweight design. The cable's own weight though will add some level of stability so long as it runs smoothly around your ear.
The seal is just ok, not amazing as there were some minor areas of the contoured design and the shallow nozzle depth that did not quite sit right in my ear. Background noises such as air cons had good high-frequency attenuation I still heard a fair degree of low-end rumble. Once the music starts rolling background noise does get nicely blocked out.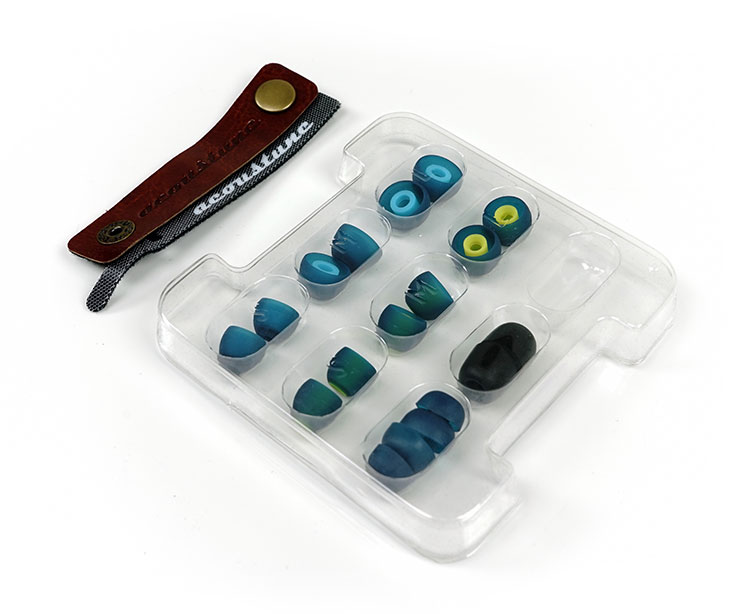 Tips
The foam tips seem to hold it place the best and provide the ideal level of comfort. The dual flange tips do a relatively similar job to the foams and feel a little lighter also so they would be my second choice. The single-bore silicone tips felt a little less comfortable and less secure than either the dual flange or foams.
My only caveat actually with the foam and flange tips is the fact they come in just one size which looks to be medium or large. If they do not fit then you are looking at variable single bore sizes which I do not think is ideal.
Accessories & Packaging
Fantastic, in a word. One of the best packages I have seen outside of the Flares Pro at this price range. Acoustune really hit the nail on the head with this one.
Hard Case
Inside the retail box, you get this wonderful hard carry case that looks like a photography or toolkit case. Everything is neatly presented inside the case from the foam pillar for the wire to wrap around to the contoured cut-outs for the drivers.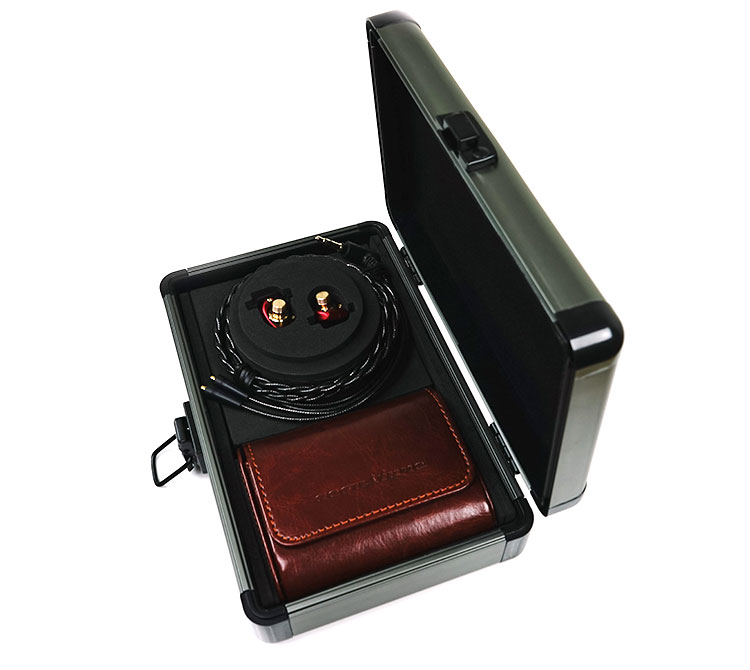 Portable case
To the bottom of the case, you will find a smaller faux leather magnetized leather case with a deep internal pocket and mesh netting to the side for accessories. Inside you will find a matching colored leather IEM organizer strap.
I have seen this type of case before from the likes of SIMGOT and it is a nice design with some organic leather tones and complementary toned sticking on the sides. This is provided as an alternative to the big hard case for enhanced portability of the HS1551 CU.
Tips Tray
Underneath is the tips tray which is a two-piece plastic container with trays for each type of tip provided. You get two types of single bore silicone tips in a blue and yellow stem finish. The blue stems have a slightly wider bore than the yellow ones which might have an impact on the level of airiness or bass response.
You also get a single set of large-sized dual flange and foam tips. I would probably have swapped out the additional silicone tips for more size variations in the foam and flange tips which I prefer over the silicone tips.
Click on page 2 below for Sound Impressions & Comparisons