The 1MORE Triple Driver Earphones are a hybrid single dynamic and dual balanced armature driver design IEM priced at just $99.
Disclaimer: The 1MORE Dual Driver ANC Pro sent to us is a sample in exchange for our honest opinion for this review. We thank 1MORE for this opportunity.
To learn more about 1MORE reviews on Headfonics you can click here.
Note, this review follows our new scoring guidelines for 2020 which you can read up on here.
If you peruse Headfonics often, you've already taken note that, last week, I had covered 1MORE's Quad driver IEM in a review already. Today, I'll be taking a gander at the $99 Triple driver model and how it fairs against the hefty competition in the sub $100usd price tier. I've got to give 1MORE credit here, they are bold, that is for sure. It seems each model is tuned very differently.
Packaging and Accessories
Well, once again, one of the prettiest boxes I've seen. Also, once again, they've included 9 sets of tips in total, a leather case, and some paperwork.
The sketch design is gorgeous and really unique, as I think they are actual prototype design schematics and designs for the product itself that existed before the product was actually crafted.
Little touches like that really make me happy. I enjoy easter eggs like this and you don't see it often. I like the hand-drawn look and feel of the artwork there.
To me, it feels better than very pro-looking photoshoot of the interior specs of a product that is often on the rear side of headphone boxes.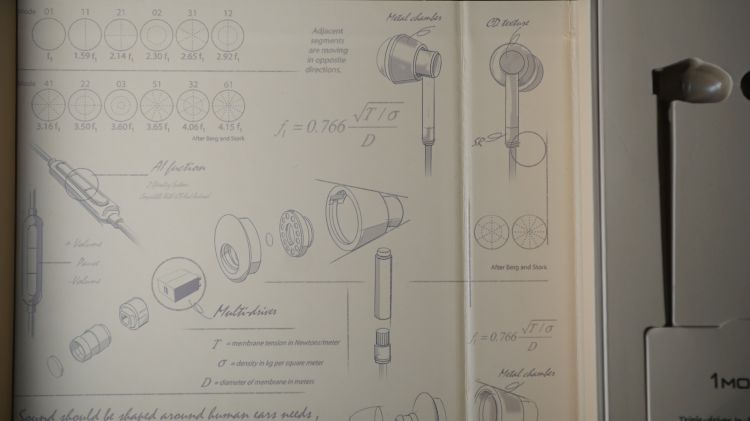 Sound Impressions
Bass – Tone, and Texture
Interestingly enough, this $99 Triple unit, compared to the $199 Quad, is actually the more refined of the two. It feels more mature. Smoother. Easier on the ear, no doubt, than the QUAD in terms of physical dynamic impact (kick factor/slam). But with that very smooth signature comes also a longing for more depth to the response itself.
I've found that this one doesn't EQ as much as I would like it to and that it remains relatively smooth up to +4dB. And that is a good thing if you want your smoothness factor. But, not so nice if you want more bass in general. For what is there, it is on the lower end of moderate in quantity and that is on a 0dB leveled EQ playing field.
Thankfully, I detect no bleed into the mids and no serious problems at all when boosted. You can get a smidgen more, but not much, when EQ'ed.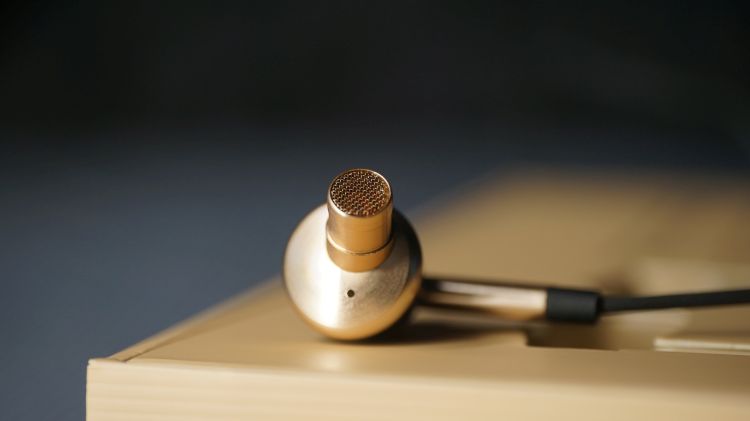 Bass Quality Comparison
For $99, the Triple performs very well as is with a flat EQ. Quality is what I consider very good. Once again, at $99, it feels well into the good valued field and consideration for high marks. At this price point, I feel safe recommending it for quality alone and that is all before smoothness and the elegant tone it portrays, which are all bonus materials for me after raw quality.
For pure quality needs, the bass experience is worth the price of admission and exceeds most $99 and under IEM's that I can recall. This is good value bass in terms of quality given, no doubt.
Against the Flare Audio R2A, the previous best sub $99 (although, in this case, I am using it at its often used market price) the Triple holds up fairly well in quality. Although, the response is significantly better on the Flare R2A. The 1MORE Triple is much smoother, toned down and mellow.
The R2A is punchier, in your face and something I would recommend for the Rocker, or the Metal enthusiast out there. The Triple by 1MORE is the model I'd recommend for Jazz or any easy-going genre.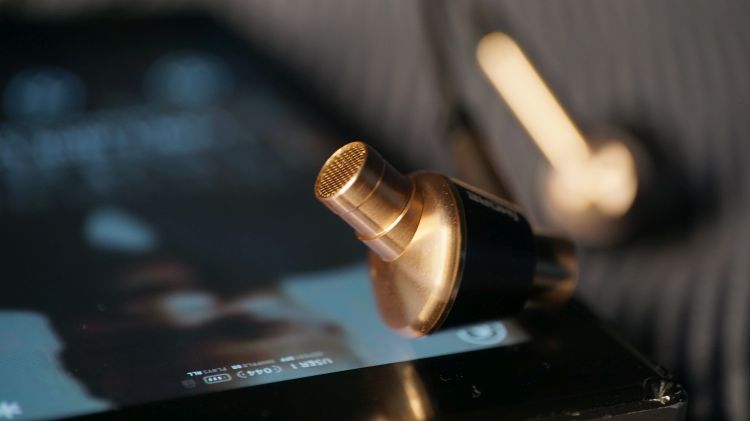 Mids
If mellow is the sound you enjoy, well, look no further. This is a fantastic IEM for kicking back and relaxing with some old school vocals, Big Band genre types and ye' old Sinatra.
What is bugging me is the physical locale, the placement of the mids. To my ear, they seem a little too moderately placed into the void. They aren't recessed, but very smooth sound overall and a moderate placement in a physical location in terms of vocals makes it non-engaging.
If that is your bag, then shoot, go for it. If you are desiring something more enhanced and vivid, this is not the set for you. It reminds me a lot of the older Fischer Audio Silver Bullet: something not overly in your face-forward, but not nearly recessed. The difference between those would be that the 1MORE Triple is much smoother feeling.
Quality is sublime for the price and it amazes me how far the market has come in the $99 tier. Fidelity is very nice on this model in the midrange, clean and crisp, with also a moderate heft to the signature itself. That becomes important when factoring in vocals in general, at least to me.
I want some good substance there and no feeling of thinness. I don't get that feeling of thinness, thankfully. So, this model gets a thumbs up for offering a nicely subdued, calming effect when listening to mid-centered music. I like it. Generally, I prefer mid-forward. But, there are times when I like to "mellow" out and relax. This 1MORE Triple seems to do the trick with that.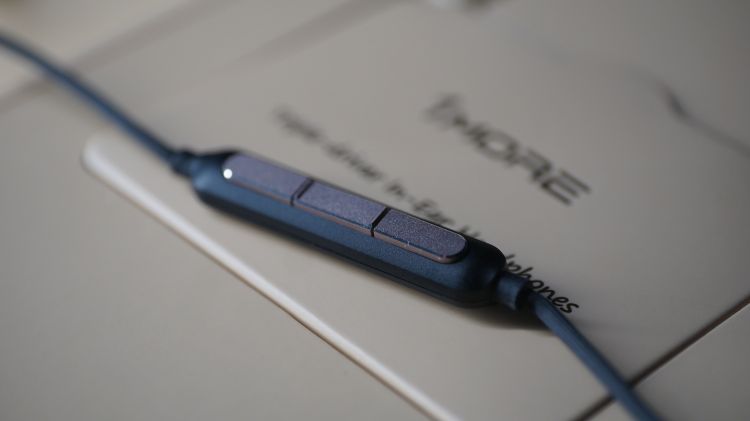 Treble
As with the obvious formula occurring here, the top end is non-fatiguing as well. Although I consider the treble on this model to be tonally superior to the Quad, it is apparent that the Quad is superior in fidelity. I felt the Quad a bit too reference by comparison for my personal tastes, but on an objective level, it seems the more clear of the two.
I prefer musical, gentle brightness factor, sparkle. Those are terms I use to describe sets I consider highly musical on the top end and that is what I am hearing on this Triple. 1MORE seems to have made sure to tune with style and class, as well as a pension for musical flare.
Dynamic slam is low, which then leads to the set feeling of the more relaxed of the trio of IEM's from 1MORE that I have heard so far. And that is a good thing. The quality factor for the price is just fine, neither lacking nor reaching far above the $99 level. Plenty of sets that do it in a superior manner, but a lot that doesn't. So, this is a good value up top, no doubt.
Staging
It seems 1MORE really understands imaging and soundstage because all of their models so far offer excellent staging. This Triple is no different. For $99, this is one of the better imaging IEM's I have heard.
Width and Height are very good. The depth of field is the lacking factor by comparison, yet it is still within very nice parameters and high marks are still given to it. Airiness is the best quality in the imaging department for these IEM's, it seems. The Triple excels here and then some.
Separation of instruments and overall effortlessness appeal is sublime for the price. If staging is your thing, as it is mine, then I recommend you pick this one up at $99 and see what it can do for you. I enjoy it. I'm sure other stage enthusiasts will, too.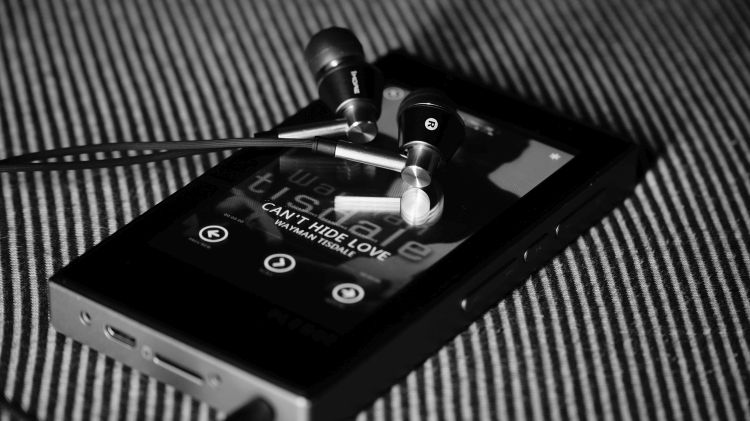 Our Verdict
1MORE's Triple driver model IEM is a solid ballplayer at $99. Not many other's in the price tier can compete with that abundant staging, nor the great selection of included tips. The leather carrying case is slick as well. 1MORE seems to be on a roll here, their Quad was very good.
This Triple is the smoother of the two and is also very good overall. If you like a very low impact sound with a moderately placed mid-range, intended for relaxation, along with a very good imaging prowess for $99, then 1MORE's Triple should be on your list of IEM's to try before the end of the year.
1MORE Triple Driver Technical Specifications
Frequency Range: 20-40,000 Hz
Plug: 3.5 mm Gold Plated
Color: Black With Brushed Gold
Contents
In-ear triple driver headphones
6 sets of silicone ear tip sizes
3 sets of foam ear tip sizes
Magnetic clasping traveling case
Attractive storage case
Quality dual prong airline adapter
Matching shirt clip