The 1MORE Dual Driver ANC Pro is a neckless-type wireless dual-driver universal IEM featuring noise-canceling, LDAC, and 20-hour battery life. It is priced at $149.99.
Disclaimer: This is a sample that was sent to us in exchange for our honest opinion. We thank 1MORE for this opportunity.
To learn more about 1MORE products previously featured on Headfonics you can click here.
Note, this review follows our current scoring guidelines which you can read up on here.
Product Introduction
When we received word that the 1MORE Dual driver ANC Pro was coming our way I was not too excited. I guess the emotion came from my previous experiences with neckband-style earbud setups because they have always been lackluster, to say the least.
However, when I started researching this particular IEM setup it started to provoke interest in me. Hi-Res you say or is it just a sticker?
The features list is long on the 1MORE Dual Driver ANC Pro EHD9001BA and is one from a small list of similar style neckband-type Bluetooth wireless IEMs with the HI-Res certification label.
Usually, items that are labeled Hi-Res have a flat frequency response and tend to sound good, contrary to the boomy bass-centric common tuning of most neckband style, TWS, and even some full-sized Bluetooth-capable headphones.
I have high hopes that 1MORE will take the initiative to change my perception. Give the neckband style redemption if you will.
Tech Inside
Codec Support
Let us start with the Sony LDAC high-quality codec capability. The benefit of LDAC is that it can run at a 990Kbps rate which beats the standard Bluetooth connection speed which is rated at 328Kbps max. LDAC elevates Bluetooth to FLAC file bitrate levels and goes way beyond the MP3 maximum of 320kbps.
The 1MORE Dual Driver ANC Pro can also do Apple AAC. It can also handle SBC codecs well but aptX is not mentioned anywhere in the 1MORE specifications literature and I could not verify if APTx worked or not.
The 1MORE runs on Bluetooth 5.0 with a range of about 30 feet in my straight-line testing scenario.
Dual Driver Configuration
The 1MORE Dual Driver ANC Pro is a dual-driver hybrid design. It starts with a larger-than-normal custom 13.5mm dynamic driver with a Titanium Composite diaphragm.
This driver handles the bass and midrange. The driver employs a flexible FPC flat cable for the electrical connection. Other companies are also eliminating the old-world two-wire type of connection because it was found to be a source of distortion.
The second driver is also a custom-made Balanced Armature driver that handles the treble section of the sound.
The driver tuning was done by the sound engineer and 4 time Grammy award winner Luca Bignardi so I am expecting a clean, flat studio monitor-type tune and not a bloated bass signature.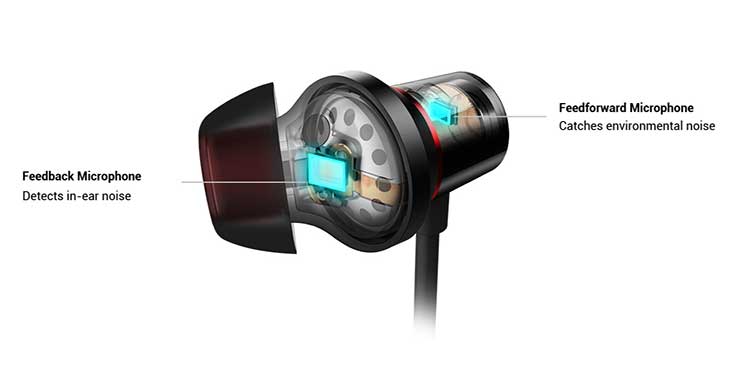 Adjustable ANC
The 1MORE Dual Driver ANC Pro has an advanced environmental noise-canceling system. 1MORE calls it a hybrid noise-canceling. 1MORE says this set uses a DNN (deep neural network) algorithm analyzer to filter out ambient noise. It goes even further than other sets by including two ANC settings.
One setting is recommended for airport use and the other for Café use. The rated noise reduction is listed as up to 35 decibels but I felt that rating is conservative. Noise reduction is also used for the microphone while on phone calls.
WNR
Wind noise resistance on the 1More Dual Driver ANC Pro is another noise-canceling implementation and is selected with a switch just like ANC. It works great on the microphones. All this noise canceling is done with multiple microphones. There is one designated as a feedback microphone that detects in-ear noise.
There is another microphone that is designated as a feedforward microphone which catches the outer environmental noise to then produce an out-of-phase sound to cancel out external noise.
Noise-canceling and processing in older setups would introduce undesirable effects but 1MORE promises to not affect the sound quality with their implementations.
Multi-Function Controller
All the controls and functions are on the left-hand side of the 1More Dual Driver ANC Pro neckband. Not only can you control ANC and WNR settings but pause and play are available along with volume up and down.
The power button is also there plus at the end of this area resides the USB-C type that is not only for charging. It has a dual function and is under a hinged cover.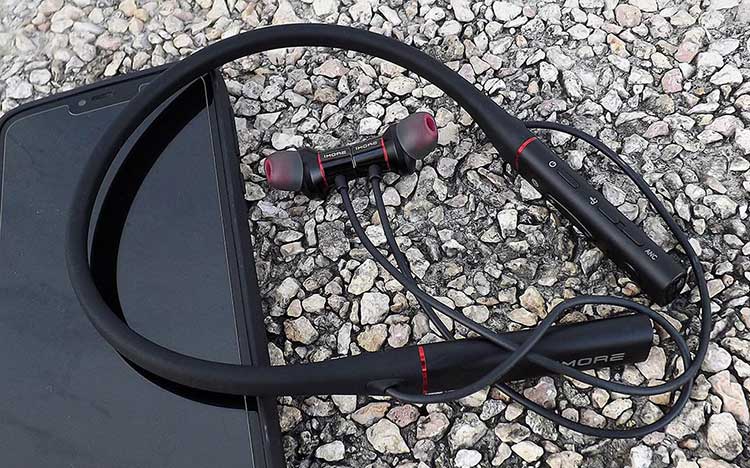 Wired or Wireless?
1MORE includes 2 wires per set with the 1More Dual Driver ANC Pro. One is a USB-C for charging purposes but there is a second wire. The second wire is a USB-C to a 3.5mm single-ended connection. This wire enables you to use the Dual Driver ANC with any amplifier you want.
One good aspect here is that even if you use them wired you can still activate ANC and WNR. The only drawback is that you have to turn the unit on and cannot use this unit passively. I think the internal amp goes to sleep to conserve power, however.
The wired 3.5mm to USB-C almost sounded similar to the Bluetooth with just a few decibels of added loudness from my desktop amplifier and a couple of improvements in sound.
IPX5
Water and electronics are a bad match. It is one of the four elements that will kill electronics for sure. The other three are heat, dust, and static. The 1MORE Dual Driver ANC Pro seems to resist all four.
The 1More Dual Driver ANC Pro is rated at IPX5 so I would say that these are good for workouts and everyday outdoor use. I would not worry about getting caught in the rain with these and they seem to resist water and moisture well. Just do not get water down the sound chamber and they will be fine.
Design
The 1MORE Dual Driver ANC Pro shells are a composite assembly and are mostly made of aluminum. They are also clasping earpieces with powerful magnets.
They are a composite assembly that is composed of a Titanium-plated aluminum shell end cap that goes into a sandblasted double anodized aluminum shell with a metallic red decorative ring.
The tip end is made of plastic. My only gripe with the 1More Dual Driver ANC Pro is that it uses unconventional flanges. 1MORE does offer to ship extra flanges to customers if needed and also recommends getting Comply tips.
I would have also liked to see a more robust wire. Perhaps a thicker gauge or cloth covered. My only major concern is the longevity of this wire since everything else seems very robust. It makes no sense that the included USB-C charging wire and the 3.5mm wire are of better quality.
The Neckband
The 1More Dual Driver ANC Pro neckband itself is not too thick, is made of Siliconized rubber with a metal core, and is very bouncy and flexible. The weight seems very balanced and these are very comfortable. The silicone used is not irritating to the skin whatsoever.
One thing is that you cannot shape the neckband and is a fixed curve. You cannot shape it because it just will not hold. However, the softness and flexibility make it so that you do not need to adjust anything for comfort.
All the controls are on the left and there is nothing on the right side so I bet that is where the battery resides while the left is crammed with all the electronics.
Battery Life
The 1More Dual Driver ANC Pro internal Lithium battery has a claimed battery life of 20 hours of nonstop music with ANC off. If ANC is used then the battery rating goes down to 16 hours which is still not bad at all.
This beats almost every TWS model out there in a single duration one runs battery life. The battery life does go down considerably with an LDAC Bluetooth transmission to about 8 hours.
I did get to experiment with the claim of getting three hours of playback with ten minutes of charge and it gave me basically the same result I also got over the claimed 17 hours on SBC playback and got 19 hours at the 50% volume used by 1MORE. This set has a very good battery life in my opinion.
Packaging & Accessories
What do you get in the nicely printed 1More Dual Driver ANC Pro box? Something quite similar to their TWS unboxing experiences actually.
You get four sets of flanges. Two wires, the USB-C charging wire which is not too long at about 14 inches but it's a flat cable which is a plus. You also get the USB-C to 3.5mm which is cloth-covered and about 46 inches long. A 1MORE branded carrying bag is also thrown in the deal.
Paper? Yes, you get an instruction booklet, a scannable authentication card, a product brochure, and a cute transparent sticker of the 1MORE teddy bear-wearing headphones logo.
1More Dual Driver ANC Pro Sound Impressions
I was expecting and assumed from the size of the bass driver that these would be bass bloated as many others. They are not. The sound signature here is close to neutral with frequency drops at the extremities of the frequency ranges.
My usual tone generator test did reveal anomalies in frequency output between 6k and 8k and shifting occurred.
Run a tone generator from the bottom frequency to the top. If you have a left to right frequency imbalance in a certain area then the sound will move left or right. That is shifting. It means one side is producing certain frequencies louder than the other side or one side is deficient.
It did not affect the sound quality, there were only a few decibels of difference, and it was just a technicality at this point. My listening was mostly done with Bluetooth.
Bass
The 1More Dual Driver ANC Pro bass is medium-bodied but neutral and is not bloated. Notes can be heard rather clearly and distinctly. The bass impact is on the low side and the bass is more of an audible trait.
The bass dips below 35 Hz so do not expect these to do much sub-bass or at least without a DSP or equalization boost in the bass. The bass is not the fastest and does have a slight overhang. Barely noticeable though but does sound decent in general.
If you boost the bass it becomes very fat and deep but the bass impact will not increase much. the large driver can respond very well to being pushed harder than stock. It seems to handle almost any bass boost I throw at it.
Midrange
The 1More Dual Driver ANC Pro midrange is again on the neutral side except for a small peak at around 3k. It is fairly smooth with nothing being too harsh or loud. It is a medium quantity output midrange pushed back perhaps a decibel or two.
At times, with certain midrange intense recordings, the midrange can come forward more so. In general, the midrange seems to be polite and somewhat reserved. Tonality is pretty accurate and the pitch seems correct. Not much else to say.
Treble
The 1More Dual Driver ANC Pro highs are a touch recessed and take a back seat. I heard frequency extension up to 14k but it drops sharply after. They do sound clear. Speed is good and they do sound fairly crisp. However, just a small amount of shimmer and air is perceived.
Soundstage & Imaging
The 1More Dual Driver ANC Pro soundstage here is fairly wide. I would consider it medium width but little depth and height are perceived. Left-to-right positioning is good and is fairly accurate.
They do tend to image straight into the center point of the head, especially in the midrange creating something similar to a phantom channel. Instrument placement and staging I would consider average.
A mention of detail retrieval. I would say not bad for a neckband-style IEM setup. It will not reveal the faintest of detail but you could hear some familiar background nuances.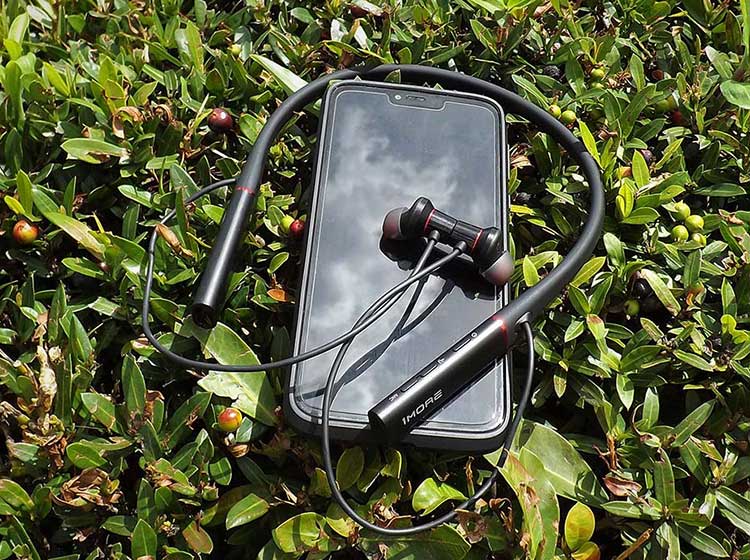 Wired Impressions
Of course, more power means better sound. Not really. Not with headphones at least. However, when you wire these to a better amplifier the soundstage widens a bit. The center phantom channel mentioned is gone. In its place is better depth up front and the vocals are pushed just a bit more forward.
The bass becomes a touch cleaner. The bass takes on a touch more needed impact. Got perhaps a touch of extra treble also. But the treble became harsh at high volume levels. Most of the negative sound traits at this point are attributed to built-in amplification in my view.
Noise Cancelling Performance
I like how 1MORE implemented this 2-stage ANC because for me it worked very well. It almost shuts off all noise for me but has a minimum effect on sound quality. If this is something that you are looking for in a headset then this is a good one.
I did, however, have different feelings about the wind noise-canceling circuitry for the reasons that it does affect sound quality plus is not very effective. I could still hear wind noise from a fan behind me. It works fine for the microphone.
What saved the day was the fact that the ANC noise canceling did block the wind noise completely so the WNR feature stayed off for me. The microphones worked very well using noise reduction. Very little muffling of the sound occurs with this set compared to other processed microphones on say a TWS set.
Synergy
The 1MORE Dual Driver ANC Pro never gave me issues to connect. The set gives a double 3-note sound event after the power-on event. At that point, it connects flawlessly so you have to time it just right and connect before the initial sound.
You will hear a distinct two-note sound when successful. Oh and before I forget. Nice set of tones and sounds at power up and shut down.
It beats buzzes and weird robotic voice-overs. I mostly used this set with my phone on LDAC and especially on AAC with my Android phone. Yes, most Android phones are now adapting Apple AAC codec and my Motorola does.
Oh and please do use that equalizer or your favorite DSP because these can handle a pretty good boost without major driver breakup. It seems the tuning was moderate, to say the least.
Selective Comparison
Can the 1MORE Dual Driver ANC Pro neckband be considered a TWS killer? Not really. All you have to do is look at the top dog TWS from 1MORE which sports the same drivers in a different shell.
They do cost a little more money but you go wireless completely and to me, you get better all-around portability. You also gain touch controls.
You lose LDAC but you get APTx. Since it's not HD I have mixed feelings. I prefer having the LDAC option. One-time use battery life goes down but you get more multiple-time use technically on the TWS and gain wireless charging capabilities.
A positive aspect of the neckband style is that it is much harder to lose an earbud. Good luck finding a TWS earbud if you drop one in the bushes while doing your morning run.
Our Verdict
I give thanks to 1MORE for making a neckband-type Bluetooth IEM with a neutral tuning. A tuning that is not offensive to the senses and the audiophile masses. If there was one neckband-style Bluetooth IEM setup I would not mind having this one, the 1MORE Dual Driver ANC Pro.
The noise-canceling works great in this set plus it has decent enough sound to be enjoyable with room to improve by simply using a DSP or an equalizer.
My only complaints would be the wire and flanges included with the 1More Dual Driver ANC Pro. Although 1MORE will send you extra flanges if you need them and they do not mention charging the customer as long as you have proof of ownership which is generous of them.
So the verdict is in and it's a yes. Neckband-style IEMs are back and better than ever and you will eventually catch me wearing one on occasion. That is redemption.
1MORE Dual Driver ANC Pro Specifications
Model EHD9001BA
Weight(earpieces) 44.6g
Battery Capacity 160mAh
Charging Time 1 hour
Playtime
*Fully Charged (ANC off)
Phone Calls 12 Hours
Music 15 Hours (AAC / 50% volume)
Speaker Impedance 32 Ohms
Bluetooth Range 10m (in an open environment)
Bluetooth Version 5.0
Bluetooth Protocol HFP / A2DP / AVRCP
Input 5V 1A
1MORE Dual Driver ANC Pro Review
I give thanks to 1MORE for making a neckband-type Bluetooth IEM with a neutral tuning. A tuning that is not offensive to the senses and the audiophile masses. If there was one neckband style Bluetooth IEM setup I would not mind having is this one, the 1MORE Dual Driver ANC Pro.