Today's review is a comparison of the 1MORE Bluetooth Series earphones consisting of a Dual Dynamic, Dual-Driver hybrid, and Triple Driver hybrid earphones priced at an affordable $69.99 for the Dual Dynamic, $109.99 for the Dual Driver hybrid, and $199.99 for the Triple Driver hybrid edition.
Disclaimer: The 1MORE Dual Dynamic, Dual-Driver, and Triple Driver Bluetooth Headphones sent to us for the purposes of this review are samples and does not have to be returned.
Thank you to 1MORE for giving us this opportunity.
Note, this 2-page review follows our new scoring guidelines for 2020 which you can read up on here.
Several years ago, had you asked me if I wanted 1MORE, I'd be like "One more what?" Today, at least in our circles, the brand is pretty famous. And I'm impressed. Not only does 1MORE package things securely, and pack into their products great technology, they price things right, and take care of their brand image through great build quality, attention to detail, and good communication.
How happy am I to be covering three of their earphones in this review? Heaps. Still, I'm not happy with the name. 1MORE. Every time I hear about them, and every time I'm asked about them, I wonder 1MORE – what this time?
The answer is this: single diaphragm driver, dual and triple driver hybrid. Wireless. ANC. Range. Wow.
Tech inside
From here on in, we're going to call the dual-diaphragm earphone the DD and the dual-driver hybrid the DDH, and the triple driver hybrid the TDH.
DD Specifications
Graphene Composite 10mm dynamic + Titanium Diaphragm 6mm dynamic diaphragms
Bluetooth 4.2 (HFP/A2DP/AVRCP)
Talk time: 6 hours
Music playback: 6 hours
Impedance: 32Ω
Weight: 23.5g
Input: 5V
Cheap, cheaply accessorized, and easy to use, if money is an issue, the DD is an insanely great platform.
DDH Specifications
Proprietary environmental noise-canceling circuit
1 Dynamic driver + 2 Balanced armature drivers
Bluetooth 4.2 (HFP/A2DP/AVRCP)
Talk time: 7 hours
Music playback: 7 hours
Impedance: 32Ω
Weight: 42.5g
Input: 5V
While I ragged a bit on Sony for an ANC circuit which basically funneled in noise, 1MORE's DDH ANC is less effective overall, returns a real suck-out feel, and, because of intense ANC and other circuit noise, hisses or 'shhhhhhs' like the Dickens.
The singular plus it has over the Sony is that, outside, its microphones funnel in less wind noise. Of course, they still funnel it in. Turning off ANC depresses wind funneling, but not completely. At this point, a good pair of isolating earphones would be far better or at least pose less deleterious interference to your music.
Thankfully, 1MORE has two other great isolating BT earphones, both in this review.
TD Specifications
PET-sandwiched titanium layer dynamic driver
STA-1 A5C22 balanced armature driver
Bluetooth 4.2 (HFP/A2DP/AVRCP)
Talk time: 7 hours
Music playback: 7 hours
Impedance: 32Ω
Weight: 44.5g
Input: 5V
If you dig the DD but want deeper bass and also want to enjoy a mild and slow high pass filter, this batboy is for you.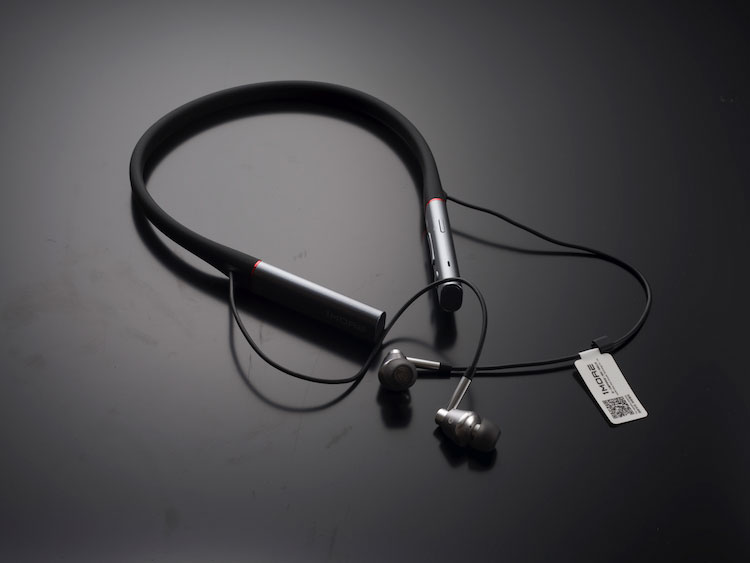 Build quality
1MORE stuff is any bit as well put together as the best on the market. Better, it is fully free of small blemishes, and, just like Disney Sea, the workmanship is impeccable on both the most visible sides as it is on their dark bits.
The DD and DDH are plastic and the TD is aluminum all the way out to the sound tube. Each earphone in this review is yoked to a familiar horseshoe tether, whose main differences go as deep as the feature set. The DD's is cheapest of each, slimmest, lightest, and simplest.
My favorite feature of the bunch is the DDH's USB-stereo cable, which allows sources lacking Bluetooth signals to connect to and benefit from a decent ANC circuit. To this, the DDH's quality ADC separates hiss from signal well enough to almost completely do away with amp noise in old Aiwa Minidisc recorders.
Each earphone features a tough and flexible yoke. It's a good aesthetic and utilitarian blend of Sony's MUC BT cables and the more athletic stuff from RHA.
The DDH's airline adapter is freaking sleek.
Attention To Detail
From what I understand, each of these is the wireless version of an extant 1MORE wired earphone. While I'm a 1MORE newbie, wow, am I impressed. These guys know detail and know to which details attention must be paid to lay out a coherent and strong brand.
What I dislike about each earphone is how generic each earphone looks. And the packaging, while amazingly laid out, is massive, wasting loads of space. Neither will you find a surfeit of protective grommets, stress reliefs, or other on any 1MORE wireless earphone.
They are made well and finished impeccably, but you should treat them kindly. Their paint will scratch. Their cables will catch and tangle. Their tote bags only protect from scratches- and that just.
Comfort & Fit
While they sport familiar yokes, cables, and remote layouts, each earphone is shaped differently. The DD wears a full silicon body cap. This helps keep it firmly in the ear. The DDH comes with Ear Secure guides that keep the bodies anchored in the ear bowls. The TDH is the most common design. It goes in nice and easy and comes with the richest selection of ear tips.
DD
Check out those tips! Man, they completely cover half the earphone body. I've not seen the like since the full-body condom in the original The Naked Gun. They work a trick, too, keeping the DD secure in the ear. And, the portion that covers the sound tube wears an asynchronously angled cut, which gives the best silicon-to-skin ratio I've ever seen.
The downside is this: if you don't get on with silicon your ears will rub the wrong way all the time. Because the DD is the lightest of the bunch, it is the most comfortable when out on brisk walks, jogs, and the like. And, because it's a fully closed design, it won't funnel in wind noise. Of the three I find this the second most comfortable earphone.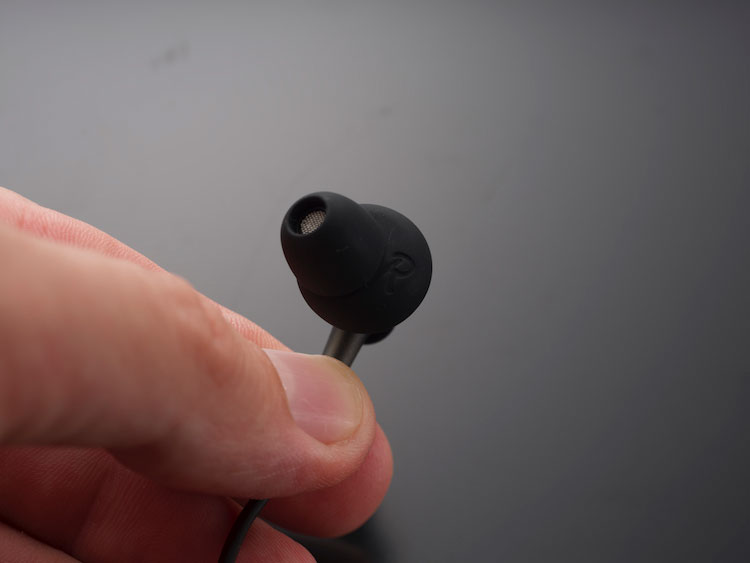 DDH
I find the DDH's selection of four ear tips to be the right sort of simple: they are soft, wide-mouth, and their reverse parabola rises in lazy arcs, ensuring great seal without also pinching in too much lateral pressure. My sensitive ears get on really well with them. Likely this is partially due to the DDH's oval sound tube, which allows a lot of squish room for ear tips within even the narrowest of ear canals.
The DDHs also come with Ear Secure guides that are equally as soft and can actually be used with a variety of other earphones. Depending on your ear shape and size, they really can help out with fit. Of the three I find these the most comfortable earphone.
TDH
The TDH comes with a great selection of ear tips. Unfortunately, its sound tube is thickest. This puts more pressure on narrow canals. Its ear tips are seamless, which is a nice touch, but they fit really down really far, pitting the hard sound tube mouth almost against your skin.
On the plus side, they add quality large-mouth foamies. To this are packed in six pair of silicon-grilled grey flanges. Because they lack equatorial rivets or rises of any kind, they slide right in. And, if your canals are sufficiently wide, fit can be great. If not, you'll probably find that like me, you have to take rest breaks pretty often. Of the three these are the least comfortable in my ears.
Each earphone's yoke is light but sits sturdily on the shoulders. It is more comfortable than Sony's MUC BT series and places the controls in easy to get places. It gives each a unique feel, travel, and each button is placed well for thumbs both small and large.
Still, it's a yoke and therefore slaved to cables of its own. They do tangle, and despite being made well, I treat them with kiddy gloves because I don't want to pull out or overstretch a wire on one channel or the other.
Accessories
The DD comes with:
A raincoat tote bag
4 pairs of silicon full-contact condoms/earpieces
A bunch of literature and a teddy bear sticker
The DDH comes with:
1 tote bag
4 pairs of silicone ear tips
4 pairs of Ear Secure guides
1 airplane adapter
1 USB charging cable
1 USB-3.5mm audio adapter cable
A bunch of literature
The TDH comes with:
1 tote bag
6 pairs of silicone ear tips
3 pairs of foam ear tips
1 USB charging cable
A bunch of literature and a teddy bear sticker
Click on Page 2 below for Sound Impressions & Comparisons