In today's feature, we review the Zorloo Zophia which is a 2-in-1 in-ear monitor and TWS with MQA and DSD DSD22.5Mhz DAC support. The sample we have here is the Lightning Edition priced at $209.
Disclaimer: This is a sample unit sent to us in exchange for our honest opinion. Headfonics is an independent website with no affiliate links or status. We thank Zorloo for this opportunity.
You can click here to learn more about the Zorloo products we have previously featured on Headfonics.
Note, that this article follows our latest scoring guidelines which you can read up on here.
Zorloo Zophia
One thing is for sure, the Zorloo Zophia Wire.less is a TWS first, IEM second, device. This is a good option for people who are always on the go. A wired option is a good backup when you run out of battery and is a nice-to-have feature when you're in a pinch.
Pros
Clear extended treble
Convenient 2-in-1 wireless and wired compatibility
MQA Support
Cons
No ANC
DAC tends to get hot
Narrow Soundstage
We have reviewed tons of TWS in the past few years and the difference has been usually different chips, drivers, battery life capabilities, and the like.
What I was not expecting is a hybrid device – a device that can be both TWS and wired. Yes, you heard it right, a TWS that can also be used wired to your device.
This is exactly what the Zorloo Zophia Wire.less Earphone is. We are familiar with the Zorloo brand as we have come across the Ztella Integrated USB-DAC but it is the first time that the company announced a product in the TWS and Wired Earphones category.
Priced at $199.00 for the MQA Version and $209.00 for the MQA Version with lightning adapter, the Zorloo Zophia Wire.less functions as both TWS and wired earphones. With a lot of competition from both the TWS and wired earphones market, how will the Zophia hold up?
Tech Highlights
Many would be curious as to the uniqueness of the 2-in-1 feature of the Zorloo Zophia. Thanks to its proprietary 4-pin receptacle interface (compatible with 2-pin 0.78mm cables), it allows the Zophia to function as a wired interface. Putting the cable on and off easily switches the Zophia from wired to BT mode respectively.
Diving inside, the main component in the earbuds is the single 6mm Neodymium Dynamic driver. Neodymium magnets are lightweight and smaller, which are ideal for smaller form factors such as IEMs and TWS.
The BT mode uses a Bluetooth v5.2 standard with low latency, with a Qualcomm QC3040 Bluetooth TWS SoC. It does support Audio Codes SBS, AAC, and AptX.
Apart from the Earbuds themselves, the MQA built-in DAC has an ESS Sabre 9281ACPRO Audio DAC inside and High Res PCM 768kHz, DSD 22.5Mhz, and MQA capability.
The battery life is also pretty standard. It has 5 hours of playing time and an additional 20 hours through the charging case.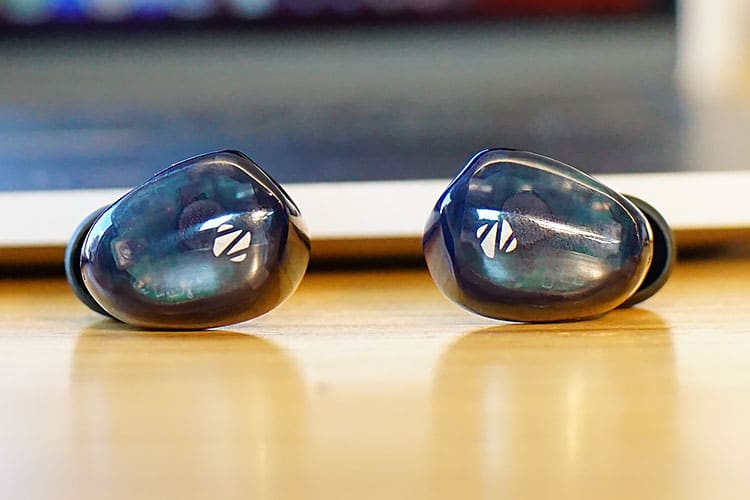 Design
The main selling point of the Zorloo Zophia Wire.less is its design, wherein it can function as both wired and wireless. The process itself of moving from wired and wireless mode is surprisingly seamless. Plugging in and out the wire automatically switches the modes between wireless and wired.
The Zophia Wire.less has a bluish-black transparent resin shell, allowing users to see the components inside. It is very clean with a has a minimal logo printed on both sides, which is hardly noticeable if it's something of a bother.
The earbuds also have color-changing LEDs to indicate status. It flashes white when paired while it flashes white and red when in pairing mode.
Controls
The controls on the Zorloo Zophia Wire.less are very straightforward. Volume is controlled by tapping the earbuds once – right to increase and left to decrease. Play and pause are controlled by double tapping – either bud will do this.
Aside from the usual controls, the Zophia Wire.less is also capable of functional controls. A triple tap will activate the phone's voice assistant. Answering and ending calls are also supported. Double tapping the buds will do this.
In theory, pairing, turning off, and turning on are also simple. Press and hold for 6 seconds to enter pairing mode, press and hold for 10 seconds to turn off, and press and hold for 4 seconds to turn on.
However, there are instances where it was difficult to unpair and pair the device. This is my usual complaint for TWS devices, and Zorloo Zophia makes no exception.
Comfort & Isolation
The Zophia doesn't have any isolation or ANC features. Isolation tends to be similar to wired IEMs, with silicone tips to create a seal.
In terms of comfort, the buds themselves lean on the larger size, similar to the older generation TWS. These are definitely not the biggest ones out there, but it does run big compared to most TWS in this price range.
Despite having a bigger form, it is still light and comfortable enough to wear for long periods. Also given the fact that these also act as wired IEMs, the size is easily forgivable.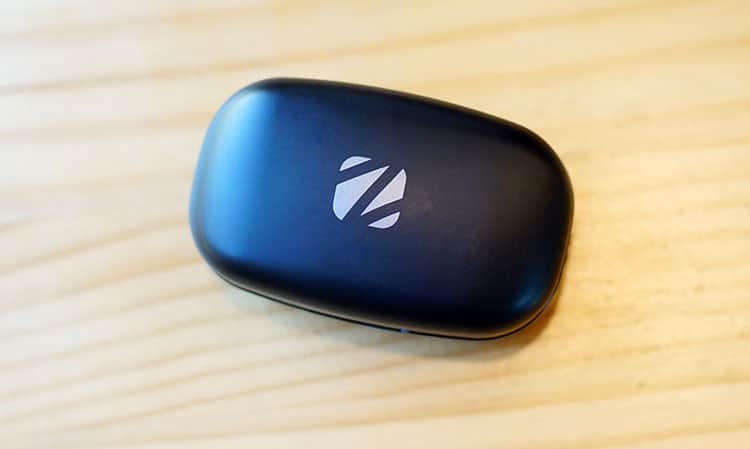 Cradle & Battery Life
The Cradle holds a 350mAh battery, allowing it to have 20 hours through the charging case. This allows the earbuds to have an additional 20 hours of battery life when charged.
Each earbud has its 35mAh which is on the small side of the capacity scale but it seems to be sufficient enough. Battery life is consistent with the playing time of 5 hours on a single charge.
The cradle itself is ordinary looking but it does pack some functionalities. In front, 2 LEDs can be found which indicate when the buds, right and left, are charging.
A red LED light indicates that the buds are charging. At the back, 4 LEDs can be found which indicates the cradle's battery life. White flashing light can be seen when charging the cradle.
Stock Cable
There is nothing much indicated in terms of the cable material. 4-pin L/R connectors attach to the earbuds, the 2-pins are similar to a 2-pin 0.78mm cable attachment. On the other end is a USB-C DAC, which in this case, is an MQA-capable version.
Zorloo has an option of a USB-C to Apple lightning adapter, which works fine for iPhone users. Although I wish there was a Lightning adapter native cable. It's great when not moving around much but it tends to get disconnected due to stacking.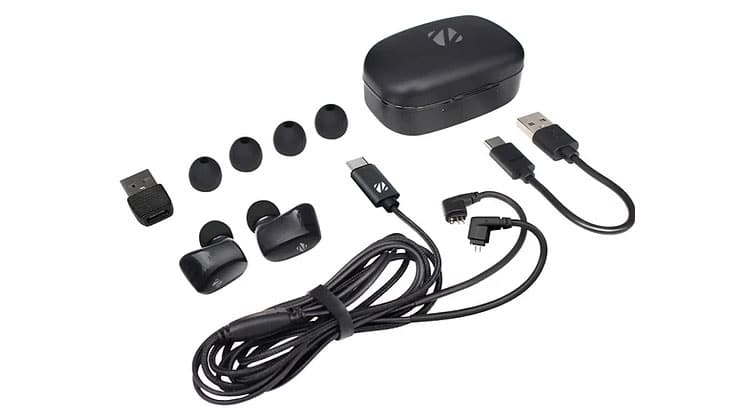 Packaging & Accessories
The Zorloo Zophia Wire.less comes in a relatively typical regular box. The packaging is a bit loud, with lots of text in the front, side, and back, highlighting features of the device.
The unboxing is pretty straightforward. Aside from the Cradle and TWS Buds, there is also a 2-pin 0.78mm cable wire-USB-C for the Buds wired to function.
Inside there are 2 rubber tips. One is already pre-installed so you get a total of 3 sets with S, M, and L sizes. A USB charging wire, USB-C to Lightning adapter, USB-C charging wire, USB-C to USB-A adapter,
Sound Impressions – Wireless
Bass
Bass is not plenty with the Zophia Wire.less, which is actually very surprising. Most TWS have boomy bass, which at times bloats to the midrange. This is not the case with the Zophia Wire.less. There is not much sub-bass going around, no deep rumbles, just barely there so bleeding to upper frequencies is not an issue.
The sub-bass is a different story. There is enough sub-bass to clearly hear bass notes. It's not too impactful but consistently present.
Mids
The midrange region is elevated on the Zophia Wire.less. Vocals, in particular, steal the spotlight and is the overall highlight. Male and female vocals both tend to float across busy tracks. Even though background instrumentals are heard, the vocals captivate as it is more attenuated and given focus.
Despite the clarity of the vocals, there is some veil on the instrumentals. With busy tracks, details are lost at times which highlights the vocals more. When there seems to be a lot going on, there is little separation, which makes it difficult to narrow down on isolated instruments.
Treble
A clear and well-extended treble can be found on the Zophia Wire.less. It is a bit elevated, leaning on the bright side. It is not particularly bright that tends to be fatiguing. It's comfortably tuned to give enough emphasis on the highs without sharp and peaky treble.
Overall, it has a good amount of sparkle and airiness. The top has enough room to breathe to highlight minute details. This is also noticeable in tracks with a lot of cymbal crashes. Cymbals are crisp and splashy, but not fatiguing. Guitar strums are also crisp and presented very well.
Staging
The soundstage on the Zophia Wire.less is on the narrow side. There is a small amount of depth but has a good amount of height. It tends to get intimate at times.
Imaging is fairly average. At times, it feels monodirectional, sounding more vertical than horizontal. It feels like a few layers are stacked in front, whereas some of the details should've been more scattered horizontally rather than combined.
This makes the separation of some instruments difficult to distinguish.
Click on page 2 for wired sound impressions and our select comparisons.