In this feature, we review the Trettitre TreSound 1 which is a uniquely designed 3-way active speaker with Bluetooth 24BIT/96kHz support. It is priced at $699.
Disclaimer: This is a sample in exchange for our honest opinion. Headfonics is an independent website that does not have any affiliate links or status. We thank Linsoul and Trettitre for their support.
To read more about Linsoul products we have previously covered on Headfonics please click here.
Note, that this article follows our latest scoring guidelines which you can read up on here.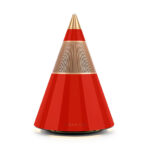 Trettitre TreSound 1
The Trettitre TreSound 1 is a solid speaker with excellent build quality at $699. The bass is among the best I've heard for the type of speaker design this product uses, and it can compete in fidelity with speakers double the price.
Performance & Features
7.8
Pros
Very Good bass quality
Unique and eye-catching design
Cons
Thinner that desirable midrange tone
Lacking integrated features such as app control
The Trettitre TreSound 1 Bluetooth Speaker is a very unique-looking active 3-way single speaker with Bluetooth support and is currently listed at $699 MSRP.
If you are interested in upscale modern art fused with good sound quality, then I would recommend you demo the TreSound 1 speaker to see if it warrants a spot next to your other sculptures in your lavish living space.
It looks nothing like active speakers such as the Airpulse A300, classic-looking BT-capable speakers we have previously reviewed and praised before.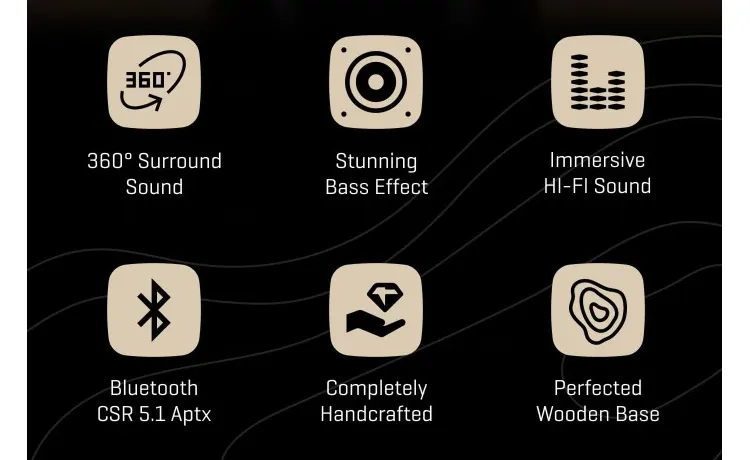 Tech Highlights
As I have said many times recently, Bluetooth technology has dramatically scaled up. We are moving forward into avenues yet unexplored, ultimately tapping into what is possible and leaving behind the last ice age of shoulder-shrug quality sound.
This TreSound 1 model offers up to Qualcomm CSR aptX Bluetooth 5.1 support, which can transmit 24bit/96kHz audio as well as wired audio via an auxiliary input.
For me, just some upgraded Bluetooth quality would be enough, but Trettitre has gone the extra mile and provided some additional features as a bonus.
Class-D Amp and Inputs
The TreSound 1 comes with its own internal Class-D power amp inside the unit. No need to plug into any speaker amplifiers, this speaker doesn't have any other ports except a 3.5mm input and a standard DC 24V 2.7A, but more on this in a second in the I/O section.
The internal amp is rated at 2x15W + 1x30W, which essentially means the internally powered amplifier is rock solid and pushes a fair amount of wattage to properly feed the drivers inside.
And I can see why they've gone with that much power for such a small single-unit speaker that pushes a 360-degree sound field: the bass and creaminess of the treble, of course. And yes this speaker really does exude some seriously high-fidelity low-end, and then some.
Wireless
The TreSound 1 also has BT 5.1 wireless capability with up to APT-X decoding capability.
It claims it handles and streams audiophile-grade file quality, up to 24bit/96kHz audio though regular aptX is normally limited to 48kHz/16-bit so I am wondering if this is an Adaptive version that can shoot up to that level.
Especially with the additional claim of minimal latency which is another aptX Adaptive feature.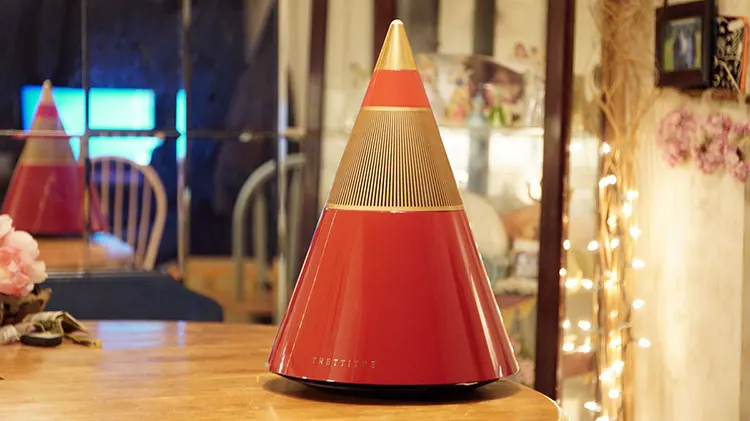 Design
Aesthetics
Ok, so you went into this review thinking it was inspired by a rocket, or a missile, right? Be honest, you know you did. But the design is instead based on mountain peaks, specifically, with the notion of being as minimalist as possible.
The company says also that the internal components may be peak-shaped as well, which seems to lead to fewer reflections in the interior chamber area. Makes sense, peak design probably needs peak design internally to match.
The design itself is highly unique and extremely eye-catching. Everyone, and I damned mean everyone who visited me after I received this and set it up in my living room, walked over to it and said "…what on earth is that.".
Some thought it was just a model art piece, or something non-audio related. Others saw the 3.5mm connection dangling and knew it was a speaker. But everyone was impressed with it and said it forces my entire living space to look ultra-plush posh, that it exudes an incredibly expensive design appeal.
And I agree. It looks like a sculpture that is very expensive and makes most spaces feel like the room is much more modern than reality portrays it. Color me happy, because it makes me want to make sure my living space is worthy of placing other nice-looking things next to the TreSound 1.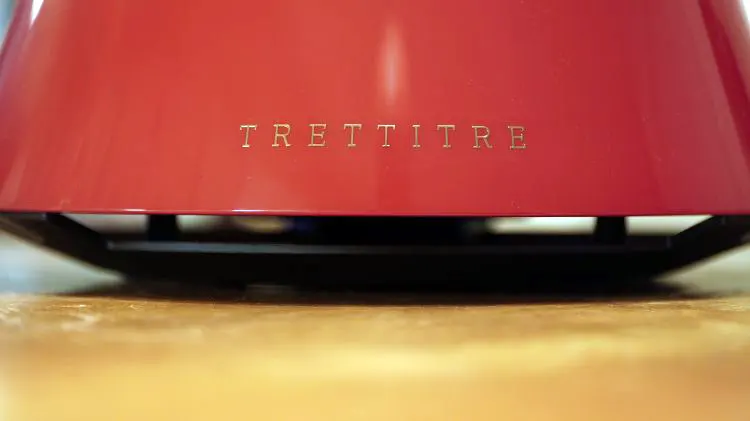 Finishing
More so, the unit is made of high-end wood from the Nordic mountains, along with a beautiful piano lacquerer finish that comes in a few color variants: White, Red, Green, and Black.
Beyond this, the rest of the edge work is quality metal, making this speaker perhaps the most well-built speaker I've come across that is a single unit and not a bookshelf design.
There are some metal frayed pieces near the top third of the design, that all feel like thin metal sheets that were cut into strips. Quality top to bottom.
Heck, even the base of the unit feels solid too. The top nozzle peak of the speaker is dense feeling and acts as a control for the volume that you can spin around.
Is the design for everyone? Probably not. Highly subjective there, but there is no doubt that the physical appeal of the unit is tantalizing and kind of awesome looking.
Placing this dead center in the living room is kind of vital to the experience, so the placement needs may not be for everyone who wants the best sound out of it that is possible.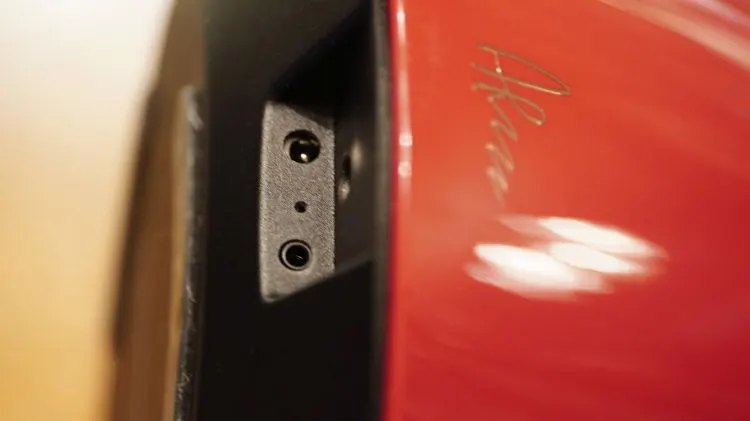 I/O
The TreSound 1 has just one input and no output, so beyond the standard Bluetooth wireless connection, you can also toss a 3.5mm cable in there and run wired from your source. But, if you are going to do that, tone matching is vital with this unit. Please, let me explain why.
You see, this speaker is on the natural tone and texture from top to bottom. It is neither warm and woolly, nor is it cold and sterile. The natural factor of the tone does not want to take a slight detour to become warmer, or cooler. It really wants to stay just like it is, so you need a proper source whose tone matches the natural sound of the TreSound 1.
The 3.5mm cable allows you to pair the speaker with way better-sounding sources than what Bluetooth 5.1 can offer, despite Bluetooth right now being as good as it is.
The 3.5mm option plugged into a Burson Conductor amplifier source is quite stellar versus the very nice variant on wireless.
Both routes are good, but I've noticed that silver interconnects seemed to emphasize the treble, while non-silver left the sound as I feel it should be. Wiseman says, "Probably stick to a normal 3.5mm interconnect and not a specialized silver type cable.".
No RCA, no XLR, no Penrose, no RSA balanced, nothing. Just the 3.5mm and that's it for physical wired possibilities.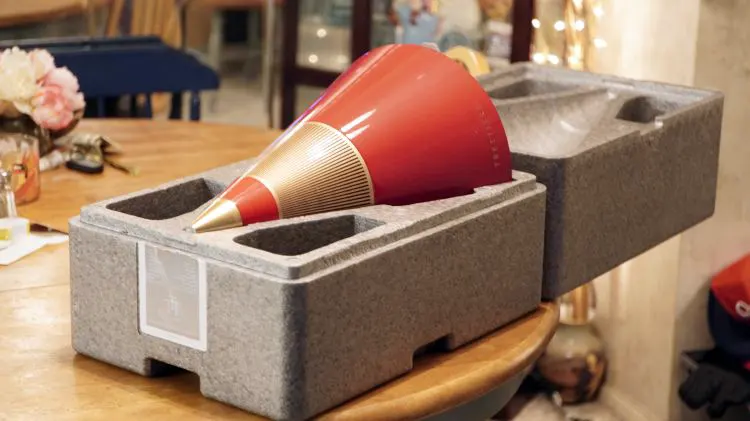 Packaging & Accessories
The Trettitre TreSound 1's box is impressive; it came with a branded custom box with logos and information on the side of it. Inside though, lurked a yet more impressive custom foam cutout for the speaker that is probably the nicest molded protection that I've seen in a long time. Embedded into the foam is yet more information on the device.
Also included is a standard cloth bag for the power supply cable, which was the wrong version for US compatibility.
This would not fit our outlets, so I had to rummage locally to find the proper adapter and power supply. Unable to find one, I had to buy one on Amazon. You'd think with the dozens of amps I have I'd have one with the right voltage, but no!
So be careful if you are buying, and where you are buying from. The sample sent to me did not come with the right American-style power cable. Nothing a $6.99 Prime Deal couldn't fix though.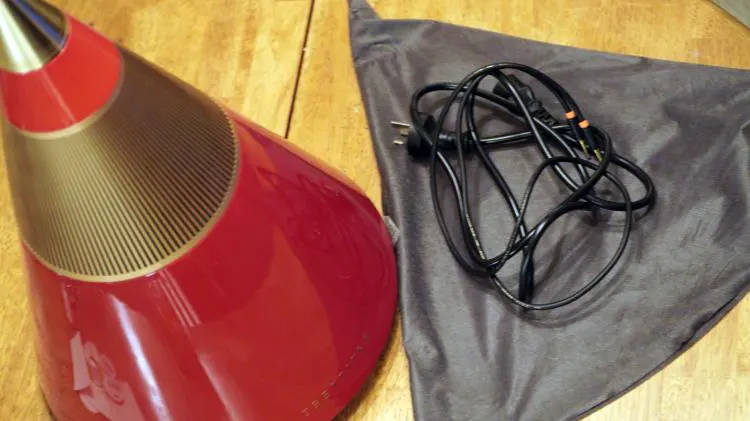 Speaker Placement
Because this speaker is a 360-degree field design, meaning it doesn't force a one-direction sound at you in a forward manner, the speaker will need to be placed a fair distance from an obstruction, or wall, to get the maximum quality out of the experience.
Walls and large objects will somewhat deteriorate the excellent natural sound this speaker puts out, so it works best on the coffee table in front of your couch, on the dining room bar table area, or something like that where the speaker is not flush against a wall.
The imaging difference in field size does vary when you attempt to place the unit near a wall vs when you place it somewhere in an open area. The sound field is equal for the TreSound 1 when walking around the unit and on all sides. Whereas most normal speakers push the sound forward only.
Click on page 2 below for sound impressions and our selected comparisons.