JBL really surprised me when they asked me to take a listen to their new Xtreme BT speaker. It is funny…reviewing this speaker really swindled me right back to a decade ago, back when I was a speakerphile and just before my foray into the headphone world. While reviewing this speaker, I had a bit of a furnace lighting experience inside me that sparked my interest in speakers again.
The Xtreme
No, this speaker wasn't modeled after Bill Paxton's character in the movie Twister, but damned if it isn't a very nice sounding Bluetooth experience. I've never been a fan of BT Speakers and coming off Sony's recent letdowns in the BT universe, I must say that I am impressed by this Xtreme model. JBL seems to have invested quite a bit of time and effort into making a powerful, nice sounding speaker here and I've been enjoying it in my home for the past few months. There are a few important features that JBL packed into this model, so let's list them one by one. Ready? Phew.
Here we go.
-Bluetooth 4 connectivity as well as input in via 3.5mm
-Water/splash proof (so long as it isn't submerged, JBL says it will be fine)
-10,000maH rechargeable battery for up to 15 hours of cordless play, or usage via normal outlet plug
-Passive radiators for a hefty bass experience
-Noise/Echo removal during calls
-Can connect to more Xtreme's via JBL Connect
Build Quality
Jeez, this thing is super dense at a whopping 2,221g. For such a small speaker that is around the size of small shoe box, you might never expect something so massively weighted. Truly, this thing feels rock solid in build and puts out no cheapness vibes when I handle it. The exterior feels firm and snug with no lose sounding parts or rattling, but one gripe I have is the lack of a higher quality feel to the physical buttons on the unit. I am in a grey area about how to feel about them, knowing that they are protected under a rubber top for protection against wetness or splash damage. Hard to complain about it, but I've found myself feeling like the buttons indent further into the device than I feel comfortable with and the looming sense of me pressing too hard is always poking my brain. It is probably an unjust gripe, but it does bother me.
I am not going to test the durability of the unit by splashing water on it, so I'll just trust JBL on that factoid and look the other way. However, I can say that it hasn't done a very nice job of handling shower steam in my bathroom. I often like to tote the speaker with me into my washroom so I can listen to my tunes via BT streamed by my home computer, roughly two months of this on a daily basis and the unit seemed to power through without much of a problem.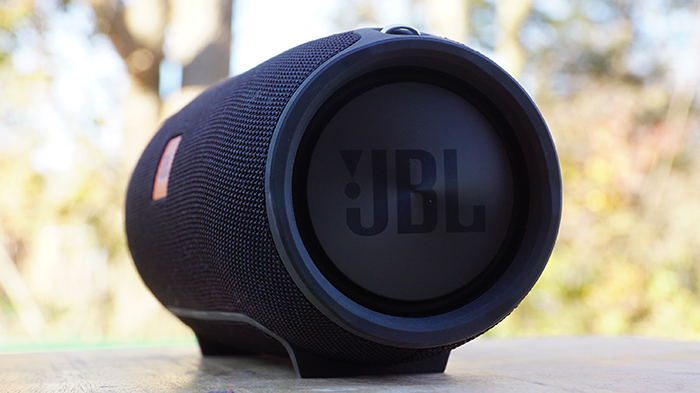 However, the speaker did blow the bass after this review as penned. For some reason that is unknown, after the review was completed in text, I boxed it up and stored it for a week or two until publication was ready. After JBL asked me for the publication time update, I took the unit back out and plugged it in, noticing the bass was overblown and something was wrong with it. I've not a clue what caused it, but my sneaking suspicion is that I probably shouldn't have subjected it to that much steam for so long. But, I am a bit baffled as to why it sounded so good for so long, but then sounded blown on the bass after being stored. It sounded perfectly fine the day I put it back in the box. Weird, but probably entirely my fault.
The Bluetooth and Calls
Bluetooth has really come a long way, Sony proved you can provide high quality BT to a headphone and not have it sound like garbage and it seems JBL has done the same with speaker tech. This is a great sign, I hate wires. Death to wires, BT is the future and I am happy to see companies investing time to making great sounding BT products these days.
The Xtreme pairs simply enough with BT dongles and BT devices of various types, I use a $9 Azio PC Bluetooth dongle for home usage and it sounds lovely with my Xtreme. Quite a difference in sound quality between that Azio and my Galaxy cell phone though, the latter of which I wouldn't recommend pairing with good sounding BT devices. My PC registers the Xtreme quickly and I've not had any syncing issues with any BT devices that I've tried to pair with it.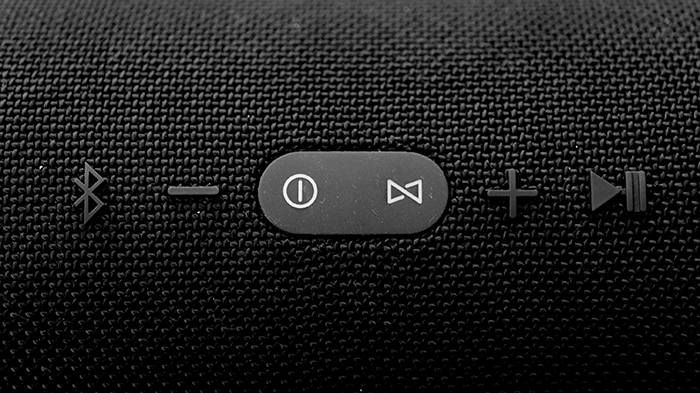 The range appears to be roughly 30ft, less if you have more BT devices steaming in the area. The connection has not ever cut out on me and I've left the BT connection up for weeks and never experienced any drops. Calls are a bit finicky and I did have some brief cut outs, but thankfully no dropped calls. Call quality is firm and solid, it is really strange to hear friends and family sound that large through speakers and the experience was unsettling to say the very least. I suppose that conference call frequenters will love it, but this was an entirely new experience for me and it absolutely left me wide eyed.
Page 2: For Sound Impressions