The Vorzuge VorzAMPduo II is the company's next-generation revision of its popular portable solid-state amplifier. It is priced at $799.
Disclaimer: The Vorzuge VorzAMPduo II sent to us for the purposes of this review is a sample in exchange for our honest opinion. Thank you to Vorzuge for giving us this opportunity.
To read more about amplifier reviews on Headfonics click here.
Such a well-built portable analog amp in 2017 will find itself more niche than the norm but for those who stack, those who have a weaker source and for those who want low noise period then the VorzAMPduo II is one heck of a portable amping choice.
November 18th, 2013. That was the last time Vorzuge and I collaborated on a review and it was then our product of the year, the Vorzuge VorzAMPduo. Reading back, I was delighted with everything about that amp, hand on heart 'the best I had heard to date' I called it.
The fact it could stack the amp snugly on the then very relevant AK100 MK1 was just the icing on the cake. A 'stackers' delight. This was possibly one of the most musical and liquid sounding portable solid-state amps I had heard, up there with the hard to find Kojo KM0-1 Brass amp and possibly even better.
Roll on 2017 and the only possible thing Vorzuge could have released to top the original is now out, The VorzAMPduo II, at a not inconsiderate mid-fi $799. AK DAPs have gotten much bigger than 2013 and more expensive, I will have to find something equally as small to stack on it this time because it is just as good, if not better than the original version.
If you are still an old school 'stacker' there is life in the old dog yet.
What Is The Pitch?
Stackers
This is old school for those who enjoy portable analog amp stacking and do not think they are getting enough out of their source for either their IEMs or a multitude of headphone possibilities. It is not cheap at $799, but it is not meant to be a production mill amp either with its German design ethic and high grade of materials used. The first one was extremely well built and so it this one also.
EQDuo II
Unlike the Pure version of this amp, the VorzAMPDuo II is pitched for those who like to tweak a little bit on FR of their signal and color the tonality to their liking. If you are one of those who used to get a kick out of amp switches and hardware EQ then the VorzAMPDuo II could well be the portable amp for you.
Low Noise
On the original amp, or the Gen 1, EQ was excellent with a solid bass and treble switch that actually made a positive difference depending on your taste. This time the EQDuo II system is being pitched as something a little more complex. Yes, it still targets the bass and treble but now the gain settings are much more efficient IEM friendly with much lower noises floors. This opens up a whole new market to Vorzuge.
Design
Form Factor
It is a traditional portable amp form factor and boxier than say the PB3 from iBasso or Oppo's HA-2SE but its really well built. If you are still rocking an MK1 from AK then the good news is the dimensions have remained unchanged with the II at 83 x 66 x 18mm. If it isn't broken then don't try to fix it seems to be the mantra.
Details
Granted 4 years on the form factor might seem less striking but the aluminum chassis in the hand it feels rock-solid with zero body flex. You also now get a micro USB connection for charging instead of the older mini USB port.
You really have to study the minute details just to see how much attention Vorzuge paid to this amp. From the lack of minute gaps around the jacks, the smooth cornering and the fine grid metalwork around the front plate switches there is not a dropped piece of solder anywhere.
Materials
Speaking of solder the internals are similar to before with Mundorf silver-gold solder, gold plated PCB, and I suspect upgraded resistors and caps to help in reducing the noise levels. This is not a design and bill of materials done on the cheap.
Weight
Traditionalists will also appreciate the ability to unscrew the panels on the II and squirrel away on the insides though quite how much room you have to mod and change batteries is not clear this time around with just one 2000mAh battery mentioned as opposed to 2 x 1000 mAh. It does though allow Vorzuge to shave off a further 15g from the overall weight of the original amp making this even lighter than before.
Colors
All of this is finished in their traditional colors of either Signal Black or Ivory Pearl, both of which have a slight change in the powder-coated texture over the original VorzAmp Duo. The new one seems less prone to fingerprints and grease patterns, perhaps a little more monotone also.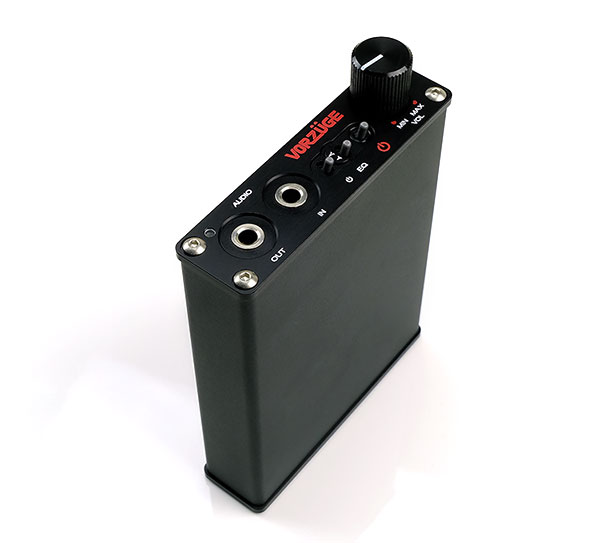 Inputs and outputs
The VorzAMPDuo II has almost the same inputs and outputs as before however there have been a few upgrades and slight cosmetic changes in how they look on the front panel. At the front, it is still the same high quality finished in and out analog jacks for line and output to the left, however, the EQduo II now has its own off and on circuit design with treble and gain stacked vertically instead of the simple bass and treble switches from before.
Switches
The switch profiles are also a lot smaller than before. The same also with the power button which is still quite close to the analog pot but again a much smaller profile. Also in comes the new 2-stage gain switch at the back alongside a new micro USB port to replace the older mini USB port.
Analog Pot
Vorzuge has retained the same smooth slightly resistive analog pot from the original VorzAMPduo which for me is a good move. It does not double up as a power switch either with all power to the switches. With the combination of gain switching technology the pot now has a variable gain control and much easier to work with than before.
The Numbers
Resistance
This is where Vorzuge really went to town in terms of bringing the II up to spec for 2017. It still caters for up to 600-ohm headphones but the output resistance is lowered now from an 'ok' 1-ohm on the first Duo to a very competitive <0.1-ohm on the II making this ideal for sensitive low ohm IEMs hitting the market today such as the Westone W80's 5-ohms, or SE846's 8 ohms to name but a few.
Power
SNR numbers remain unchanged at 110dB on a 32-ohm load however output power has been increased over the first iteration and THD -N vastly increased to <0.0008 %. On the first gen, the max output power was rated at 1 Vrms with a voltage swing of 2.7V. This has now been ramped up to 3 Vrms and a swing of 9V so technically the new generation amp should perform better with heavy duty headphones than the previous version.
Gain
It was not on the first amp, it is now. Vorzuge have introduced a 3-stage gain control system which can be operated at the back with a small switch selector beside the charging pot. The three stages are low (-2db), medium (+7dB) and high (+14dB) and totally refines any gain issues that cropped up with the previous generation. Gain can be an aggressive beast on the Gen I but on the Gen II you should now have a lot more control and subsequently less hiss.
Battery Life
The more controlled output power though should mean you get a better lifespan on the internal battery before, though the numbers will vary depending on how much switch flipping you intend to apply with the EQduo II and the gain controls at the back.
The first amp was rated at 10 hours, I didn't get anywhere near that, to be honest, hitting closer to 6-7 hour mark but I did get a marked improvement on the VorzAMPduo II with around 8 hours after a few cycles. This is probably not the best performer for battery life compared with some of the cheaper budget amps going over 10 and even into 20-hour cycles in analog.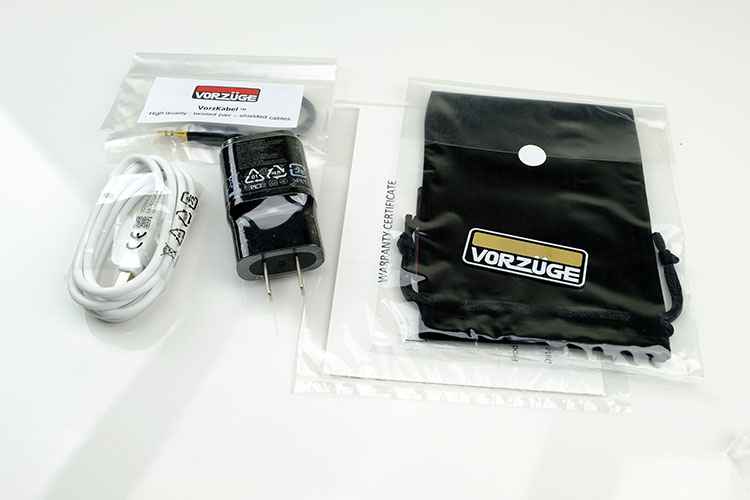 Accessories & Packaging
No change here from the initial VorzAmpDuo and I am not complaining one bit. This is one of the nicer yet still understated presentation for a portable amp and fitting for it'[s price category. The retail box is presentational, to say the least and everything is carefully arranged to give the VorzAmpduo II a fairly premium look when opened. Inside you get the following:
VorzKabel™ (170mm long)
Protective pouch
USB Power Adapter (100AC to 230AC)
USB to USB-Micro Cable (Charging from Computer)
The pouch is the one area I wouldn't mind seeing changed with something a bit more substantive such as the leather case from the ALO Audio V5. It looks nice but it does not provide a huge amount of protection though I am not sure the II needs a huge amount of padding. Some blister feed would also be a great addition to prevent scrapping.
Sound Impressions
Tonality & Presentation
Tonally the VorzAMPduo II is a musical tour de force and whilst it lacks total transparency it more than makes up for it with one of the most 'tube-like' of sounds I have heard from a solid-state, since, well the last VorzAMPduo.
This is warm to natural-sounding tonal presentation with a rich euphoric sounding timbre which is just on the right side of liquid and never sounding one iota of being smoothed over to achieve it.
EQduo II
Without the EQDuo II, the bass performance is weighted and full sounding but with a slightly polite 'tube-like' quality to it. It will fill the presentation but it will not dominate it and sounds very coherent.
For something more 'attention-grabbing', Stage 1 of the EQduo II switch is required which increases the sub to mid-bass by around 2-3dB to produce a more dynamic and aggressive sound that still holds good definition and stays away from being bloated.
You can opt for a full 12dB of low-end impact with Stage 2 but matching will have to be more studied. Efficient IEMs can sound overcooked with this level of bass and I would only really deploy this on bass lite headphones such as the T70p from Beyer for maximum effect.
Detail & Texture
The detail is there, particularly in the mids spaciousness and excellent layering. Instrumental notes are even harmonics biased with excellent fundamentals and a smooth delivery. You get a nicely textured tonal quality to guitar work which makes this an excellent amp for traditional hard rock rhythms as opposed to more aggressive shredding solo passages.
Vocals
Vocals are not quite as forward sounding on the VorzAMPduo compared to say the sweeter sounding mid-centric V5 from ALO but still come across as smooth and full sounding and do a great job of taming sibilant recordings or pairing with edgy IEMs that could accentuate that quality (Read RHA CL1).
Treble
Whilst the treble is not hugely sparkling it never comes across as sounding rolled off, just a little bit more relaxed and warmer than say the L1 from RHA or the Oppos HA-2SE. I do miss the treble EQ option a bit from the original amp which I actually used from time to time on darker match-ups. As such the treble now is more fixed and forgiving in its nature.
Click on Page 2 below for Pairing & Comparisons