Those of you who have been reading our customs reviews I had previously discussed the Compact Monitors story late last year when reviewing the VE6 XControl and mentioned the famous "Stage Series" brand of customer monitors. Well of course this success story has two sides and the other shining success story from the older Compact Monitors brand is now in the shape of Rhines who hail out of Koln. Rhines is headed up by Felix Reinsch, (from which the company name is derived from), who has been around the scene for what seems like an age now. In fact Felix has been building in-ears commercially since 1998 and as well as being the creator of the first three Stage CIEM units (Stage 1, 2 and 3), I am reliably told there is another company called Hearsafe and they are still selling the same original designs that Felix provided for them. Clearly a man with an eye for concepts that stand the test of time.
The Product Line
Rhines itself began sometime around 2013 but the Stage series remains in the portfolio starting from the Rookie, Stage 2 up to Stage 4 and in this review the Stage 5. At the time of writing the Stage 7 was just announced at the International Music Fair/ Prolight+Sound 2015 in Frankfurt). The Rhines Stage series is an all balanced armature custom affair and the numbering is an exact guideline to the amount of driver tucked into each unit with Stage 2 having 2 drivers, Stage 3 having 3 drivers and so forth up to the Stage 7 soon to be out which has 7 drivers in all. Prices range from 769 € for the Stage 2 right up to 1599 € for the new Stage 7 due out this year.
During my review I managed to build up a discussion with Felix and I asked what inspired him to produce the Stage series:
When I started the Stage series back in 2006, I was not satisfied with the quality of in-ear monitors available in Germany. Long before, I was fascinated by Jerry Harvey and I also enjoyed the line-up of UE. But it didn't fit my personal needs as a musician perfectly so I designed some earphones on my own. All that time I have been experimenting with different colors and materials to create truly unique and personal custom monitors that also feature a very high build quality. It's a passion that not every company can boast.

But most of all, the Stage series was supposed to be a precise monitor for on-stage musicians that is honest and direct. My aim was to free monitors from coloration, yet creating a product line-up that does enhance the experience for individual instruments and musicians. Our products Stage 2 and Stage 3 have become true classics in the world of professional monitoring and I am very proud of that.
The Stage 5 is their former flagship CIEM unit launched in 2014, and priced at 1379 € in Germany (less VAT at 19% if you are outside of the EU which is quite a nice reduction if you live in Asia or the US). That works out about $1250 US minus the VAT which makes this a fairly competitive price range though bear in mind Custom Art in the country next door (Poland) is churning out a silicone 8 driver unit for $200 less. Mind you the driver numbers game is a bit of a flawed argument for guaranteed sound quality these days but for the many the USP of a high driver count has become akin to the Intel CPU race of the late 90s. In short it is an easy sell for marketing. Five drivers might not seem like much when companies like JH Audio are trying to flog you around 16 per ear but in reality implementation and tuning is everything and as proved by AAW last year you can great sound from 3 drivers never mind 16.
What's Different?
The Rhines Stage 5 is an acrylic Custom monitor which after a month of silicone is quite a different experience in your ear. Now you might be thinking to yourself, hang on there a 5 BA design in an acrylic shell is not that unique and to be fair you might have a point but there is a neat little thing in the Rhines design that Felix has been pitching since the early days with all the Stage series and that's the big bore in the nozzle of the Stage 5 which is quite different to the multi bore individual canal delivery approach of many other custom monitor makers and is designed to be a seamless extension of your ear canal in some ways.
Bore Design in Customs
Most customs have a multi bore delivery for audio through the nozzle which means basically each nozzle carries a certain segment of the frequency response like the treble, the mids and the bass and deliver it right into your ear wherein your ear translates into a typical audio sound. This requires fine tuning of the BA setup to ensure what comes down those bores sounds balanced or tuned in the way the company wants their CIEM interpreted. It also, I guess, relies a little bit more on how your ear does the final mix which is a terribly unproven bit of scientific thought but our ears all hear differently different in that respect so their might be a sliver of truth to that.
The Big Bore
Rhines also does the multi bore approach but the bores are terminated much deeper into the chamber and not right at the tip. This termination point is where the big bore essentially starts. Now what the large open bore does within the Rhines Stage series is to allow Rhines to fine tune and develop the readily mixed sound before it leaves the chamber and into the bore and in doing so they are able to tweak and extend the treble further than what is possible with a traditional design using the same drivers. Rhines have done that with all their Stage designs, and something Felix felt in the early days to give them far superior control over how the audio end product should sound. When I spoke to Felix in more detail about this he was quite positive about the bore design:
All of the Stage series have multi bores but I guide them together in a big chamber instead of stretching them all the way to the ear canal. Based on my research, this has some positive effects on higher notes mostly. For one, it improves extension of the treble which allows me to use less drivers for a final product that seems like it has more. In my humble opinion, it also improves the timbre and allows notes to come together more realistically and not as sterile, yet not hurting precision or attack.
The Process
The Rhines process is quite similar to most CIEM manufacturers out there right now apart from maybe Noble and 1964EARS with their swanky online designer tool. My experience with Rhines though has been nothing short of excellent making some great buddies in the process and having a really nice discussion on the designs available and how it would look and of course the impression process. The personal touch of Klaus (Marketing Manager) was a bonus as I am as always terrible in design inventiveness and we came up with something which I think was striking and very much what I was hoping to achieve in the look and feel of the Stage 5.
The Website
Now since we started chatting earlier this year the Rhines website has gone through a few revisions so what you see now is not what I went through when I was picking out the design and package of the Stage 5. Personally I found the original site to be on the same level as say Custom ART and AAW in that you get some ideas, you have the ordering process and you get to know and understand what each unit can offer and the price for the basic unit. Once again I did resort to moving to their Facebook Page to get some inspiration and see what is possible with previous customer orders.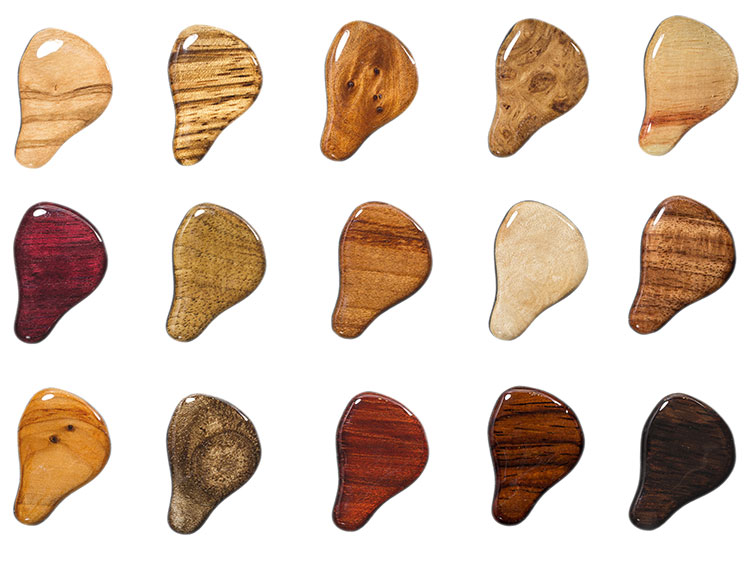 Some of the wood Rhines are using was incredibly seductive especially the Amaranth when matched with their Sryah translucent red shells. The Amaranth has that lovely wine infused dark wood accent that stood out most. Dashing but subtle came to mind. After a brief chat with Klaus we went with this setup and a standard accessory kit and box. There are quite a few more options at the time of picking with blues, greens, transparent and some other more in your face colors including yellows for the shells and over 15 different wood choices so plenty to pick from.
The current website is quite different now to what I was seeing a few months ago and a massive upgrade. It is quite unusual a lot of customs designers have not cottoned onto the fact you need inspiration, an easy design process and handy tips all in one area so the new Rhines site definitely seem to be developing day by day in terms of what you can see and do on it with a planned link up with their Instagram account for a comprehensive gallery of previous design possibilities.
Preferred Impressions
I actually got the ear impressions the exact same time as the Custom Art Harmony 8 impressions so the process was the exact same. As per the Harmony 8 I used regular Dreve OtoForm KC from the local audiologist to create the impressions. Just a reminder this is pretty much the stock clay used in most of our local audiologists here and has mild expansion properties and can last up to two weeks before hardening out and becoming a bit useless. All in all not too bad of a choice but the preferred clay for me is the Detax green clay you can see in the packing. Something about this clay seemed slightly more detailed when it popped out of my ears.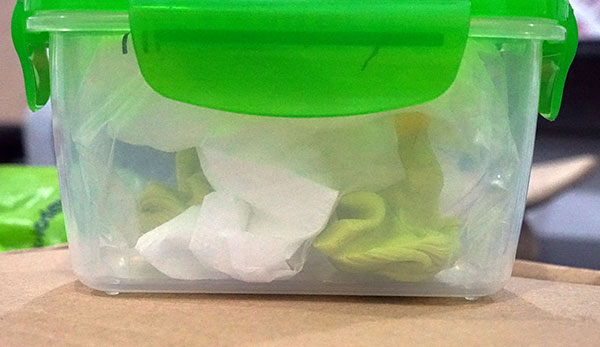 I agreed with Rhines for the same closed jaw full ear impressions beyond the second bend in my ear canal as the Harmony 8 so no need for a bite block thankfully. Impressions as per my last few reviews should be securely packed in a hard shell container with only a slight amount of cushioning for impact but not too much that unintended physical pressure from the packing deforms the impressions. They are hardy but not unbreakable. Cotton wool, though well-meaning, is an evil incarnation and should not be used. Better instead to crunch a single slip of tissue and insert between the two impressions lightly. Then it's off to the courier of choice.
Turnaround time with Rhines was not too bad actually but not the fastest either, somewhere around 6-7 weeks in total turnaround time but if you set yourself up with that expectation then you shouldn't get too bothered with the wait time. I did get some nice teaser pictures during the process which helped while the time away. That turnaround time also included shipping back and forth from the moment I got my impressions which went out the same day as they were done and took around 4 days to get there and 4 days for the final product to come back.
The Final Product
The final product came out a lot better than I could have hoped for. The mix of reds and amaranth was just perfect design wise and the gold imprinted logo was not terribly garish either. I am not a huge fan of gold but it seems fitting on the Amaranth plates. It struck a fine balance between conservativism and striking as well as providing a really nice compliment to the rather louder colors of Custom Art Harmony 8 Orange/red swirl and maple design.
Perhaps this is where I could have gone with the VE6X shell color choice instead of black so if you are going to do this once and once only I would advise going for translucent shell colors that match or compliment your plate of choice. For me personally, they have a subtle blend about them that's more premium looking than solid shells. There is very little disjointedness between the plate and the shell also with a very nice lacquer and polish finish all around and not a single detectable bubble in the molds. The finish around the big bore is smooth as you can get so nothing sharp or rough to catch your ear on the way in.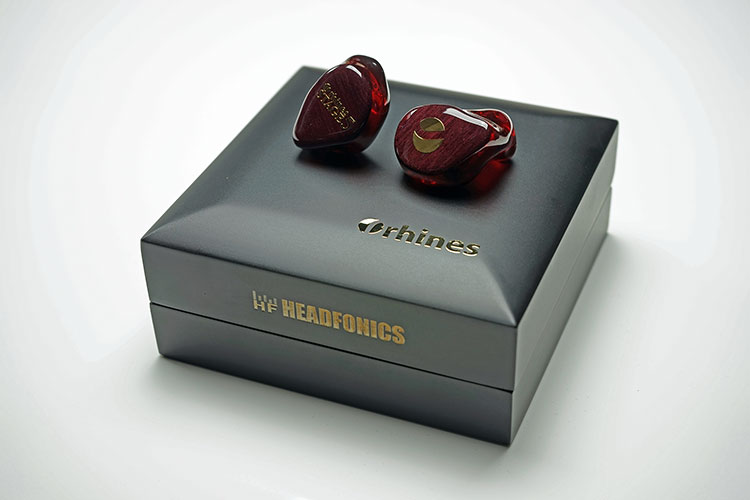 Cables & Sockets
The sockets are housed for over the ear and are non-recessed. Personally, I prefer recessed but these sockets are among the tightest I have ever encountered so there is no chance in hell the cables will ever loosen and fall out even in strenuous head movement or physical activity. Almost too tight to be honest and cable changing was actually a challenge until I got a nice thin little knife to help wiggle out the stock cable. I can't say all sockets will be this tight as it goes from batch to batch but if you are a musician then these might be too your flavor otherwise to make sure you are ready for a veritable tug of war if you want to take the stock cable off.
The cable is still the standard 2 pin Westone type connection and a very similar black pliant braided cable with a 3.5mm right-angled, gold plated, 3.5mm jack with good cable strain relief. It can come in two lengths, 135cm and 165cm – this one was 135cm. There is added strain relief at the y split also and a small piece of plastic tubing for the chin adjuster. Since this is an over the ear design you also have some memory tubing at the top of the cables for molding round your ear to keep everything firm and planted when in use.
I am never quite sure if this cable is the same cable used by just about every customs company except AAW but line them up with the likes of 1964EARS, Vision Ears, M Fidelity, Unique Melody etc and they look the same to me. They are comfy, light and have zero memory retention and very little in the way of microphonics so its a good cable but not a unique cable.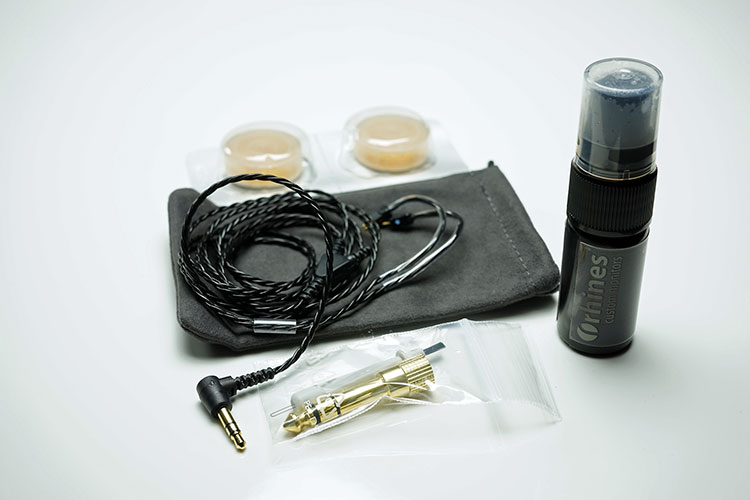 Accessories
The Stage 5 itself comes packed in a neat little box that is not quite as 'wow' as the large toolkit box of VE but does look very stylish indeed. I believe a Pelican case is now the default option. Reminds me of a cufflinks case and fitted in nicely with the color scheme I had chosen for the Stage 5. Branding can be chosen, I went with our logo on the side and the Rhines logo on the outside and on the inside of the top lid. Inside you get a little cloth pouch for ultra-portability and in case you do not want to take the full hard case with you. You also get a gold-plated quarter jack, a small nozzle pick and cleaning tool, 2 dry caps for moisture control and a small spray bottle of cleaner. It's a good little package and right up there with VE and a few others and does show there is some thought and experience down the road as to the common causes of audio degradation in customs, namely poor maintenance and moisture control.
Fit & Seal
I went with closed jaw impressions and true enough I got a nice tight fit, much tighter than the VE6 or Harmony 8 and about the same level as the 1964EARS V8. It's perhaps my tightest fit yet and originally I thought it might require a refit but after around a month I have grown to like the fit. It is a musician type fit and won't budge one iota under strenuous head movement or jaw movement. Often you can get a relaxed shorter nozzle fit that will feel good on the first insertion but after a few jaw movements, you can detect small gaps that lose the isolation and seal and out goes the bass in an instant. Not so with the Stage 5, this is rock solid open or closed and the seal is 100 %.
Of course, coming from the lush silicone fit of the Harmony 8 to the acrylic sturdy fit of the Stage 5 can be quite an 'ear' opener in terms of comfort. It's not that the Stage 5 is less comfortable it just feels more 'present' in your ear. It is really hard to edge out a good silicone fit in terms of comfort and do remember the final fit and seal will come from your ear impression which is never a foregone conclusion in terms of perfection either. Having said that the Stage 5 I received was free from any 'abnormal' fitting pressures around the concha, tragus and anti-tragus part of the outer ear. These areas can often be deal breakers in terms of comfort and any undue pressure can lead to unwanted irritation and lingering soreness after long listening sessions if not done right.
Page 3: Sound Impressions