The Miniwatt N4 is a portable amplifier and integrated DAC capable of 32BIT/192k decoding and 100mW into a 32Ω load. It was priced at $199.
Disclaimer: The Miniwatt N4 sent to us in exchange for our honest opinion in this review. We thank the teams at Miniwatt Hong Kong for giving us this opportunity.
To read more portable amp and DAC reviews on Headfonics click here.
Note, this review follows our new scoring guidelines for 2020 which you can read up on here.
It is Chinese New Year soon and Hong Kong audio specialists have reduced the price on their N4 USB powered DAC/Amp to a very tempting $199 as a special promo so we thought we would take a look and see how it performs and if $199 is a "don't miss it" bargain.
Those into hifi audio will undoubtedly have heard of Hong Kong's Miniwatt which for the last four or five years have specialized in tube amplifiers and speaker desktop solutions.
The reviews were good and the customers happy so the N4 marks something of a departure for Miniwatt given it is a rather diminutive yet classy looking design and the fact it really is a new path for them into the world of digital and transportable audio.
Not wishing to leave all that amp making expertise behind, Miniwatt also engineered internal amplification and a headphone output to the N4 making this something of an all-rounder in the same class as ALO Audio's Island in many respects.
Dropping the price from the SRP $398, albeit temporarily, to a rather more eye-catching $199, also places N4 right in the mix with more successful high-end budget amp makers such as FiiO and to a lesser extent Ibasso and JDS Labs.
Design
Out of the rather basic packaging, the N4 strikes a nice balance between functionality and flair. Wrapped in a charcoal/dark grey faux-leather wrap the N4 stands out a little from the rather monotone all-metal casings I am used to.
There is some thought put into how it looks and feels. Perhaps Miniwatt believes the digital audience and laptop user is a more discerning 'fashionista' who demands more from his audio devices such as the Igadget users and it would not look out of place actually beside a Macbook or an iPad.
The front does have a slight industrial finish with the protruding screws but otherwise the faceplate sports that minimalist design with digital plus and minus volume buttons and a headphone jack.
Digital buttons are never my preferred choice given the greater control I can get with analog volume pots and stepped attenuators but it does look pretty sturdy and well finished. The back follows in much the same pattern with USB input, RCA left and right output for analog, and a coaxial output for digital all with the same flushed out grey faceplate and protruding screws.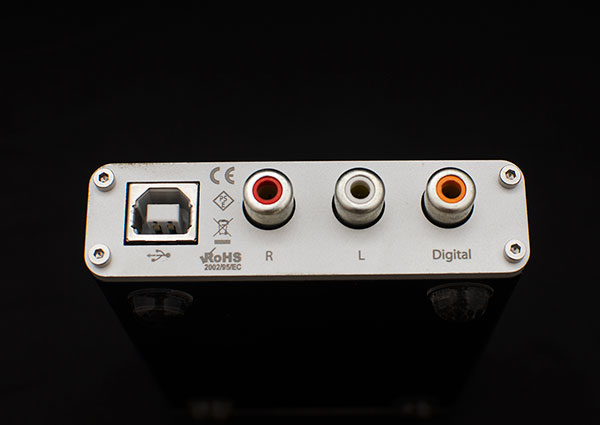 It feels just about the right size though and very well balanced. Sticking on some blister feet will help keep the leather free from unwanted scuffs and thankfully there is no tilting due to cable weight which sometimes the Just Audio UDAC2496 can be prone to given its tiny form factor.
The N4 is small, USB powered (5v) but feels sturdy and balanced in operation and as such it is a perfect office partner or standalone audio gadget for wallowing in Starbucks with your tall latte, cans, and laptop.
Functionality
The N4 comes packed with a Texas Instruments PCM1795 DAC chip (essentially the same as the PCM1792 and can decode up to 32bit/192k which is plenty good for most discerning FLAC listeners these days.
It is not without its quirks though particularly in installing the drivers and setting it up. The N4 is not 'plug and play' and instead relies on downloading C Media 2.0 drivers from their website to activate the CM6631 USB media chip installed in order for Windows machines to recognize it (thankfully Mac and Linux do not need to go through that process and can use native drivers).
That is simple enough but there is one further minor thing that you have to do to get playback to begin and that's in the playback devices advanced properties section you really need to select the 24/192k setting to get full functionality.
I know it is a small thing and very easy to do but its not that obvious, and if you are a male audiophile then frankly reading the manual is the last thing you will think of until you are fed up trying every trick in the book to make it work. Selecting lower bit rates resulted in full on silence from the N4 and the same for a few others who tried it.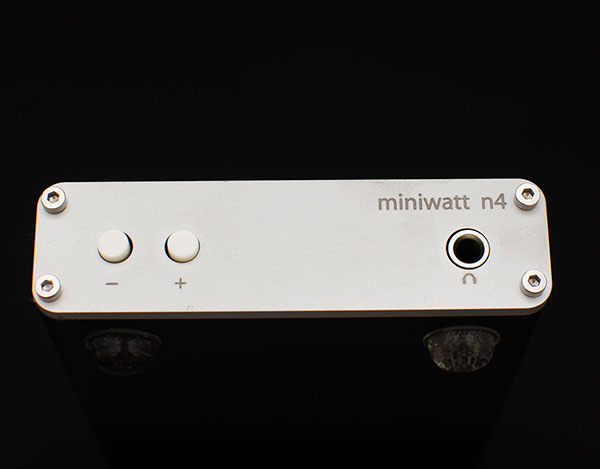 Once installed you have options for USB and coaxial spdif output and the left-right volume buttons bring up a nifty little volume bar on the screen to show you what volume the device is playing back at.
That is a nice touch since otherwise I would have no clue based on the spartan front plate on the N4 which lacks any sort of volume indication.
Sound Impressions
One of the things I like to see in a well-implemented DAC is good dynamic control and a certain punchiness being translated into any amp connected to it, or in this case its own internal amp.
This dynamic control and snappy rendition were most obvious in comparing the Rein Audio X3 and Just Audio uDAC2496 – the detail was there in the X3 but the uDAC2496 just sounded that bit more weighty and exciting compared to the flatter and more restrained X3.
The N4 tonally speaking sits somewhere in between both but lacking the utmost detail such as the X3 and not conveying the same visceral punch as the uDAC2496.
Using its own internal amp the N4 is warm to neutral with a reasonably thick presentation and a smooth though somewhat soft attack and tapered top end without any irritating spikes or lower treble energy to distract giving a fairly coherent sound.
Bass is pretty solid, bloat-free, and fairly tight on the N4 without being overpowering or bleeding and disturbing what is a rather musical and fun midrange. There is a slight midbass hump rather than a deep extension but I didn't really find it lacking on most dance tracks I tried.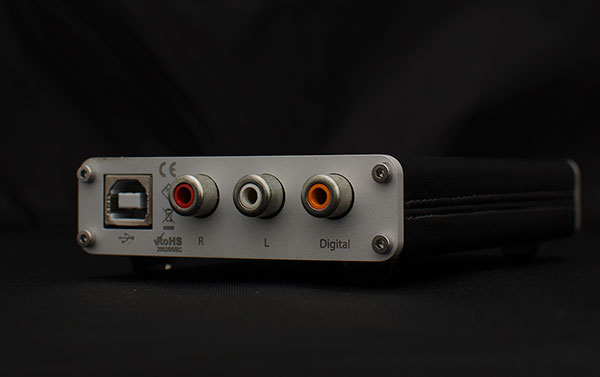 The internal amp also did a great job conveying a pretty good sound stage and some great depth and accurate imaging. In some ways, the N4 reminds me of the Island from ALO Audio tonally but while the Island felt a bit hollow and grander the N4 is more center focused and tighter and overall a slightly better choice for more detailed listening than the Island for me personally.
It doesn't have the same sparkle and dynamic punch as the uDAC2496 but its precision and smooth rich body to the tone more than compensates and places it at the easier end of the scale in terms of easier listening.
The N4 matches pretty well with neutral headphones that are not too demanding in power using the internal amp and whilst I detected a bit of hiss on more sensitive earphones and headphones I did not find it distracting when the music started.
Using RCA the N4 duplicated much of the existing tonality into my Swann active speakers with a lack of dynamic punch compensated for with decent mid-range performance and a clean but rich presentation that felt well controlled and a slight step up from what I was hearing from the internal amp.
SPDIF output gave a slightly more digital presentation and again that slight attenuation in the treble but still retained that rich smooth response that makes the N4 so easy to listen with.
Our Verdict
At $199 (SRP $398) there is much to like about the N4 from Miniwatt. For a first jump into the world of digital audio, it is very well thought out and conveys a tonality not out of line with their previous heritage in producing great-sounding tube desktop amps. The sound is rich, coherent, and well-controlled though the slightly attenuated top end lacks a certain sparkle that can at times blunt its impact.
It looks great also, to be honest, and certainly can hold its own beside the igadgets of this world and for a transportable, all in one solution is a worthy upgrade from whatever you are running inside your PC.
At SRP there are slightly better DAC/AMP's out there such as the Just Audio uDAC2496 and the ALO Audio Island represents better value but at $199 this gives the N4 a great edge.
N4 Technical Specifications
USB 2.0 Async Mode (480 Mbits/sec), support 32bits/192k
USB Audio Interface for High-resolution audio file from PC/Mac
Support any sampling frequency to be upconverted to 192 kHz
Electrical Noise Immunity via USB Digital Link
PCM1795 DAC with 32bits/192k 123dB Dynamic Range
LM4562 High Performance, High Fidelity Audio Operational Amplifier at analog filter and driver
Independent L and R channel circuit at the output stage
Digital Attenuation to deliver balance volume out (Digital Attenuation: 0 dB to –120 dB, 0.5db/Step)
USB-powered, no external power supply required
Dimensions: 115mm (L) x 74mm (W) x 20mm (H)
Finish: CNC Silver Powder Coated Aluminum Panel with Laser Etching + Stitched Leather Extrusion
Outputs
Headphone Output: 100mW at 32Ohm
Line Output: 1.8Vrms (auto-mute when using the headphone out)
USB 2.0 audio to S/PDIF converter, 32/192k SPDIF output
Supports USB Audio Class 2.0 and high-speed mode on Operating Systems: Windows® XP, Vista, and Windows® 7, Mac OS X 10.5.7 (or later) with Miniwatt vendor drivers
Supports USB Audio class 1.0 with full-speed/high-speed modes compatible with Windows® XP, Vista, 7 UAA driver, Mac OS X and Linux embedded USB audio drivers