The Lows
Planar Magnetic driver designs typically output a more solid wall of bass with a liquid like texture. The stock, unmodified T50RP was lean on the low end bass experience and did not respond very well to Equalization. The Mad Dog responds very nicely to low end EQ via Foobar2K's Real Bass Exciter DSP ( which is a simple, free downloadable add on for the Foobar software that offers a much greater bass output than the stock EQ function ). With this, you can really test what is possible with the low end of your headphone or speakers. Shockingly, with light toggling of the bass output switch you can alter the Mad Dog from a generally intermediate low end quantity headphone into a bass-heads delight. The bass is capable of becoming very tenacious, very solid and weighty with proper amplification and a bassy source. This headphone is more dependent on source low end quantity than high voltage output, but still remains a fairly inefficient set of headphones that require a high gain voltage. Via just my ALO International and iBasso DX50 combination for example, the low end experience is heavily lacking but still well within the realm of being lean even on high gain. Due to the exceptional bass output potential, I'd suggest a Cowon product to better achieve a sturdy low end. In Dac mode, the International really doesn't have the low end to even remotely begin to do the Mad Dog bass quantity justice, so that is where the Real Bass Exciter DSP becomes a high value component to the setup. With just a minor increase in bass output, you get enveloped in a yummy but firm low end experience. Truly remarkable in terms of the way the bass is portrayed and exuded, so very solid, smooth and powerful without being overly baring or snappy. Gotta' love that Planar Magnetic Bass. So tasty!
(Addicted to Bass LP Image )
The Addicted To Bass LP is naturally a bass heads dream come true that mostly focuses on heavy Dubstep, fast pounding bass and a beautifully scenic vocal experience. Definitely something you'd want to check out if you are into the Dubstep scene. Tracks like Take My Breath Away, for example, really make this headphone shine and reveal it's true nature: something geared for a highly musical, fun and addictive experience. So satisfying and never upsetting on the low end.
The Mids
I am impressed by how realistic and well defined the mids and vocals are in this Mad Dog. Well defined in regards of body, weight and overall presence. Most other headphones in this price tier will bow before it's vocal experience, I can't name a single headphone in the sub $500 world that can touch it in terms of both clarity and how well the vocals are physically reproduced inside the stereo image. Exceptional definition and forwardness. This is not a relaxed, laid back headphone. Instead, the forward presence of the mid range excels in overall engaging qualities. Due to excellent stereo image height this headphone offers, vocal experiences within the Mad Dog are extremely intimate, more like sitting near the artist instead of a front row experience in headphones known for a wider sound stage. Stereo-image height is very important to the mid range experience, in my opinion. Of course, the mid range is not as clear as something like my Audeze LCD-3 for example, nor are the mids as physically definable in the void of the stereo image, but they are sure good enough to cause the overall value of the LCD-3 and Hifiman Planar Magnetic's to drastically depreciate in value.
( Metal Gear Solid 3 OST )
Cynthia Harrel's Snake Eater ( Camouflage Version ) is an exceptionally forward and spacious track off the Metal Gear Solid: Snake Eater OST and happens to be one of my favorite songs. The experience via the Mad Dog is visceral, highly dynamic and eerily spacious in stage-depth. The entire album is jam packed with excellent recordings and highly dynamic vocal experiences that really make the Mad Dog Shine. Also Check out the Essential Michael Jackson Collection if you are into Pop Vocals. This collection is composed of restored hits from the King of Pop that sound beautiful in comparison to their original CD releases, shining brightly via the Mad Dog's phenomenal mid range.
( Borderlands 2 OST )
Bonus: Borderlands 2 is rare in the video game industry and highly regarded for its phenomenal sound production. This game caters to Audiophiles and whoever lead the sound design team needs to be praised and given an award of some type. ( Perhaps a free high end headphone for their excellent work, but not my headphones. I'm super stingy and will defend my audio gear to the death! ) This game is heavily dependent on sound-scape and staging qualities but is also highly centralized on character voices and interactions. The overall quality is unprecedented and something to not be missed if you are an Audiophile Gamer. With the Mad Dog, the entire Borderlands 2 pilgrimage is simply gorgeous. Truly, this game is an Audiophiles Playland. From Bullets to character interactions, the experience is heavily reliant on stereo image and sonic depth of field. Summed up, The Mad Dog is one of the best multimedia and gaming experiences in it's price tier.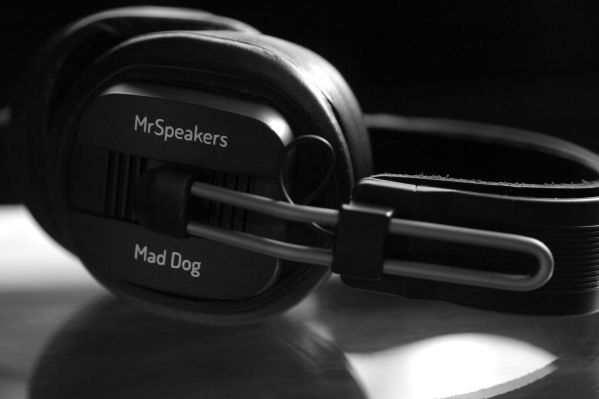 Click to next page for pros and cons…