Sound Impressions
There is no need to beat around the bush, the Calyx M isn't quite on par with the AK240…but it really isn't that far off in my opinion.  Two different beasts in my opinion, no doubt: the AK240 sounds more pure and refined, but also more boring and clinical.  The Calyx M is more natural in tone and far less bright with the treble response to my ears, however this evolves into a huge problem for me as time goes on due to the lack of an EQ system inside the player.  You are just stuck with the tuning of the player as set by the designers; sadly, there isn't anything you can do to alter it.  I find it extremely annoying and psychologically painful to know that this player can sound that good in clarity overall, but I'll never get that extra boost in bass, or tone back the treble if need be via even a basic EQ filter.  What a shame.   In my opinion and at this price point, an EQ system should be a basic right.
Tone and Clarity
As mentioned, this is quite a natural sounding player with no real bloom anywhere that I can spot.   I do find things lacking on the low end in terms of quantity on a subjective level though, again due to that lack of an EQ, but the Calyx M also offers a bit of an interesting texture to the bass as well.   Through my JH16 pro there is plenty of kick and slam, as well as depth in terms of how far low end extension actually goes:  thick and broad without much of an interesting texture. However, through my Noble K10 I can spot noticeably different texture to the entire low end via the same song.  Amplifiers don't alter this, hell, this Calyx M is the first DAP that I've personally owned (thanks to Sunil) that exceeded the potential of my RSA SR71B portable amp.  There is an audible downgrade everywhere when I pair the two together, opposed to just using the Calyx M by itself.
To date, I've had to strap my SR71B to every DAP I've owned to achieve the level of the Calyx M all by its lonesome; a good example being my AK120 gen 1, which was modified by Red Wine into the RWAK120B: a DAP that I adored.  Even then, the SR71B was needed for driving power as well as the clarity it offered over just using the AK120 by itself.  Such is not the case here with the Calyx M: the SR71B downgrades sound qualities, when paired with this DAP, to a noticeably grainier and congested experience.  In terms of pure clarity, I put it about 2 steps behind the AK240 and noticeably beyond the first generation of AK players.  For $999, this is a hell of a steal, since the first gen AK players are still well over the thousand dollar price mark.
Bass and Mids
Ok, so I am not fond of how the bass is portrayed here on a subjective level, but the Calyx M definitely offers excellent bass quality.  I simply prefer a more weighted, solid type of a texture akin to Planar bass, but this DAP is more of a middle ground: a little loose, lacking density and clearly something intended to be used with linear sounding headphones without emphasis on bass quantity.  Bass heads won't like this, as you'll need a heavy bass set of headphones to really enjoy it, but due note that the Calyx M offers sufficient bass quantity for most of us and won't sound lacking at all. Via my Noble K10, which has monster bass quality and quantity, I am just not at all impressed with the combination and have gripes all day long with it.
However, with my JH16 I absolutely prefer the combination over the AK120+SR71B.  I think the higher end headphones and customs just don't mesh with this Calyx M and I've found that I just don't enjoy the K10 at all on the Calyx M: lacking stage depth of field, solid and concise formation to everything and overall clarity that isn't as good as plugging my K10 directly into my Pathos Aurium home desktop amp with regard to substance factor.  This is a problem for ultra, high end users, but not for entry level Summit users.  JH16 owners and similar will be more than happy, in my opinion.  In turn, this causes problems with those who enjoy lush and vibrant midrange ala Audeze or even JH16 fanciers.  I happen to be one of those people who prefer the AK240 over the Calyx M for all things midrange: there is just something magical about the 240's solidity factor that trumps this Calyx M significantly in my opinion.  However, it is noticeably sweeter sounding, whereas Calyx's M here feels drier and less interesting.
Bass heads need not apply; this DAP is not for you.  However, those who own liner sounding headphones will love the Calyx and I would recommend you test it out for yourselves if possible at an audio gathering, this isn't one to skip over.  Those with bassy headphones, such as the K10 or JH16, Vmoda M100 or your pick of something regarded as bass head worthy, will absolutely enjoy the clarity and gentle texturing of the Calyx M's low end.  To my ear, it sounds more fluent in musicality than the Astell and Kern players.  Weird, because I'd much prefer the AK240's midrange substance factor over the Calyx M…but we are comparing a $999 Calyx M with the AK240 that costs more than double that.  I really wanted this to be a lush sounding midrange experience of a DAP, but I may be asking far too much at this price point.  If you have heard the generation 1 AK120, you will know what the Calyx M's midrange feels like, as they share a similar tonality and setup.  True, the Calyx here is noticeably superior in fidelity across the board over the older AK120 from a few years ago.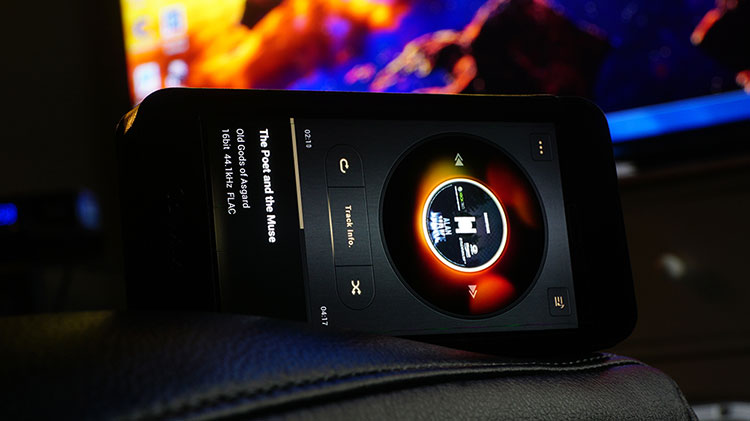 Treble and Imaging
I'm not fond of the upper end, to say the very least.  I am too accustomed to higher end gear I suppose, so this poses a problem for me because I do love my JH16 and my new Noble K10: both of which have a good amount of treble presence that is bottlenecked by the Calyx M.  Once again, at this price point I just cannot complain, but it warrants mention at the very least.  The Calyx M is a bit reserved and dry on the treble as well, near void of texture and sparkle with most of the headphones I know to house great style up top.  Take my AKG K267 for example: a headphone with excellent treble normally, now sounds a bit lack luster and toned down in quantity compared to what I am used to.  You are really going to need treble master headphones to appreciate the Calyx M's top end in terms of quantity, as it seems to tone things down too much for my tastes.  Again, this is directly due to the designers tuning preferences…and that damn lack of EQ.
Stereo imaging is excellent and among the best I've ever heard in a high end DAP.  I think it is noticeably fluffier and aired out than the Astell and Kern players, even the AK240, as well as deeper and more expansive in most ways.  Definitely a sound stage lovers DAP, but as mentioned before there is one thing that bugs me: the lack of substance vocals and instruments have.  The AK240 simply sounds denser, the Calyx M sounds a bit thinner.  This could be a problem for all of the high end headphone users, especially custom monitor users like me.  Despite that, I make due when I look at the price tag and realize this DAP is only $999…and the only competing DAPs are all over double that price.  I can't complain, truly I can't.  From left to right, separation of instruments is actually stellar and a bit better than my Oppo HA-1, stunning when you think about it and how a DAP can outperform a full size rig in staging properties.
The DAC
If all that wasn't enough, the Calyx M functions as a USB DAC that employs the two channel ES-9018-2M Sabre chip for PC needs.  It is a solid chip and I prefer it over my Oppo HA-1, however not so much compared to the Burson Conductor SL with the 1793 DAC being used.  If you are going the musical route, I say go big or go home.  In this case, the Calyx M's DAC feels a bit different to me than the normal DAP usage for some reason.  I am not sure why, but it does.  When plugged into my PC and through Foobar2000, I get a more musical and exaggerated tonality that I vastly prefer over using it as a strict portable device not attached to the PC.  Nothing really changed in terms of staging or clarity; I simply noticed more oomph on neutral EQ by comparison to using it straight with headphones on the go.  When EQ via software came into play, which is where things got really interesting.  All of my gripes vanished and I was able to fix the treble and bass, add some crossfeed and get the sound I desire.  Once that was achieved, I felt like I didn't need my Oppo HA-1 anymore.
Final Thoughts
I love the sound of this player, but I really hate the battery life and how large it is.  This is too big to be considered a portable player and the battery really makes sure that is a truthful statement.  Just a few hours of battery life isn't going to fly with most audiophiles, so I hope they find a better, less power hungry DAC chip in future models.  I hope Calyx continues making DAPs, they did a good job for a first attempt on this level and all the signs of a bright future are there, ready and waiting.  The player has the most beautiful screen in a DAP I've ever seen and boasts incredible driving power without being loud or hissy with sensitive IEMs, has incredible storage potential and doesn't cost your soul to afford.  In terms of price to performance, it punches above its weight and offers a good sense of entry level Summit fidelity.  Great job, Calyx! This one is a keeper, but please try to make sure some basic core functions are available in the next DAP, perhaps also one that isn't so large and with only a few hours of battery life.
Price: $999
Links: http://calyxm.com/
Review Setup
Mr.Speakers Ether
Focal Classic
Flare Audio R2A/R2Pro
Noble K10
Pathos Aurium
Oppo HA-1
Astell and Kern AK240
Fiio X1
Centrance Mini M8
Sony A17
Technical Specifications
Display 4.65″ OLED 1280×720 (HD), Adjustable-Brightness
Core Processor Cortex A5, 625MHz / 1G-byte
UI/UX (M:USE) Proprietary design by Calyx M, M:USE
Audio
File Format: AIFF, AIF, ALAC, FLAC, WAV, DFF/DSF(64DSD, 128DSD-DoP), DXD, AAC, MP3, MP4, M4A, OGG.
Sampling Frequency (kHz): 44.1, 88.2, 176.4, 352.8, 48, 96, 192 & 384
Bit Depth: 16, 24 & 32
Output Voltage: 1.25V rms @ 16 Ohm
Frequency Response: 20Hz~32kHz
THD+N: 0.0008%@1kHz at 32 Ohm, 0.004%@1kHz at 16 Ohm
Channel Separation: [email protected]
Dynamic Range: 114dB
Gapless Play Yes
Stand Alone USB-DAC
Compatible OS: Windows XP, Vista, 7 & 8(32bit, 64bit), Mac OS X 10.6+
Sample Rates: Asynchronous. 32/384. 128x DSD-DoP
External Memory: 1 SD (up to 256GB) and 1 micro SD (up to 128GB)
Internal Memory: 64GB flash memory
Language Support (Menu) English & Korean
Optional: Japanese, Chinese, German, French, Spanish, Italian & Etc.
3100mA (5 hours play time)
Micro USB connector
Dimensions: 135.50 x 70 x 14.80mm (H/W/D) Weight (230g)
Accessories Micro USB cable