Shozy has been steadily climbing the Hifi ladder for some time now and they continue to do so with their new Hibiki IEM. I am optimistic that they will end up a bigger, better business in the mainstream Audiophiles circuit, due to the fact that they have consistently offered excellent quality products since the company had first been established.
These guys have been crafting budget-friendly components for years and their latest IEM, the Hibiki, is no different. 2016 and 2017 birthed a metric ton of excellent sub $99 IEM's though, so I am extremely interested to know how Shozy's new Hibiki fairs against the others in its price tier.
Build
Thank the Audio Deities the include tip sets were perfect for me. The fit is excellent. The retail version includes 3 tips (Small, Medium and Large) for you.
The Hibiki's hand polished carbon fiber plates feel very good, as pretty much all carbon fiber "anythings" tend to be. The tip area is plastic and feels thin though and that is a negative dynamic for me. Half of the IEM housing feels amazing, the other half beyond the exterior plate area feels underwhelming at best.
The metal grills on the IEM tip nozzle are nice and girthy, which is what I desire highly to see these days. The more air movement in the chamber and entryway, the better. At least, in my humble opinion.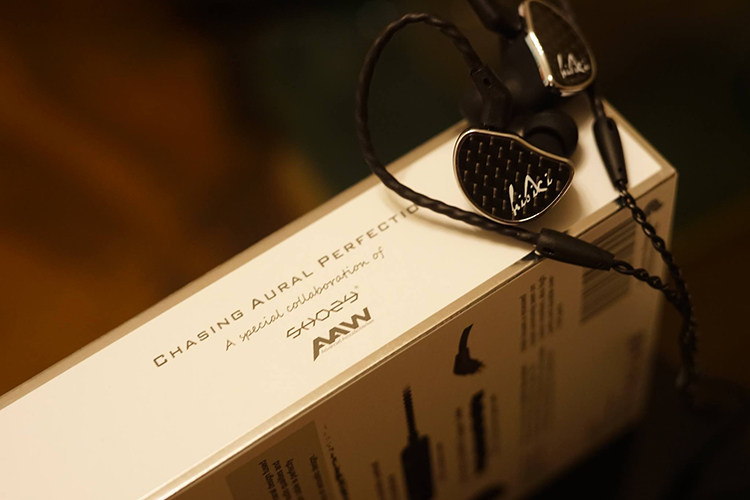 Cable
The braided cable is a nice addition, as are the recessed sockets for cable entry, which I can only hope other companies start adopting Hifi-wide. Standard cable quality and adapters are too often given on an IEM sub $99, so that does not at all bother me that the 3.5mm lead end is basic. I expect this and you should too as a consumer. Sub $99 powerhouse build qualities are rarer than finding a perfect diamond lodged inside of a brick-sized gold nugget. So, I can't and won't fault it for that.
Advanced AcousticWerkes
The Hibiki was formed out of a collaboration with AAW (Yes, the cable type) and the stock included 2pin cable adapters are from AAW, which Shozy has told me are the expensive versions.
Cable quality is not at all an issue. I do dislike the in-line mic and the additional 4-pole jack design especially due to the incompatibility I get with some amps but it still functions well and I didn't have any call issues when testing.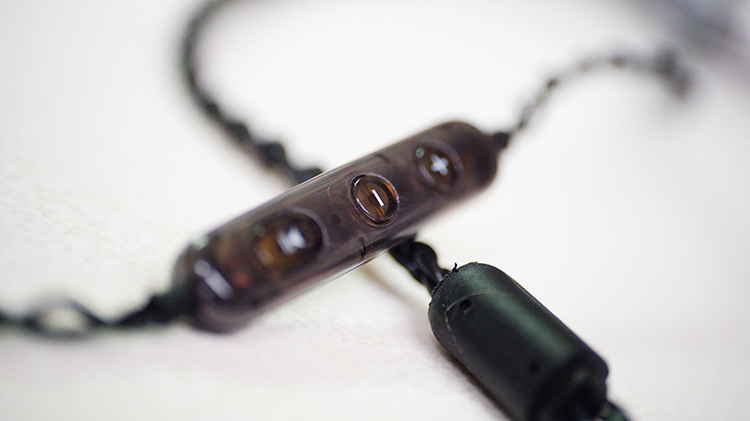 The Hibiki is a great IEM in quality and because of this microphone, I can't use it on a headphone amplifier that does not work with 4-pole jacks. Microphones ruin the signal and you require a massive string of dampening adapters to get it to fool the amplifier to work properly. I am not cool with that in the slightest. I want to use this Hibiki on great amps and not get a bad signal out of it on anything but 3.5mm mic enabled output devices like Cell Phones and Hifi DAPs.
Thankfully…I do have the adapter string required to get it to sound just fine on a normal 3.5mm amplifier. It sounds lovely, of course. But, it is still silly looking.
Detachable
Thankfully, Shozy's Hibiki has a detachable 26AWG and braided cable that insane Hifi'ers can merely unplug and toss their $400 custom cables inside of a $59.99 IEM. It sounds silly, but I've already seen some users on social media adopt this, much to my shock.
Comfort & Seal
I have a thought. And it is a good one. My thought is that the Hibiki is the most comfortable non-custom, over the ear IEM design that I've ever worn. Most of that has to do with the very soft and very long ear-loop guides that are part of the stock cable. I have expensive replacements that fit it, but none of them have a soft rubber piece that is so well conformed to my ear shape. I adore it.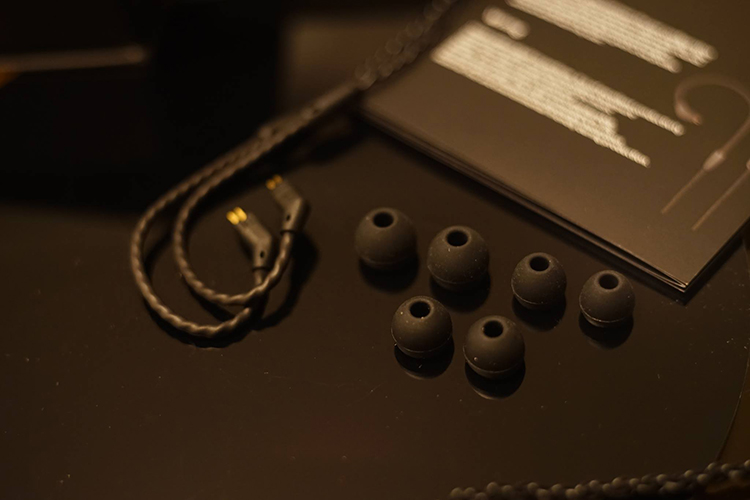 Truly. I have nothing but high praise for this material: it is not stiff, it also is not overly loose. It fits me just right and stays in place even on bumpy bike rides. I want to see other companies copy this. Sorry for being blunt. But, I really enjoy the fit and comfort factor a great deal here and I can't thank Shozy enough for choosing that material.
Typically, over the top of the ear styles like this employ some type of harder substance/material for the bendable piece that loops over the said ear. It is often grinding and uncomfortable, even on very expensive custom IEM's. Not the case here at all. The material is super slick and very soft, extremely forgiving and does not require you to bend anything. It is already in the right shape and naturally falls into place without being snug or too loose. Excellent design here.
Sound Impressions
Bass Response
Quality is not at all the problem here, which I found to be excellent for a $60 IEM. Quantity and response to EQ are really a problem for me on a subjective level. The Hibiki is on the top end of bass-light in quantity. Meaning, it looms just around and maybe just below a moderate amount of bass offered.
I found this a problem subjectively because the mids and treble are immensely prominent and top-tier quality for this price. So the dynamic range between the lows and the rest of the spectrum is a bit funky. I truly need to near max out the Bass Boost control on my Cowon Plenue M portable player ($899) and set it to around +8dB. That is just too high of a boost required to even things out. Even then, the bass quantity still is lower than the mids and treble feel to me. Quantity and response are relatively poorly setup.
Bass Quality
Quality though is objectively among the best budget models I've heard. Former stars in this price tier belonged to Fischer Audio, with their Eterna and Silver Bullet models, at least in my opinion. We have a new champ though at the $60 and under tier: the Shozy Hibiki.
The tone and texture of the low end are very thin but has an impact sometimes in a similar manner to AKG headphones and how they portray bass. It isn't flimsy, per say. It is more of a lacking substance issue but still can kick on dynamic impact nicely when boosted with an EQ. I find the 0dB flat EQ, or disabled EQ entirely, setups to be very pure feeling for such a budget-friendly IEM. But, this becomes a subjective issue for consumers and reviewers alike.
What is there, is very nice so long as you don't boost it. But, there isn't much quality present to actively gauge raw quality in full. Bass light headphones usually put out a thin appeal, to begin with, and that means the texture and tonality aspects of it are relatively devoid of anything interesting. It is pretty bare. But, I don't hear any quality control issues at all and I do feel on totally flat EQ setups that the entire low end is pure enough to impress at $60usd.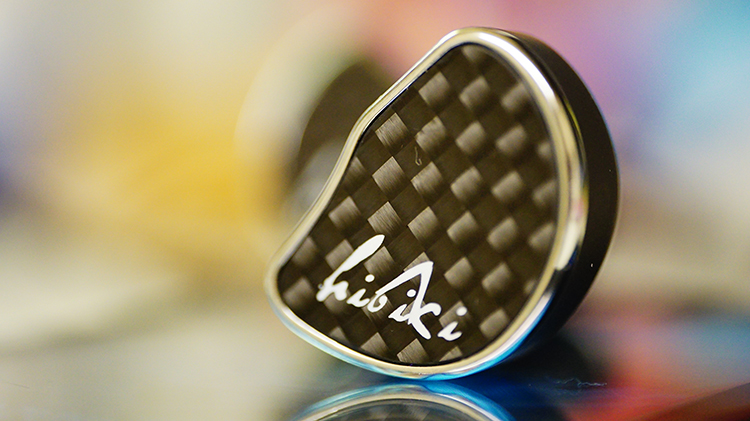 Mids
The Hibiki is very sweet sounding in the upper midrange and up into the treble, with a chance for high potency when the track calls for it. It has to do with excellent (up to 40hz, they claim) response. Usually, you don't ever see a 20-40hz rating on frequency response in an IEM of this price. In fact, I can't name a single one off the top of my head at the moment.
This IEM is forward sounding and very intimate. If you love vocalist tracks, you'll enjoy this. It is a proper, fantastic commuter IEM, which is what Shozy seems to be advertising this model as a great option for the daily traveler.
I agree with that statement. I've found myself cycling often with it and enjoying the intimacy factor of the forward midrange appeal. Too often do companies take the safe route and make it relaxed and linear. Here, the Hibiki will excel.
The quality is very good for the price, there is no doubt about that. It isn't going to win awards or roll with much more expensive IEM's but damn if the price isn't excellent with regard to what you receive out of the midrange overall. I really enjoy this midrange. Most of my readers should be aware that I enjoy very forward sounding headphones the most and here with the Hibiki, I feel very satisfied.
Treble
As mentioned, the response chart rated this IEM up to 40hz. And you know what? I think it is immensely responsive to treble alteration via EQ. The Hibiki is very airy feeling for such a low-budget IEM, I feel that has a lot to do with the very abundant treble.
I don't find it painful at all, wince factor is relatively moderate and not a problem on dynamic kick factor. So long as the volume isn't overly loud, the IEM doesn't kick hard. But, it can startle you a bit now and then with sudden cymbal crashes and piano key strikes. I call it semi-bright up top, abundant even.
But, therein lay the problem. Similarly to how some Hifi headphones that are very expensive have lots of treble response, I feel the Hibiki is not at all musical up there at the top end. It isn't sparkled, nor what I would call beautiful. It is just abundant and responsive, maybe even clinical in tonality.
I compare it to the new Massdrop + NuForce EDC IEM, which is similarly priced, which in turn is much more relaxed and tonally superior, although the overall fidelity is inferior to the Hibiki. A rare case where the more clean and clear one is neutral and potent and the fidelity-wise inferior sounding set, in terms of quality, is still more beautiful sounding in tone and texture.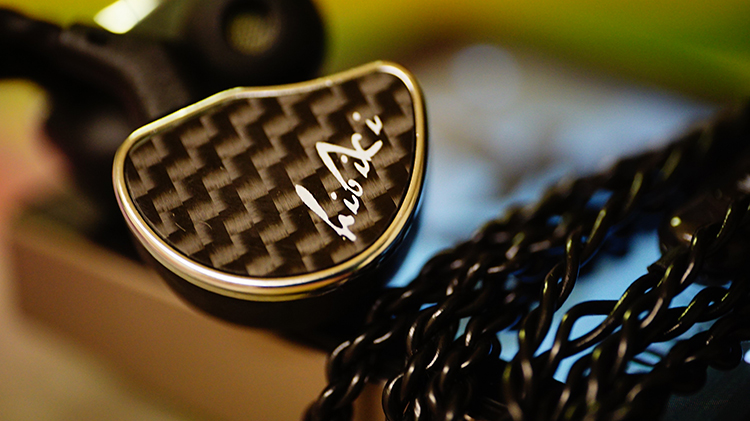 Imaging
The Hibiki offers a good depth of field and moderate stage height and width. It isn't grand on appeal, but it is certainly enjoyable. It lacks nothing at the price range, that is for certain, but I've had some earbuds (hanging style, not IEM) that vastly trump it in staging property.
Lately, IEM's have been gaining traction in the sub $99 tier and have begun to offer excellent realism and stage depth. Effortlessness factor is good, but not great on the Hibiki. For travelers, which is what this IEM was intended for, imaging properties are well beyond sufficiently passable.
I feel indifferent to it when comparing to other products in the tier, but for what it is worth, the depth of field is more than good on this IEM for this price, but the width and height factor feel extremely linear and well tailored to suit each other. Meaning, they are boxed shaped and equal parts, neither struggle for attention and the result of these two factors working together inputs a nice effortlessness, a forget you are wearing an IEM feel when you are actively using it. This is a good thing, but I've heard better in that tier.
The Fischer Audio Silver Bullet, now generations old in Hifi years, smashes the Hibiki in width factor. And the Fischer Audio Eterna compares in depth of field, yet neither of those IEM's house both factors together. So the Hibiki takes the win once again as the best overall imaging IEM sub $60 on the market that I am aware of. If you bumped that to $99, the Flare Audio R2A comes into play when buying used, which totally blows the Hibiki out of the water in imaging properties. Things to consider, if you are an actual consumer.
Our Verdict
Hell of an IEM, if you ask me. I am so in love with the overall shape and design, that I am modeling my near future custom IEM (very expensive) to look as similar to this Hibiki as I can. I love the black carbon with white lettering appeal and I've got nothing but compliments when using it outside near others. It is a sexy IEM, no doubt. The price is excellent for the sound quality offered, punching above its weight class into the next tier for sure. But, it needs work on the low end.
I found it overly lacking in quantity and a bit too lopsided with regard to the quantity offered in the mid and treble areas, in comparison to the light appeal of the low end. It feels strange sometimes and you just want more out of the low end to match the excellent mids and treble. Sadly, you can't really get it because the Hibiki doesn't respond too well to bass boosting. Cranked up to +8dB and not much of a difference is not a good sign for anyone looking for a bassy sound.
But, for those who want excellent mids and treble and who don't care too much for bass, this is a great option. The community will love this, it is a fantastic budget product. At $59.99? You can't go wrong. Stocking stuffer quality approved. This is a great option to become a Hifi deviant and sway others into Hifi. Buy this for them, odds are good they won't ever use a typical low-end headphone again.
Technical Specifications
10mm Bio Cellulose Membrane Proprietary Full Range Dynamic
Single Sound Bore Design
Frequency response:20Hz-40000Hz
Sensitivity: 102dB SPL@1mW
Impedance: 18Ohm@1KHz
THD≤0.5%@1KHz