Advanced (formerly known as ADV) have cropped up on our radar before with the M4 single DD IEM. We reviewed it last year and gave it a healthy 8.0 overall score given its price to performance ratio was quite good.
This time around Advanced have sent us their latest Bluetooth creation, the Evo X which they have priced at a fairly competitive $59.99 though the SRP was originally at $129.99 so that is quite a drop.
I have to say it's a smart move because at $59.99 the Evo X hits the sweet spot for lifestyle orientated wireless IEM pricing. I would have a concern if these were still at $129.99.
Normally we wouldn't go for a review of these, it not usually our market. However, the Evo X is designed with a beryllium dynamic driver which piqued our interest from an audiophile perspective.
By the way, don't ask me how if this is the ideal gym using IEM. When I last saw a gym the iPod was still in its 3rd gen infancy it's been that long.
What Is The Pitch?
Bluetooth Lifestyle
The Evo X is a single dynamic driver Bluetooth IEM. It is pitched with a heavy emphasis on gym and sporting lifestyle use. Its design has a focus on durability and a secure fit in keeping with active muscle and head movement as well as a "cable loop" that stays out of the way making this a low profile 'wearable' device.
Beryllium
As a secondary feature to the Bluetooth lifestyle core pitch Advanced has seen fit to install a beryllium dynamic driver in the Evo X in an effort to maximize audible quality to go alongside the more obvious functionality.
It is part of the reason we are reviewing it also. Beryllium drivers are hot news in 2017 with Periodic Audio, Campfire Audio and Focal all making them central to a lot of their designs. I am not suggesting the Evo X is Focal level but it certainly a talking point for a sub $100 BT IEM.
Warranty
So confident are Advanced with the build quality and functionality of the Evo X they are pitching it also with a 3-year warranty putting it up there with the likes of RHA for potentially a long-term hassle free investment.
Build
Form Factor
The Evo X looks huge but looks can be deceiving. The basic driver housing actually comes in two parts. The first is the large "9-iron" shape of the front housing and the second stage is the driver and an angled nozzle. The external housing sits outside the ear whereas the second stage driver presses closer to the ear canal with the nozzle slotting in the canal at a 45-degree angle. The vast majority of the seal will come from the tips supplied.
Materials
The Evo X is an all plastic affair so, despite the sheer bulk, it is relatively lightweight. The driver housings sweep up into a fairly bulky over the ear hook. the front part of the hook is quite stiff and rigid with the arch and tail end more pliant and flexible. The end of the hooks are finished with red and blue metal tubes, (easy for left and right matching), each with a gap to take the short looping cable.
Cable
This is a short cable, maybe no more than 30cm in total length but pinched in the middle with an adjustable rubber chin strap making it feel much shorter. It is actually designed to be worn over the ear with the cable dropping from the back of your neck rather than to the front and under the chin. You can wear it either way but it is significantly more snug to the front than the rear and much less comfortable.
Comfort & Seal
Hooks
The Evo X's hooks do a great job of keeping everything secure even with rapid head movement. The light pinched cable to the rear also helps reduce potential tangles and accidental pulls on the drivers. Glasses wearers though may have an issue with the thick stem and hooks used by the Evo X and it does feel like both glasses and Evo X will be competing for the same real estate around the ear.
Tips
Advanced has supplied 6 pairs of tips with the Evo X, 3 silicone single bore and 3 single bore memory foam in small, medium and large size. No question the memory foams provided the slightly more comfortable fit as well as the better seal of the two.
Foam Size
One thing I did note is the length and size of the foam tips being fairly long and large so be prepared to move down a size to get the best fit. My normal fitting is medium but for the Evo X with foams, the small size was a better fit.
Seal
The seal, in general, is average, there is a little bit of background noise leaking in and that may be to do with the generally wide girth of the nozzle preventing the memory foam from deep shaping in your ear.
Functionality
Physical Design
The BT functionality is housed in the right driver shell only with a Micro USB port underneath for charging, the power button to the front and the volume rocker to the top. They are well sealed with rubber pull out flaps so it's unlikely a ton of sweat or water will seep in during daily use.
Short & Long Press
Once in the ear, the controls are fairly accessible to your fingertips though curiously the dual functionality of the volume and track select feels 'reversed. What I mean by reversed is a long press will increase volume and a short press will change track. Normally it's the other way around so micro-volume adjustments might be a bit tricky if on a tread. That being said you could argue that it prevents accidental volume jumps by changing it to long press.
Power & Pairing
Both powering and pairing operate from the same button to the rear of the right driver and it's just a question of how long you hold it. A short press will power up the Evo X and if it's already in your ear you will hear a voice command stating "power on". Press it a bit longer and the Evo X will go into pairing mode as denoted by a voice command stating "pairing". Once paired with the device of your choice it will state "connected".
Protocol
Sadly no apt-X on the Evo X though BT 4.0. Granted not all phones or DAPs come with apt-X and there is a cost involved with using the technology but it does seem strange to not opt for it when deploying a custom design beryllium driver as I am pretty sure both combined would have produced top notch sound reproduction. I do have to bear in mind that Brainwavz own BLU series is apt-X capable and starts at sub-$50.
As such you will get BT 4.0 capability which isn't bad and the Evo X does a pretty good job in that respect though dynamics and detail might be a shade less than apt-X competitors.
Battery Life
The Evo X is spec'ed for 5 hours per cycle and 2 hours to recharge which may seem a bit high for just 5 hours but it's more competitive than Brainwavz BLU series which has just 3-4 hours playback and also a 2-hour charge cycle.
Real life testing got it fairly close to the stated 5 hours though. Advanced have included a small micro USB to USB A cable which you can connect the Evo X to and charge from any 5V source such as your laptop USB or USB Plug.
Accessories & Packaging
The Evo X package is neat and tidy and good value for $60. The retail box is clean, well spec'ed out in terms of details and even includes the FR chart on the back of the box for those that "chart shop". Mind you it should give you a fairly decent idea of what to expect sound wise, it's not far off.
Inside you get a single semi-stiffened zip carry case with a decent amount of space inside to hold the Evo X BT IEMs as well as a meshed canopy on the ceiling to hold your various tips. You also get a short USB A to micro USB cable for charging the Evo X and a short user manual which I do recommend you read before using.
Sound Impressions
Tonality & Presentation
The Evo X has a V-shaped frequency response with a slightly darkish tonal quality to its timbre. This is an IEM that is tuned for musicality with a focus on a contrasting bass and midrange to lower treble response for additional 'excitement' and energy.
The low-end is elevated with a mid-bass boost around 50-100Hz before dropping by around 7-8db into the lower mids. Mids stay relatively recessed to around 1k then it gets a fairly healthy dose of energy from 1k to 3k and then again from 5-7k before it rolls off fairly quickly to around 10k with just a tiny nudge from 10-12k.
Tips will play a bit of a roll in the final signature though so silicone tips for me take a little away from the low end whereas the foams' better seal enhances the low-end response but at the cost of a more attenuated top-end response.
Bass
The low-end on the Evo X is relatively well controlled, certainly better than a few other BT earphone experiences I have had. Whilst it is fairly elevated with a bit of mid-bass warmth it doesn't sound overly boomy but it does have a slight bit of softness to it and rolls off right at the bottom so you won't get a huge amount of sub-bass rumble.
Vocals
Vocal tuning is more geared to female vocals than lower pitched male vocals with that elevated upper mids and presence regions. Spacious sounding dance tracks with ethereal vocal elements fare better than guttural rock and metal male vocals, sounding more forward and engaging and competing less with lower pitched instrumental passages. Sibilance is well controlled with the Evo X.
Treble
Mid-range to lower treble is boosted and energetic but the attack remains slightly soft so you do not get a huge amount of splashiness with percussion work. You won't get a huge amount of extension and articulation is just ok but it never comes across as peaky or harsh sounding which should those just fine planning to use them for long work out sessions.
Tuning Preferences
The tuning is really quite beats orientated and lower mid-range focused music comes across as more congested and lacking in separation compared to EDM and R'n'B which take advantage of the elevated low end and energetic upper mids and lower treble performance. This is less Battle Beast and more Dash Berlin, less Stone Sour and more Ellie Goulding and Major Lazer if you get my drift.
Connectivity
Distance
For a BT 4.0 device, the distance and quality of connection are on par with similar devices I have used in the past when using smartphones. Despite the lack of apt-X, the distance is roughly 10 feet with 1 wall in-between our source and the Evo X before the signal started breaking up using an LG G6 smartphone. I also got similar results with my older BB Passport BT module.
By far also both smartphones gave me the strongest signal over the greatest distance compared to DAPs both cheap and expensive. This is similar to the Brainwavz BLU series and the Pendulamic Stance S1+ in terms of clarity of signal in relation to distance.
Source Quality
The distance got significantly shorter with DAP BT modules which I suspect are not quite as good as the LG G6 and the BB Passport and may be behind some of the concerns other users had with intermittent connections. So it may not be the Evo X purely at fault it could well be the source BT module being simply too weak.
FiiO DAPs
A good example is the BT 4.0 apt-X capable FiiO X7 Mark 2 when paired with the Evo X clapped out in terms of connection a good 2-3 feet shorter than the Lg G6 with one wall in-between.
Even 1-2 feet away there was some stuttering in the connection which suggested the FiiO firmware is not where it should be for a consistent connection with the Evo X. Mind you FiiO do have a new firmware for the X7 Mark 2, however, the X7 Mark 1 and FiiO X5iii had similar intermittent connections so I tend to think of this as more of a hardware issue. Simply put the smartphones may have a superior BT module.
Shanling DAPs
Those working out might not appreciate a large smartphone or DAP in tow making the tiny cute M1 DAP from Shanling ideal. Quite apart from its diminutive size making them ideal for arm bands (which are included with the optional case accessory pack) they are a heck of a lot cheaper than the X7.
The M1 actually fared worse than the X7 with about 4-5 feet distance and a complete shut out as soon as I went behind a thin wall. At times, also I lost sound when standing right beside it necessitating a re-pairing. Again, the LG G6 and the BB Passport had a superior connection and the quality was miles ahead.
Select Comparisons
Brainwavz Blu-200
$54.50
Tonally the BLU-200 follows a similar path to the Advanced Evo X with more of a V-shaped frequency response than the BLU-100. However, the BLU-200 bass response is just that bit more elevated for me than the Evo X and also a bit more sluggish sounding with a slower rate of decay than the beryllium drivers of the Evo X.
Vocals are similarly slightly more forward and perhaps a touch more forward on male vocals compared to the Evo X which tended to favor female vocals. Both stay smooth and well controlled in that respect with neither showing any strong sibilance.
Treble is a little edgier on the BLU-200 compared to the Evo X though both are relatively smooth and show a degree of roll-off post 7k in keeping with a slightly darkish tonal quality on both. Again both are tuned for good bass/treble contrast and tend to favor modern dance/EDM and RnB over rock and mid-centric indie.
Brainwavz Blu-100
$44.50
The BLU-100 is quite different tonally to the Evo X with as far brighter and more mid-centric focused. If you prefer BT with rock and indie pop then the BLU-100 might be the superior choice. Mids are not as recessed sounding clean and clear though that brighter signature gives a slightly edgier overtone with a greater chance of sibilance making its presence felt. In a way, the BLU-100 is more unforgiving of bad recordings than the Evo X.
Treble on the BLU-100 is a touch brighter but more brittle sounding. It has some healthy contrast with the warmish low-end mid-bass dominance but it's not as satisfying or as smooth as the Evo X's smoother top end. Both show a degree of roll-off in the final octave so you will not get a huge amount of extension or air in either.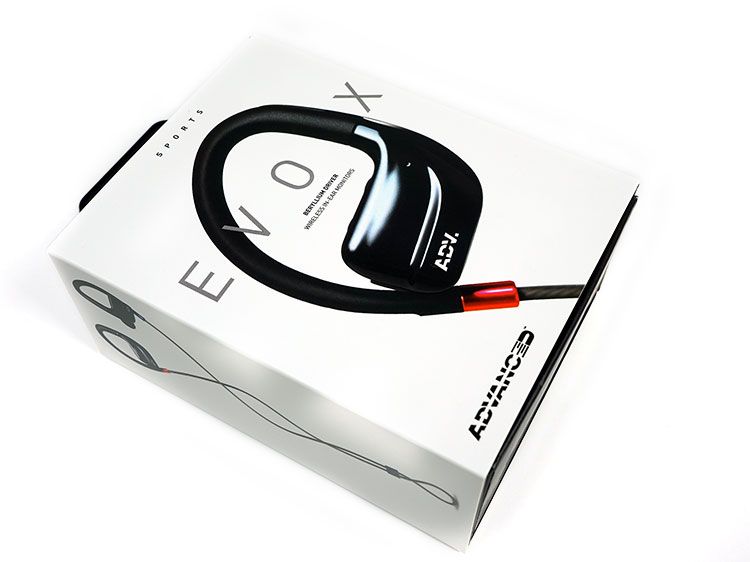 Our Verdict
Given the price point, package and performance the Evo X is competitive as a lifestyle IEM for active users and even without the apt-X it sounds better compared to the Brainwavz BLU series for audio performance.
Its V-shaped frequency response is more adept with modern EDM and R'n'B than anything mid-range focused or complex. The dynamics and imaging are on par with competing BT devices though I did find modern smartphones to produce a richer presentation than DAPs surprisingly as well as superior distance with less dropout. With DAPs the sound was a little more compressed and distance was vastly reduced with broken connections as little as 2-3 feet away.
Overall the Evo X is a better choice right now for me than the BLU series on audio quality as well as durability. I can see it lasting a bit longer in the gym or simply out and about and whilst I do have some concerns about the connection quality with DAPs I think the average smartphone user will enjoy this pairing.
Technical Specifications
| | |
| --- | --- |
| Driver Unit | Custom-tuned Single Beryllium Dynamic Driver |
| Impedance | 32ohm+/-15% |
| Sensitivity | 98dB+/-3dB at 1kHz |
| Frequency Response | 20Hz – 20kHz |
| Rated Power Input | 3mW |
| Maximum Input Power | 10mW |
| Music/talk Time (Wireless) | up to 5 hours |
| Charging Time | 2 hours |
| Bluetooth Version | 4.1 |
| Connection Distance | 10m (33ft) |
| Input Port | MicroUSB |