Due to public demand, Brainwavz has decided to introduce a new BA-based series of IEMs. In total there are three new BA-based IEMs; the B100, B150, and B200. Having recently heard the B100 I have had high hopes for further up the line of this new serious stab at audiophile hearts and minds from Brainwavz. What I have here is the B150, the middle man, houses a single Balanced armature which does all the heavy lifting.
According to Brainwavz:-
  "The Brainwavz B150 earphones are designed with sound quality and comfort in mind. The Single Balanced Armature has been tuned to produce a balanced sound signature, with clear and detailed treble, lush mids and a gentle bass. The B150 over the ear design and small form factor allow for a comfortable and ergonomic fit".
Just like the B100, the B150 does not have a in-line Mic version. It comes in black and looks exactly like the B100, priced at $109.50. They look really similar to each other and I was even warned to not to mix these two up but it's not that hard to tell them apart once side by side.
It's in a really busy segment for sure and B150 will face competition from earphones like ETY HF-5, Vsonic GR-07, Dunu Titan-1, ATH-IM70, Hisound HA-2, but the B150 has a place of its own and in my eyes, I will pick this beauty over all of the above.
Accessories & Packaging
Brainwavz has changed the packaging in recent years with a far more professional presentation. It now looks more elegant and minimalistic with all the accessories and the earphone is placed inside the new tubular carry case. Inside the "all so familiar" black and red carry case you can find 7 pairs of tips out of which 6 are silicone single flanges and one pair of Comply T-100 tips. There is also a cable clip, a cable tie, and an instruction manual/warranty card completing the list of accessories.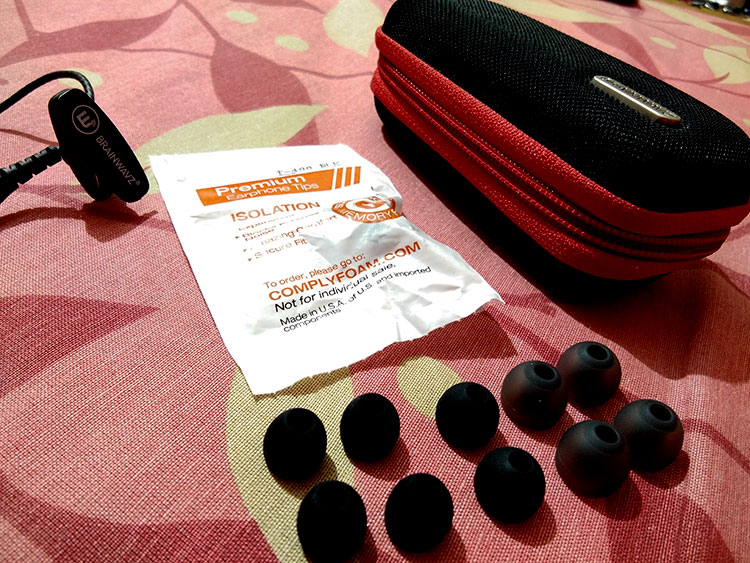 Build
Most of the Brainwavz earphones have all metal earpieces, B150 is unusually plastic given the previous legacy. It looks nice but for me the build quality is average.
The cable does perform well though with low microphonics (far better than the old S series flat cables), does not seem terribly bouncy with an element of rigidity but still fairly supple. The cable splitter is small and lightweight with more than adequate strain relief at the 3.5mm jack. There are L/R markings on the front side of the earpieces but you don't really need that because of the direction of the drivers make each side a natural fit for the left or right ear.
The B100 has a simple rubber-coated cable whereas the B150's cable is internally braided like the M1 & M-100 giving it a more premium look. This is probably the most distinguishing feature to tell both IEMs apart when side by side.
Fit & Seal
It's not the most comfortable looking IEM but once you insert it does feel a lot more naturally comfortable, perhaps one of the best for its price at least.  The fit is rock solid with little or no adjustment required due to the narrow and slightly long nozzle providing a fairly deep insertion.
I can put it on, pull my upper ear, push the earphone in and it's done, no further adjustment required and it's good for hours. This would be an ideal choice for the gym. The over the ear design with memory wire hooks means it won't fall out easily. There is a cable slider too to make it even tidier.
Isolation using the Comply tips is excellent with little in the way of background noise though you may detect some wind noise if outside. Comparitively speaking the fit and seal are better than HA2, Nebula One and IM-70.
Sound Impressions
Tonality
I am a fan of BA-based earphones, they sound cleaner and clearer to me. B150 is better than most of the single BA earphones priced under $150. It might not be the most accurate earphone but it is precise enough. Quite a lot of BA designs at this price point sound dry and lacks the juiciness of dynamic drivers but B150 is not dry by any means. It has a potent bass with really clear and detailed mids as well as nicely balanced and equally energetic highs. The B150 sound signature is neutral, slightly dark with a hint of warmth. The best thing is it's devoid of any type of coloration.
Bass
Just like its younger brother B100, the B150 also has one of the best bass (quality and details wise) you can find in its price range. It is juicy and meaty and a step up from the B100. It has more than enough rumble and hits hard enough when required with a good impact. The B150 has the tighter bass of the two with a faster decay though not as fast as other BA designs such as the Hisound HA2 or A151p 2nd gen or mostly any other single BA earphones.
The last BA earphone I reviewed was the Hisound HA2 lacks the body, impact and the amount of air which the B150 is certainly not lacking. The B150 has excellent sub-bass presence, it goes really low for a single BA earphone with sizeable impact.
Mid bass and upper bass are tuned down slightly compared to the B100, maybe to give it a bit or cleaner presentation which we associate with BA earphones and it pays off. You are not going to miss any of the bass beats and it has more control and precision too. Detail is also good for a single BA, with excellent control and above average clarity and more than decent PRaT.
Mids
The B150 mid range has good clarity and transparency with a dark to neutral tonal presentation. The B150 lower midrange is balanced sounding compared to the more forward presentation of the B100.
Unlike the HA2 or ETY HF5 which have an "in your face kind" of presentation when it comes to mid-range clarity and details, the B150 has a softer and more forgiving signature for the average listener. The B150 is less harsh, it has good clarity and details with a slightly relaxed presentation but still has enough bite and sharpness that one expects from a BA design. Instrumental timbre and separation is excellent with good spatial cue accuracy and imaging.
There is a good amount of detail with vocals with a natural reproduction. Notes are perfectly presented with excellent depth and sharpness. Male vocals sound thicker and shallower while female vocals are deeper and sharper. It has a livelier and more forward vocal presentation which makes vocal passages sound effortless.
The only problem I had with B100 has been addressed here, with the B150 instruments which are well spaced, nicely layered giving it a bigger soundstage with good depth and width. Thanks to the increase in stage size everything sounds more engaging and holographic.
Treble
If the B100 was slightly on the energetic side, B150 is seriously balanced, not a single thing that pops over the line and it still has the required amount of sharpness, spark, and energy intact making it one of the most detailed still inoffensive IEMs. Lower treble percussion attacks sounds clear and articulate adn easy to pick out.
What really sets it apart is its extension which is excellent for a single BA IEM, far better than the B100, A151p, and even the HA2. Layering and separation of high pitched instruments are really nice, thanks to the bigger than average soundstage.
Matchability
Even when specs suggest an impedance of 30 ohms the B150 doesn't need any amplification to sound loud. Sounds perfectly loud out of my Vivo V3 and OnePlus 3T. Measures up nicely with all the devices. It does sounds slightly warmer out of my Cowon C2, slightly darker out of my Cowon J3. If you have an amp, I will suggest you use it, it can use some power to gain some more balance and stage.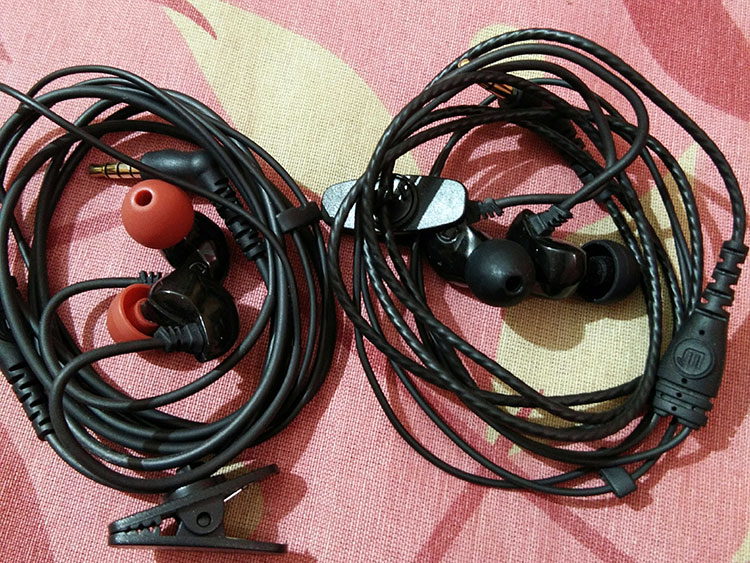 Select Comparisons
ADV Audio Model 3
The ADV Model 3 has a detachable cables, it comes with a BT conversion cable too, now that takes it to a totally different level. However, when wired the Model 3 tops the B150 in a few areas
1. Sonically, it has a fantastic ability, it can place things really well and throw cues really far
2. The size of the stage is big, it has superior depth width and height, awesome layering and separation
3. It's top end extension is articulate, forward but not sharp or fatiguing.
4. It has better timber, sounding more natural
5. More focused  upper midrange energy.
What the Model 3 does not have is the sub-bass prowess of the B150. It also lacks the mid-bass control and is slightly V-shaped. Both have similar details and clarity. Signature wise Model 3 is brighter and warmer, feels really cozy. Ergonomically it's comfortable but thanks to its slightly bigger size and lack of memory wires it's not as comfortable as the B150.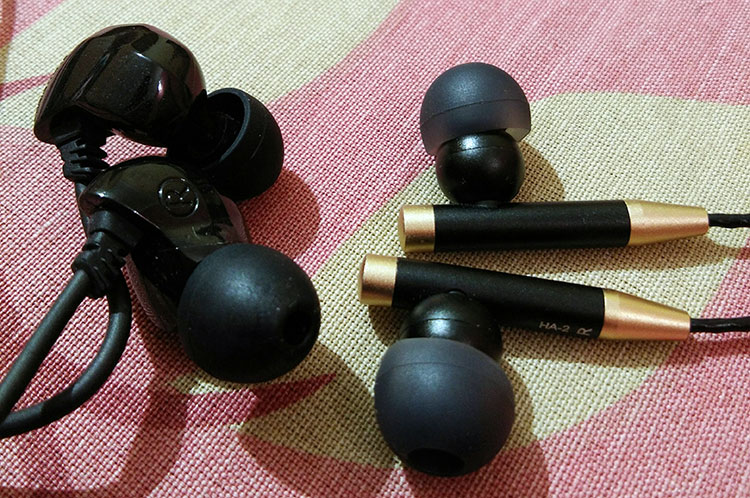 Hisound HA2
HA2 has better clarity, better details, flatter across the spectrum, has nice and sharp treble. If you are looking for details, HA2 is an excellent sub-$100 choice. It has a similar cable to the B150 with low microphonics.
The HA2 lacks some extension on either end with some roll-off present so you get less sub-bass power and less headroom and thus a slightly compressed soundstage. Aesthetically it is also a bit plain looking and the fit is awkward and prone to falling out. Comfort is average, isolation too.
Meze 12 classic
The first thing that catches the listener's attention is the Meze 12 Classic sub-bass rumble, which is powerful even with silicone tips and similar to the B150 with foam tips. It sounds more natural with better timber than the B150. The Meze 12 also has  slightly better upper midrange energy.
The 12 Classic, on the other hand, does not have the same level of resolution compared to the B150. The 12 has better stage width, height and instrumental separation. Much like the HA2 though the 12 Classic is a straight-barrel design so ergonomics are poor but it is reasonably comfortable with Foam tips though isolation is below that of the B150. The 12 Classic cable has a higher level of microphonics than the B150.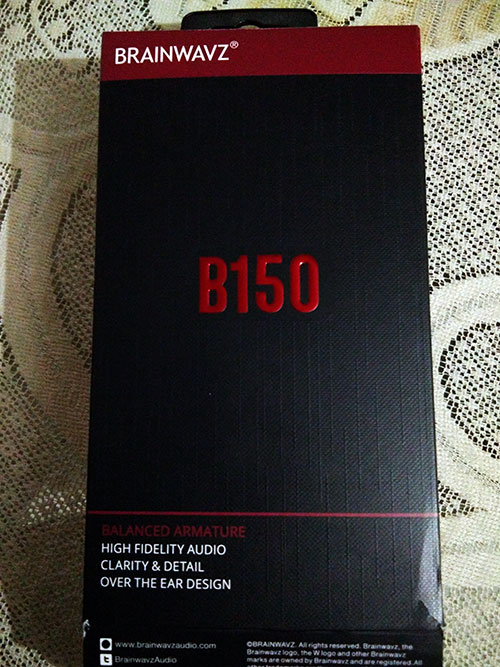 Our Verdict
The B150 does a lot of things right at this price point. Yes, it is not as detailed as the HF5 or HA2 but it has better PRaT and musicality. For a BA its sub presence is above average. Mids and highs offer great  clarity and a surprisingly large sound stage. Comfort and isolation is excellent with low microphonics and a strong secure fit. What would I like to change? Lesser bass quantity with faster decay would be an interesting fine tune as well as detachable cables but that would be about it.
I have tested a fair few $100 and lower IEMs and to be honest this is one of the most satisfying I have tried both in terms of comfort, fit and sonic ability. It augurs well for the forthcoming B200 dual BA IEM release that Brainwavz have really caught onto the audiophile bug and started to roll out some quality earphones as a result.
Technical Specifications
Drivers: Single Balanced Armature
Rated Impedance: 30 Ω
Frequency Range: 16 Hz ~ 22 kHz
Sensitivity : 105 dB at 1 mW
Cable: 1.3 m Y-Cord, Over the ear, OFC Copper
Plug: 3.5 mm, Gold plated