The T+A Solitaire P is a high-end full-sized open-back or circumaural headphone using a planar-magnetostatic transducer, (driver). It is priced at £5000.
Disclaimer: The T+A Solitaire P sent to us for this full review is a loan sample that will be returned after this review. We thank T+A for this opportunity.
To learn more about headphones featured on Headfonics you can click here.
Note, this review follows our new scoring guidelines for 2020 which you can read up on here.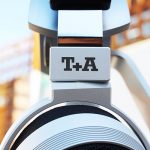 T+A Solitaire P
The T+A Solitaire P headphones draw on years of industry experience to provide a product infused with an exceptional build, acoustic design, and commitment to leading standards. Primed with extraordinary cohesion, spatial localization of sound, and control, the Solitaire P provides its own niche to a growing high-end world of audiophilia.
Background
T+A (Theory + Application) are a high-end German audio brand with a presence spanning the best part of four decades. Hosting similarities to Focal, T+A was born from a passion for loudspeaker technologies and has secured significant acclaim and presence in the European markets.
Akin to its French adversary, T+A has recently ventured into the headphone market with the launch of the Solitaire P magnetostatic headphones. As a leader in research and development and incorporator of fine materials, T+A are not shy to use their impressive resume to their advantage.
To this end, the Solitaire P retails for a staggering £5000 which might be enough to deter both faint-hearted and serious buyers alike.
However, the Solitaire P is said to symbolize the hard-work, experience, and commitment to development which has been integral to the German company's philosophy. It is interesting to see T+A's slogan of 'Engineering Emotion' which encapsulates the company's very own mix of engineers and physicists who share a deep enthusiasm for music.
Siegfried Amft, president, and founder of T+A defined this vision of scientific-based audio reproduction after studying plasma physics and electro-acoustics at university.
One of Amft's inspiration was none other than Fritz Sennheiser of the world-renowned Sennheiser audio company; Amft had even attended several classes delivered by Professor Sennheiser before taking on the laudable task of launching a fledgling audio brand.
Tech Inside
Fast-forward to today, their new Solitaire P employs a sophisticated planar-magnetostatic array comprised of high-performance neodymium magnets and a vapor-deposited special membrane.
The company takes precision to another level by carefully positioning the magnets within calculated magnetic field lines as well as crafting specific mounting rings and magnetic carriers. The result is a sound with unparalleled low distortion and dynamism amidst an affable sound tuning.
Also released is T+A's companion headphone amplifier – the HA 200 which provides a neat all-in-solution to drive their very own Solitaire P. The Class A headphone amplifier is another example of German engineering with options to match impedance as well as a selection of headphone outputs.
As with the Solitaire P, however, the HA 200 does not come cheap and retails for a significant £6600.
Design & Comfort
Drawing inspirations from Sennheiser, the T+A Solitaire P looks very much reminiscent of the HE-1. The bold yet minimalist earcups look and feel elaborate to the touch and the yokes themselves are CNC-milled from aluminum. Again, T+A has retained close control over their engineering processes to define an assembly that meets their strict criteria.
The German brand has utilized synthetic leather for the headbands and an Alcantara preparation for their soft ear cups. Together, with the black aluminum mesh of the outer earcups, the headphones look built to last.
As part of their transducer design, they have utilized planar technologies to enable more efficient distribution of diaphragm movement. Magnets are held in a precise formation which generates a total linear magnetic field where the ultra-lightweight diaphragm can resonate.
With even headband distribution, the Solitaire P can be worn for extended listening sessions without discomfort or fatigue. Though the weight is a relatively hefty 490g, the use of comforting earcups and headbands enables a pleasant listening experience.
Packaging & Accessories
The T+A Solitaire P headphones are supplied in a behemoth size of a box with a supple leather feel. Immediately, the presentation offers a rather sportscar level of refinement and luxury. Surrounding cables rest either side of the center mantlepiece of the Solitaire P.
Included within are silver-plated copper cables terminated in single-ended 6.35 mm and 4.4 mm balanced. Though the overall packaging exudes class, it would have been nice to perhaps see a travel case to facilitate easy transport of these headphones between commutes.
Solitaire P Sound Impressions
Summary
Despite their audacious entrance in the arena of hi-fi, the expensive Solitaire P does not command an immediate nirvana on primary listen. Instead, the Solitaire P impresses in its overall cohesion, well-crafted soundscape, and tonal balance.
Owing to the ultra-low distortion (a record-breaking < 0.015% at 100 dB), the Solitaire P is a leader of micro-dynamics and capably highlights gradations in small volume changes.
Overall, the tonal character is pleasant with a slightly warmer than neutral delineation. At no point is the Solitaire P fatiguing and this is reflected throughout all frequency ranges.
Bass
The Solitaire P portrays a disciplined bass that is neutral and balanced in its tonal character. Though the headphone capably reaches into low territories, there is no hint of bloom or artificial boost. Instead, bass stops on the dime with precision and speed.
The Solitaire does well to handle complex passages of low frequencies and allows lower midrange frequencies to play unperturbed. The HE1000SE, on the other hand, possesses more texture and depth in its sub-bass at the expense of the Solitaire's control.
In 'Bag of Tricks' by Jafu, the precise ebbing and flowing of the complex bass lines provide a compelling listen and highlight the Solitaire P's capabilities.
Midrange
The midrange of the Solitaire P is grounded with great tonal balance and cohesion. Since no particular set of frequencies are accentuated, the resulting sound is very natural. Compared to other heavy hitters such as HiFiMAN's Susvara, the Solitaire P evokes more weight to its notes while the former presents a more diffuse picture.
The HE1000-V2 tips this balance even further with an even airier sound. However, the Solitaire P presents even more control in the midrange compared to both HiFiMAN offerings. Since there are no increases in upper midrange frequencies, perceived detail seems marginally less with the Solitaires.
However, the German headphones present detailing in a non-fatiguing and unobtrusive manner while retaining impeccable control and decay. Instrument separation is nothing short of world-class and this is another feature that the Solitaire P impresses upon.
Compared to Meze Empyrean, the Solitaire evokes more detailing with a more natural representation of sound. This is also reflected next to ZMF Verité Open, where although the Solitaire P does not sound as energetic, its sense of cohesion and balance reflect realism.
Treble
The treble region may represent a source of contention amongst listeners. Rather than the push for treble extension and leading transients, T+A has chosen to focus on a fatigue-free listening.
To this end, the treble is relatively subdued in the overall mix. While the detailing is present with outstanding decay, the attenuation of this area does prevent the headphones from sounding bright and airy.
Both HiFiMAN's Susvara and HE1000se models do a better job in this regard with a more detailed and extensive top-end.
The Soundstage & Imaging
The Solitaire P has by no means the largest soundstage, especially when compared to the likes of HiFiMAN and Abyss' collections of planar headphones. However, it carves an incredibly well-defined soundscape with fantastic instrument separation and projection of spatial cues. This precise relative localization of sounds provides the Solitaire P with a needed boost to deliver an immersive listening experience.
In addition, there is a seamless transition in the handling of cues from the left and right pans. This prevents the Solitaire Ps from ever sounding congested or being limited by their soundstage width.
Synergy
T+A HA 200 Headphone DAC/Amplifier
The HA 200 represents T+A's newly developed Class A headphone amplifier and DAC. The all-in-one solution packs in two toroidal transformers and a high-quality power supply to drive the most demanding of headphones.
The DAC section is capable of outputting 32 Bit/786 kHz for PCM and DSD 1024 for Bitstream with T+A's proprietary True 1 Bit technology. The impedance of the headphone outputs can be matched with each selection of headphones and users having the option to add in an HDMI board.
Build wise, the HA 200 is fantastic with some appeals of Chord in its design philosophy. The beautiful and well-designed port holes upheave the design into a more modern era and the information screen adds some necessary detail to this amp.
The synergy between the T+A HA 200 and Solitaire P is world-class. Overall, the Solitaire P scales well with a balanced signature, impeccable instrument separation, and speed within a pitch-black background. It is very easy to just get lost in the music, a trait that I often look for when evaluating high-end gear.
Schiit Yggdrasil and Mjolnir 2 Amp (Telefunken E188Cs)
The Schiit Yggdrasil has held well over the years with its incredible transparency and portrayal of layered detail. Together with the Mjolnir 2 Amp, the Solitaire P enjoys some harmonic bloom and soundstage expansion to add more immersion. While there is more incisiveness in this pairing, the HA 200 delivers this same detail in a less fatiguing manner.
Schiit Gungnir Multibit and Violectric V281 (Telefunken E188Cs)
With this pairing, the Solitaire P enjoys a more tube-like sound in a solid-state amplifier. Mid-bass, in particular, picks up with even more body noticed in the lower-end midrange. Here, the combination is smooth without sacrificing and glossing over micro-details.
T+A HA 200 Headphone DAC + Auris Audio Nirvana amplifier
This combination pushes the limits of the Solitaire P and rightfully so. Overall, soundstage dimensions are cast further out with an even bigger and more three-dimensional sound.
Bass is driven with more authority and the character of the sound becomes richer. The sense of scale here is outstanding and speaker-like. As with the HA 200, the Nirvana offers impedance matching to finely tune the sound according to the resistance of the headphones
Select comparisons
Meze Empyrean
$2999
Both the Meze Empyrean and T+A Solitaire P offer some of the best constructions in headphones in recent years. The two companies have a keen eye for detail and have spent years of research and fine-tuning to develop their products. While the Solitaire P goes for a more industrial yet modern look, the Empyreans look almost sci-fi, on the whole.
Tonality wise, the Empyreans lean towards a smoother and slightly richer tonality with more of an emphasis on musicality. As with the T+A Solitaire P, there is some taming of upper-end frequencies with the Empyreans going just that bit further south of neutral. The Solitaire P impart a more neutral tonal character overall with better detail sensibilities and a sense of separation.
HiFiMAN HE1000se (w/ Dana Lazuli Reference Cable)
$3499 ($1099 cable)
The HE-1000se equipped with the Lazuli Reference Cable is a different animal compared to without. Next to the Solitaire P, bass sounds grander with more texture, authority, and drive.
However again, the Solitaire P provides better decay and micro-dynamics in the lower-end frequencies. In the midrange frequencies, the HE1000se sound more fluid and fuller-bodied compared to the Solitaire P's more mid-forward sound.
In the higher frequencies, the warmth that the Lazuli cables infuse makes the HE1000se less fatiguing but still relatively brighter and airier than that of the Solitaire P.
HiFiMAN Susvara
$6000
The Susvara flagship planar from HiFiMAN has been a leading headphone since its market release three years ago. Compared with the Solitaire P, the Susvara offers a more airy, linear, and expansive sound. However, the Solitaire P keeps up in both decay speeds, micro, and macro-dynamics.
On the HA 200 combination, the Solitaire P provides slightly better control of low-end frequencies. However, the Susvaras sound the more open of the two with an extensive top-end performance packed with detail and texture.
In the mid-range frequencies, there is a more of a mild u-shaped imposition and a leaner note width in the Susvaras compared to the Solitaire's slightly more weighty presentation. Of the pair, the Susvaras sound more ethereal with better texture and timbre but is marginally less forgiving.
Our Verdict
The T+A Solitaire P headphones draw on years of industry experience to provide a product infused with an exceptional build, acoustic design, and commitment to leading standards. Primed with extraordinary cohesion, spatial localization of sound, and control, the Solitaire P provides its own niche to a growing high-end world of audiophilia.
However, the Solitaires come in at a grandiose price, which may only sit well with those with far-reaching wallets looking for a slice of the next new thing. This may further be compounded by the HA 200 DAC/amp which together brings the combination towards an excess of £10,000.
I suspect that T+A will hopefully utilize economies of scale and trick-down technology to bring its electro-acoustic models to wider audiences. Only then, may the offerings be considered competitive at their price range.
As it stands, though, the Solitaires' premium is a major obstacle. Secondly, although the sound evades harsh leading edges, the subdued treble may only appeal to those who prefer this type of sound. To conclude, the Solitaire P is an impressive first release from the well-versed German brand and I certainly look forward to seeing the use of their technologies in future products.
T+A Solitaire P Specifications
Impedance 80 Ohms
Frequency response 5 Hz – 54 kHz
Distortion < 0,015 % @ 100 dB
Type of construction open, over-ear
T+A HA 200
D/A-Converter
PCM: Double-Differential-Quadruple Converter up to 32 Bit/768 kHz
DSD: T+A True 1-Bit Converter, native Bitstream up to DSD 1024 (49,2 MHz)
Digital Inputs
USB Audio Input, AES-EBU, BNC, Coax, TOS-Link, HDMI (optional)
USB Receiver conforming to UAC2 and UAC3 standards
Digital Section
Separate PCM und DSD signal paths and processing
Additional Non-Oversampling DAC mode (NOS-DAC)
Amplifier
Double Mono "State of the Art" discrete HV Amp technology
Pure Class A power stage
3 separately switchable outputs (Pentaconn, XLR, 6.3 barrel socket)
Adjustable output impedance
Frequency response + 0 / − 3 dB
0,1 Hz – 200 kHz
Special Features
Complete galvanic isolation between digital and analog sections