The Sunshine Kiwami cable is a product of the Japanese firm's latest dip-formed OFC copper cable for IEMs with MMCX connectors. It is priced at $199.
Disclaimer: The Sunshine Kiwami cable was sent to us in exchange for our honest opinion in this review. Many thanks to Sunshine for giving us this opportunity and to Miss Akiyo for acting as a translator during the process.
To read more about our cable reviews you can click here
Sunshine came out of nowhere to land in my inbox about 2 months ago. Truth be told the formal yet slightly broken English threw me a little and I didn't really respond for about a week or so. I am glad I did. Not only have I met a few very nice and very genuine people but I also got to hear a very fine IEM cable, the 'Kiwami'.
Now I call it the Kiwami because that's what I am reading on their English version website. I could be horribly wrong but it sounds like a cool name for cable so I am giving it that name anyhow.
What you do need to know at this point is that this is an MMCX copper cable with a dynamic response and it retails for $199. It is an unassuming looking cable, you can easily mistake it for a dreaded Plastics One budget cable from afar. However, the proof is always in the pudding and how it tastes and this one tastes surprisingly good,
Company Pitch
Sunshine is really known for a much broader range of audio components than just IEM cables. They make and sell everything from turntable plinths, analog interconnects and speaker bases to name but a few. They are also heavily involved in the Pro Audio sector with absorption boards for studio and magnesium insulators.
Outside of Japan, this would be a new name to many readers but perhaps those that go to the annual Portafest in Tokyo may have bumped into them before.
Positioning
The positioning of the Kiwami on the website is under their "earphone re-cable" section which may be a quirk of translation since most re-cabling as I know it involves non-detachable repair work. They actually sell 2 versions of the Kiwami IEM cable, a 3.5 single-ended and 2.5mm balanced termination. The composition of each cable and the price, $199, are unchanged. This version is the 3.5mm single-ended termination.
At $199 the Kiwami is going to be competing with the like of EA's Ares II, Rhapsodio's Pandora Dwarf and Null Audio's Vitesse to name but a few excellent 'entry-level' aftermarket audiophile IEM cable replacements.
It is not the cheapest cable in the market, iBasso's CB series and FiiO's RC series all start under $100 but generally speaking the Ares II is the benchmark in terms of price to performance for me personally.
Materials & Wire
The Kiwami is a 4 core OFC wire with 35 strands per core or a total of 140 strands per cable build. Now technically the purity level before they process it is 4N. For those that are not aware of what 4N is we have actually touched upon this before in our Astral Acoustics Taurus review earlier this year.
4N basically stands for the purity level of the OFC copper wire used. This is how purity is defined when acquiring alloying materials. It is not a wholly accurate measure as there are the absolute purity and the common metals basis of purity debates. It is generally taken as an approximation but the N stands for numbers either side of the decimal point.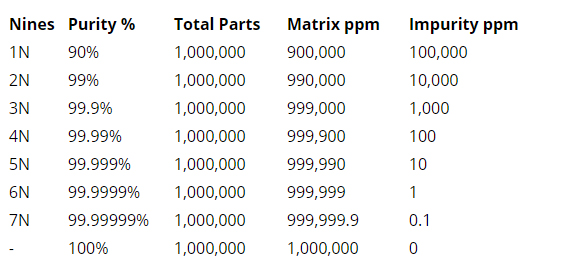 In this case, 4 numbers or 99.99%, which is around the middle of the purity scale in its raw form. You will see lower purity standards such as 3N and it works in the same manner at 99.999%. The numbers above give you a broader understanding of the entire range used.
Dip Forming
However, the raw form 4N OFC wire then goes through a process called dip forming before the Kiwami cable build begins. Dip forming enhances the purity of the wire to a 6N level which is where I would want any copper aftermarket cable to be to remain competitive.
Essentially dip forming cable is made by hand without adding any chemicals to provide a better copper crystal structure in the wire. In doing so wire should have a higher purity level for signal transmission and lower resistance.
Industrial Process
At an industrial level, the copper goes through a continuous forming process to achieve that 6N-type purity level. The wire raw form starts as a shaved copper rod. This rod is then passed vertically upwards through a cruci­ble of molten copper. Once out of the crucible the rod is now much thicker than before. It then passes through a cooling tower before being led to a rolling mill for reduction to the required size as a continuous process.
This is an old-school process started way back in the 1960s via GE but thrives today in Japan industrial wire making. Companies like Round Teck of Taiwan and Elite Power of Singapore regularly manufacturer high purity OFC copper using the dip-forming process.
Build Quality
Aesthetics
The Kiwami cable has a fairly solid black and understated look. From afar you could easily mistake it for a stock Plastics One cable. In your hand though its an entirely different beast. The OFC wire is coated with a heat shrunk PVC material for the jacket and twisted rather than braided very tightly.
There is an additional layer of PVC discreetly applied to the top of the cable to form memory hooks which retain shape rather than twist to shape. The cable feels heavier than any Plastics One cable, around 26awg for sure and also a bit denser to the touch.
This is a very different build type to that used on the Ares II, Pandora Dwarf or Vitesse. These cables use a braid build and transparent PVC jacket. They look bigger, but also visually more striking than the Kiwami. To the credit of Sunshine, the Kiwami does look like an incredibly durable cable.
Handling
Handles very well actually with a fairly pliant build quality and just a tiny smattering of memory retention but nothing that would create annoying tangles. More like a wave or the odd kink when you unroll it which flatten out after a few minutes. It does seem to have one permanent small wave kink near the 3.5mm jack barrel which I presume is due to how the cable twist evolves out of the barrel.
Microphonics or physical noise on the wire is low but not dead silent. Not quite as deadened as a high-end Effect Audio Leonidas II but better than the ALO Audio Reference 8 performance which costs a little more.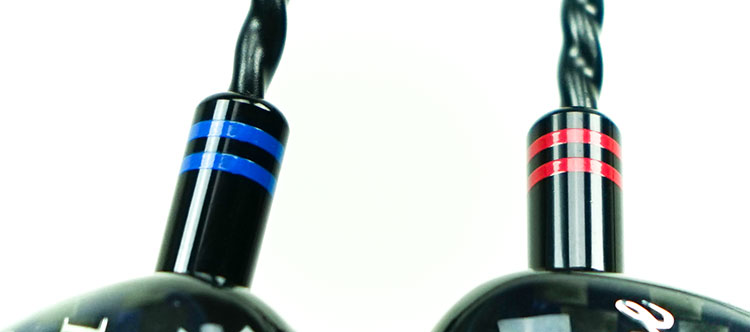 Terminations
Connectors
You can only buy the Kiwami in MMCX connection from. Those with Campfire Audio, Westone or iBasso IEMs this will work just fine with your gear. You can email and ask them if possible to switch to 2-pin but that may depend on their production queue. It is one of the areas I think Sunshine should maybe look at down the road. Enhancing connectivity options will open the Kiwami up to a wider market.
That being said the MMCX connectors are of good quality with a threaded metal barrel which I prefer to glue-on alloy chrome barrels. Both barrels are also painted black and finished in a bright red and blue banding for right and left channels. The chrome barrels tend to slide off too easily under pressure, these do not. They may loosen slightly over time so worth checking the thread to make sure they are tightly screwed on.
Barrels & Jack
The barrels, like the cables, are quite sturdy but understated in design. Both the jack termination and y-splitter use a stiffened rubber material which is extremely robust but also fairly refined in their finish. I particularly like the sculpting on the back of the jack which has small indents to help your fingers get a better grip when pulling out the jack.
The 3.5mm gold-plated TRS jack is housed in a right-angle stiffened rubber barrel with excellent strain relief. Likewise, the Y-split has similar quality strain relief either side of a longish rubber barrel.
Comfort On-Ear
No issues with the Kiwami on the ear though those with glasses might have some issues as the memory wire is not terribly retentive. The hooks are more like guides that bend under pressure but will snap back when the pressure is released.
For me, without glasses, I find the Kiwami cable perfectly fine. However, the top bend pokes out and I suspect this will interfere with glasses. To be fair the cable hooks tend to angle towards your head and not away so there may well be enough room to slide a glasses frame past it.
Apart from that, you will not have that much pressure on your ear. This 4-core cable is fairly typical in comfort of most 4-core wiring being light and dropping down nicely behind the back of your ear
Sound Impressions
Summary
The Kiwami cable is an unmistakably copper presentation so there are no real surprises for those who have rolled alternative 4-wire copper cables at the same price point. There are some nuanced differences though in just how exactly the Kiwami delivers that sound.
PRaT
The first is the level of PRaT and its general dynamic range performance. Testing with a Westone ES80 and an Andromeda the Kiwami cable sounded surprisingly punchy and full-bodied. I say surprisingly because the likes of the Ares II has always struck me as a smooth but not necessarily a weighty sound. And so it seems because the Kiwami has marginally the stronger low-end impact and presence.
That is a preference-based observation and not necessarily a bad thing but it did have me veering more towards faster paced punchier rock and pop. The likes of the Ares II and The Pandora dwarf from Rhapsodio tended to gravitate to slightly more relaxed music.
Treble Presence
The Kiwami cable also has a bit more treble bite. Not necessarily a lean signature, there is plenty of body, just a bit more lower treble presence that directly translates to an odd harmonic crispness in percussion attacks.
I generally prefer my copper to sound a least slightly airy and not drain the life out of higher pitched vocals and cymbal work. Paired with the Westone ES80 and an iBasso DX120 the Kiwami cable delivered a fairly pleasing timbre but avoided sounding rounded and dull. Vocals also have a bit more clarity than the likes of the Pandora Dwarf and Null Audio Vitesse. That is important for my own listening preferences.
Staging
The one area that the Kiwami might just show a slight weakness is in staging width. The more neutral Ares II and smooth Pandora Dwarf cables seemed to just have a slight edge in left-riht separation and general width. The Kiwami seems to be more about depth and height and giving centered vocals a bit more presence.
Select Comparisons
All 3 cables were tested as single-ended cables using an iBasso DX120 and Cayin N8 as sources. Monitors used included the Westone ES80, iBasso IT04, and Campfire Audio Andromeda.
Effect Audio Ares II
$149.90
Technical
The Effect Audio II is EA's entry-level copper cable offering in their premium series with a competitive price point. This is a 26AWG 4-wire UPOCC Litz Copper using a multi-stranded geometry build.
The jacket is a braided PVC translucent material with carbon-fiber printed aluminum alloy barrels and can be finished in a wide variety of terminations include PSquared jacks for an additional $50. Visually the Ares II is very striking but it is also a good deal heavier than the Kiwami version.
EA does offer more connector possibilities which broaden the appeal of Ares II to 2-pin, Fitear etc users. Sunshine only offer MMCX and either balanced or unbalanced jack terminations. Ares II has excellent handling and overall slightly lower microphonics than the Kiwami though not a huge gap. Both are very quiet cables.
Performance
The Ares II is slightly more neutral sounding but it is marginal. Both really do have a distinctly copper cable sound to neutral is in context of each other, not a definitive characteristic. The Ares II is the smoother of the two, with slightly better width but it has slightly less lower treble 'edge' and vocal presence compared to the Kiwami.
The Sunshine Kiwami has a bit more PRaT and low-end bite for me. It also has more vocal focus and a little more treble kick, particular in percussion work where the timbre has an odd harmonic kick. Overall, the dynamic range and depth of the Kiwami cable just edges ahead for me which may be partly responsible for the perception it has the better PRaT of the two.
Null Audio Vitesse
SG$249
Technical
This is the 1.2m 4-braided version of the Vitesse which is slightly cheaper than the 8-braided version they are now selling online. I believe this is also a 26AWG with the 8-wire a 23AWG but they use the same 7N purity GCOCC-A copper wires, just slightly lower strand count.
The finishing on the 4-braided is a little more basic than the Kiwami with just a heat shrink for the y-split and a fairly bulky memory hook system that looks a bit out of place. The PVC jack is a dark brown flavor as opposed to the Kiwami black and the braiding itself is a touch loose compared to either the Ares II or the Kiwami tight twisted build.
The Vitesse, however, is superb for microphonics. Not a hint of noise on the wire even with the usual poking and superior to both the Kiwami and Ares II. It does retain slightly more memory retention than the Kiwami so you will find a few kinks in the wire but nothing more than a few waves than outright tangles.
Performance
The Kiwami is a superior performer here. It has a slightly better level of dynamic range, a cleaner set of mids and a bit more air and treble presence. The Vitesse is rich and smooth sounding but its a bit soft and doesn't extend as well as the Kiwami. This tends to throw a slight veil on the vocals and pulls the staging in a bit so its not quite as open sounding for me.
Both have solid low-end performances but again the Kiwami sounds the snappier of the two with a more impactful sound using the ES80 and Andromeda. The Vitesse is the slightly wetter of the two with a softer lusher low-end presentation.
Rhapsodio Pandora Dwarf
$150
Technical
The Dwarf is a 26AWG 6N OCC Litz copper wire with TPU shielding. The TPU jacket is a braided translucent build which is slightly stiffer than the PVC variants on the Kiwami. However, the braiding on the Dwarf is very tight so it handles quite well.
The connectors on the Dwarf are, for me, the best in the business. These are chrome and carbon fiber barrels in any combination you want such as MMCX, 2-pin etc and are sturdy as anything you can find on the market.
They are a bit wider than the norm and wider than the Kiwami barrels but protrude enough to work with recessed sockets. The colored coded left right on the barrels of the Kiwami are better though and much easier to make out. The barrels are excellent also with chrome jack barrels and a carbon fiber weave finish much like Effect Audio variants for the y-splitter.
The microphonics performance on the Dwarf is also excellent and on par with the EA Ares II and Kiwami cable. The only area that really transmits noise is the y-splitter itself which is a touch heavy and echoey when tapped but other no issues. You get no tap echo on the barrels of the Kiwami.
Performance
The Kiwami is a little thicker and warmer sounding than the Dwarf in the low-end with a smidgen more heft and texture. The timbre is a little sweeter-sounding on the Dwarf but in a very nuanced manner rather than an outright difference. The Dwarf sounds a little wider with better left-right separation and a bit more treble presence and air.
Of the two the Pandora is the marginally cleaner sounding especially in the upper mids onwards whereas the Kiwami has a bit more PRaT and body, especially in the lower-mids. I would quicker pair the Kiwami for guitar, rock, and EDM work and the Dwarf for acoustics and percussion where its lighter airier touch has more appeal.
Our Verdict
The Sunshine Kiwami IEM cable has a stand-up honest to goodness copper sound. It has a nice level of PRaT, excellent craftsmanship, and a very durable feel to its build quality. It just has enough of a uniqueness to its sound to mark itself out from the crowd. Matchability is high for this sound, there is not much it will not pair with unless you want something a lot cooler and cleaner.
Of course, I would like to see a lot more to the final ensemble, the packaging, the website, etc. I felt there is just a little something missing that I put down to the cultural difficulties of understanding how business may well be done in Japan.
For me, things like a wide range of connectors for the cables and the ability to buy directly from the site could help Sunshine a lot here in terms of reaching out to a wider audience. I think the cable is deserving of a bit more attention as it is competitive and definitely another good copper aftermarket cable option worth considering.
Kiwami Specifications
Conductor DIP FORMING type oxygen-free copper wire HSE treatment
Plug company original
Length 120cm
Construction 4cores
Cable bifurcation the industry's first,magnesium filter built-in = electromagnetic wave absorption effect