Los Angeles, CA. Today, Schiit Audio announced the introduction of Bifrost, its first standalone DAC and the world's most affordable fully upgradable DAC. Featuring modular design with upgradable USB Input and DAC/Analog Output boards, Bifrost offers virtually future-proof performance at an entry-level price.
"We're changing the level of entry-level," said Mike Moffat, Co-Founder of Schiit Audio. "Low cost shouldn't be an excuse for a throwaway product. In fact, entry-level products are where you want upgradability the most. It lets someone get in and get a taste for what high-end audio can do, and then can grow with their needs."
Despite Bifrost's low cost, it's packed with advanced features and high-end components, including the AKM4399 32 bit D/A converter, used in other DACs costing nearly 5X more than Bifrost, a fully discrete analog section like DACs costing thousands of dollars, a sophisticated bit-perfect clock management system to ensure the delivery of original music samples to the D/A converter, an advanced asynchronous USB 2.0 receiver implementation that offers 24 bit / 192 kHz playback from both Windows and Mac computers, and a low-jitter SPDIF receiver that is also 24 bit/192kHz capable.
"Bifrost offers much higher performance than the last DAC Mike and I collaborated on (the Cobalt 307), has more features and more inputs, and costs only about half as much as the Cobalt," said Jason Stoddard, talking about an iconic DAC that he co-developed with Mike during his Theta Digital days. "And the Cobalt didn't have discrete analog, and wasn't upgradable. Progress is a wonderful thing."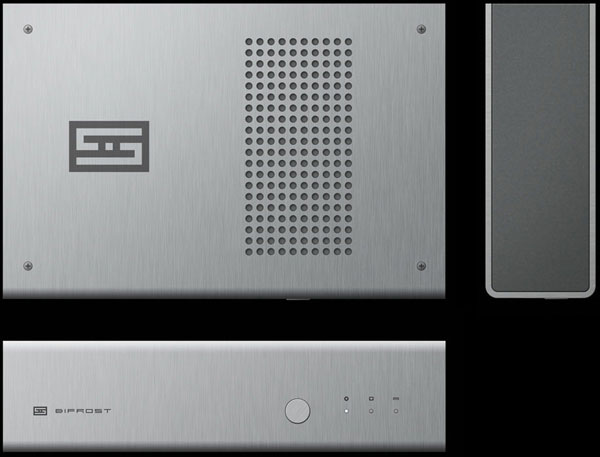 Schiit Audio announced pre-order availability today for Bifrost, at a retail price of $349 (without USB 2.0 input) and $449 (with USB 2.0 input), sold direct from Schiit Audio's online store, and through select international distributors and US dealers. Bifrosts ordered without USB can be upgraded to add the USB input at any time with a $100 board, thanks to its upgradable design. Bifrost is scheduled to begin shipping on August 31.
In the future, Schiit Audio will make selected upgrades available for Bifrost when there are meaningful changes in USB or D/A conversion technology. Bifrost owners will be able to send in their DACs to have the boards swapped, or they can do it themselves, if they're handy with a screwdriver.
Bifrost is the first in a planned line of three Schiit DACs, including a step-up model with balanced outputs, and an all-out assault on the highest-performance DACs on the planet. All will offer upgrade plans or options.
About Schiit Audio
Founded in June 2010 by audio industry "old dogs" Jason Stoddard and Mike Moffat, Schiit Audio has a simple, if somewhat insane, mission: to bring superior performance, design, and quality to audio products at near-Chinese prices, while manufacturing in the USA.
Jason Stoddard was the former engineering lead at Sumo, designing power amps that included Polaris II, Polaris III, Andromeda III, Ulysses, Ulysses II, The Ten, The Five, as well as preamplifiers including Athena II, Diana, and Artemis, and Sumo's first digital line: Axiom and Theorem.
Mike Moffat was the founder of Theta, Theta Digital, and Angstrom, and his audio history covers an impressive list of firsts, including the first standalone DAC, the Theta DSPre, the first use of digital signal processing and bit-perfect digital filter algorithms, the first DTS surround processor, and more.